My friend, Jill, over at The Popsicle Blog challenged me to write a 101 Outdoor Places to Visit for Kids in Orange County in the tradition of her popular 101 Things to Do with Kids post.
I encourage you to visit her site. She loves to find outdoor places to visit as much as I do and she has an awesome resource and calendar pages.
If you're visiting my blog for the first time, I hope you find some new places to play outdoors in Orange County, California!
I'm a mom and writer who loves to go on adventures with my family. I started this blog in 2008 and built this free online community resource to empower families to prioritize nature and play time.
I believe play is essential to healthy development — and a happy adulthood for that matter!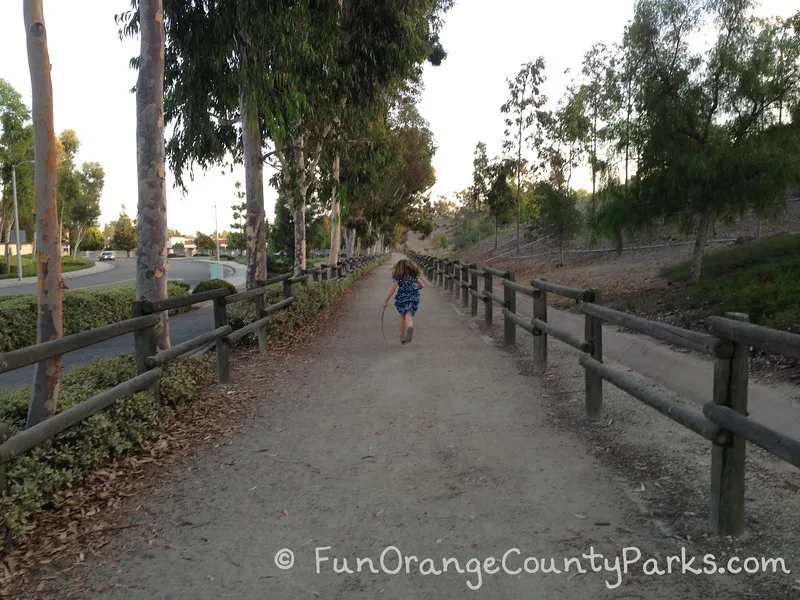 My suggestion for all of these outdoor places to visit for kids is:
Schedule it on your calendar — Just like any other important family activity – these amazing outdoor places deserve time on your calendar. Outings like this will make your kids happier, healthier and smarter — so it's worth the effort.
Give yourself time – Don't rush. Rushing isn't fun. It's stressful to both you and your little one. Give yourself plenty of time to ENJOY being outdoors.
Let the kids lead – How often do the kids get to be in charge? They learn from experience. If you set out on a mile hike and they are entranced by a bug in the parking lot, then maybe you spend an hour with the bug in the parking lot. Simple as that.
Be prepared – Make sure you're prepared so it's enjoyable. Make yourself a backpack that's ready to go with snacks, sippy cups, water, sun protection, first aid (basically anything you'll need when you're out and about). If my post or the website doesn't give you enough info, then pick up the phone!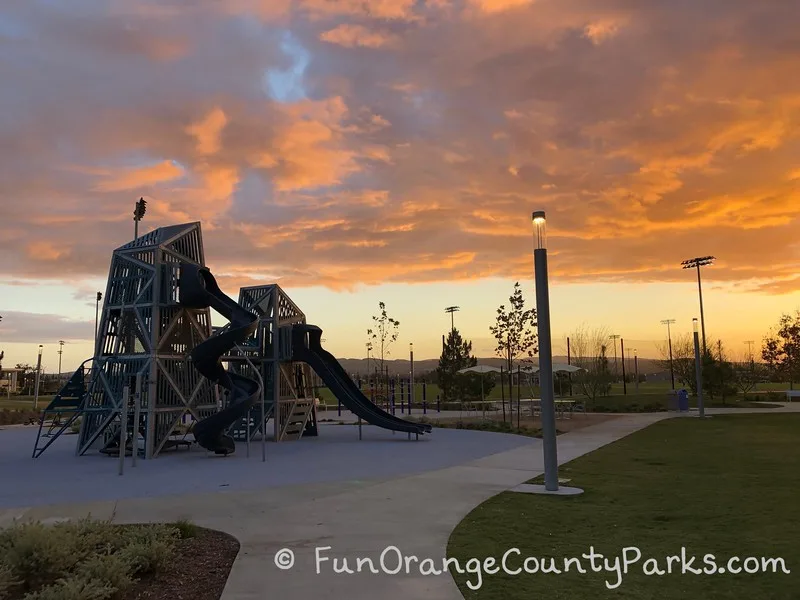 Basic Resources
Park and Playground Map – lists parks on the map with links back to blog posts. Also has markers for public libraries and Farmer's Markets so you can combine park trips with the library or shopping.
Okay, now that you're all prepared, I think we can go ahead with the list of over 101 Outdoor Places to Visit for Kids in Orange County.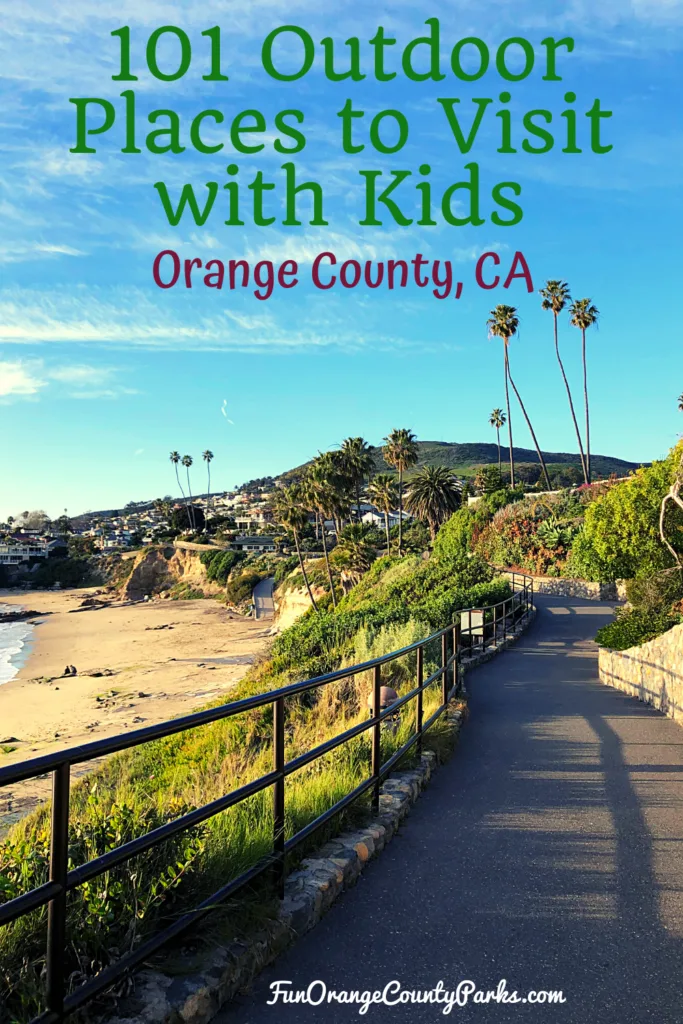 Orange County Parks by Theme
These are random themes that readers have asked about over the years. Sometimes there are sensory or developmental considerations that make parks with fences or parks without sand desirable.
Sometimes the parks are just for train lovers or dinosaur enthusiasts.
I've written posts for themes based on seasons with summer splash parks or shade covers and for events like homeschooling groups and birthday parties.
1. Paleontology at Clark Regional Park
2. Fenced Parks
3. Sand Free Parks
4. Best Parks for Birthday Parties in South County
5. Splash Parks and Water Play
6. Top 3 Train Trips for Orange County Locals
7. Play Places for Train Lovers
8. Patriotic OC Playgrounds
9. Top 10 Parks with Shade Covers
10. Parks for Homeschooling Groups
Family-Friendly Beaches in Orange County
I like to use Heal the Bay's Beach Report Card to check ocean water quality – and NOAA's Tide Predictions before heading out to beaches. Or just ask the lifeguard when you get there.
11. Baby Beach in Dana Point Harbor
12. Heisler Park (Laguna Beach)
13. Picnic Beach (Laguna Beach)
14. Beaches Near Laguna Beach Montage
15. Strands Beach and Strand Vista Park (Dana Point)
16. Crystal Cove and El Moro
17. Trestles – Beach Walking for Families (San Clemente)
18. 3 Best Toddler Beaches with No Waves
Playgrounds at the Beach
Orange County benefits from a high number of playgrounds right on the sand. You can visit the individual posts, but I've also gathered them in a list, as well.
19. Laguna Main Beach Playground (Laguna Beach)
20. Aliso Beach Park (Laguna Beach)
21. Balboa Pier and Peninsula Park (Newport Beach)
22. Seal Beach Pier and Eisenhower Park (Seal Beach)
23. North Beach Playground (San Clemente)
24. See my list of 7 Beach Playgrounds Right on the Sand
Family-Friendly Gardens & Farms
Farms and gardens are my favorite! If you can, try to visit as many of the public gardens Southern California has to offer. Los Angeles and San Diego counties also have some amazing gardens.
25. Coastkeeper Garden
26. Niguel Botanical Preserve
27. Centennial Farm
28. Farm & Food Lab at the OC Great Park
29. Tanaka Farms
30. Fullerton Arboretum
31. Sherman Library and Gardens (Corona del Mar)
Whale Watching from Land
32. San Onofre State Beach
33. San Clemente Beaches
34. Calafia at San Clemente State Beach
35. Capo Beach or Pines Park benches
36. Dana Point Headlands
37. Strands Beach and Strands Vista Park
38. Salt Creek Trail and Beach
39. Aliso Beach Park playground and tidepooling
40. Crystal Cove State Park for a nature ramble or tidepooling
41. Corona Del Mar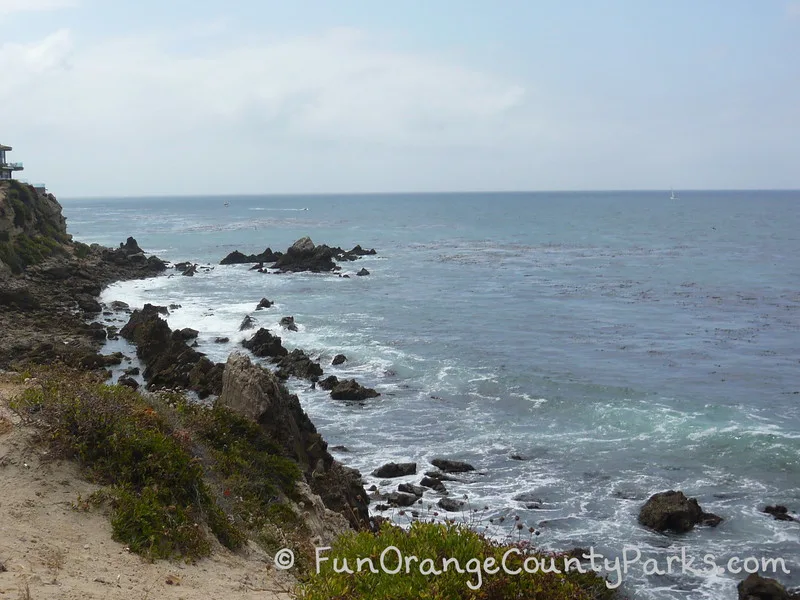 Outdoor Classes and Nature Outings
These non-profits offer outdoor activities and/or outdoor places to visit for families in Orange County.
42. Inside the Outdoors (full disclosure: I work as their Content Strategist & Social Media Manager)
43. Big Oak Canyon and Earthroots Field School
44. Joel Robinson and Naturalist-for-You
45. OC Coastkeeper
46. LetsGoOutside.org and the Irvine Ranch Conservancy
47. Environmental Nature Center
48. The Ecology Center
49. Laguna Canyon Foundation
50. Ocean Institute
51. Newport Bay Conservancy
52. Crystal Cove Conservancy
53. Sea & Sage Audubon Society
54. Huntington Beach Tree Society
55. Ultimate Guide to City Recreation Programs and Calendars in OC – Did you know your kids can take community classes in a neighboring city? All you have to do is find the community services page or parks & recreation page to register. The only catch is that you'll probably have to pay a slightly higher registration fee than residents.
Bird Watching and Nature Walks
Many of these spots have nature centers that are a pleasure to visit when they are open.
56. San Joaquin Wildlife Sanctuary
57. Dana Point Headlands – also good for whale watching.
58. Oak Canyon Nature Center
59. Tucker Wildlife Sanctuary (official) – And here's my review of the nature center and grounds.
60. Bolsa Chica Wetlands – PCH entrance doesn't have the nature center, but it's a great place for bird-watching.
61. Bolsa Chica Wetlands Nature Center
62. Shipley Nature Center (official) – love this place! Read about one of our trips to Shipley.
63. Turtle Rock Nature Center (official) – another favorite place to ramble around the grounds with my kids.
64. Nix Nature Center
65. Crystal Cove Nature Ramble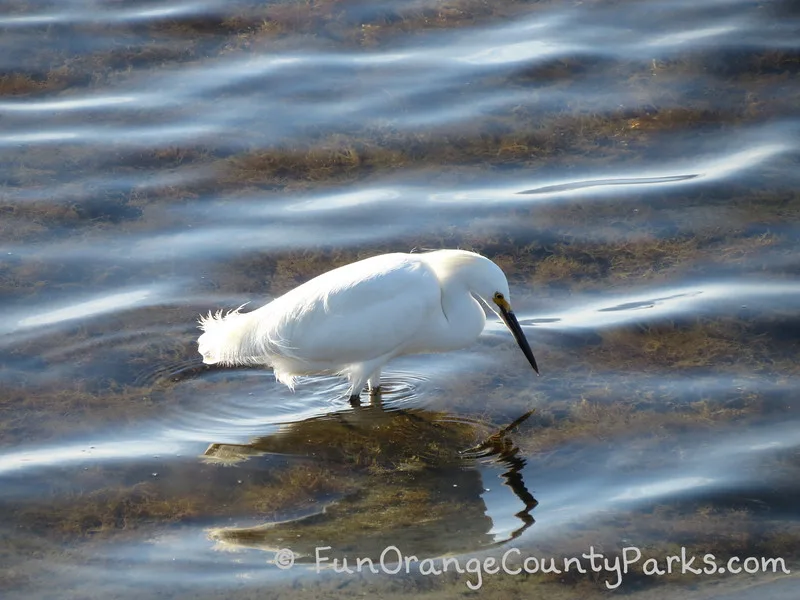 Parks for Fitness
I'm always in the process of updating these and open to your additions to my lists. Honestly, you can be active at ANY park or outdoor space.
66. Local Parks with Outdoor Fitness Equipment
67. Rent a Bike at Irvine Regional Park
68. 5 Family Walks in Orange County
69. Parks with Outdoor Handball and Racquetball Courts
70. 15+ Stroller-Friendly Walks around Lakes in OC
Accessible Parks
You'll find a list of Accessible Parks right up in the drop-down menu under Park Map. New parks are being added to my list every year.
71. Courtney's SandCastle and Sensory Garden in San Clemente
72. Box Canyon Park in Yorba Linda
73. Pavion Park in Mission Viejo
74. Angel's Playground in TeWinkle Park in Costa Mesa
75. Cherry Park in Lake Forest
76. Northwood Community Park in Irvine (accessible features)
77. All-Inclusive Beach Playground in Huntington Beach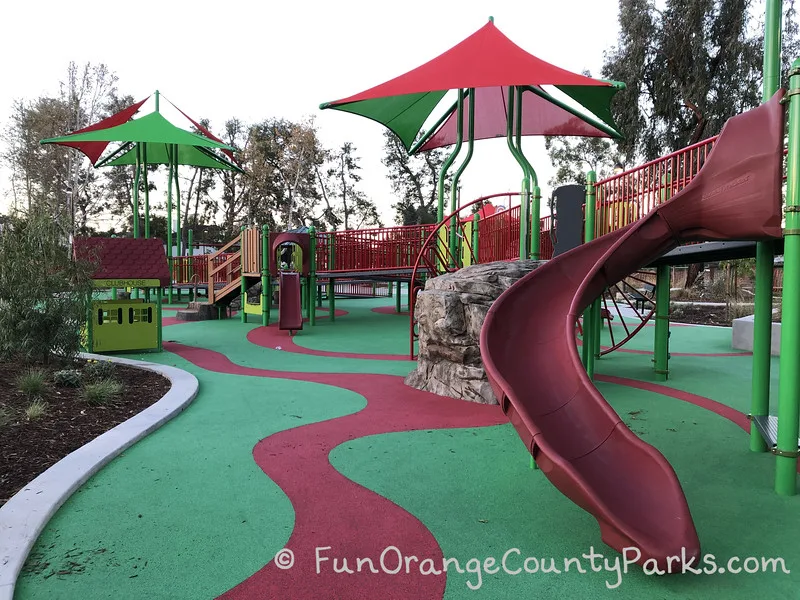 Outdoor Places for Annual Passes
These are just the bare minimum and there is are other places on this list, like under Farms & Gardens.
78. Mission San Juan Capistrano
79. OCParks.com — is the official site for Orange County regional parks, wilderness areas and beaches. Their website is a complete resource and I highly recommend buying an annual pass which is $80 and allows you to park at beaches and parks all year long!
80. California State Parks — read how to buy an Annual Pass
81. Forest Service Adventure Pass
OC Regional Parks (Fee to park)
If you can swing the yearly investment, I really think this is a great deal for getting into some of the best parks in the county. Plus, the parks thrive when we put our dollars into supporting them. It tells our local government that we value our parks.
82. Capistrano Beach Park (Capo Beach)
83. Carbon Canyon Regional Park (Brea)
84. Caspers Wilderness Park (San Juan Capistrano)
85. Clark Regional Park (Buena Park)
86. Craig Regional Park (Fullerton)
87. Irvine Regional Park (Orange)
88. Laguna Niguel Regional Park (Main Playground and Laguna Niguel Lake Walk)
89. Mile Square Regional Park (Fountain Valley)
90. Mason Regional Park (Irvine)
91. O'Neill Regional Park (Trabuco Canyon)
92. Riley Wilderness Park (Coto de Caza)
93. Santiago Oaks Regional Park (Orange)
94. Yorba Regional Park (Anaheim)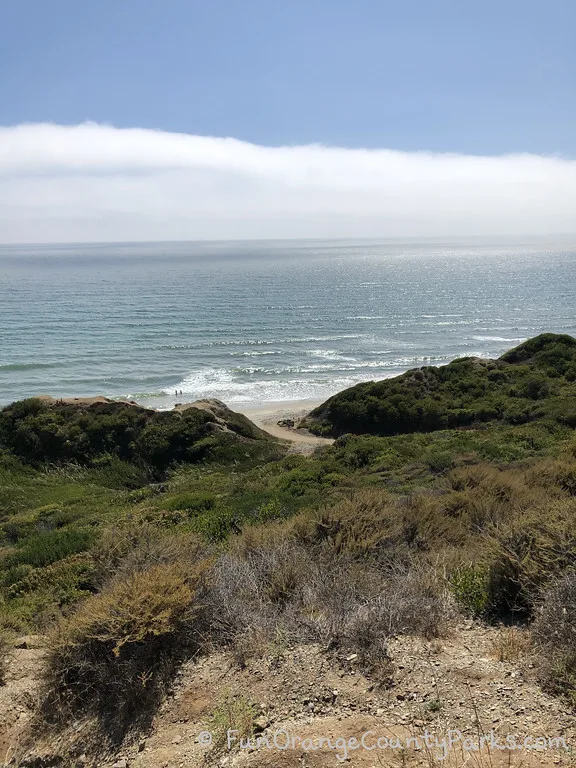 California State Beaches and Parks (Fee to park)
California State Park annual passes cost considerably more than regional park passes, mostly because the day use rate is considerably more. I still think it is worth the investment, but only if you are going to go at least once a month.
95. Bolsa Chica State Beach
96. Chino Hills State Park
97. Crystal Cove and El Moro
98. Huntington State Beach
99. Doheny State Beach (Dana Point)
100. Calafia State Beach (San Clemente)
101. San Onofre (North SD County)
Thanks for exploring all 101 Places on this list. In reality, I have over 350 parks and over 900 total posts about ways to get outdoors in Orange County or reach nearby family travel destinations.
So I invite you to stick around and keep exploring! You can hit the "back" button to go back to the home page. Follow my on Instagram @ocplayparks or subscribe to my weekly email with lots of park tips and playground trip ideas.
Originally published in October 2013.