Aliso Beach Park is a bit of a secret over the Laguna Main Beach Playground.
On a winter evening when I first posted this beach, there were only a few couples on the beach. It felt like our own private playground.
The berm (steep slope of sand) to the ocean made for some really fun sand-sledding and sliding. San Clemente and Catalina Islands were visible in silhouette to the setting sun.
The lagoon was preserved and not running to the ocean but Winter 2022-2023 was really rough on our local beaches and the landscape has really changed. This is what it looked like when that berm was in place, though. Maybe we'll get there again?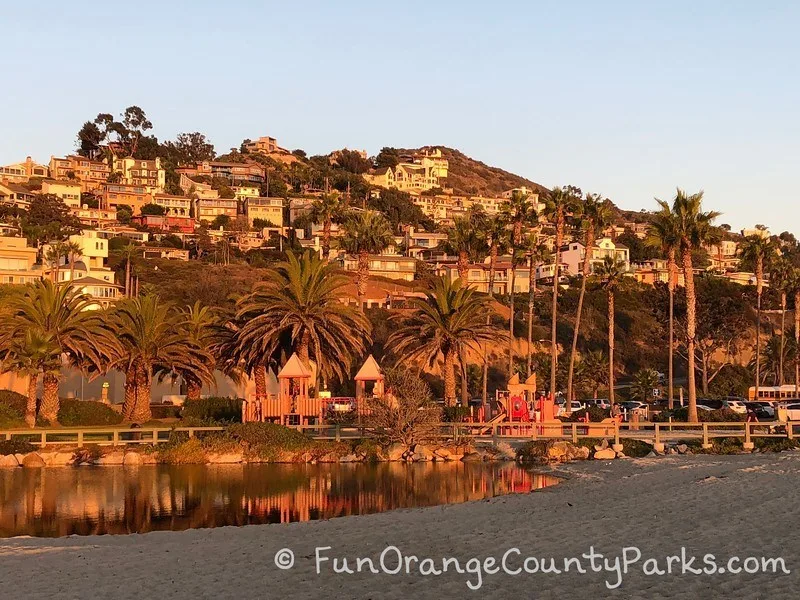 How to Get to Aliso Beach Park: On Pacific Coast Highway south of Laguna Beach (closer to Crown Valley Parkway) near the Montage Resort. Also very close to Lang Park. (Address: 31131 S. Pacific Coast Hwy Laguna Beach, CA 92652) MAP to Aliso Beach Park in Laguna Beach
How much is parking at Aliso Creek beach?
Parking at Aliso Creek beach costs $2.50/hour for metered parking between the hours of 8am and 10pm for 8 hours max. The City of Laguna Beach now manages this parking lot since March 2023. The parking lot is closed 10pm-6am. You can pay at the parking machines with a credit card, bills, and coins. Or you can use the parking app found at lagunabeachparking.net (which I recommend setting up at home before you come to the beach for an easier experience).
Lot 22 is the main parking lot on the beach side of Pacific Coast Highway (PCH) and if that is full, then there is another lot on the east side of PCH where you can park and then walk through a pedestrian tunnel UNDER the road to the beach side. So, it's actually a pretty safe option and leads right to the playground.
The whole time I've published this blog, OCParks.com has managed Aliso Beach Park. You used to be able to use your OC Parks Annual Pass here. As of March 2023, the City of Laguna Beach has taken over the management of Aliso Beach Park. So the parking lot and fees are also now managed by the City of Laguna Beach. It does cost more to park here now.
Another note on this: I used to ALWAYS recommend getting the Parks + Beaches annual pass from OC Parks ($80/year) vs. the Parks only version ($55/year). That was when I used to regularly visit a combo of Capistrano Beach Park, Aliso Beach Park, and Salt Creek Beach. Because of the erosion at Capistrano Beach Park (and on/off closures) + this management switch here at Aliso Beach Park, it probably doesn't make sense unless you frequently go to Salt Creek Beach!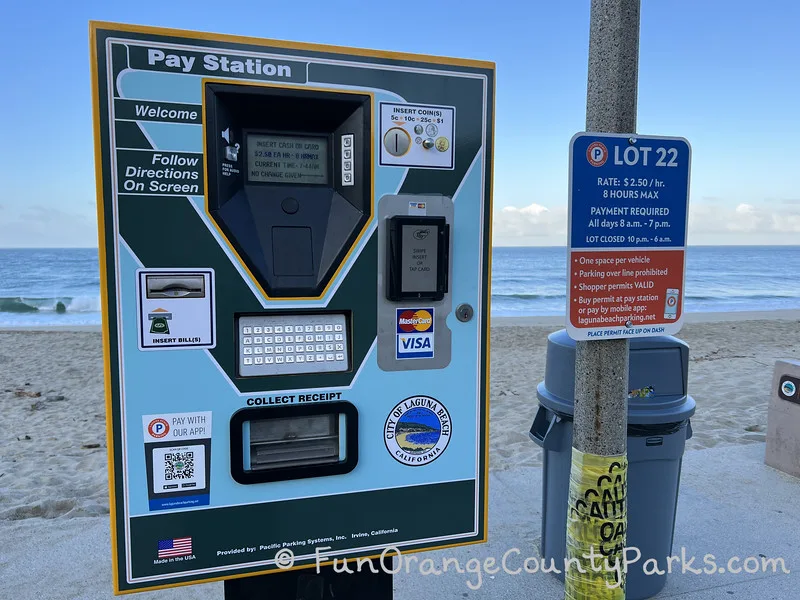 Playground Highlights
My favorite parts of Aliso Beach Park are: the sunsets, beachfront playground, ocean views, and big natural sandbox called "the beach."
Cleverly, the chains holding the bench swings are sealed in red rubber coating to prevent rust and protect hands from pinching.
I call this a "pirate ship playground" with a seaworthy ship theme which is great for pretend. If
I love the sunset reflections in the freshwater lagoon area that they are restoring right off the playground area – please respect the berm (slice of sand) that separates the lagoon from the ocean and don't let your children dig trenches to the ocean from this particular spot. My reasoning is so that we can help restore the local ecology here, but also because I don't think I'd want my kids playing in the lagoon water.
Lost Pier Cafe is in the far corner of the parking lot and they have gourmet beach fare by the ocean if you want a full meal, but you can also get a side of fries or little snacks. It's a fun place to bring out of town guests.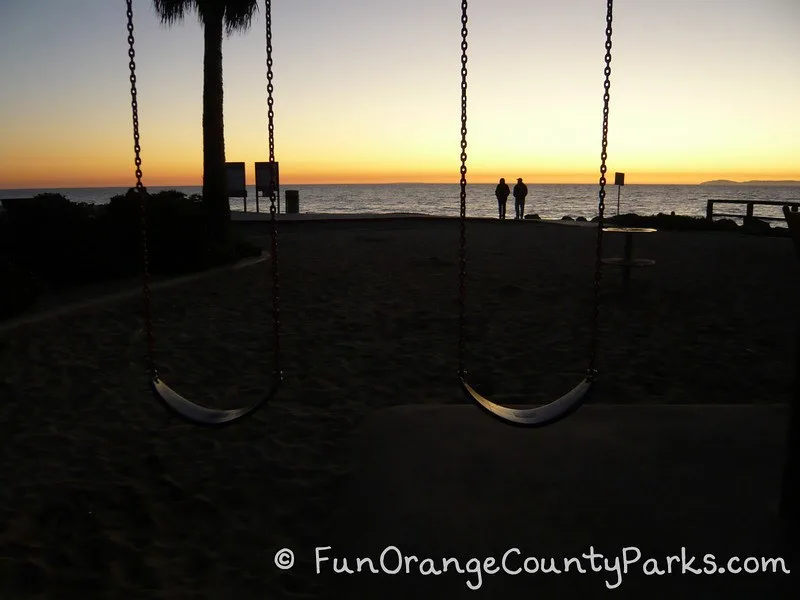 Be Aware
Parking lot can be heavily damaged during high surf – use caution
Just use common sense when it comes to being near the ocean (no lifeguards in winter)
Fire pole always seems to be an accident magnet for my kids – a few other possible fall points
Keep an especially close eye on the kids (Pacific Coast Highway behind you, parking lot next to you, ocean in front of you!)
Restrooms are clear on the other side of the parking lot next to the Lost Pier Cafe
I did notice mosquitoes near the lagoon area at dusk, but this is probably a seasonal thing.
Fee for parking through the City of Laguna Beach parking app or pay stations ($2.50/hour for a max of 8 hours)
Can you swim at Aliso Beach?
I would not recommend swimming at Aliso Beach unless you are an excellent swimmer. I don't really recommend kids swimming at this beach because of strong surf. The beach can get really steep and it's really deep fast. As at any beach, always consult the lifeguard before to know the conditions of the day and hazards to be aware of before entering the water.
Another reason is that there is runoff/stormdrain water flowing into the ocean at some points of the year here. So be aware of posted notices regarding the safety of the water quality.
This beach is known for its world-class skimboarding which is really fun to watch. However, what makes a really good skimboarding beach doesn't make for a great family swimming beach.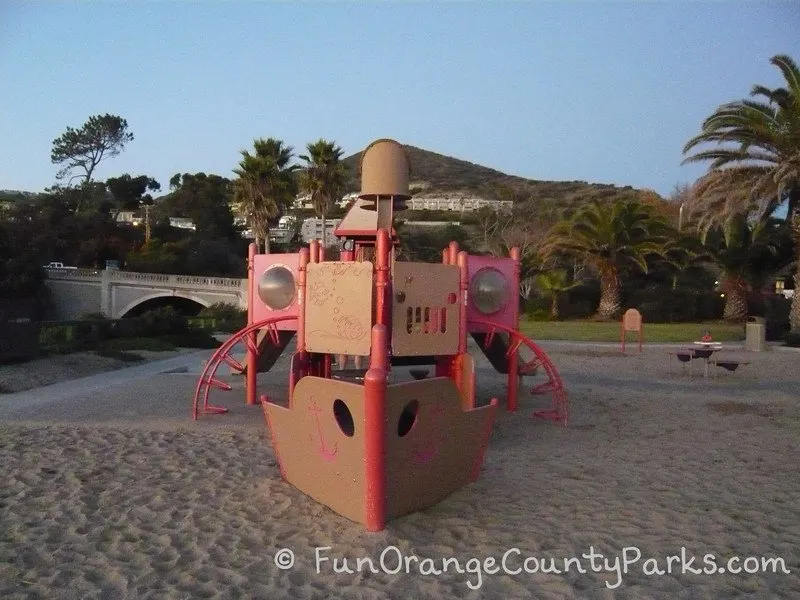 Checklist
See the parking section above for the fees to park in this lot and how to pay them.
Sand and recycled rubber play surface
Do not play in the standing water from the creek here — there are notices everywhere about the hazards of touching this water: "Runoff/stormdrain water may cause illness. Avoid contact with ponded or flowing runoff and the area where runoff enters the ocean."
10 unisex individual restrooms are on the opposite side of the parking lot from the play area. Sinks outside.
Drinking fountains – bring your refillable water bottles.
No shade, but cool at the coast on hot inland days
Easy to view children from picnic tables
Lost Pier Cafe is open daily from 8am-6pm. See the Lost Pier Cafe menus online.
Fire pits for on the beach past the cafe can be rented through Lost Pier Cafe for $85. You must be 18 years old and it's a propane pit. You can reserve online. I'm sure availability can change during the season sue to weather or if the beach gets washed out.
Outdoor showers for washing sand
No alcohol allowed on the sand – only on the Cafe patio.
Visit my list of 15 Pirate Parks in Orange County for more pretend play opportunities!
Nearest public library: Orange County Public Library branches in Laguna Beach and Dana Point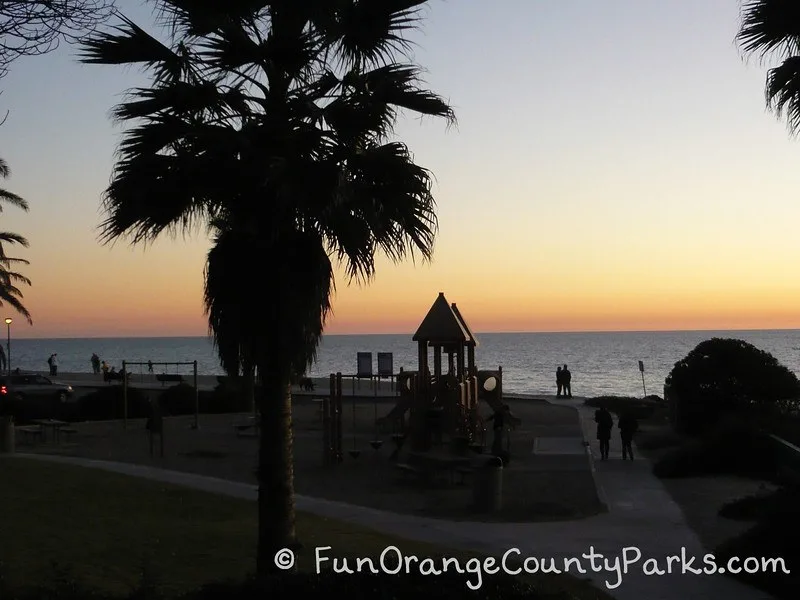 Laguna Beach parks near Aliso Beach Park: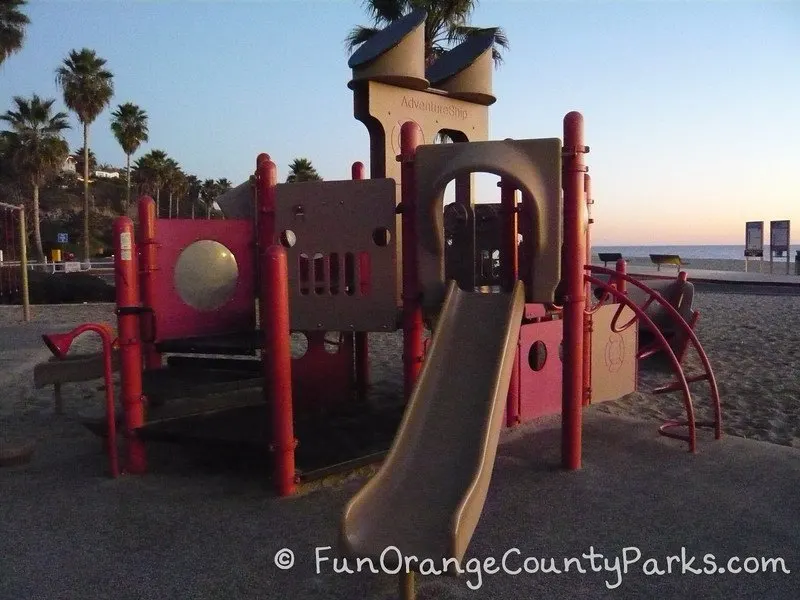 Originally published in January 2009.