Stanton Central Park and Splash Pad serves as a state-of-the-art and staffed outdoor recreation area for the residents of Stanton.
It is over 11 acres in size, so it has something for all ages and interests! Because the park is in such high demand, it also receives public works service every day to keep the area clean and ready for visitors.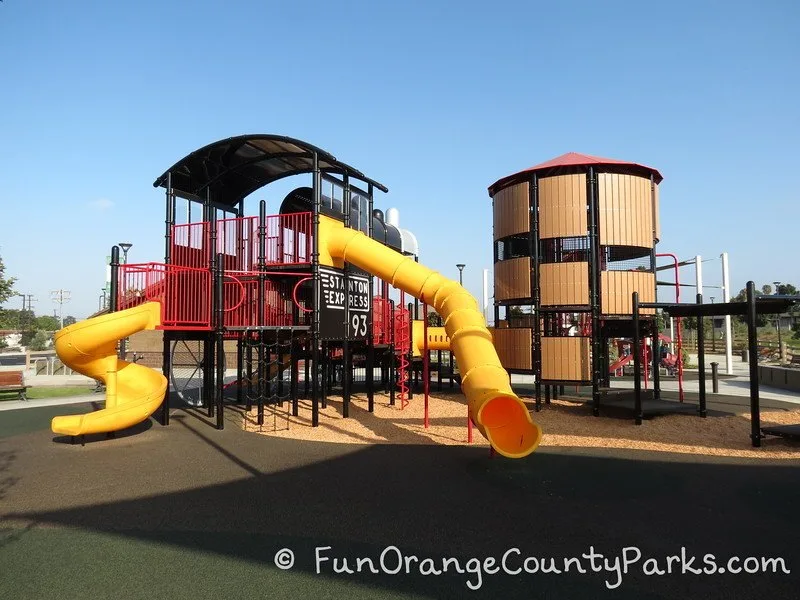 How to Get to Stanton Central Park: Stanton is in the same general area as Disneyland and Knotts Berry Farm. You can reach it via Interstate 405 or Interstate 5. We took the 405 to get there and made a loop down the 5 to come home. We took the Beach Boulevard offramp from the 405, made a left on Katella, and right onto Western. The turn into the parking lot is right past the railroad tracks. When we left, we just took Katella towards Disneyland and got on I-5 there. (Address: 10660 Western Avenue, Stanton) MAP TO STANTON CENTRAL PARK
Highlights:
Brand new as of Summer 2016 and designed with special attention to community input from the residents of Stanton.
This park is staffed from 8am to 8pm – staff are often outside on the grounds interacting with the public or accessible in the park office.
Splash pad has a train theme, like the rest of the park, in honor of the historic Red Car which used to run on tracks very close to this park.
Beautiful circular benches surrounding large trees and plenty of areas for picnics. It will be really nice once the trees grow a bit for more shade.
The park feels BIG and has a walking path that goes all around it passing a butterfly garden and two fitness equipment areas with multiple stations.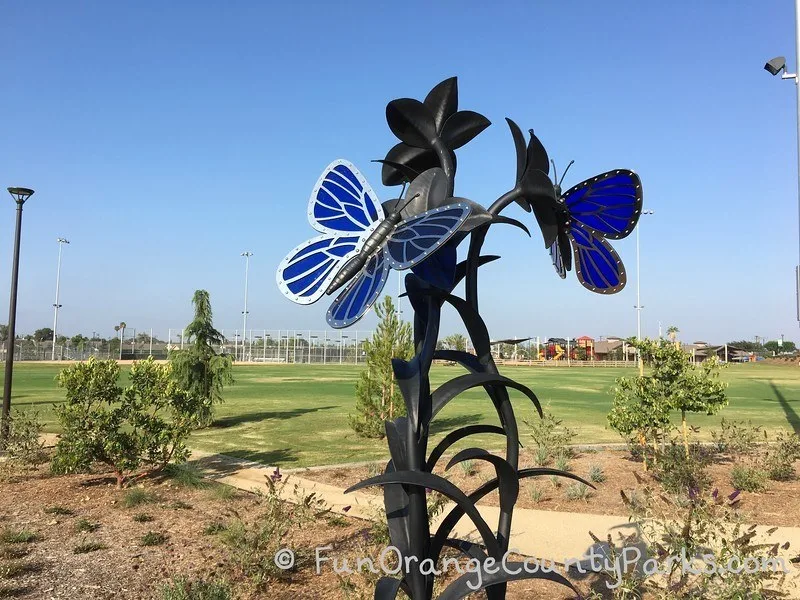 Big kid playground is built in the theme of a train locomotive and a water tower. Very impressively big if you are an adult – I can only imagine what it looks like if you are 5 years old! Tunnel slide, twisty slide, and short slide come off of the train. A tunnel connects the 2 big pieces of equipment for the kids. Short zip track and fireman's pole.
Big rock/rope course play area with mini-caves and good footholds for climbing.
Small kid playground is very near the splash pad with 2 baby swings and a very small structure – but lots of room for running around on the grassy area. Bring balls to play.
Chess boards painted on park benches near Butterfly Garden – you can bring your own pieces or check them out from the park office.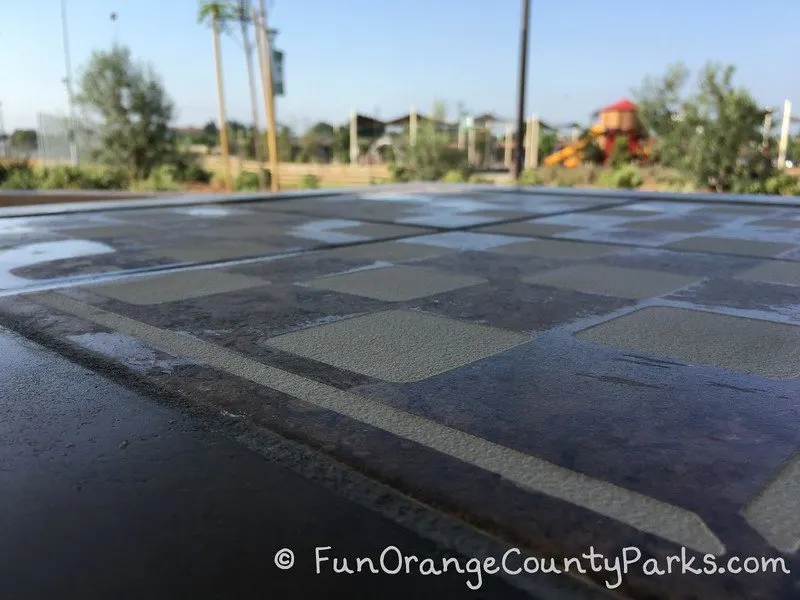 4 baby swings (2 by small kid playground and 2 next to bench swings), 2 bench swings, 1 "Oodle Swing"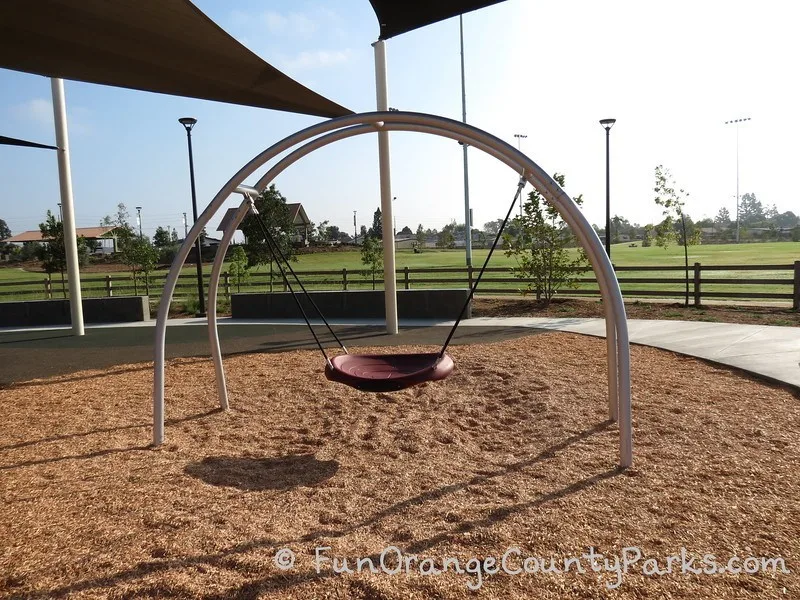 Be Aware:
Adults watch your heads on the playground equipment, there are tunnels and low ceilings built for kid height.
Any park with a splash pad can be incredibly busy during the summer – so be prepared for a crowd.
As with any splash pad, be prepared for the area to be closed due to malfunctioning equipment or any number of other reasons. (Just have a Plan B in mind.)
Splash pad is only open 12pm-5pm every day between Memorial Day and Labor Day.
Skate park hours are different during the summer & holidays vs. school year and weekends vs. weekdays to encourage school attendance by minors.
You can reserve picnic shelters for up to 50 people, but residents/non-residents pay different rates.
They squeezed in shade everywhere they could and even supplement with E-Z-Ups. With the help of generous donors, they even were able to upgrade to a larger size tree than most parks get when they are first built. So shade will come, it's just taking time.
Empty Splash Pad at 8am on a Weekday (opens at noon)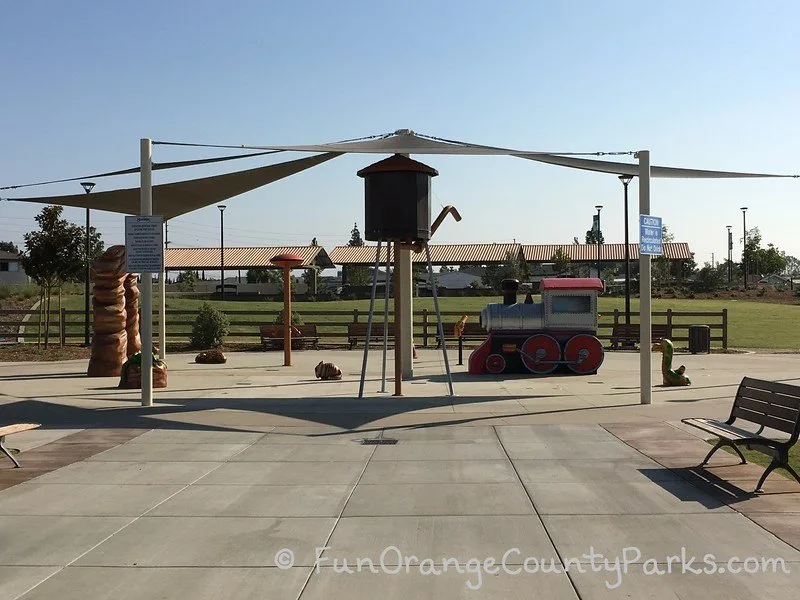 Checklist:
Dedicated parking lot behind a fenced entrance open from 8am to 8pm.
Large restrooms located very near the playground – all stalls have doors. Soap dispensers and hand-dryers.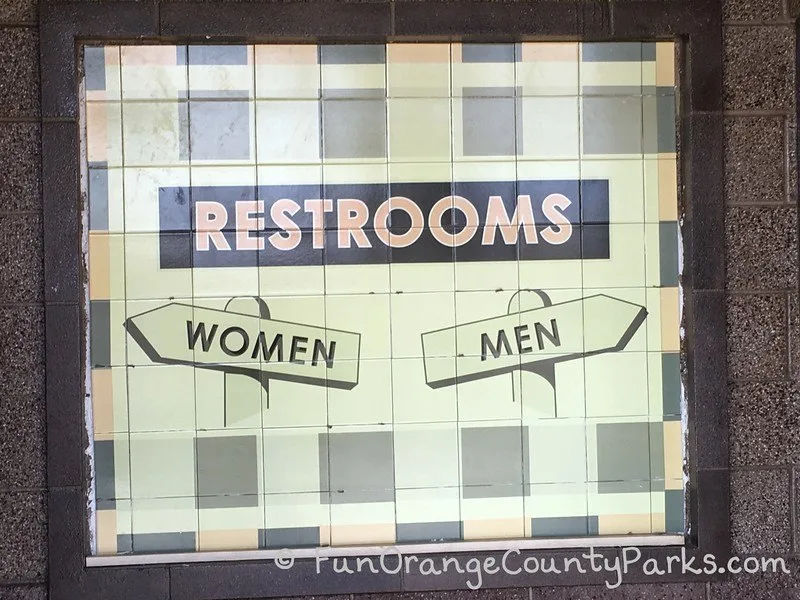 Recycled rubber play surface and non-skid concrete at the splash pad
3 indoor multi-purpose rooms for community classes or reservable for private functions.
3 very large reservable picnic shelters — some with a sink and a large barbecue grill. Also many more first-come, first-serve smaller picnic tables around the park. Some with shade and some without.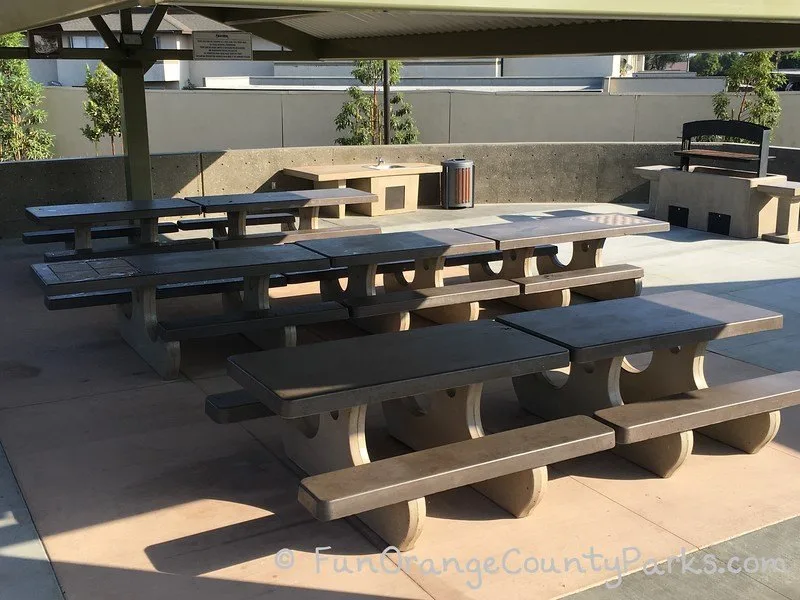 4 tennis courts
2 half basketball courts
Bandstand
2 horseshoe pits
Skate park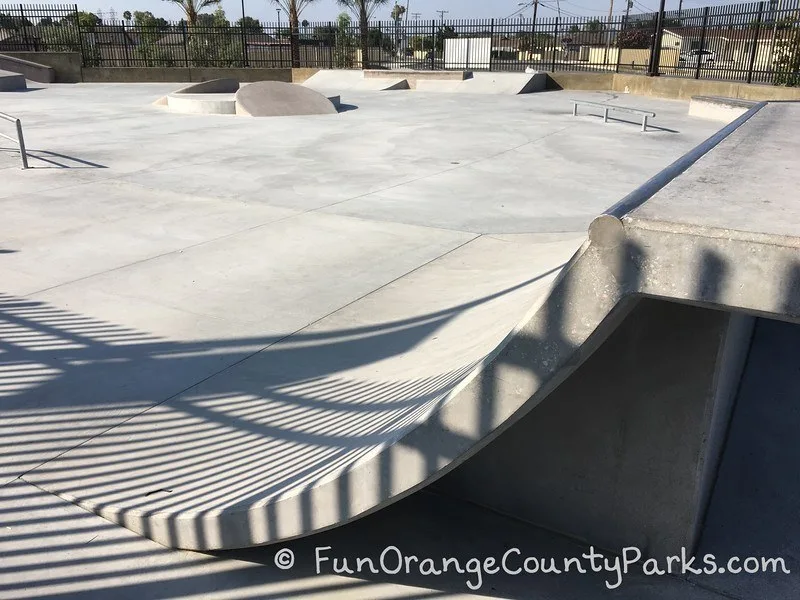 Large grassy area for recreational use or as sports fields
Dogs allowed as long as they are on a 6 foot leash and you pick up after them
Fitness course in two spots along a decomposed granite path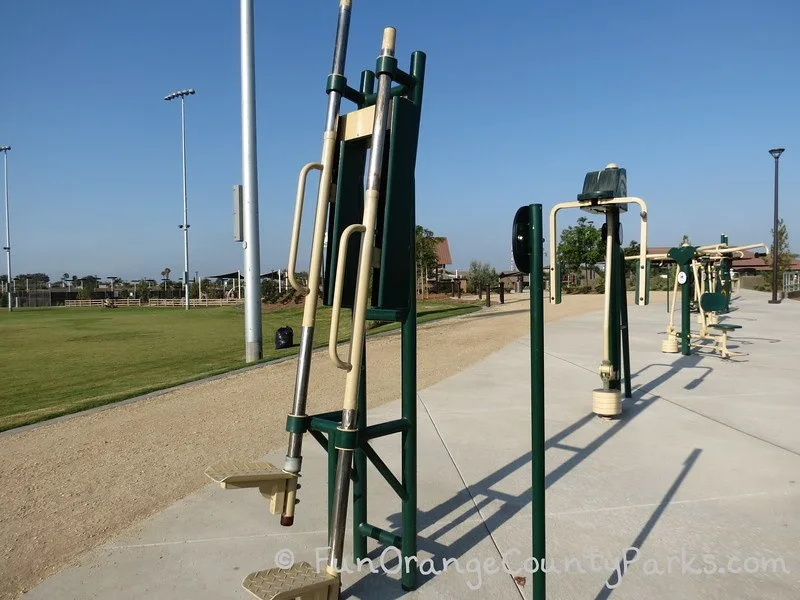 If you would like to reserve a picnic shelter or get more information on this park. Please consult these OFFICIAL websites:
Visit my post about Orange County Splash Pads and Water Play to find more water play parks in OC!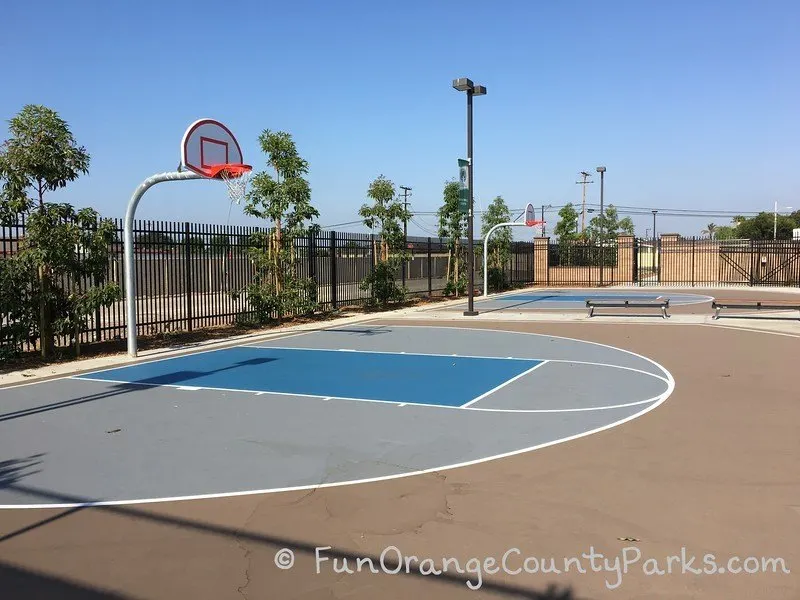 Nearby Parks: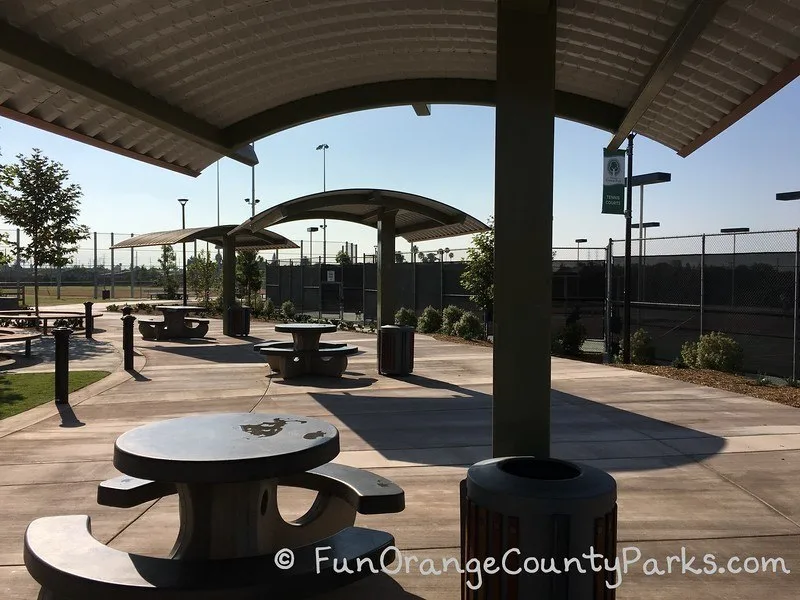 Originally published in July 2016.