The El Dorado Nature Center and El Dorado East Regional Park in Long Beach is a spot recommended to me by local photographer Tracey Clark upon our first meeting. Locals call this area "Eldo."
She said the nature center was lovely and park wasn't to be missed. But I did miss it . . . for over a year! So when we finally visited and invited our friends, I let out a great "Oooooooohhhhhhh!"
This spot even made it onto my list of 17+ Family-Friendly Nature Centers in Orange County! Even though it is obviously not in Orange County — it is convenient for north OC families.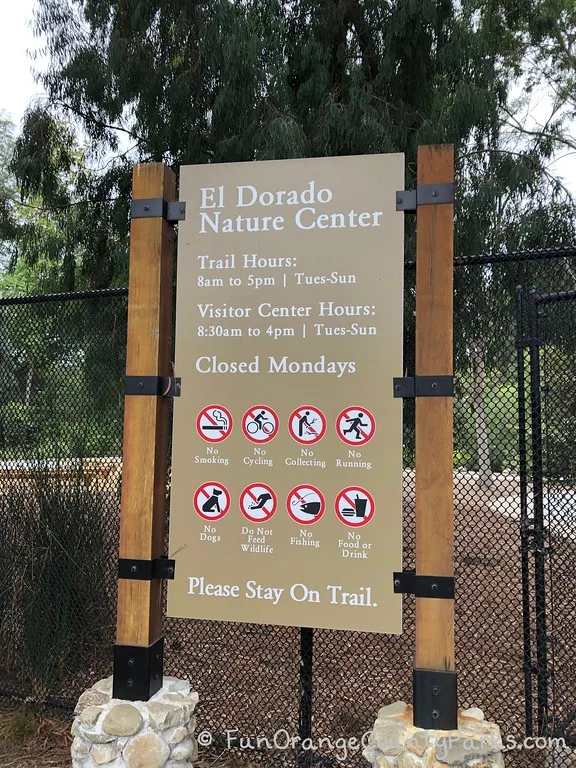 It's beautiful and expansive. Photographers really do know the best parks!
We've been many many times in the years since! You will definitely need to take a look at this map before you go to get yourself oriented.
I'd also recommend reading until the end of the post so you really know all this park has to offer.
How to Get to El Dorado Park in Long Beach: You've probably seen this park and don't even know you've seen it! It's the green area to the north of the 605 Freeway separating Cerritos from Long Beach. The park is in the City of Long Beach. They have detailed directions and a map on their website. But, basically, you'll want to take Studebaker to Spring Street and turn towards the 605. The entrance to the nature center is on your right (Parking $5-$8) and you can use your same day parking stub to cross Spring Street and explore the biggest part of the park with playgrounds across the street. MAP TO THE ENTRANCE OF THE EL DORADO NATURE CENTER AND PARK IN LONG BEACH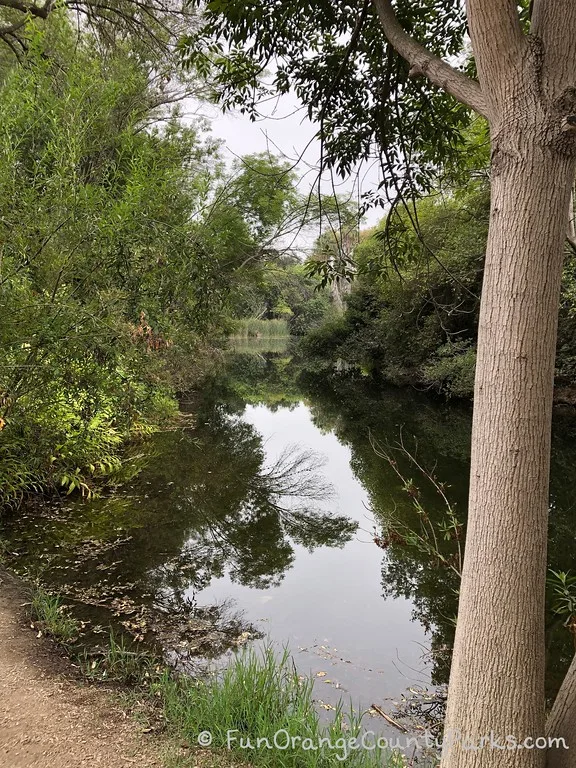 Nature Center Guide
The El Dorado Nature Center is in a cozy little corner of the park. It rests on an island connecting to bridges which hover over turtles and lead the way to nature trails.
Keep in mind that the Nature Center is closed on Mondays! AND that the trail hours and nature center hours differ slightly.
You will pay $5-$8 with a parking attendant and then park in the small lot and walk to the gates leading to the nature center. SAVE YOUR RECEIPT so that you can use it to visit the other side of the park.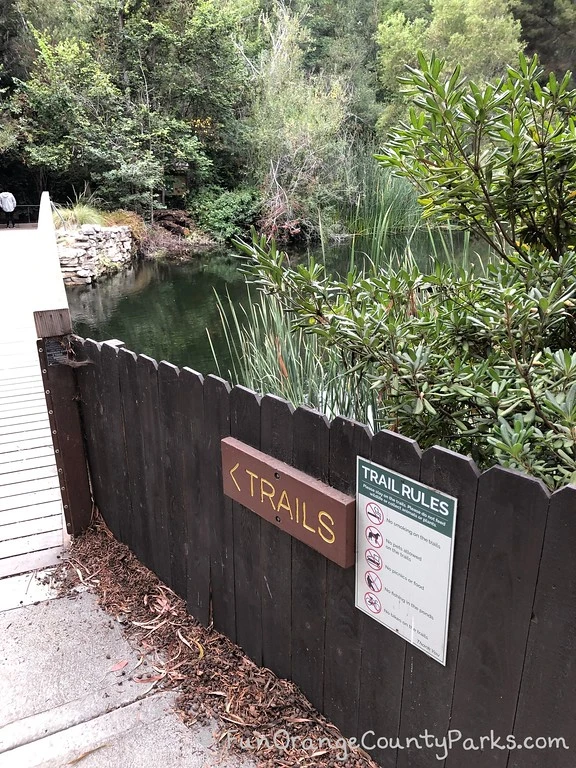 Think about whether you need to use the restrooms now before you go into the nature center grounds. They are located at the edge of the parking lot near the picnic grounds.
You might also want to have a snack before you enter, because food is not allowed inside.
There are often volunteers at the gates in case you have questions before you go in.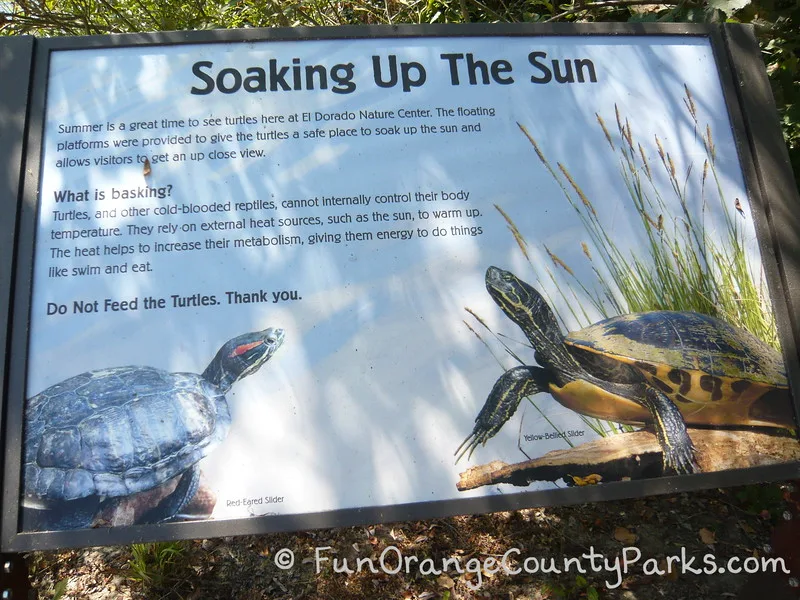 Once you get inside the gates it feels really wild, especially if you catch it on a day when it's not busy. There are animal tracks stamped in the concrete leading the way to the bridges. A lot of kids are entranced just by this part, so let them explore here if they want!
I love all the old tall trees. You forget that you don't get to experience that much anymore, but the shade and the nature around here are soul soothing.
The trail map will really help you out. Take the little 1/4 Mile Trail if you have little ones with you. It's right near the nature center and is a great little pairing.
We've been to this nature center to meet up with friends from LA. We've taken the short trails, the 1 mile trail loop, and even most of the 2 mile loop.
It's a different experience every time. Seasons change. Animal sightings vary each time we go. If you want to start going on nature hikes, but they feel wild and scary — this is a good starter experience.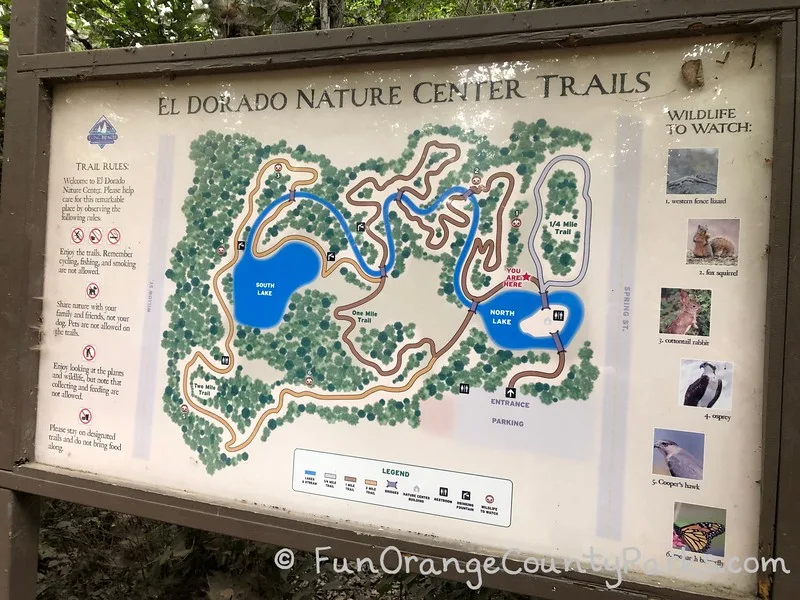 I will share a little preview of some of the sights you might see, but you really should go into it with the spirit of exploring and not knowing what might come next.
Just get immersed in the experience! Also, bring plenty of water because it can get hot on the trails.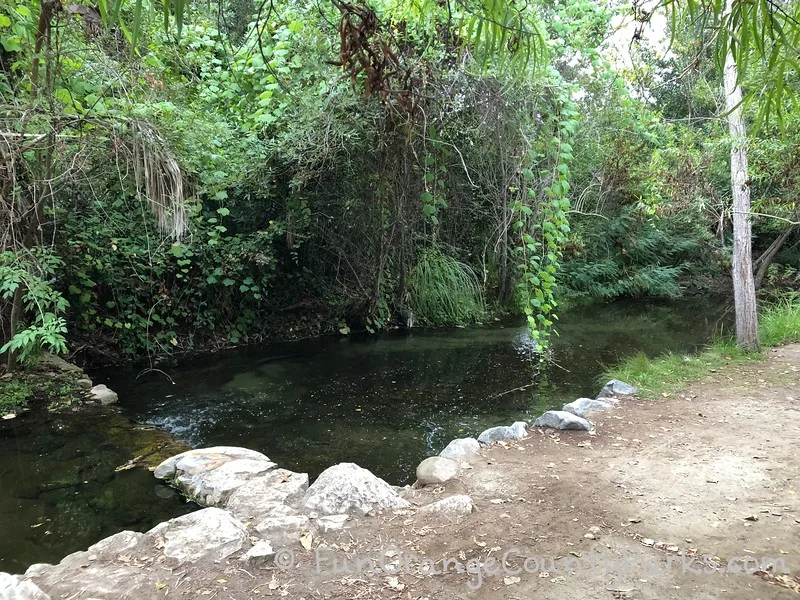 There are beautiful trees and you may not know what's coming around the bend. Each section of the trail is a wonder!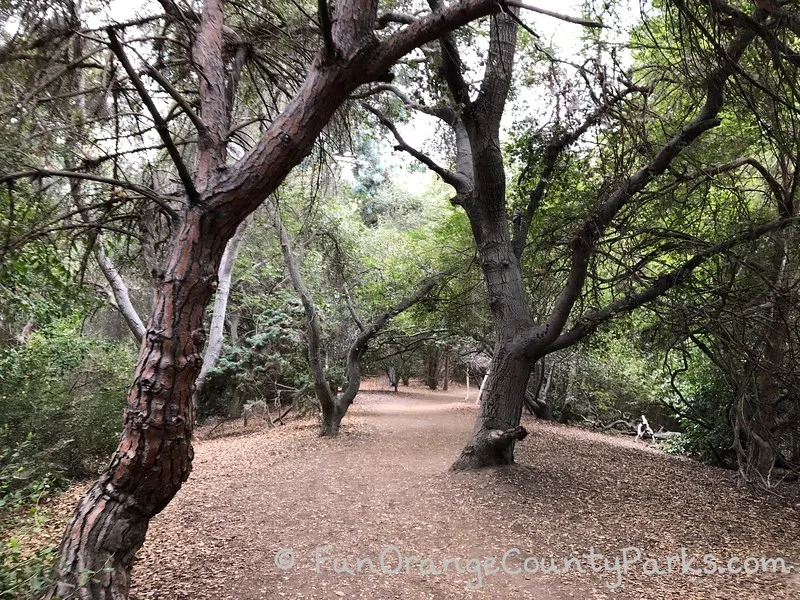 Take your time and soak up the nature! Then you can head over to the other side of the park to visit the playgrounds.
Playground Guide
It's a huge park and it can be a little daunting to find the playgrounds. Let me just walk you through the basics.
You will enter off Spring Street, right across from the nature center. You'll show your receipt at the kiosk — or if you are starting on this side of the park then you can buy a pass here to use later at the nature center.
I'm sending you to the Golden Grove playground area first.
Then you will follow the road around and wind through until you go under a bridge. It looks like this: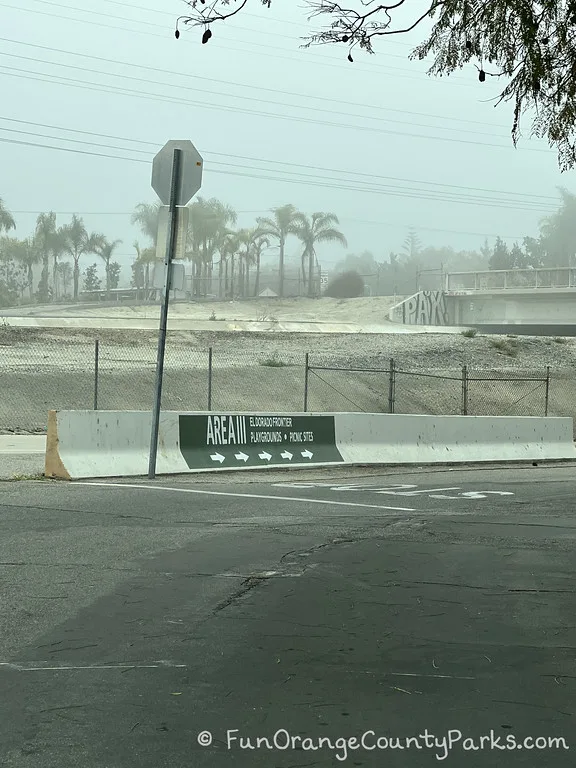 And it feels really weird when you are driving it because you feel like you might be exiting the park.
Then you will come to a fork in the road with signs telling you to go left to get to Golden Grove. You will want to take the LEFT fork and turn into the first parking lot you come to. (If you decide to go right, it's no big deal because you will see other parts of the park — but it will just take you a while to get back to the parking area for the playground.)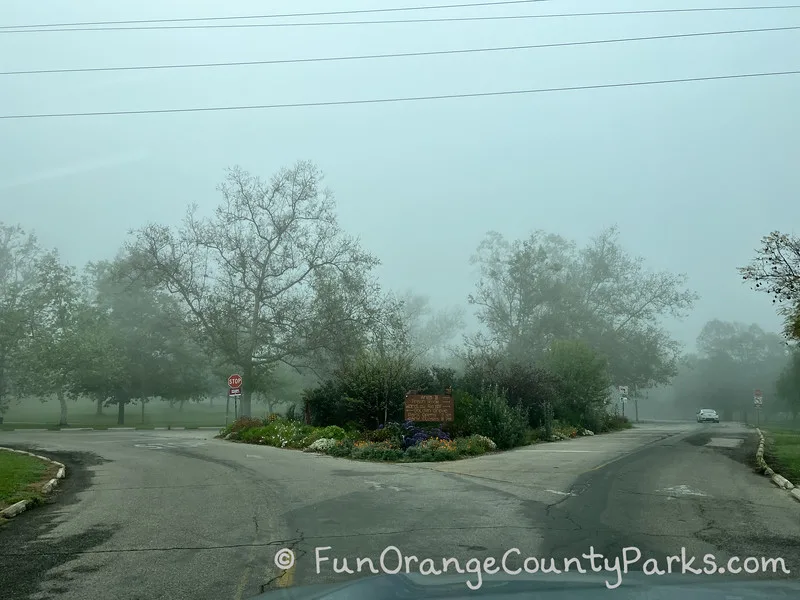 I know I keep saying "playground" but what I really mean is PLAYGROUNDS! There are 4 sections to Golden Grove along with an amazingly HUGE picnic area.
The playgrounds are all situated surrounding the restroom building so you are only steps away if you need it. There are lots of joggers and bike riders who come by and has this as a stop on their route.
The first playground you notice from the parking lot is the old equipment with the train. Lots of adults remember this as a beloved part of their childhood.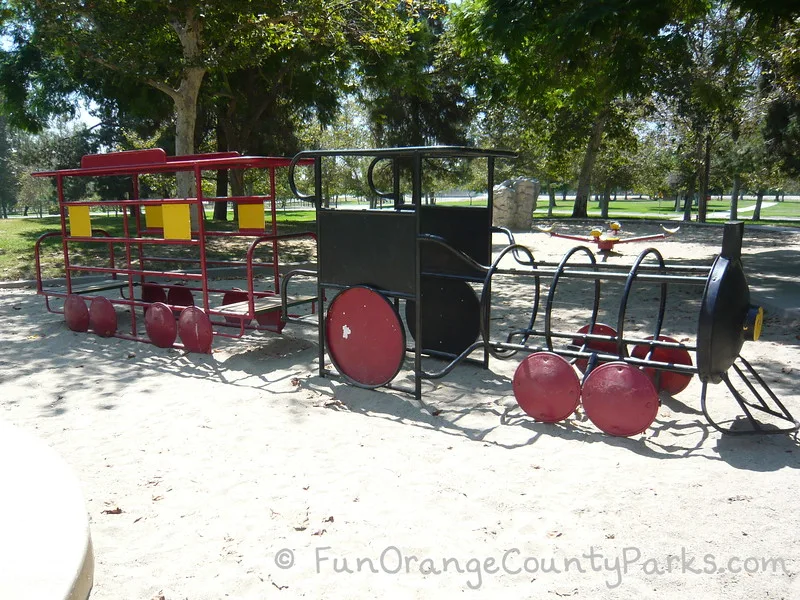 They've added a few new little play opportunities to this area with a spinner, a few spring toys, and a musical experience.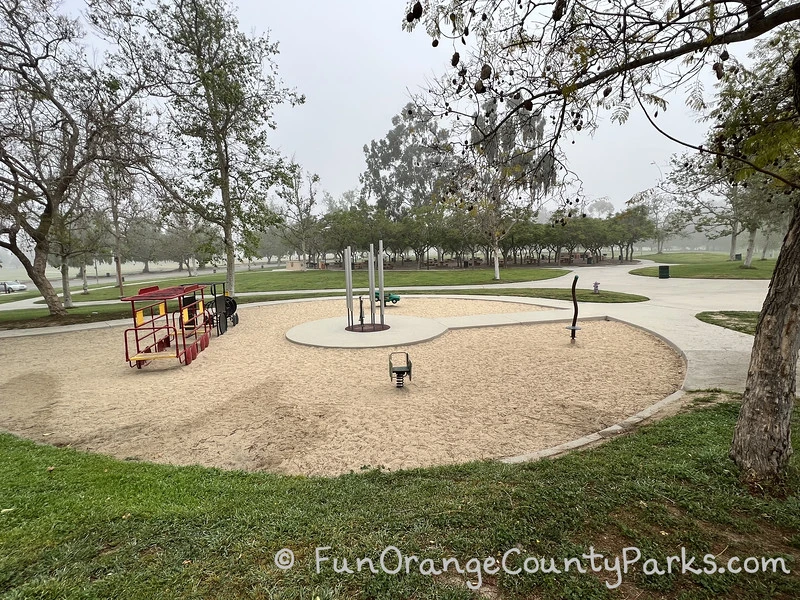 I love all the swings at this park. The next playground section is right at the front of the restroom building. The swings are super fun!
It's almost like a merry-go-round.
See the geese in the background?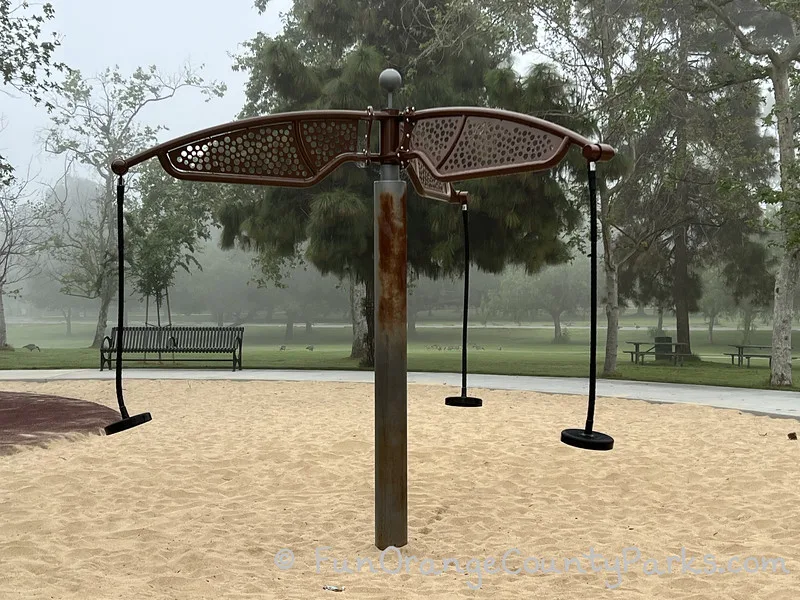 The playground here is pretty low to the ground and good for littles.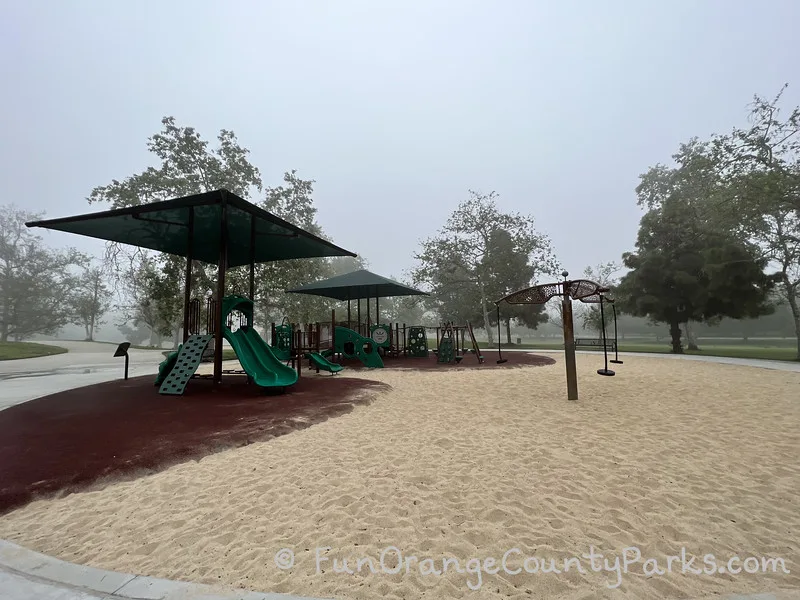 It even has some elements for balancing and some lower level monkey bars and rings. There are pedestals to navigate and small walls to climb.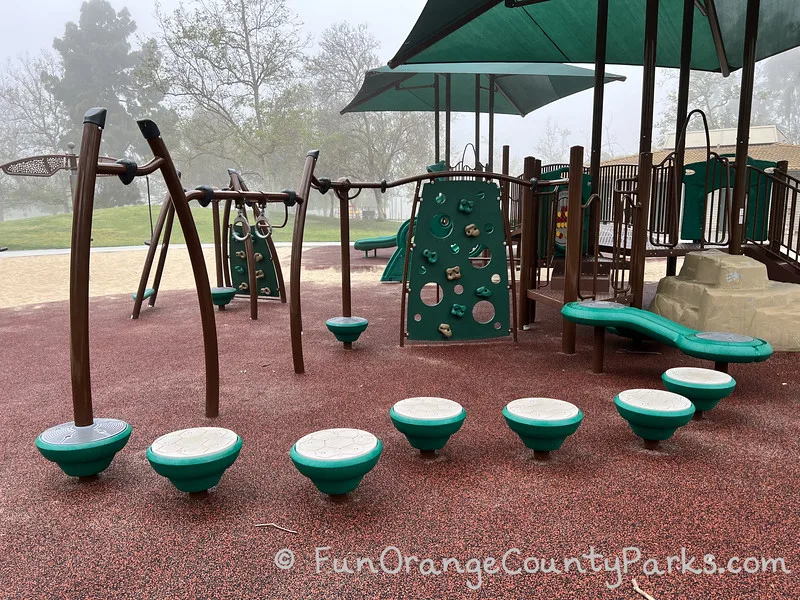 This next part is my absolute favorite! I love the idea of "group swinging" and this makes it possible on so many levels!
Do you see this? Three tandem "swing with me swings." One is even designed for babies. A total of two babies and six kids/adults could be swinging here all at once.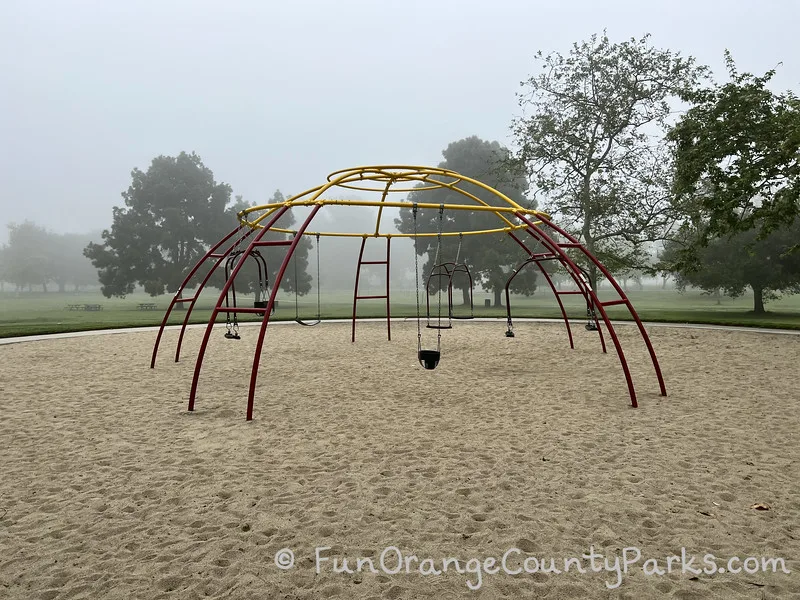 I have a whole post about swing with me swings if you want to find parks nearer to you with this option.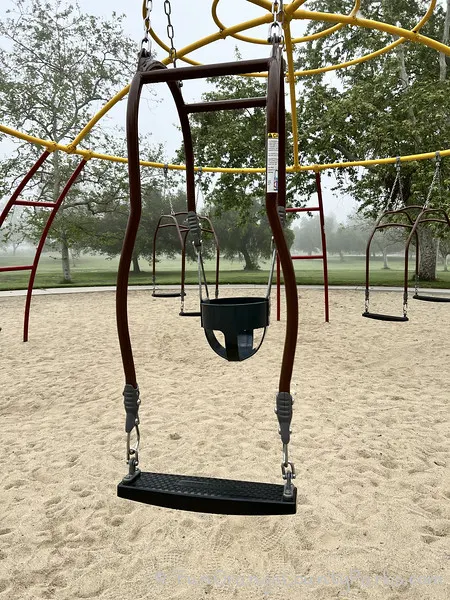 The last playground in this area is for bigger kids (but some littles are okay here, too — you know your kids and their abilities). This one just has more drops and taller heights.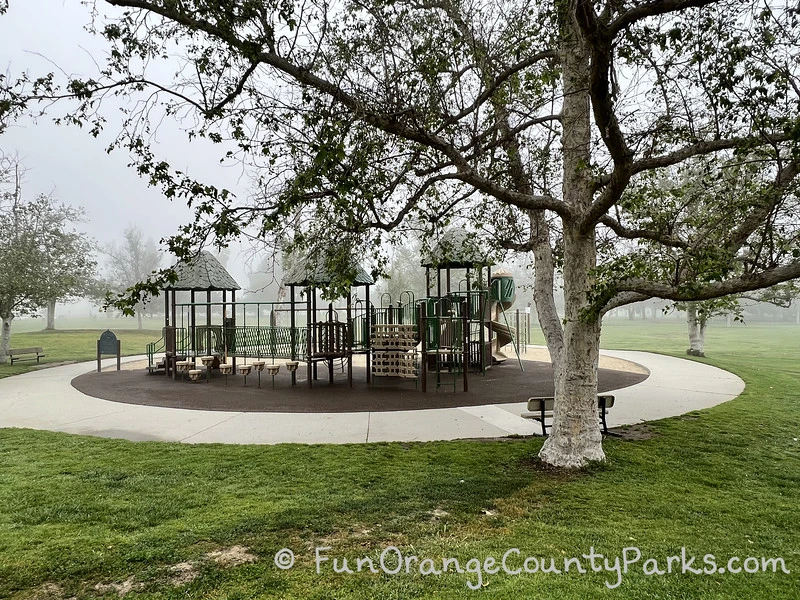 It reminds me of a tree house or even being in the trees with its tree-top style. And there are also two bench swings, two baby swings, and a climber at this playground.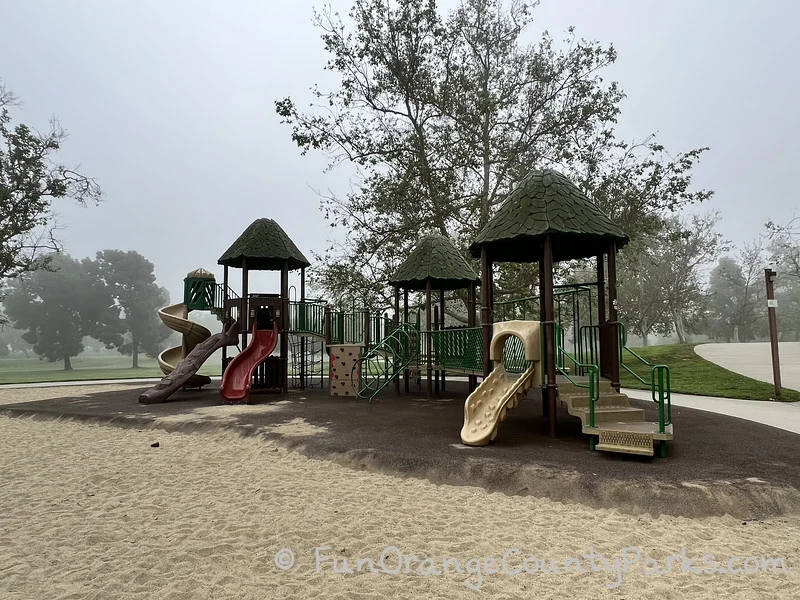 There is another play area over at Lake View Grove, but it only has one slide, 2 bench swings, and a big picnic area. And, of course, a view of the lake!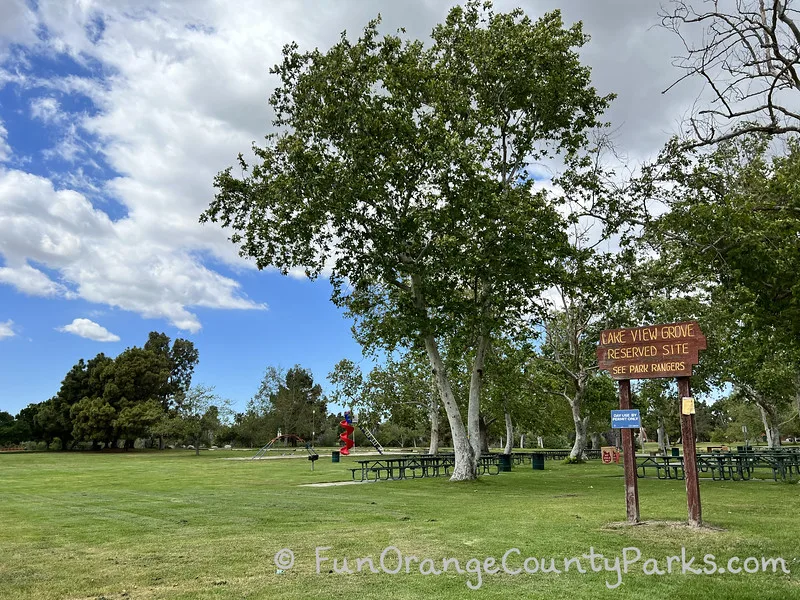 Need to Know
Highlights
This park is BIG! You will definitely need to take a look at this map before you go.
There are so many sections to it: fishing lakes, archery range, nature center, recreation activities, grassy areas, bird watching, picnicking, playgrounds, bike trails, model boats, model airplane flying.
A railroad runs on the weekends from 10:00am-4:00pm (El Dorado Frontier).
This would be a perfect place for a family bike ride inside the park. It is also along the San Gabriel River Trail bike path which runs from Seal Beach all the way up to Azusa and skirts the outside of the park.
It's a great place for exploring and I don't want to give it all away – because discovering everything is part of the fun.
Nature Connection: El Dorado East Regional Park – We got to see a gaggle of geese near one playground and a blue heron walking on the grass when we first entered. Nature Center – Spotted two kinds of turtles, squirrels, waterfowl, butterflies, bass, and dragonflies. There are lots of activities for kids to touch inside the nature center.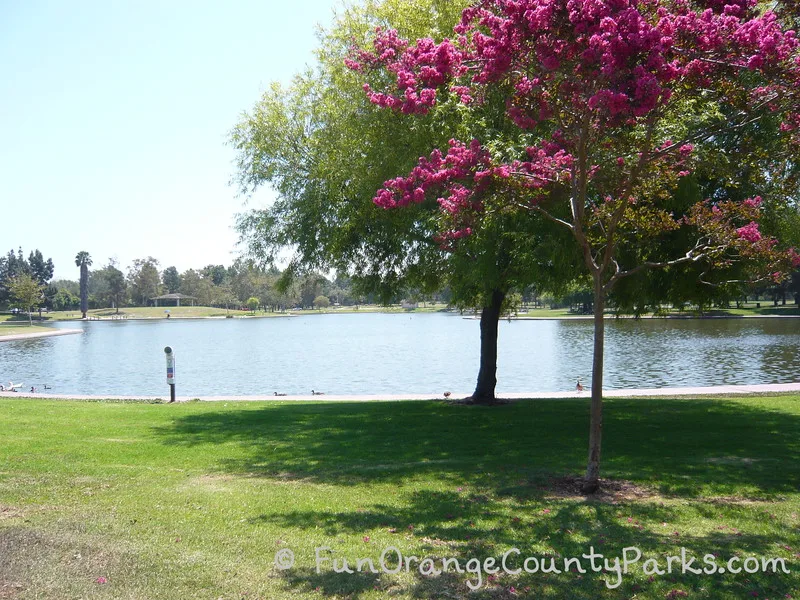 Be Aware
Nature Center CLOSED on Mondays – and there is a small CASH ONLY entry fee with higher prices on Fridays and the weekends
No eating on Nature Center grounds — and no feeding the ducks or squirrels! However, there is an "Opossum Patch" picnic area at the

back of the parking lot

near the restroom.
This park is BIG and the streets are mostly ONE WAY so you might have to loop around to get where you want to go.
We went on a weekday and the park was pretty deserted of other families. You might want to take a friend or make it a play date when you go.
I can imagine it's really busy on the weekends, but so big that it wouldn't matter.
It can be hot here in spots where there's not shade and along the trail at the nature center. But it can also be socked in with fog and cool as you can see from a lot of my photos. Just come prepared!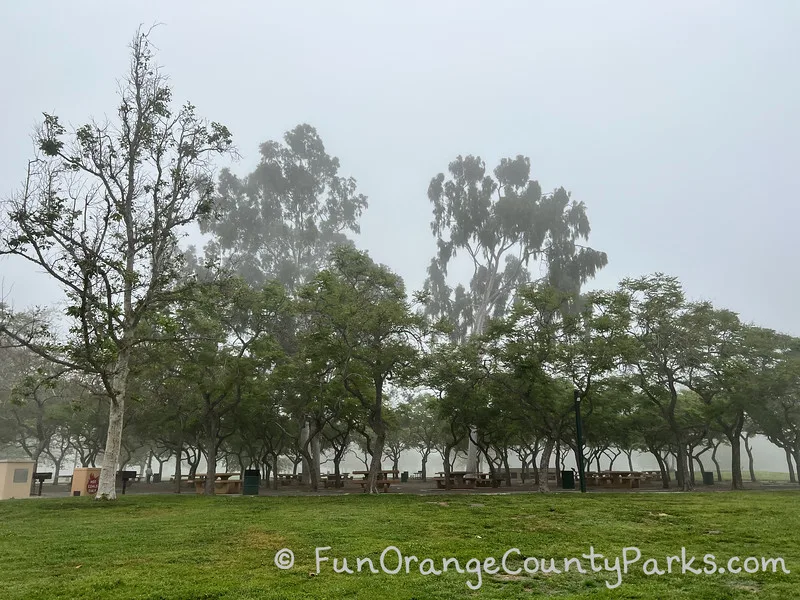 Checklist
Nearby Parks
Originally published in August 2011.