What are the Mess Hall Market restaurants at FLIGHT in Tustin? That's the simple question that led me to write this post. A simple food court or food hall seems like such an easy thing to explain, but there is so much more to this location!
First, let me answer my own question . . . Internet searches for restaurants will lead you to the leasing company or a description of Mess Hall Market: FLIGHT. But if you want to know the restaurants and food offered inside the food hall, you'll need to visit a small little bit of text that says: Vendors. I know! It's buried. (FLIGHT at Tustin Legacy = the name of the creative office space campus).
If you've already tried Mess Hall Market and it's not for you, I have two other nearby dining options at the end of this section.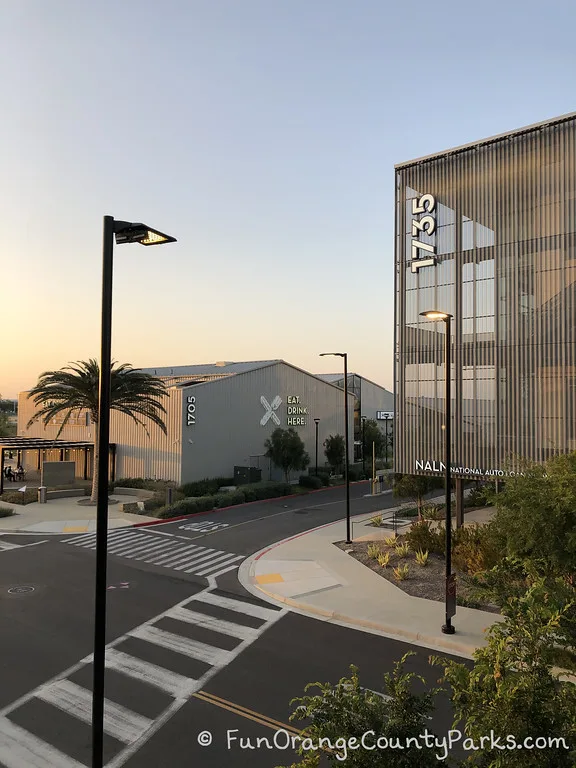 Mess Hall Market Restaurants
Make sure you visit the websites to check hours, even then, not all the restaurants are open all the times listed. Many of the restaurants are closed on Sundays and for dinner on Mondays. Otherwise, it's generally open 11am-8pm, except for the coffee shop which closes at 2pm.
The Lost Bean (organic, sustainable coffee shop)
Big Parm: New Jersey Pizza (from the owner of Slapfish)
Slapfish (seafood – try the chowder fries, shrimp burrito, lobster roll)
VaKa Burger (gourmet burgers)
Fonda Moderna (handmade Mexican dishes)
The Sandwich Society (adventurous sandwiches)
Sushiya (appetizers, sushi, sashimi, poke, ramen)
Fowl Play (fried chicken and mac 'n cheese)
The Little Greek (authentic Greek flavors)
The restaurant choices tend towards gourmet – and so do the prices. There's also a drink bar. However, the portions are huge and easily shared. It's also nice for everyone to be able to choose their own meals and come together to eat them.
Does Mess Hall Market have outdoor seating? Yes! There is a large outdoor deck that's especially beautiful at sunset. One side of the building even has an outdoor fireplace (although I haven't seen it on yet).
Does Mess Hall Market offer delivery or takeout? All the of the food is easily set up for takeout. Many of the restaurants also offer Postmates, Grubhub, or Doordash for delivery options.
Follow @messhallmarketoc on Instagram to get the latest on offerings!
You can choose to eat indoors or sit outside on the back or side patio. Both gorgeous at sunset!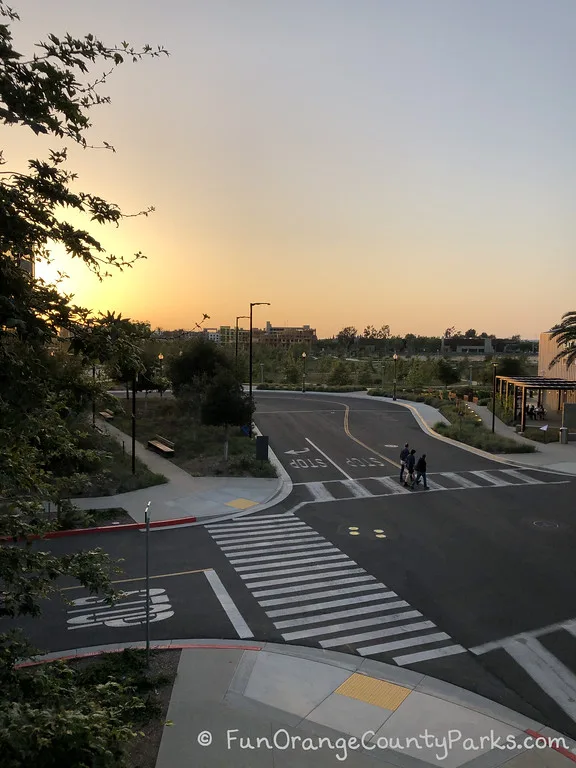 Before I finish, I just want to make sure you know about the paved paths behind the Mess Hall Market. They are perfect for a stroll or to let the kids run around. It seems super popular with dog walkers.
The landscaping still has some growing in to do, but it's beautiful for a family stroll!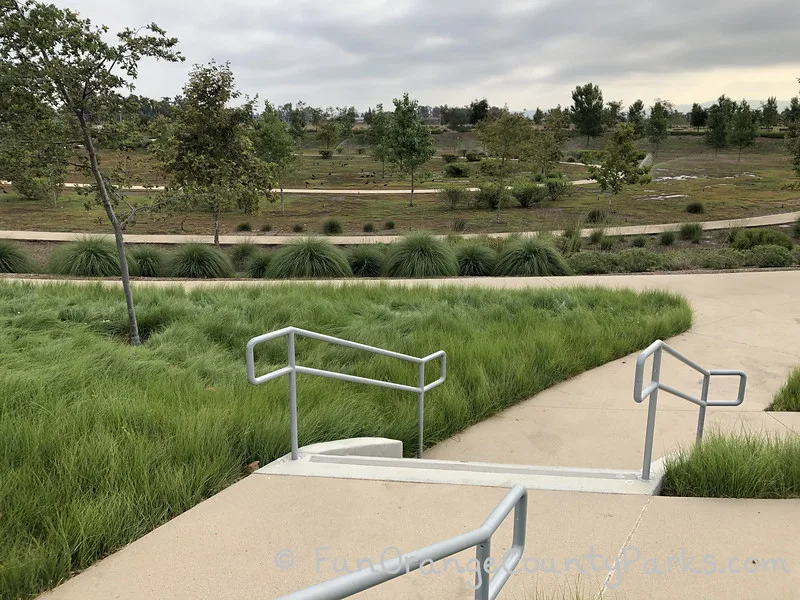 And part of it is a detention basin so it may be flooded at times when you shouldn't try to access the trails. Since we don't have much rain, it's not too much of a problem.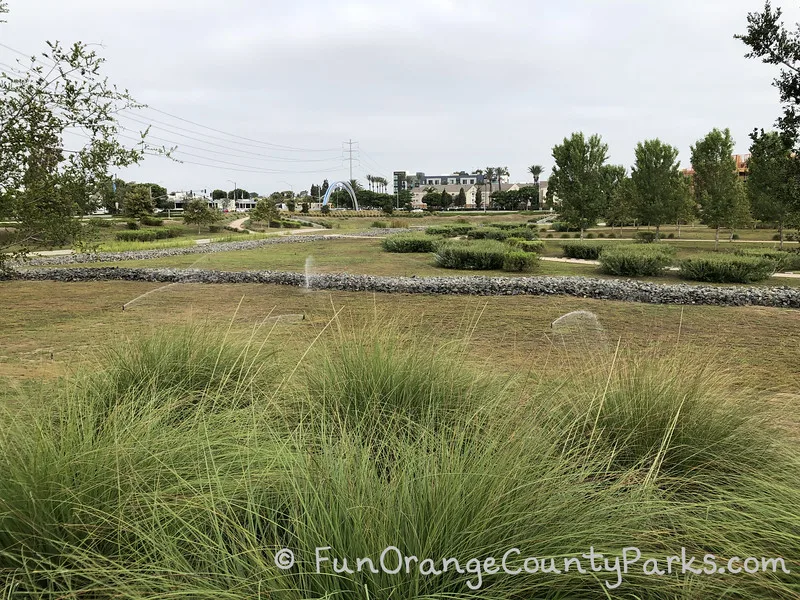 There are plenty of other food options nearby if this is too fancy or expensive for your family's eating style. Let me point out the other options:
The District at Tustin Legacy which has its own food hall called Union Market. And it also has stand restaurants throughout. Here are just some highlights: Aloha Hawaiian Barbecue, BOBA Square, Churned Creamery, Ike's Sandwiches, Mendocino Farms sandwich market, Rakkan Ramen, Red Robin, Roba Noodle, Thai Bamboo Bistro, The Yellow Chilli, or The Halal Guys.
Diamond Jamboree is an amazing spot for some of my favorite foods and restaurants all in one place. Visit Diamond Jamboree for 85 Degrees Celsius, Afters Ice Cream, Ajisen Ramen, BBQ Chicken, Curry House, Kona Loa, Kura Revolving Sushi, Paper Lantern Dumpling, Tim Ho Wan, and many more.
Tustin Mess Hall Drive-In Movie
You may have heard about a Tustin drive-in movie near here? Well, there was one back in 2020/21! It was actually put on by The Frida Cinema. Most of the titles were more suitable for a date night rather than a kid-friendly movie (check out OC Parks for those during summer!). However, to help you look it up — check out "Mess Hall at the FLIGHT" under The Frida Cinemas. Or the events page from Mess Hall.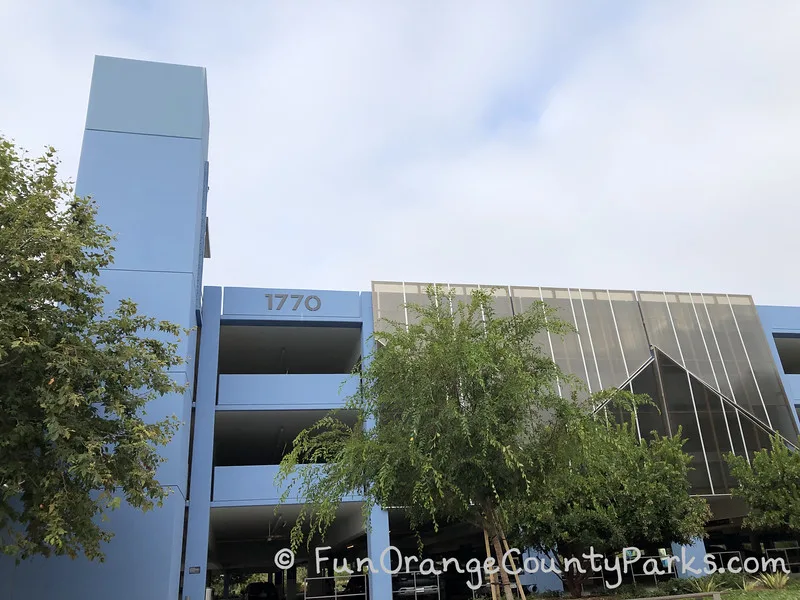 All the magic happens with a portable movie screen viewed from the top of the parking structure. Get your tickets ahead of time and head up to the top level.
Kid-Friendly Things to Do Near Tustin Legacy
You may not think about kid-friendly things to do at Tustin Legacy, but it is one of the newest developments in Orange County with some new options for family-friendly activities. There are new parks, restaurants, shopping, and entertainment is going into this area which borders Irvine and offers some fun things for families to do together.
If you have the budget, Boomer's Irvine and Irvine Lanes (bowling) are also in the area. Or try Bowlmor or Bubble Pop indoor play area at The District.
Summer Play Trips BINGO
I created this post as part of my 2021 Summer Play Trips BINGO games that came out every week during the summer of 2021 in my newsletter and on my @ocplayparks Instagram account. I'm happy to send you the Bingo Card so you can play along if you want, or you can just visit the parks, restaurants, and walks around Tustin Legacy. Just email your request to play@funorangecountyparks.com or DM me on Instagram.