Bill Barber Memorial Park's true name is Colonel Bill Barber Marine Corps Memorial Park.
Colonel William E. Barber died in April 2002 not far from the park which bears his name. He is buried at Arlington National Cemetery having served in WWII, Korea, and Vietnam.
Colonel Barber received the Medal of Honor from President Truman for his bravery in Korea when he led "his troops to defend a key pass near the Chosin Reservoir during one of the epic battles of the Korean War, despite being wounded in the leg by machine-gun fire." [To read more about this remarkable man, visit ArlingtonCemetery.net].
Stars & stripes abound at this patriotic park which features a "Don't Tread on Me" rattlesnake path.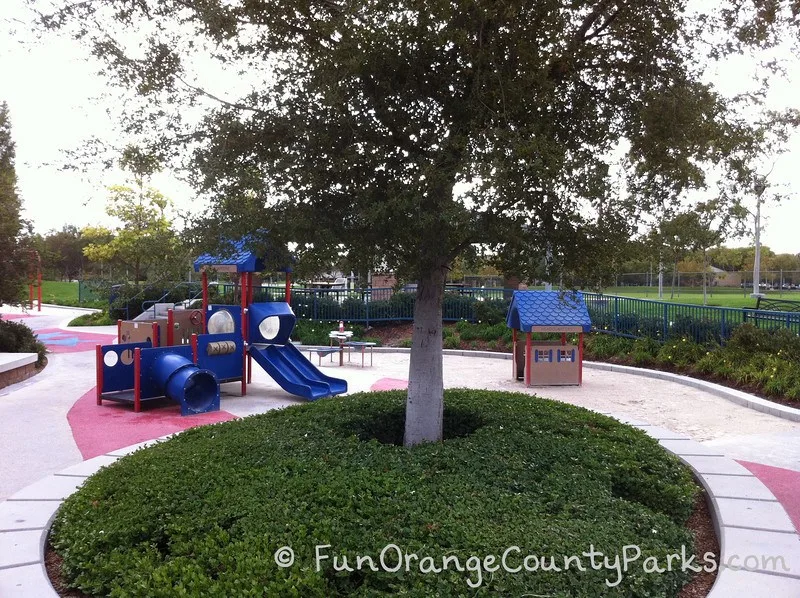 Directions to Bill Barber Memorial Park: Off Harvard Avenue near the Irvine Civic Center (Address: 4 Civic Center Plaza, Irvine). Parking lot behind Civic Center or off San Juan. MAP TO BILL BARBER MEMORIAL PARK IN IRVINE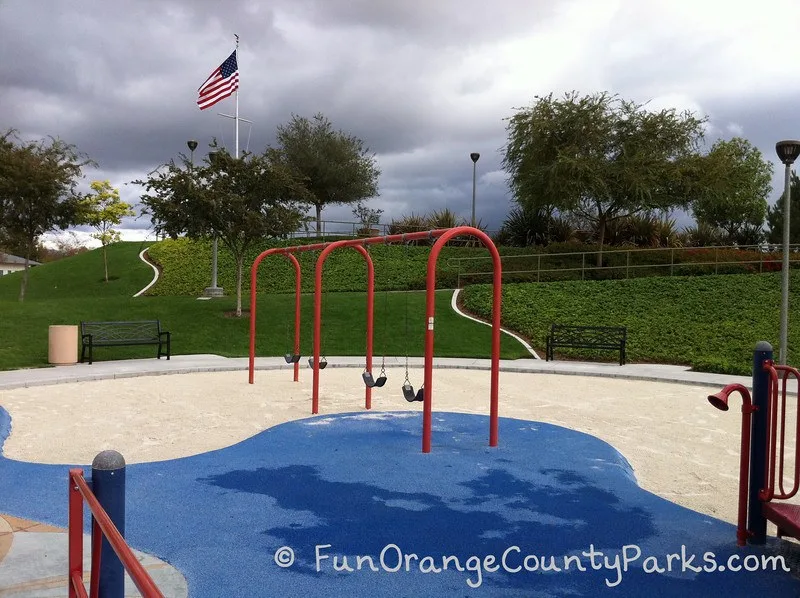 I love this photo with the memorial and flag looking over the park.
But those swings now have shade over them!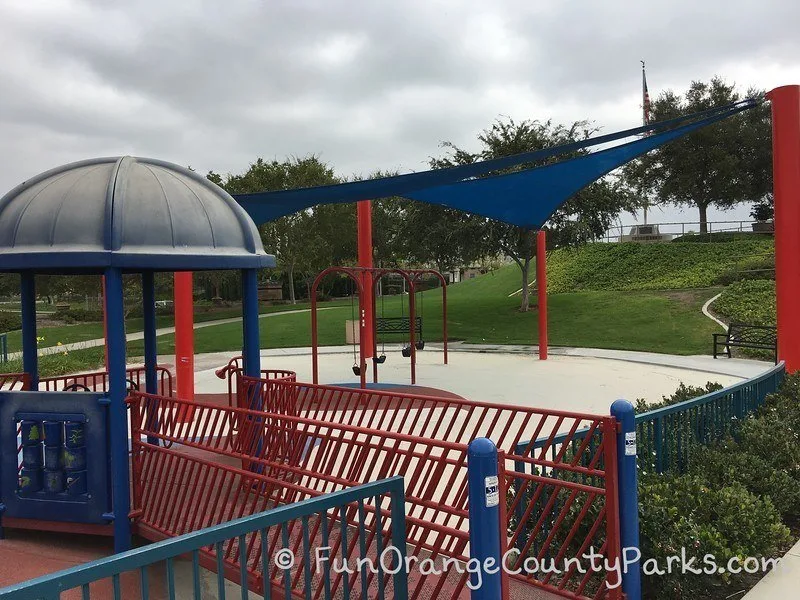 Recommended by: Nicole with added comments from Matt C. (see italics)
Highlights:
Love the patriotic theme – red, white, and blue everywhere
"Don't Tread on Me" rattlesnake path running between upper and lower section of one of the play areas – great to run the kids ragged on or run toddler bikes down
For the little ones: situate yourself in the central circular planter area then there's shade under the tree and a place to watch two of the three play areas at once for the smaller kids
For bigger kids (5+): series of walkways connected by bridges make it perfect for "tag" or "hide 'n seek"
Kids like to make a lake out of the water at the sink/faucet for some good clean (well, dirty) fun
Also a good park for kites, planes, frisbees, giant bubbles – there's a large baseball field close to the play areas for major running around and lots of space to fly kites or remote-controlled planes/helicopters
The size of this park makes it stand out – huge grassy areas, ball fields, very large picnic gazebos, and a huge play areas
Love the garden area with the frog fountain – surrounding by bougainvillea on trellises with citrus and native plants
It's somewhat accessible with ramps to get rolling up and along the equipment
Shade covers over swings and other play elements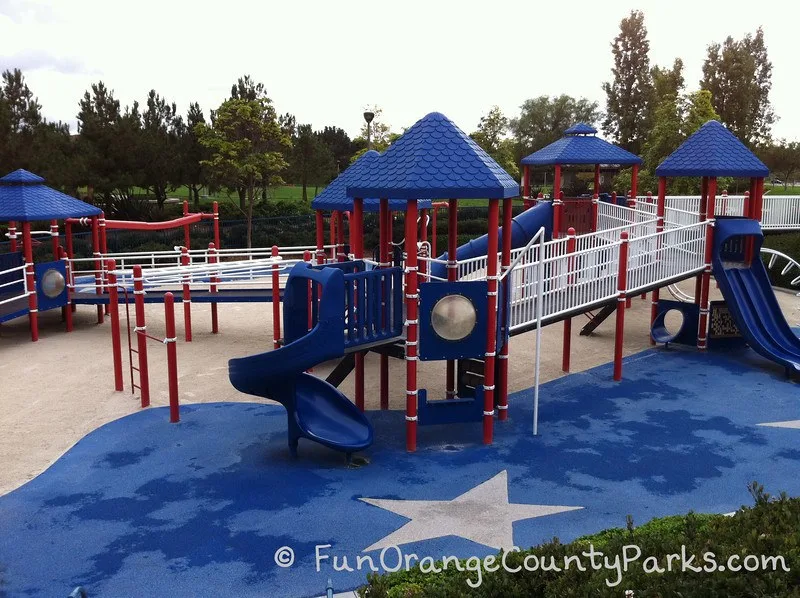 Be Aware:
Some kids will find it hard to resist getting wet in the sink/faucet on the smaller play area
Some parks are perfect for just sitting and watching the kids play. I'd say this is suited for more active supervision. Mine wanted to be on opposite sides of the park at all times. Until you become comfortable with the park layout and play equipment, it might be challenging to bring multiple "little" kids or kids with differing abilities. [See highlight above on where to situate yourself for optimum supervision]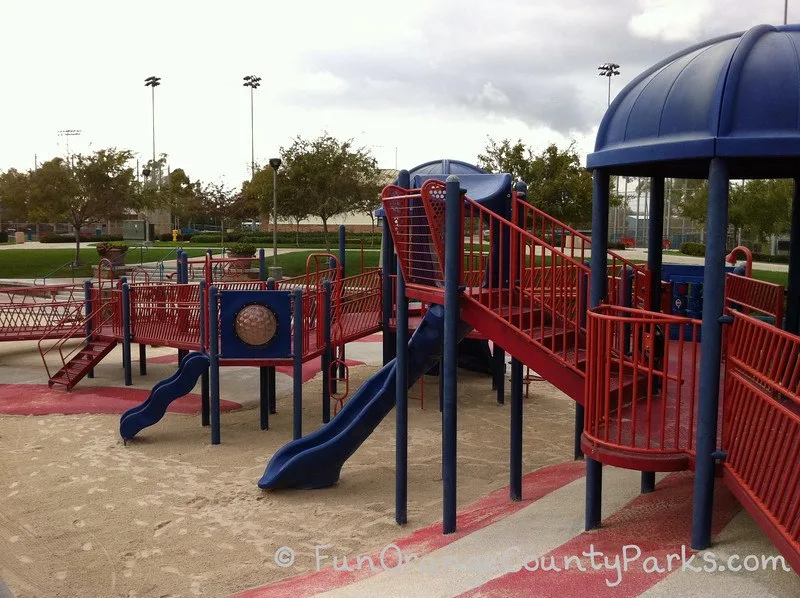 Checklist:
If you want to make this a Play Trip, check out my post on Things to Do Near Mess Hall Market in Tustin
Dedicated parking lot off Harvard and San Juan. Another lot at Civic Center, but a bit of a walk to the play area
Recycled rubber and sand play surface
Huge restroom near play area with tons of stalls, but smaller bathroom near the ball fields is slightly nicer
Plenty of drinking fountains
Play area is somewhat sunken – so it can be hot – but picnic gazebos, shade covers, and garden provide shade relief
Awesome picnic park
Nearest public library: University Park Library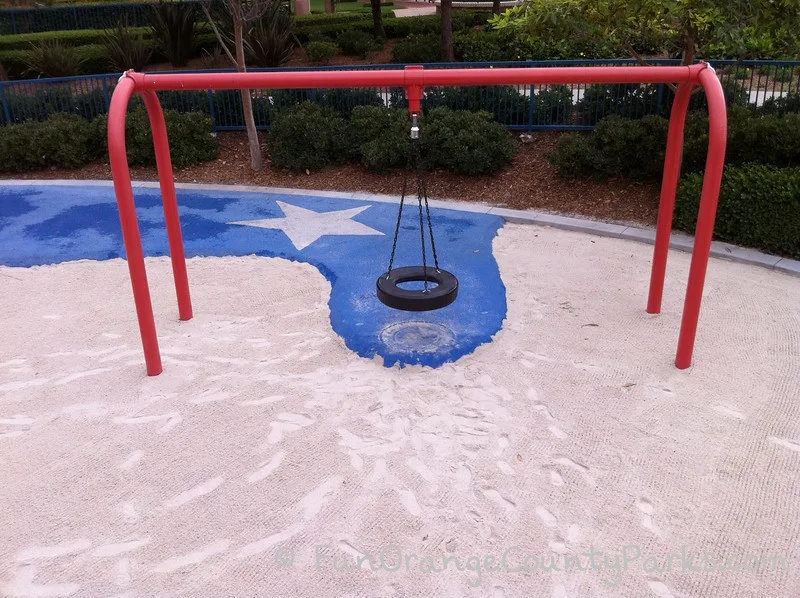 And this tire swing has a shade cover now, too!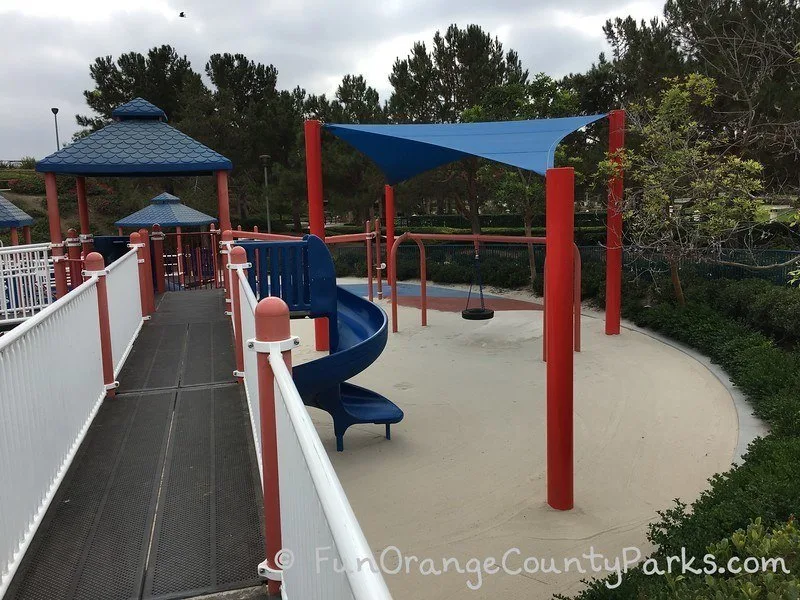 Nearby parks: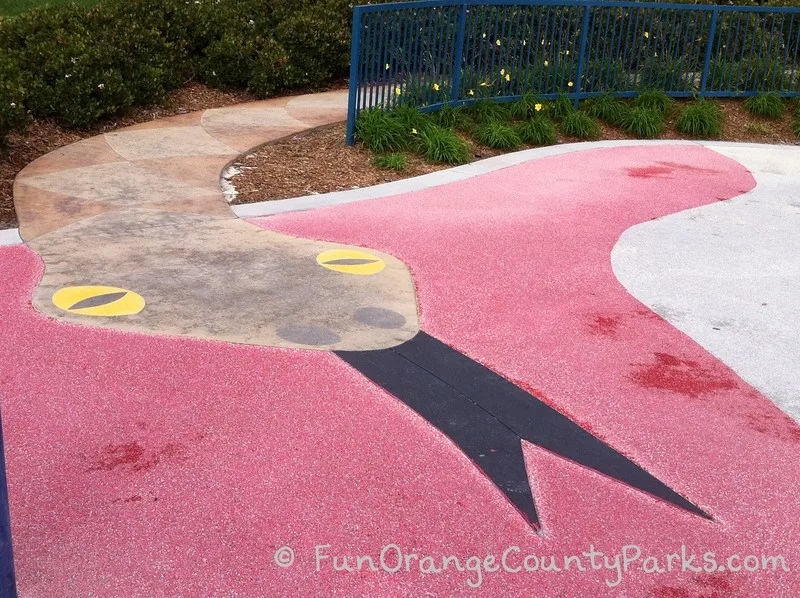 Originally posted July 2008.