Rainy day play ideas for Orange County with kids aren't usually necessary. It hardly ever rains. When it does rain, we usually just stay indoors for the day and it's sunny the next.
When the forecast is showing rain until well into the future, I need to have some ideas!
I put together this post from almost a decade of trying to figure out what to do on a rainy day. Here is what you'll find as you scroll through the post (plus some FUN photos).
Indoor Play Places in Orange County

Best Family Movies for Rainy Weekends
Music for Rainy Days
Rainy Day Gear for Kids
Rainy Day Books – Outdoor Books for Kids
Starting Chapter Books on Rainy Days
New Libraries to Explore
Places to Go Outdoors with Kids on Rainy Days
What Can You Do on a Rainy Day at Home?
Silly Games for Rainy Days
Rainy Day Play Ideas for Indoor Play Places in Orange County
We can start with a list of 100+ Ideas for Kids Indoor Play in Orange County and then this rainy day list goes on to MANY more ideas!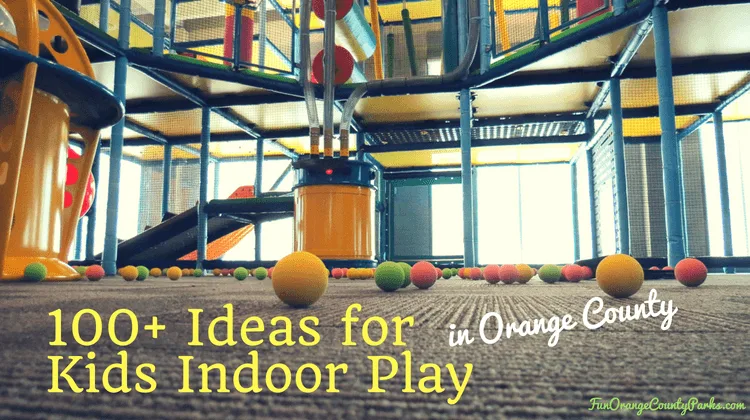 Rainy Day Play Ideas for Best Family Movies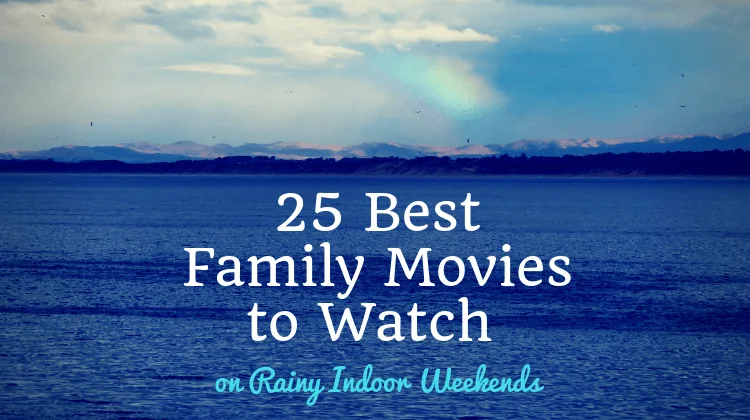 Rainy Day Play Ideas for Music
I find music to be a great substitute for television.
Make a rainy day play list. Dance, move, wiggle indoors. Some ideas:
I Love a Rainy Night by Eddie Rabbit
Save It For a Rainy Day by The Jayhawks
Singing In the Rain/Umbrella by The Glee Cast (or I like the original from Gene Kelly)
Rainy Day by Plain White T's
It's Raining by Peter, Paul, and Mommy
Little Raindrop by Justin Roberts
Raindrops Keep Falling on My Head by Burt Bacharach & B.J. Thomas
Here Comes the Rain Again by The Eurythmics
I put on their favorite "play" songs (many from TV shows) and it inspires them to make up their own games to go with the music. Try my Superhero Music Playlist.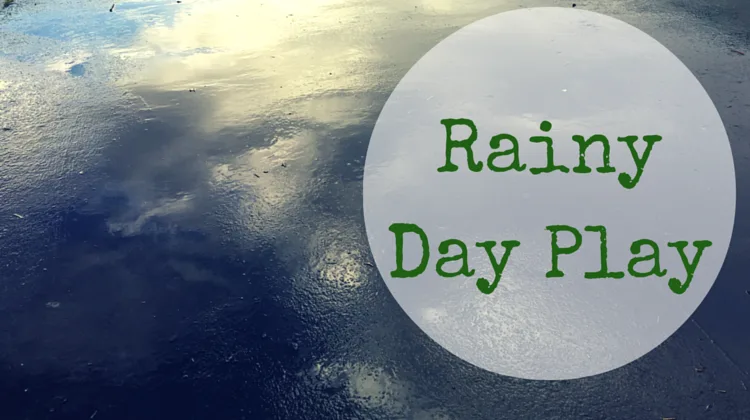 Rainy Day Gear for Kids
Three things you may already know about me:
I hate crowds.
I'm a weather geek.
It's a priority for me to give the kids outdoor time every day.
In Southern California, we're not going to spend $200 on clothing to keep warm on the 10 days out of the year that it's really cold or rainy. Even with our comparatively mild winters, I hear the rumblings of families wanting to stay indoors. People generally don't go out when it's windy and cold by California standards.
Not me!!! (See #1, #2, and #3 above.)
So go ahead and get out your rain coats and rubber rain boots if you have them – or borrow them. By February, most of the country has already had snow since October and the national sales cycle means winter clothes are on sale and swimsuits are showing up in stores. I've heard Payless Shoes is a good option for rain boots. We are always able to find sales on raincoats online through stores like Campmor, Cabela's, and Land's End. Remember, your California kids will love to use these as dress-up clothes for pretend play even when it's not raining.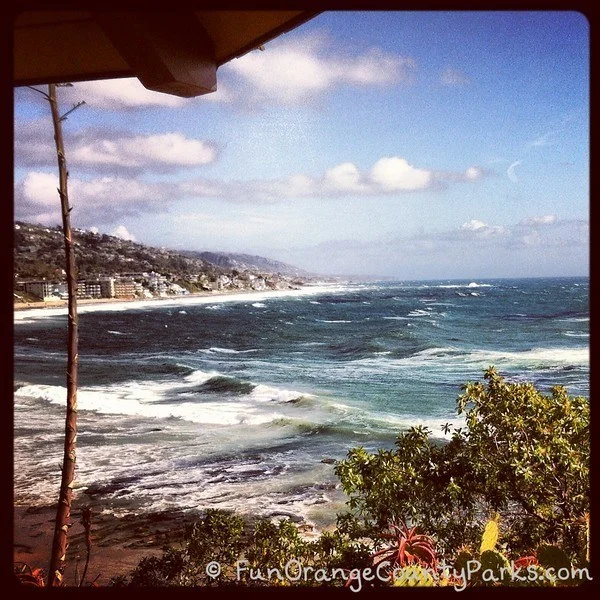 I'll give you my tips for dressing for the Southern California winter:
Dress in layers since it's often cooler in the morning and warms up in the afternoon.
Invest in a good rain coat and rubber rain boots. I have waterproof rain coats that I always keep in the car for the kids (make sure they have hoods). The ones I got are really lightweight windbreakers that stuff into their own pouch. Getting rain boots will take away any of your worries that their nice school shoes will not be functional ever again.
So – the kids might get wet and cold – but you shouldn't plan to be outside for super-long chunks of time. Solution: Bring a change of clothes. My kids love putting on warm sweats and dry socks for the ride home from our outings.
Fill them up with tea, cocoa, or hot apple cider when you get home. My favorite combo is Trader Joe's hot apple cider with one of their creme-filled maple leaf cookies (kind of like an Oreo, but in the shape of a leaf and flavored with maple).
Rainy Day Play Ideas – Outdoor Books for Kids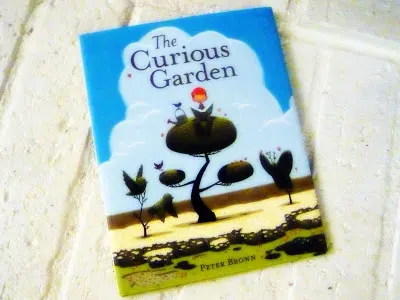 Rainy Day Play Ideas for Starting Chapter Books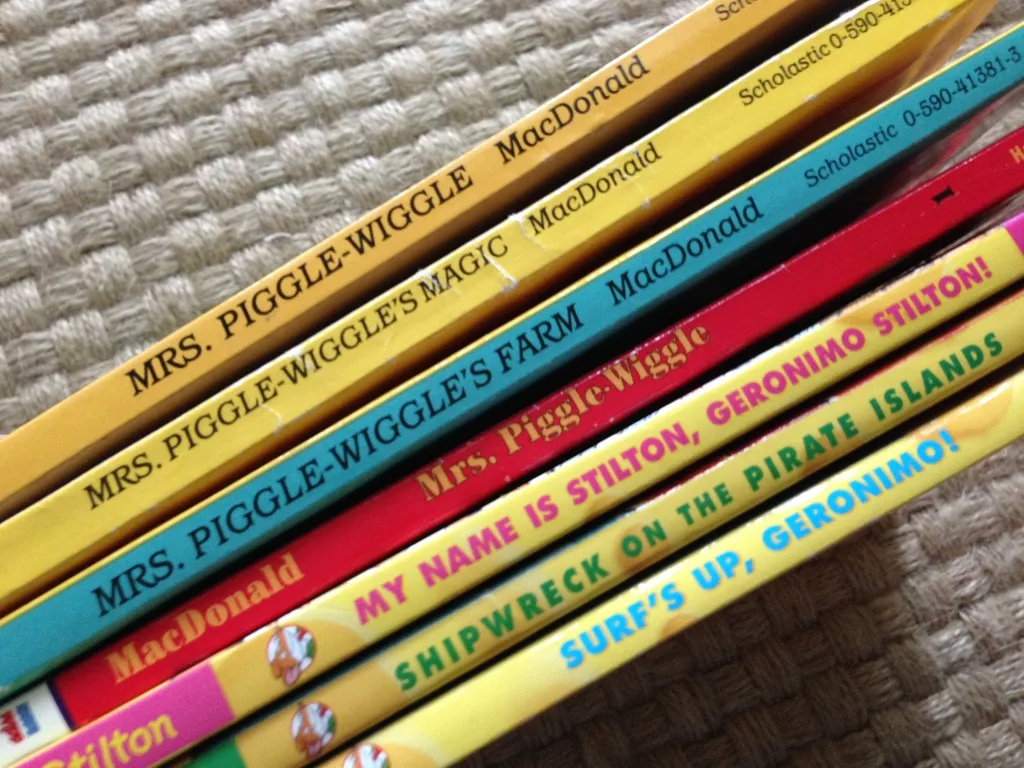 Rainy Day Play Ideas for New Libraries to Explore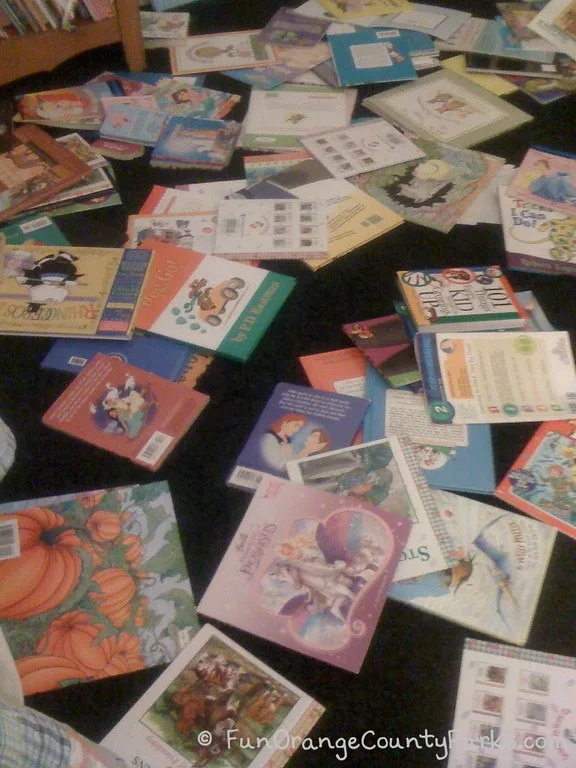 We have an amazing wealth of public libraries in Orange County!
Did you know you are not limited to visiting only your local branch? We travel all over the county visiting different libraries, because each one has unique events or collections that give us joy.
Find over 50 locations in my post about public libraries in Orange County with all the things you can do there!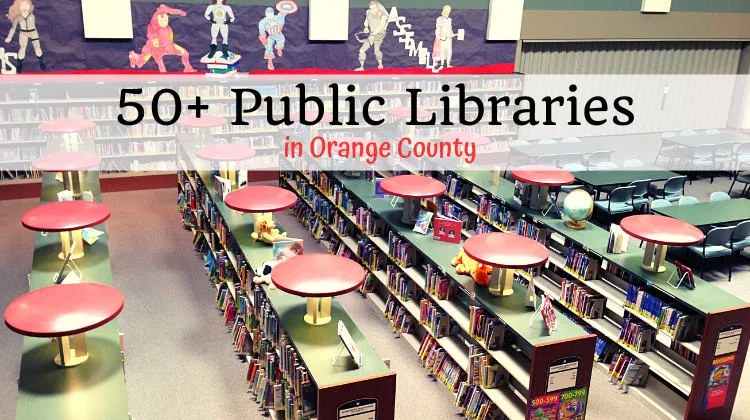 You could almost go to a new library every week of the year!
(Just note that libraries are usually closed on holidays and have limited hours on the weekends — so make sure you check before you leave the house.)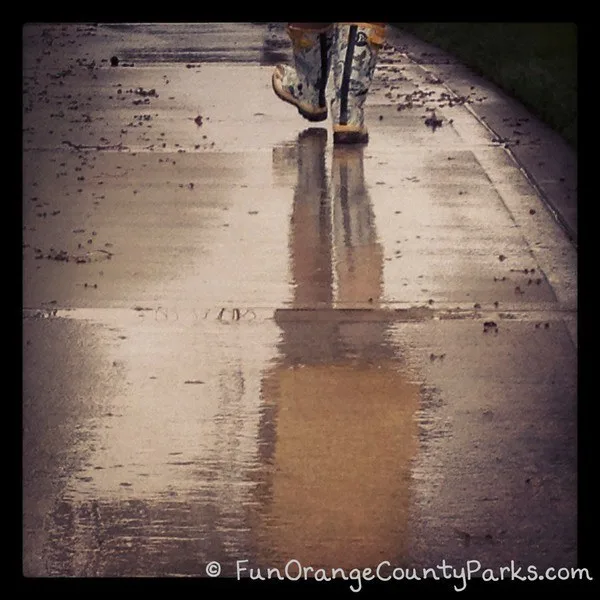 Places to Go Outdoors on Rainy Days with Kids
Outdoor play activities can be challenging when it's chilly. California "cold" weather isn't really that cold. Still, it's tough to convince my friends with kids to get outside and play when rain threatens or there's a blustery wind. I guess we're spoiled by great beach and park play day weather?
Outdoor time is still important any time of year. Remember how good it feels to have a rosy nose? Or how exciting it is to wear gloves? Yes, it's a special treat when you live in Southern California. Outdoor play activities shouldn't cease just because of colder weather.
"You Might Get Wet"
. . . Is what my Dad would always say when we hit the jacuzzi in the rain. To this day, it's one of my favorite activities when it's cold and rainy (or snowy) outside.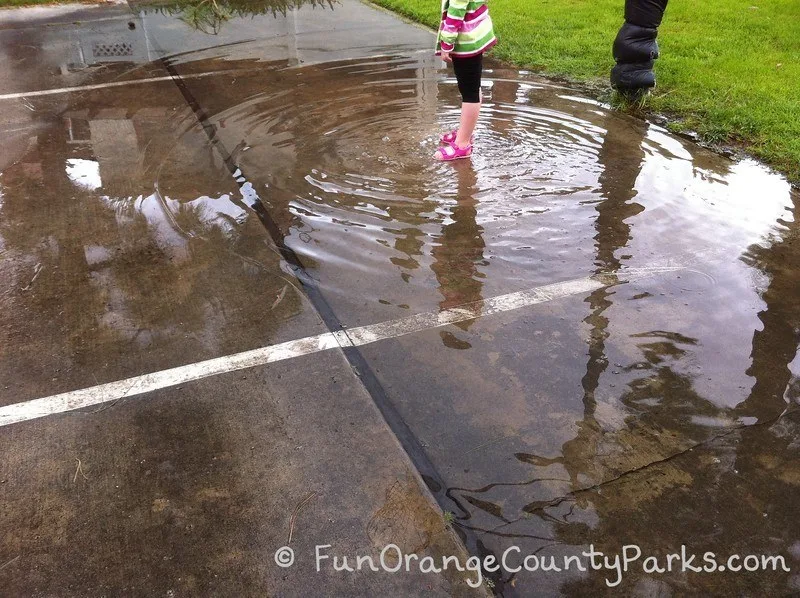 Puddle-Jumping
There are many documented incidents of puddle-jumping fun. Anything that makes you feel like you're gonna get in trouble has to be worth it! Put the kids in boots or old shoes and let them have at it. Time it so they hit bathtime right after.
Quick Sand Play
If you are able to safely access the sand, the beach is one of my favorite places to go when it's blustery out – unless there is concern for flooding or crazy tides. I'm talking about a regular old wintery day at the beach.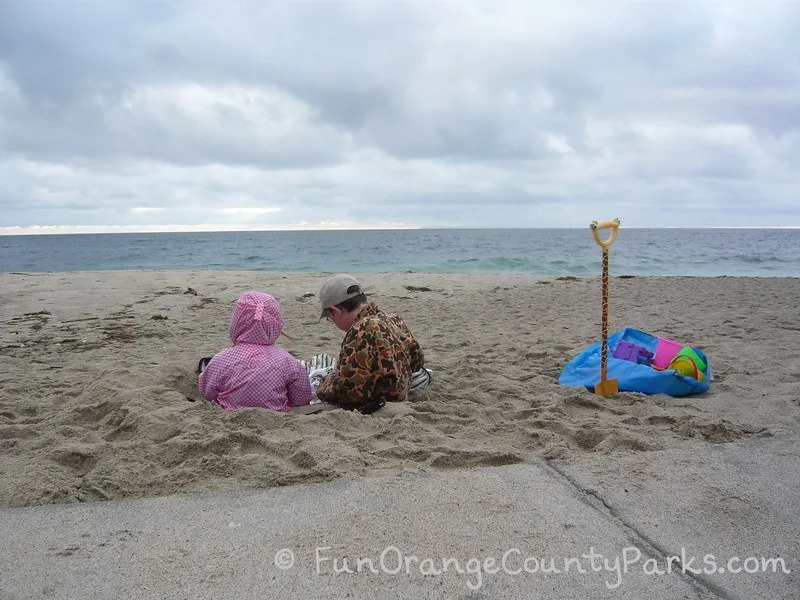 The kids dig holes and play with their sand toys and there's NO ONE around. You don't have to fight for parking or lug a whole bunch of beach stuff for a full day event. You can just visit for half an hour and see things like pelicans flying in formation: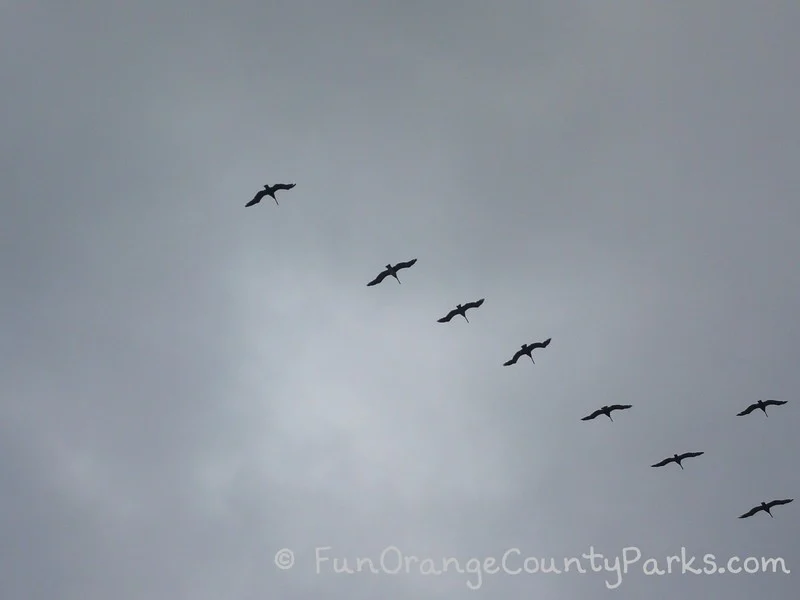 You can see Catalina peeking out from under the storm clouds while the waves crash on the shore: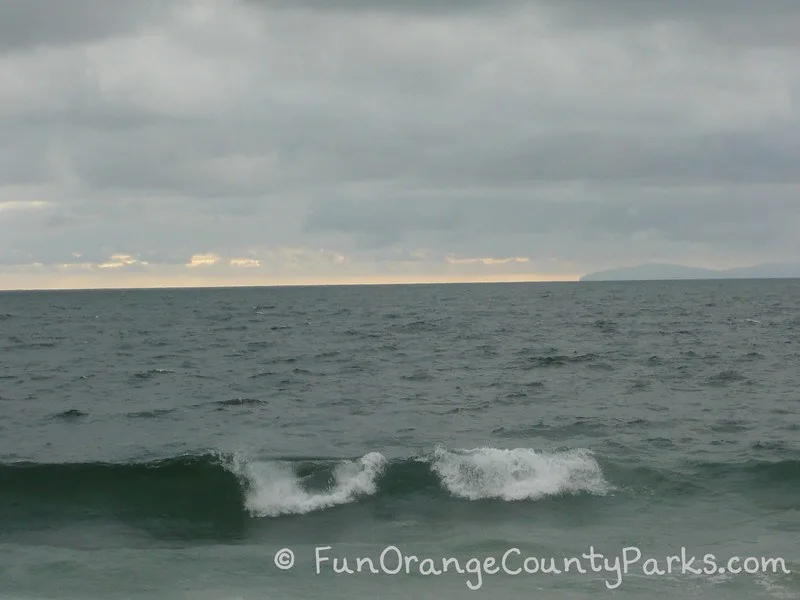 I guarantee the kids will see it as a special time when they were allowed to play in the cold! Do you remember "ice skating" on the grass at school when there was a frost day?
If you have a baby or a stroller-bound kid, then bundle up yourself, stuff a blanket around them and head out for a brisk walk in the brisk weather. You'll see things differently and want to do it again and again.
Safer Blustery Beach Tour
It might not be safe for kids to be on the beach on the most blustery of days, but we're lucky to have bluffs where we can view the beach without getting mixed up in the dangerous surf. As long as conditions are safe (no lightning or unstable cliffs), my favorite spots to watch the wind-chopped waves from above are: Heisler Park, Montage, Crystal Cove, Lookout Point, and Corona Del Mar.
Take a Walk
Show your kids how different the world looks when it's raining. What else is different? Are there more snails on the ground? Does the water collect on the plants? Is the rain water clean or dirty? Why?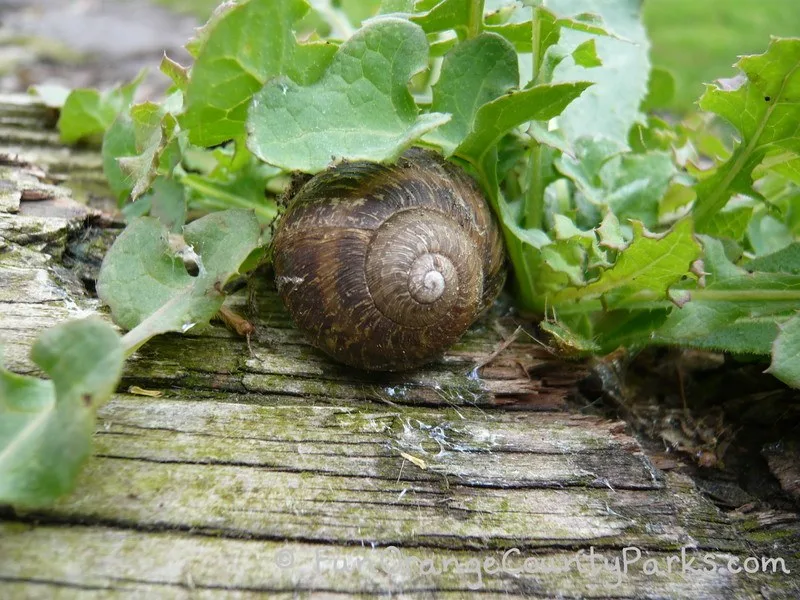 Soggy Playground
One day when the playgrounds were wet at school, my kids wanted to take a walk in the rain.
The kids told me all the rules about playing in the rain at school: no playing in the sand, no playing on the grass, and no playing on the playground structure since it's anchored in the sand. Kindergarten kids are allowed to play on their playground equipment since the surface is bark. They just aren't allowed to slide down the slides.
That leaves playing tetherball, handball, or just playing on the blacktop "which isn't much fun" according to my then 3rd grader.
Pack up cocoa in a thermos and head outdoors with your umbrellas and head to the playground. When we tried this, I didn't say one word about rules. I didn't say what they could or couldn't do. As we sipped our cocoa, they started making up safety rules for themselves. And games!
Wait until you see your child's eyes when you let them play on the playground IN THE RAIN. Look at the water drops on the equipment. Taste the rain. How is the playground different? For one thing, it will probably be empty!!
What about the lack of leaves on the trees? The flooded tree wells and lawn area. Earthworms saturated in the sidewalk cracks. The birds catching the stranded worms. And an abandoned sandbox shovel filled with rain water.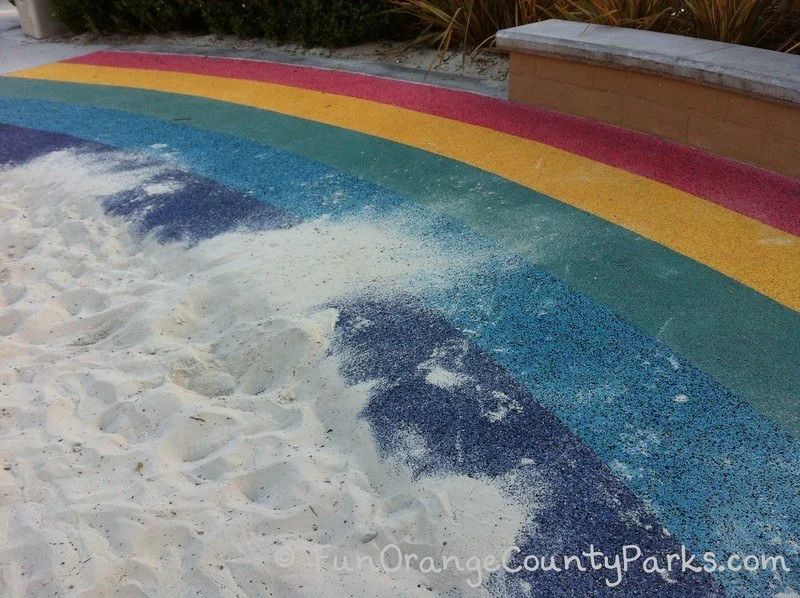 Color Jumping
How can you not want to play on the brightly colored rainbow under the swings? My son created a crazy Follow the Leader style game which he very deliberately named Color Jumping. We followed him — and his directions — to jump, hop, spin, run backwards, twirl, leap, and zig-zag across the colorful surface.
"Start on red, then hop on one foot to green without touching the purple."
"Jump on every other color until you get to blue."
"Run, but don't touch yellow."
Get the idea? Your kids can go crazy with this.
What Can I Do on a Rainy Day at Home with Kids?
Cozy Reading Corner
My daughter crawled into a corner near the bookshelf to read. We decided to make it an even more cozy, reading corner by stuffing it with pillows and blankets. My little girl can't read yet, but she flips the pages on her own. Maybe even grab some special books for the occasion? Or climb in and read to your non-reader? Have an older sibling read to the younger brother or sister?
Quiet LEGO Building
My son spent the extra time indoors this week building a "Freedom Flyer" — his name for his LEGO creation. LEGOs are my go-to quiet toy.
LEGO Build Contest
Have a pile of LEGOS? Put the pile in the middle of the floor. Have the kids draw 10 Legos from the pile in turn (make sure each kid gets a Lego guy/gal, too). Of course, the kids will insist upon 12 or 13 – but cut them off around there.
Then direct them to each build something with the pieces they've chosen. The photo below is the result (#1 from the 5 year old, #2 from the 2 year old, and #3 from the 3 year old).
The kids can then present you with their entries and describe their creations. Upon completion you can hold a very pompous ceremony complete with pretend medals.
Fun all around with smiles as reward. Have fun with it!
Garage Band
Open the garage and listen to the rain. We used old coffee cans and chopsticks to make rain sounds. I can think of lots of other things to do in an empty garage with the door open to watch the rain: scooters, chalk drawings, blow bubbles, bounce balls, hoola-hoop, relay races . . . I'm sure your kids will even come up with some fun ideas "What can we do in this empty garage?"
Stuffed Animal Parade
Give the kids full access to their stuffed animal collection and see what they invent – mine made a zoo out of their animals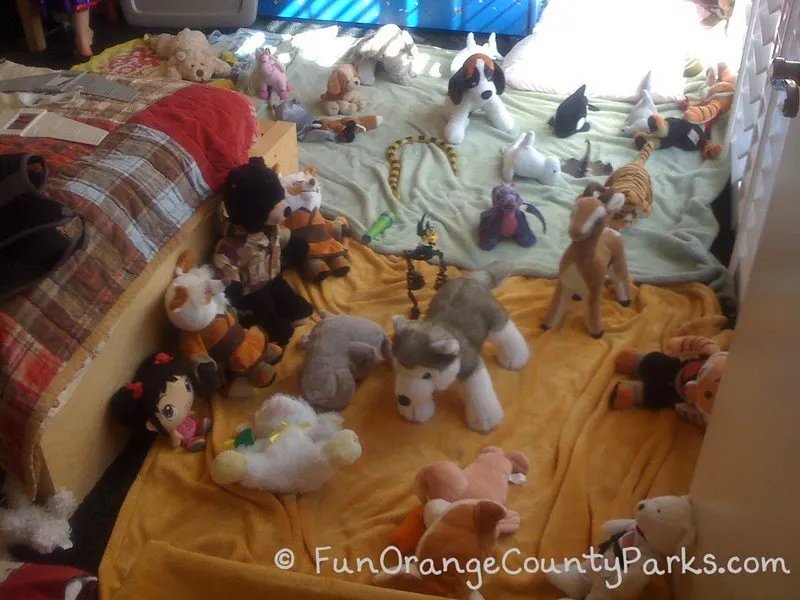 Indoor Bowling
Do you have a long hallway perfect for indoor bowling? Set up any number of items to knock down with a softer indoor ball.
Flashlight Games
Since it's so dark outside most of the day, make shadow puppets on the wall.
Cardboard Box Play
Unstructured play with cardboard boxes is one of the all-time great childhood activities. My dad is a contractor and would bring home appliance boxes for us to play in all the time. We'd roll down our grassy hill in refrigerator boxes. We'd cut out windows for houses. We even brought our golden retriever in there.
The tradition continues with our kids. They beg me for boxes. Then, out come the crayons and Scotch tape. Ta-da! A new creation. My son designed this stack of boxes (above) as some sort of military outpost with directional signs for the troops. On another day, both kids opened a restaurant where they charged $10 just to sit at a table and tips are accepted in the form of gemstones and jewelry.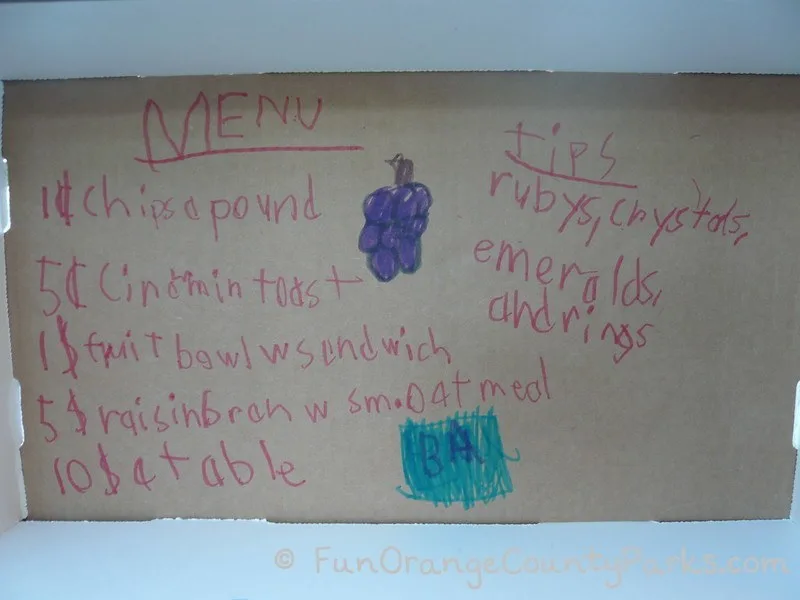 Save up your boxes for rainy days. Then hand them over with some markers and crayons to sit back to see what takes shape.
Indoor Scavenger Hunt
Do a Pinterest search and make up an indoor scavenger hunt.
Dusty Cookbook
Do you have a cookbook you haven't pulled out in a while? Pretend you're archaelogists on the hunt for an ancient secret recipe! The sillier you are, the more the kids will be into it. Make a game of finding recipes for hot drinks? It's doubtful, but maybe there's something more comforting than cocoa? Head to your local library and check out a cookbook and some other books for reading for when you are cozy at home. Or you could just bake your favorite cookie recipe together.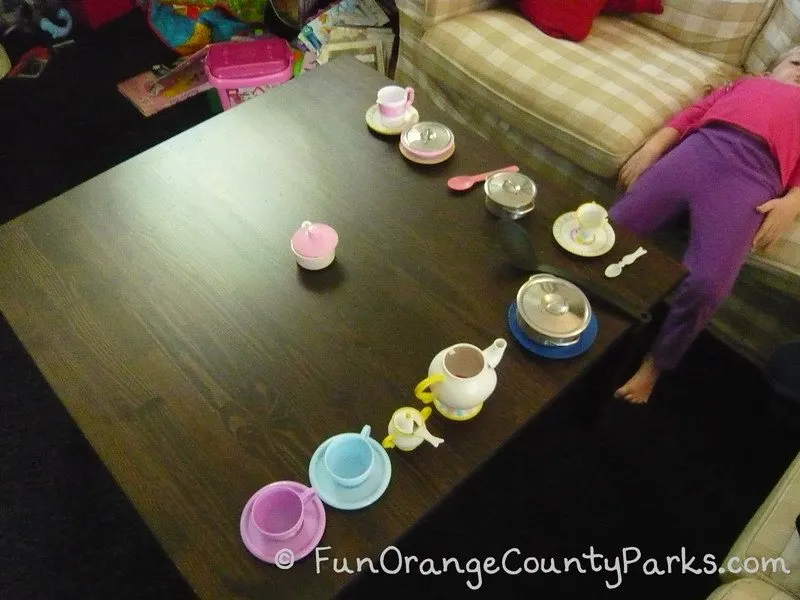 Weather Science Experiments for Rainy Days
WeatherWizKids.com has all sorts of weather science experiments. Embrace the weather and learn something new.
Pretend You're a Toy
I'm stealing this idea from my daughter's preschool. They played a motor skills game where they started off on the floor in a ball and bounced into a Jack-in-the-Box. Then they marched like toy soldiers and pranced like princesses. They brought all their favorite toys to life by acting them out. This needs a little direction, but provides lots of laughs and fun.
Bean Bags Don't Bounce
Substituting bean bags for balls makes for a lovely departure from the norm, for little kids into balls and throwing — or even big kids willing to test their accuracy skills.
Buy or make your own bean bags (I could probably even manage – although I'm not very crafty).
Present the kids with a basket or cardboard box. See what they do with it!
Water Painting
When I unload the dishwasher, my daughter gets to paint the floor with water. She gets 1) a towel/rag, 2) a cup with a little water, and 3) a paintbrush. We chat while she creates. You can also let the kids into the Tupperware cabinet. Let them stack and knock it over or see what sculptures they can create.
Laundry Learning
Our laundry is in our chilly garage, but she often helps me with that chore, too. We can talk about the colors or play rhyming games. We also take songs she knows and change the words.
Build Forts
This is an old favorite. It's great because you can build it together and then they will have fun making improvements and playing house or Old West or spaceship.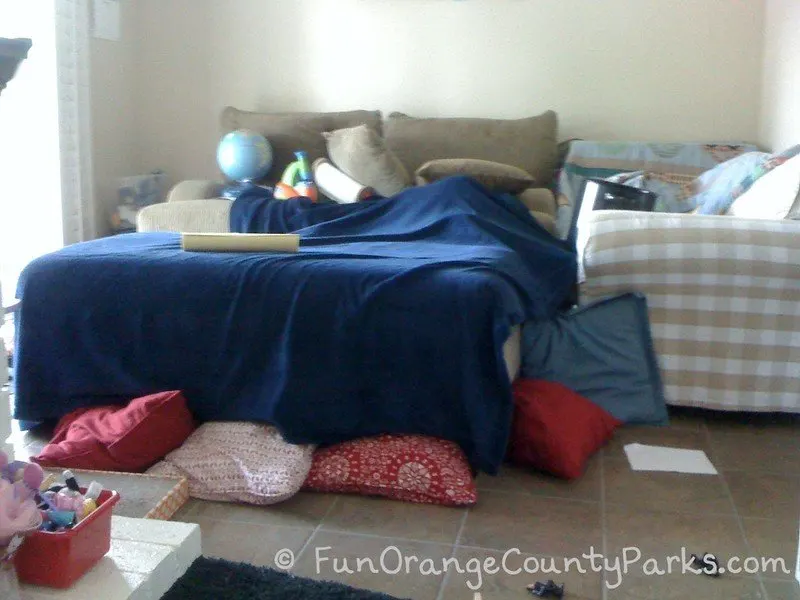 Silly Indoor Games for Rainy Days
Silly games are the best for nurturing creativity in the whole family. There were no electronics to entertain my sister and I on long drives to our grandparent's house in the Bay Area. We played card games, travel bingo, the ABCD license plate game, wrote notes on paper and posted them on the window to the cars behind us, held staring contests, and got truckers to honk their horns for us. Around about hour four or five, we got the "silly-dillies." At least that's what Mom called it when we started giggling without hope of calming down. We were out-of-control hysterical. Anything my sis did made me laugh and anything I did made her laugh.
Those are the kinds of true giggles-from-the-gut that I LOVE to hear from my kids! Or anyone, for that matter!
Deedle-Deets
My aunt is the inventor of Deedle-Deets. Very funny lady, my aunt. There is an art to good Deedle-Deeting. This is great for babies who have learned to sit up – all the way to the age when they can still sit on your lap.
First, the adult must sit on a couch or sturdy chair with your knees bent and feet firmly on the floor.
Have the child sit facing you balanced on your knees. Hold them with your hands under their armpits.
Start bouncing your toes up and down and moving your knees from side to side.
Here's the important part! You have to sing "Deedle, deet, deet. Deedle, deedle, deet, deet. Deedle, deet, deet. Deedle, deedle, deet, deet." (The kids will focus on your song and the ride).
Then – when they are least expecting it – hold the child under their armpits and open your knees so their bottom gently dips down between your knees!
Oh! The laughs . . .
Hopefully, you'll hear "Do it again! Do it again!"
Change the Words
My husband made this one up. He changes the words to all the kids favorite songs. Here's an example:
The itsy-bitsy spider went up the water . . . BUG!
Down came the rain and washed the spider . . . BUG!
He's changed the words to every possible children's song. The sillier and more surprising you can make it, the more laughs you will get.
Crazy Cat Lady
Ever describe your cat or dog doing crazy things? For some reason, this simple game gets everyone laughing. We'll be quietly eating dinner together and my kids will say: "What if they cat had superpowers and could fly to the highest mountain and ski down the slopes and have hot chocolate after?" Someone will chime in with a "Meow!" and then we all lose it. Milk out the nose. Everything. (It doesn't sound as funny on paper. Most good jokes don't.) Try it out with the kids. "What if the dog could run so fast that it beat an airplane on the runway and when grandma got off the plane – the dog would be there?" Thrown in that silly "Ruff!" and everyone will be laughing.
Kids Quiz Mom
This one can be played silly or not. We started with a Winnie-the-Pooh First Encyclopedia of Animals (out of print). You could try that book or one like it from the library:
The kids are in control. They look at the photos and quiz mommy on the names of the baby animals. It's a fun car game for us. My daughter flips the pages and says: "Dog." Then I say: "Puppy." There are some hard ones in these encyclopedias so sometimes I have to do some research for the next time we play. You can make it silly by giving silly answers: "Tyrannosaurus Rex." And you can change it up by trying to guess the names of the animal groups – dolphins=pods, goats=herd, etc.
Whatever you choose, have fun and enjoy the laughs!