Corona Del Mar State Beach is a bit of an oddity in the OC beach scene. It doesn't fit into any of the regular categories.
For instance, it appears to be one beach but there are 3 very distinctly separate areas with different names.
Parking is also a stumper. It's called Corona Del Mar STATE Beach, but state parks passes don't work here. It's not a regional beach, so no OCParks pass either. The City of Newport Beach acts as operator for parking services and you can find info here about Corona Del Mar Main Beach Parking Lot.
The best free option is to park at the top of the hill, but with little kids it's quite a hike. Hopefully, I can help you sort out all your options.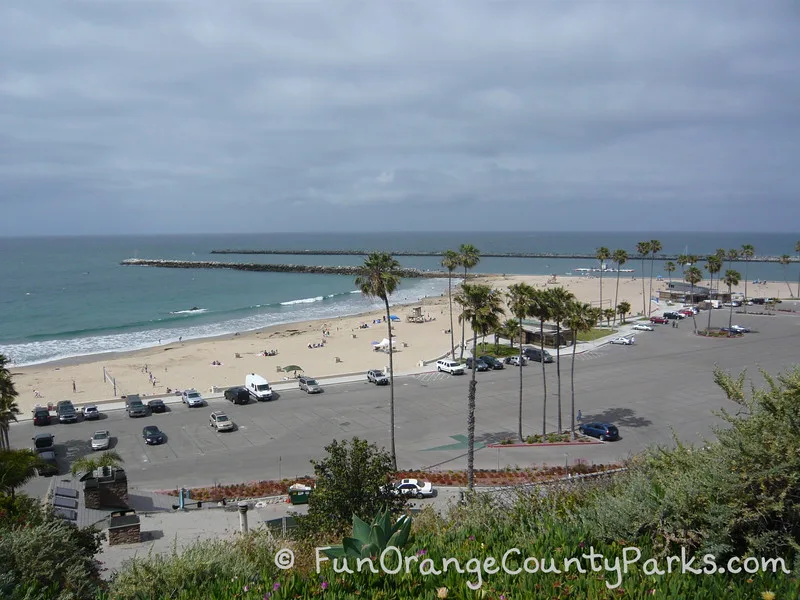 Directions to Corona Del Mar Beach in Newport Beach
Corona Del Mar Beach is off of Pacific Coast Highway(PCH) near Newport Beach.
We usually take PCH from the Laguna Beach direction or go south from MacArthur Blvd. Coming from Laguna Beach you'll turn left onto Marguerite before you reach Newport Beach.
If you are coming from Newport, it will be a right onto Marguerite. Drive to the dead end and park along Ocean Blvd (if you can find a spot) – or the parking lot down at the beach is on your right and then left down the hill. (Address: 3001 Ocean Blvd, Newport Beach) MAP TO CORONA DEL MAR BEACH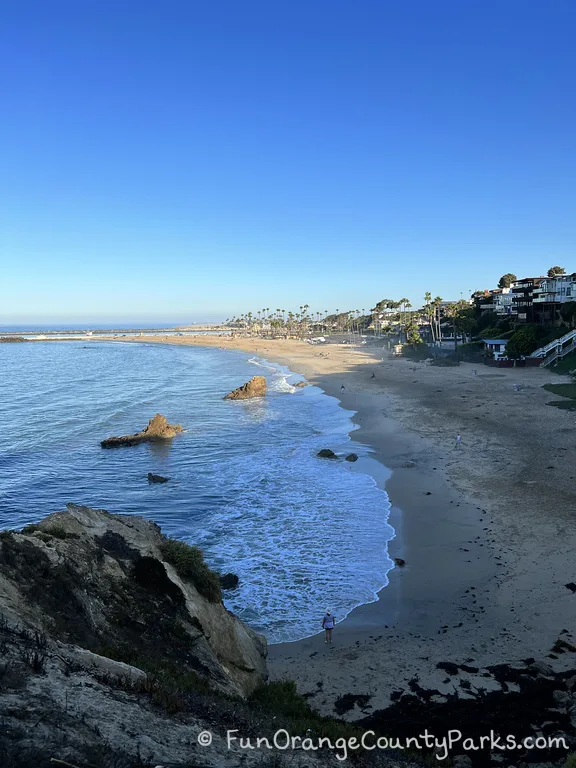 Highlights of Corona Del Mar State Beach
The bluff with benches and a real Inspiration Point is perfect for watching the sunset over Catalina. See boats come and go from Newport Harbor.
There is also Lookout Point with a small grassy area and benches closer to the Newport Harbor entrance with a view across to The Wedge and out to Catalina Island.
Corona Del Mar – Pirate's Cove
Pirate's Cove is at the north end of the beach, actually in Newport Harbor.
The safest way to approach is from the bluff top and down the stairs. We scrambled up and over the rocks/trail from the parking lot. Be careful with little ones.
This beach can get super crowded in the afternoon. So go early (before 10am) if you can.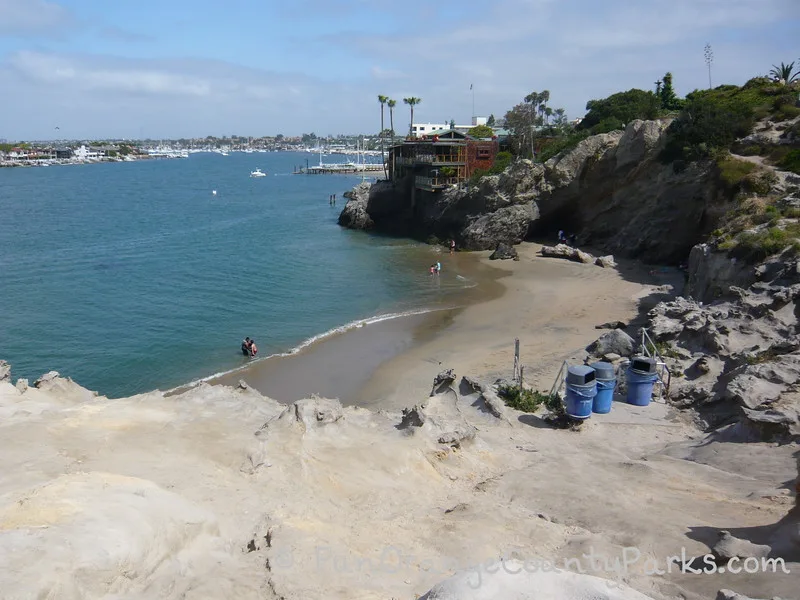 Corona Del Mar – Main Beach
This is the main beach that's visible from up on Ocean Avenue. It's a wide beach with fire pits, volleyball courts and a jetty separating it from Newport Beach Harbor. Read all about how to reserve the fire pits in the Checklist section below.
There's a scene in the movie Love Story filmed on the jetty by the fire pits.
There's also a restaurant/snack bar called The Jetty and restrooms near the beach parking lot. The Jetty serves pretty hearty breakfast, snacks, poke bowls, and burgers & sandwiches. Hours change depending on the season. Check their Instagram for the latest @thejettycdm.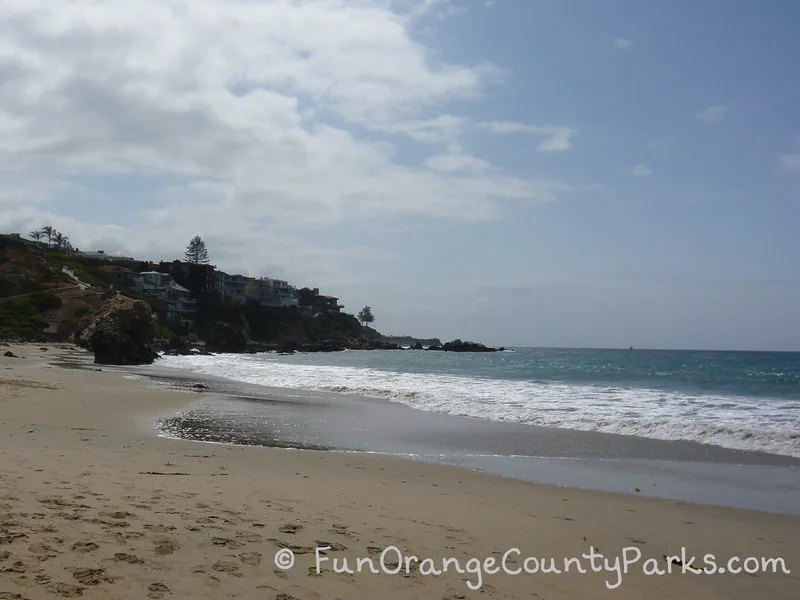 Little Corona Del Mar
This beach is known for tidepooling because it is more of a rocky cove than a sandy beach. It's at the south end of Ocean Blvd where it meets Poppy.
Be ready for a steep hill and not much beach, but it's great for tidepooling and photographs. The overlook on the way down has amazing views of the coast.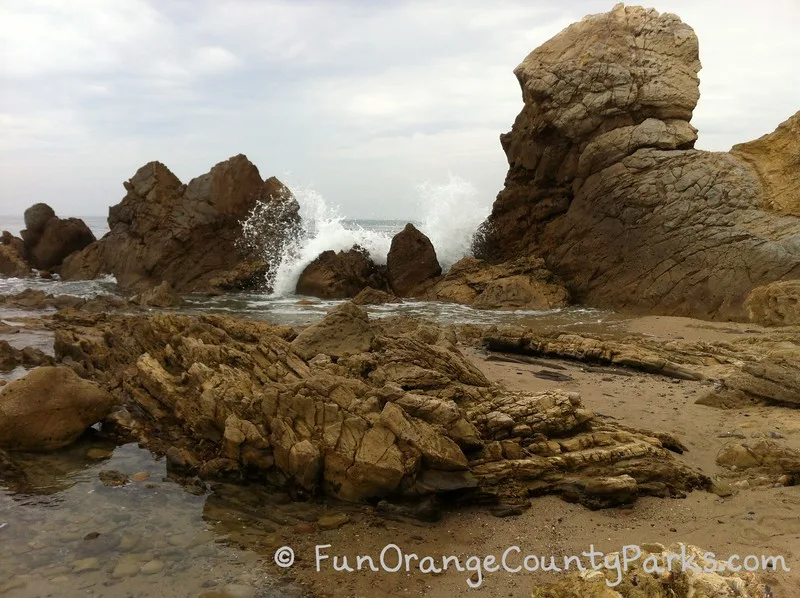 Our Circle Walk Around the Beach
We usually park on the bluff top and walk down the main driveway to get to the beach and play around before sunset.
Then we head south towards the paved ramp and up the steep concrete path leading up to Inspiration Point.
Look down onto the rocks for a special surprise here if the tide is right (the kids will love it!). Can you spot it?
The path ends at Inspiration Point and then we walk back to our car on Ocean Boulevard.
Note: This walk is NOT really stroller-friendly b/c you are walking on the beach. In fact, on my most recent trip, I witnessed a Dad having to carry the stroller over many parts of the sand. It looked challenging!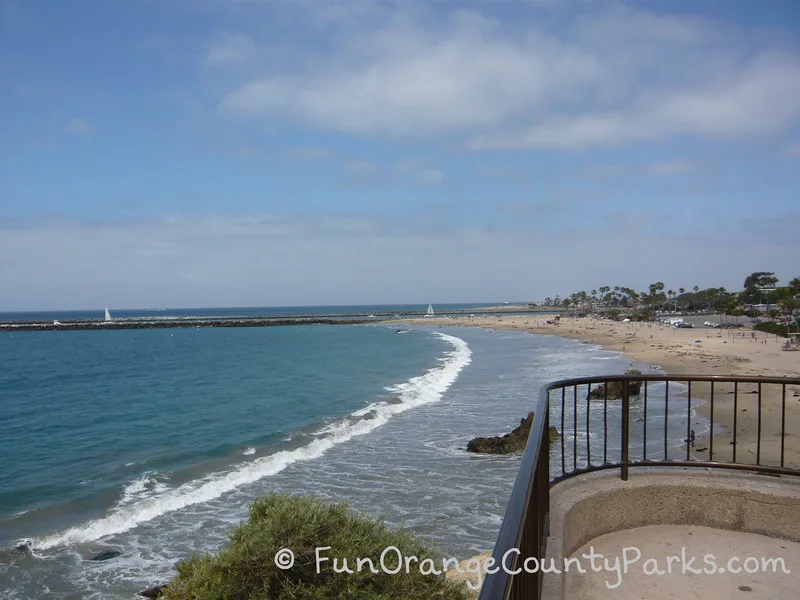 Be Aware
Remember, even though this is a State Park. Your annual CA State Parks parking pass won't work here.
Parking is tough. Solve that problem by purchasing a City of Newport Beach permit or getting there early/late to find a free parking spot above the beach and you'll love it. At worst, it's going to cost you a little under $25/day per car if you park in the close lot and stay the whole day.
Swimming is always safest near the lifeguard towers when they are staffed with lifeguards! Make sure you ask about the conditions before you go in the water.
Also, pick a sandy spot to swim. I would NOT recommend swimming near the rocks at ANY beach. On a recent visit, lifeguards were not on duty yet and I saw so many people choose to swim in between the rocks. It's super dangerous. When you swim in the ocean, the current will always make you drift. You will not be able to stay perfectly between the rocks.
Check Heal the Bay Beach Report Card for water quality.
No barbecues allowed.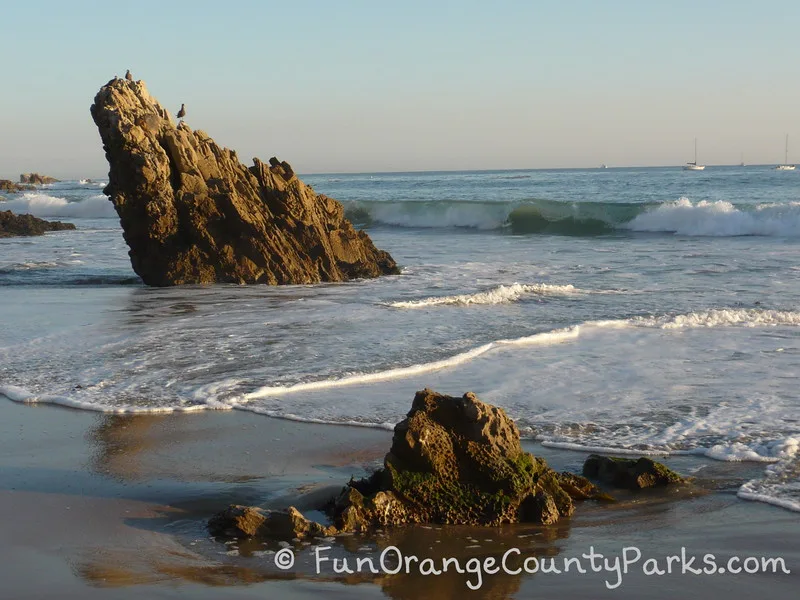 Checklist
PARKING: If you want to pay for parking you can drive down the hill and pay at the kiosk. Parking is $7.10/hour between 9am-6pm during the summer. Link to city parking info. The annual pass looks like a good deal if you are going to go regularly. It would only cost $47 if you wait to buy it after October 1st and it would get you in through December 31st.

If you want to do the math, it's $188 for the permit from January 1st to September 30th. So if you want to make this your summer go-to location, you would need to go 8 times to make it pay off.

Restrooms and outdoor showers
Beach volleyball courts
Lifeguards during the summer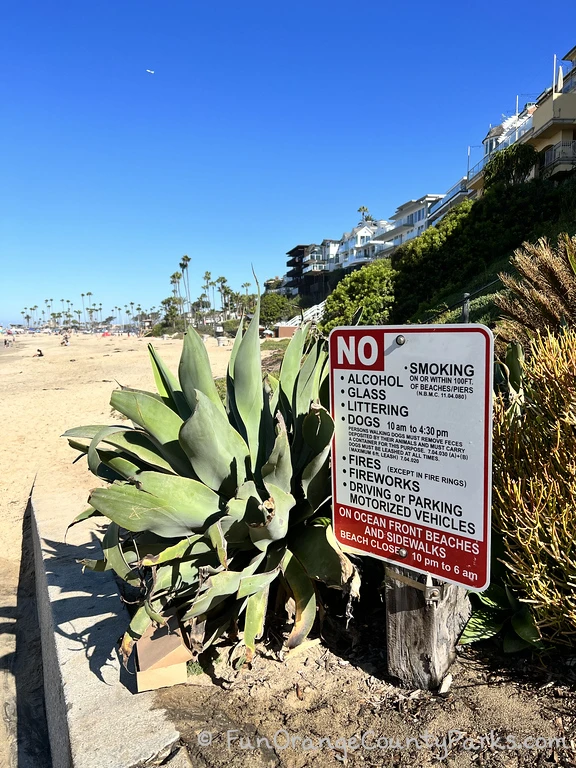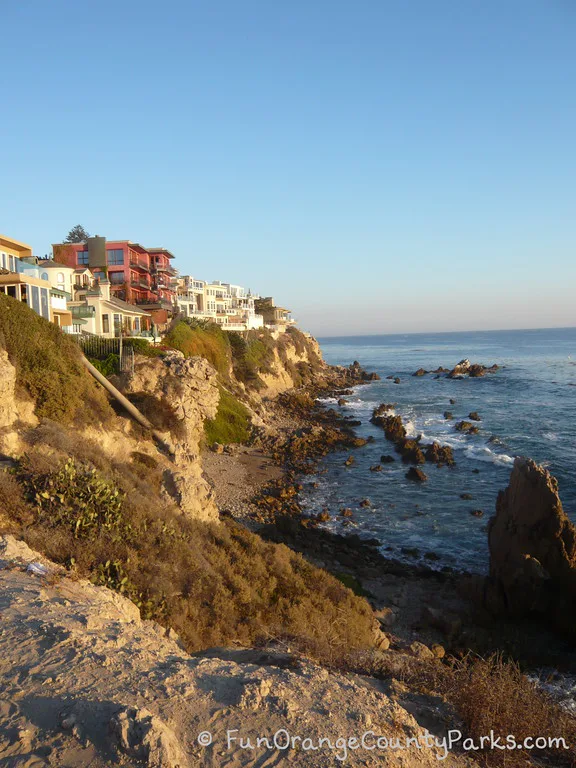 Originally published in June 2010.