Seabridge Park in Huntington Harbour / Huntington Beach was like a "oh, finally!" moment for me.
After asking around, some HB locals call this Mother's Beach whereas the City of Huntington Beach saves that name for nearby Davenport Beach Park.
You've told me about this area before, but I never realized the exact location until I finally got to visit.
There are restaurants and a more busy-beachgoing scene on Pacific Coast Highway (PCH) in Sunset Beach which is really close to this park in distance, but feels very far away because it's across the water and not that easily reachable from PCH.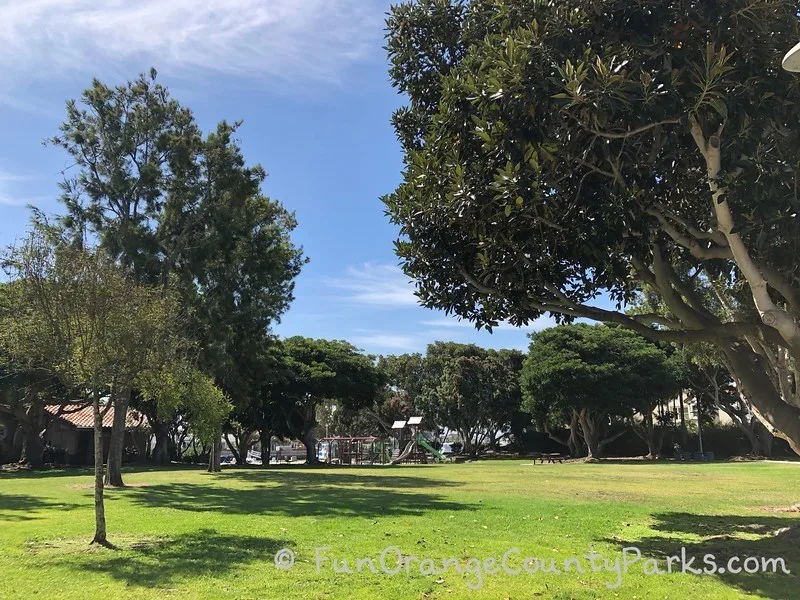 The playground is really fun with a pirate ship where you can walk the plank (and drop 6 inches), plus a 4-person teeter-totter and swing-with-me swing!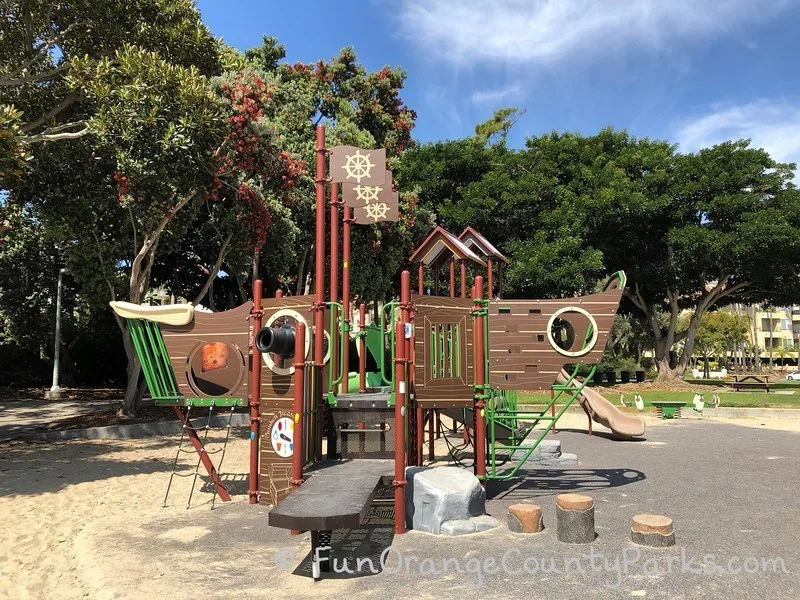 How to Get to Seabridge Park and Beach in Huntington Harbour
This is on the Seal Beach end of Huntington Harbour and a little hard to reach because it's at the end of a dead-end street with water all around.
The closest big intersection is Bolsa Chica Street and Edinger Ave. From Bolsa Chica Street, you'll want to go towards the ocean on Edinger and drive along it for quite a while (neighborhoods will be on your left and chain link fencing and a water channel will be on your right).
Turn left at Countess Drive before you go over the bridge where Edinger turns into Sunset Way and leads into the Harbour.
There are parking spots on your left along the edge of the park. (Address: 16252 Countess Drive, Huntington Beach) MAP TO SEABRIDGE PARK AND BEACH IN HUNTINGTON HARBOUR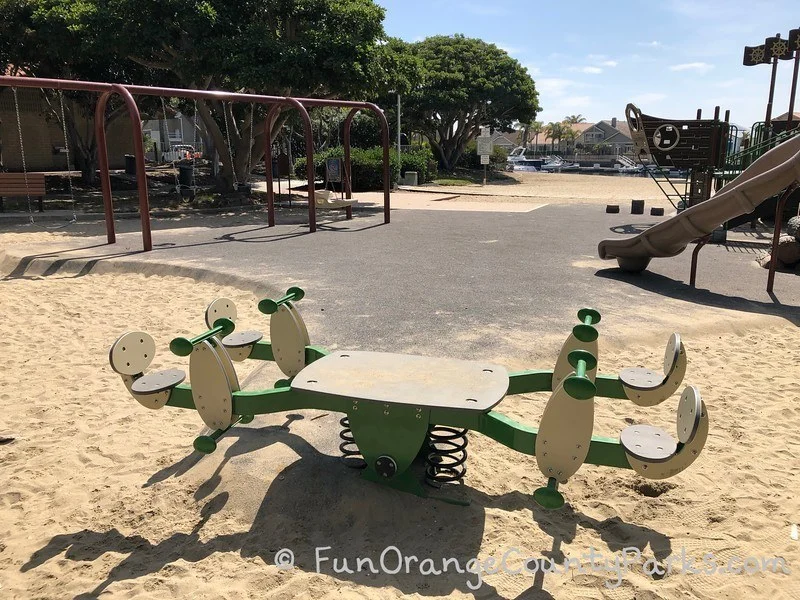 Highlights:
This is really close to the ocean in Huntington Harbor so you get the sea breezes and the nice summer weather
You get a beach + playground — but there is no lifeguard on duty so really watch your little ones!
Pirate-themed pretend play with this pirate ship playground complete with a cannon and plank
4-person teeter-totter with what looks like a table-top in between
2 bench swings, 2 baby swings, 1 swing-with-me swing
A couple of fun faster slides and one small double slide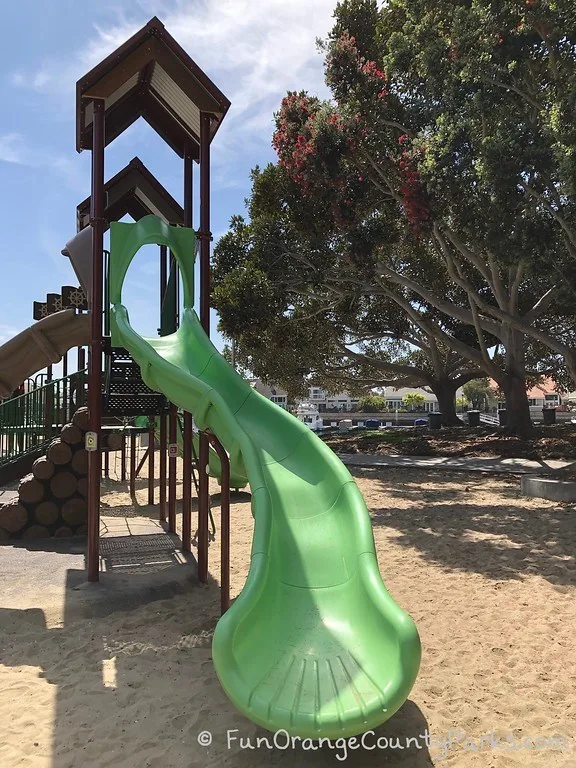 Grips, ladders, rope bridges, and stairs for climbing
A no waves beach for toddlers to dip their toes and parents to set up camp in the sand
Shaded picnic tables and grassy area
Restroom building nearby the beach and playground
Easy parking when it's not too busy
Outdoor shower to wash down after playing at the beach
I loved the shade for picnics and since it was cooler at the beach I didn't mind the sun on the playground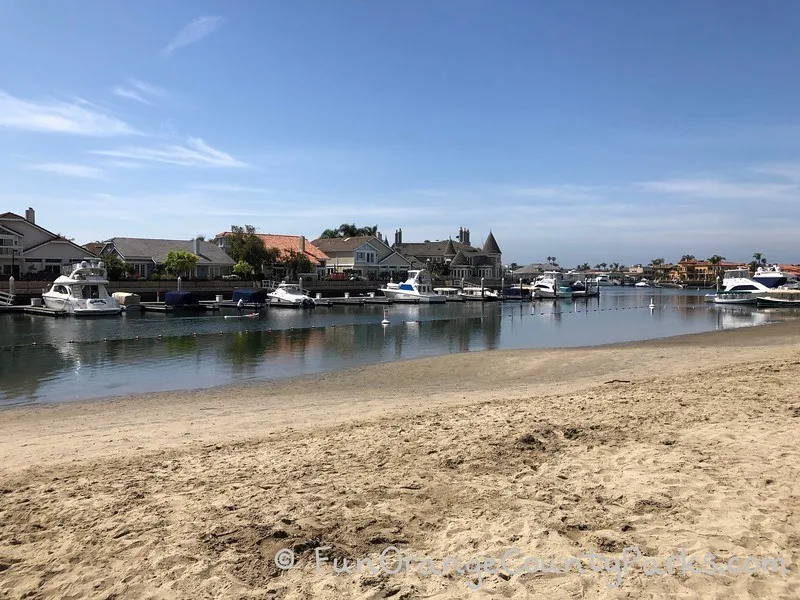 Be Aware:
No lifeguard – this is a big deal any time you are around water with your child! I used to be a YMCA lifeguard and swim teacher – please, please, please keep your eyes on your child at all times here. You might think they wouldn't wander that far off the playground or that they can't get into much trouble, but you need to be in close physical distance and have your eyes on your child at all times to prevent an unthinkable tragedy. No distracted phone call or quick run to the car is worth the real potential for an accident.
Picnic tables are not perfect – one was warped and some are set on unlevel ground at odd angles
The sand can get HOT make sure you have shoes to prevent burns on the bottoms of feet (yours and your child's)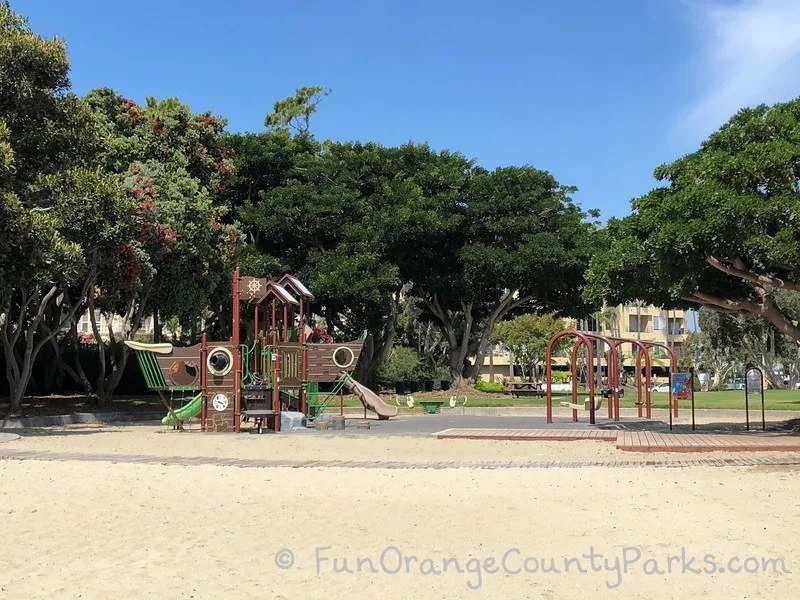 Checklist:
Sand and recycled rubber play surface with a boardwalk area on the sand
Restroom building right near the playground
Dedicated parking along the edge of the park – plenty of spaces on a weekday, but I can see how it could fill up on busy holiday weekends
Outdoor shower near the restroom building
Bring beach items if you plan to go in the water – I have a whole post about What to Bring to the Beach that you might find helpful
If you are looking for other toddler-friendly beaches read my post about Toddler Beaches with No Waves
Visit my list of 15 Pirate Parks in Orange County for more pretend play opportunities!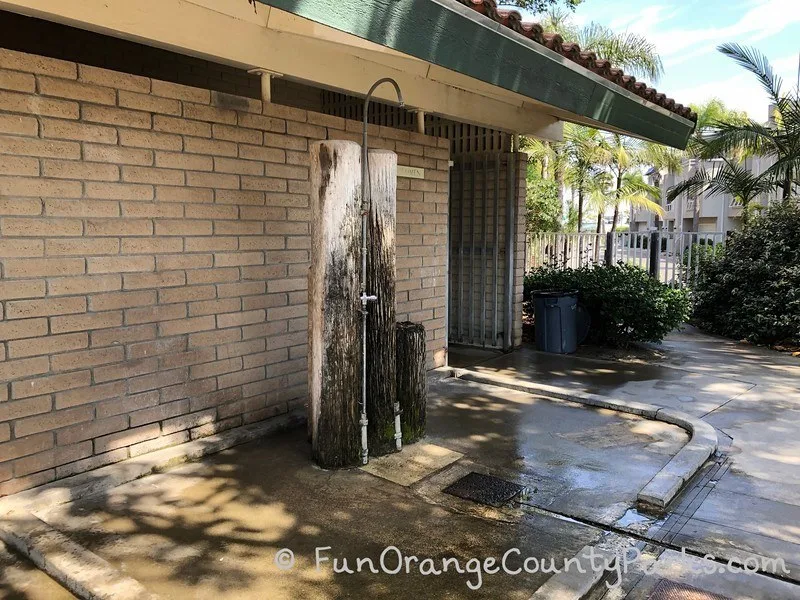 Parks nearby Seabridge Park:
Trinidad Park and Harbor View Park are very nearby and you can find them on a map. I don't have posts on them yet, but I will eventually.
Davenport Beach Park is also known as Mother's Beach (different than the one at Marine Park in Naples/Long Beach on Appian Way) and that's also nearby.
There's a route to Bolsa Chica Wetlands across Saybrook and down Warner. I have 2 posts on the wetlands and one about a bike ride at the beach across the way.
Originally published in June 2019.