The Bolsa Chica State Beach bike path is an almost 3-mile portion of the 10-mile bike trail which Google Maps calls "Huntington Beach Bike Trail" and what Visit Huntington Beach calls the "Ocean Strand" in Huntington Beach.
Whatever you call it, I'm talking about the short stretch that spans from an over-ocean bridge just past Seapoint Street on Pacific Coast Highway (PCH) and goes up the coast all the way to Warner Avenue.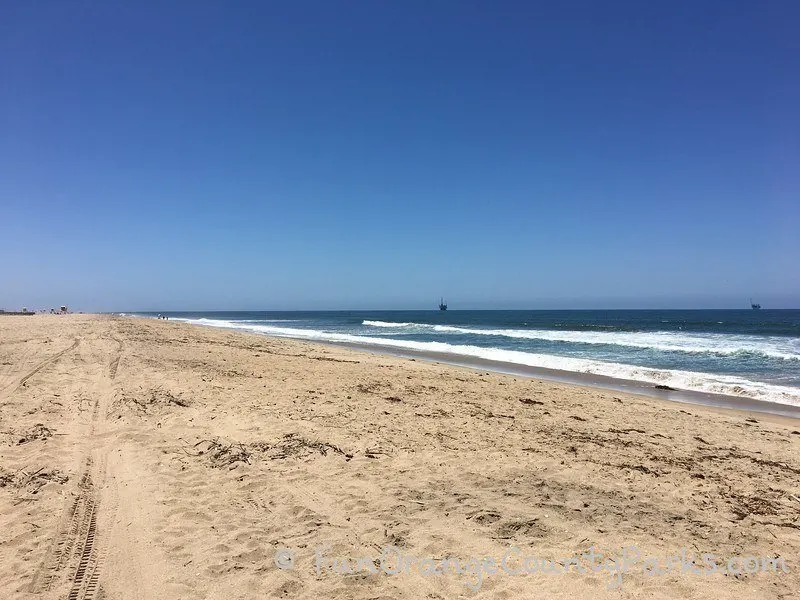 How to Park at Bolsa Chica State Beach
It's a little tricky to figure out the best way to get to the beach from I-405 because of how the interstate runs diagonal to Huntington Beach's grid system streets. So what would seem the most direct might actually take the longest. I find that taking the Warner exit and following it directly to Pacific Coast Highway OR taking Warner and then turning left onto Goldenwest to PCH are both options. Or if you want to just cruise up PCH from the Huntington Beach Pier, then that works too.
The entrance to Bolsa Chica State Beach is located in the MIDDLE of the park. There is a stoplight that marks the turn. It's basically where the tall gray cinderblock park headquarters and visitor center are located. MAP TO BOLSA CHICA STATE BEACH BIKE PATH
If you have already purchased your California State Parks Annual Pass ($195/year), then hang it from your mirror and wait to be waved in by the attendant. Our pass had just expired so I bought mine right there at the booth with my credit card and ID – no forms to fill out. Otherwise, you'll be paying the day use fee of $15/day.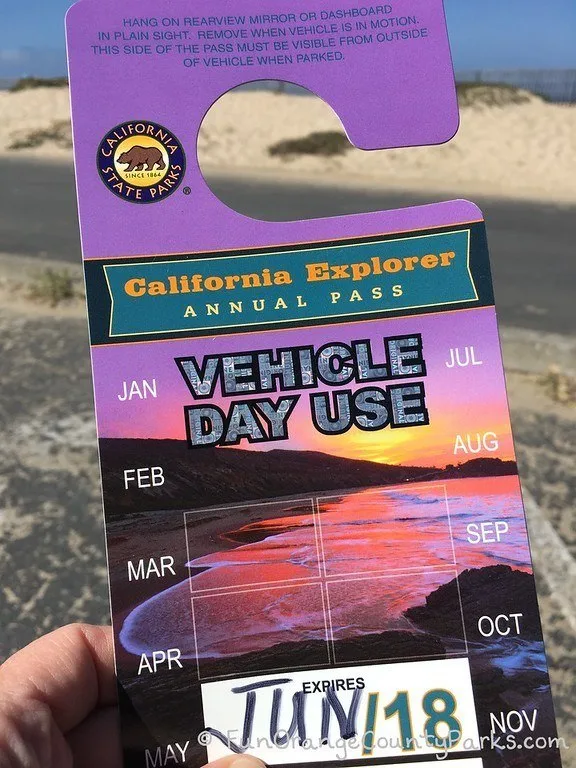 I recommend parking at either of the far ends of the path if you want to bike the whole stretch and return the same way you came. Or you can park near the visitor center and go out and back halfway from there. 3 miles sounds far, but I was riding really slow — mostly gliding — and it only took me about 15 minutes to go one way end-to-end.
You cannot park along PCH or in the surrounding free lots which serve the Bolsa Chica Wetlands across PCH. The only other nearby parking is called Blufftop down between Seapoint Street and Goldenwest. It is a City of Huntington Beach metered lot (see bottom left of this map) where you'll pay $2.25/hr or $2.50/hr during peak season between 8am and 10pm.
Stops Along the Bolsa Chica State Beach Bike Path
The Basics
Since this is a State Beach, you'll find many amenities spaced along the wide path.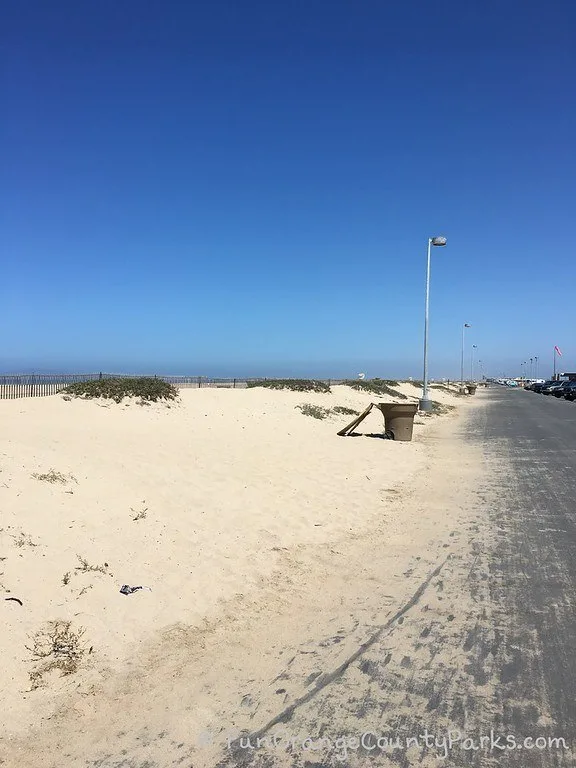 A wide paved path (watch for pedestrians!)
Beachside outdoor showers for rinsing off after a dip in the ocean
Restroom buildings — in addition to restrooms near each restaurant
LARGE trash dumpsters
Fire pits for a bonfire at sunset
One spot with reservable shelters near a basketball court on the parking lot side of the path
No tents allowed at the campground – it's mostly for RVs
Restaurants appear to open around 10am. All restaurants offered adult beverages, as well as sodas, lemonade, iced tea, drip coffee, hot tea, and hot cocoa.
Finally, although it's very sunny in my photos – there's a potential for marine layer clouds or fog at this location. So be prepared for cool and breezy.
Pacific Kitchen
Pacific Kitchen boasts "Huntington Beach's Best Breakfast Burrito." At least that's what the side of the building says! I love breakfast burritos and have to say this one is worth having again. The bacon was flavorful and extra crispy. I believe the potatoes were French fries and the cheese was a light drizzle of cheese sauce. The tortilla was fresh and I liked the kick from the salsa I added as I ate.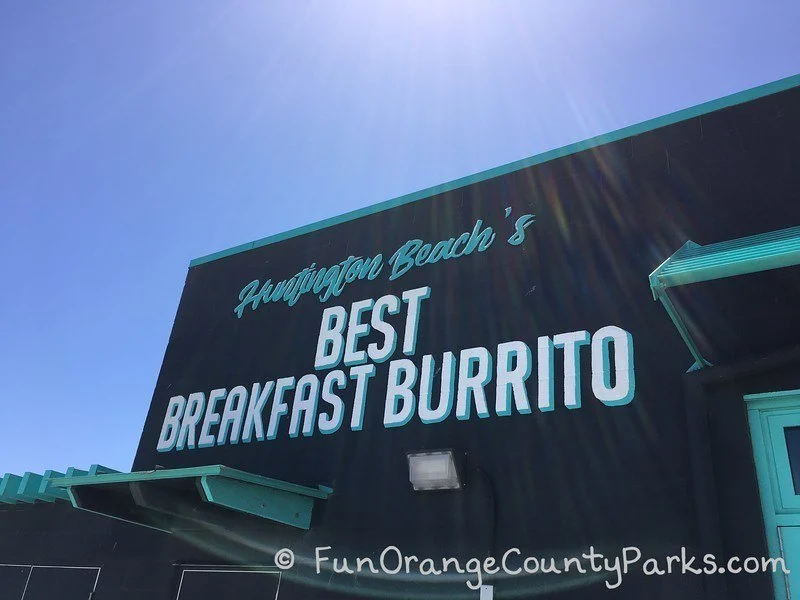 Bolsa Chica State Beach Campground, followed by Beach City Provisions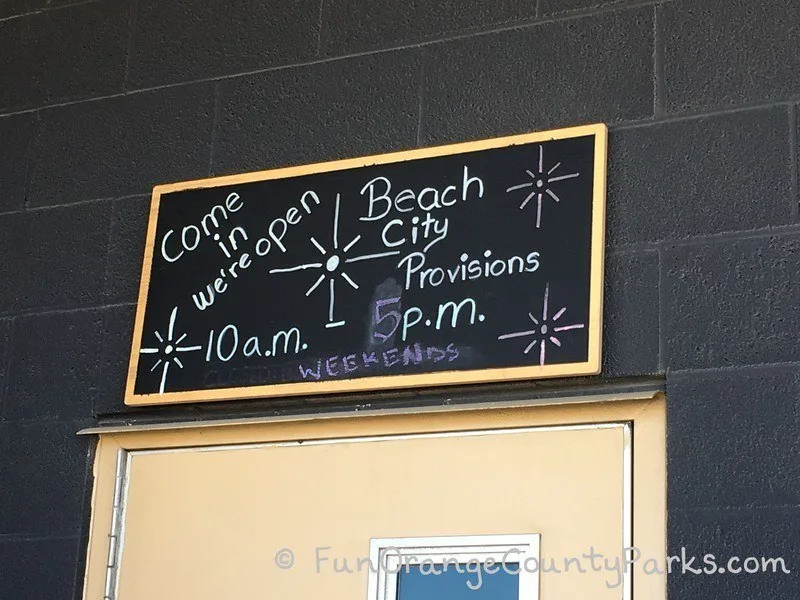 This restaurant is directly past the camping area and has a small provisions store open on the weekends, as well as a restaurant window and area to dine outside.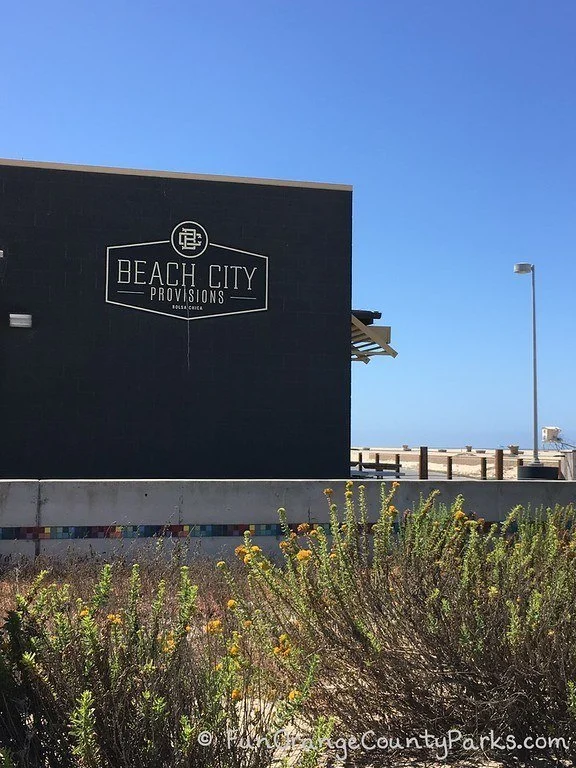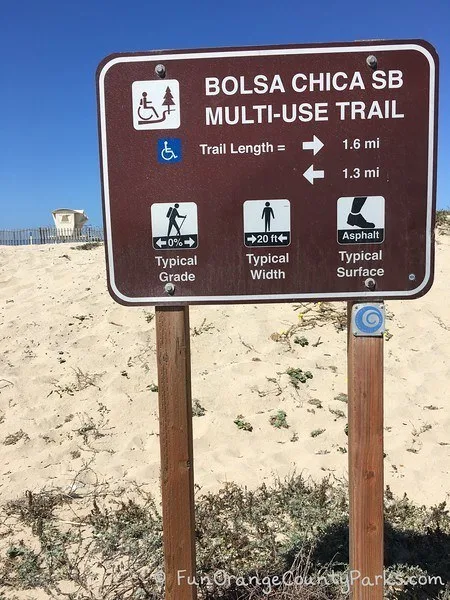 Bolsa Chica Visitor Center
There's a small visitor center near the big cinder block tower and park rangers at the desk to answer your questions. There's one room of exhibits where children are encouraged to press buttons, open drawers, and then follow the ramp up to look through telescopes to see birds at the ecological reserve across the street. This was a really cool perspective on the wetlands from a distance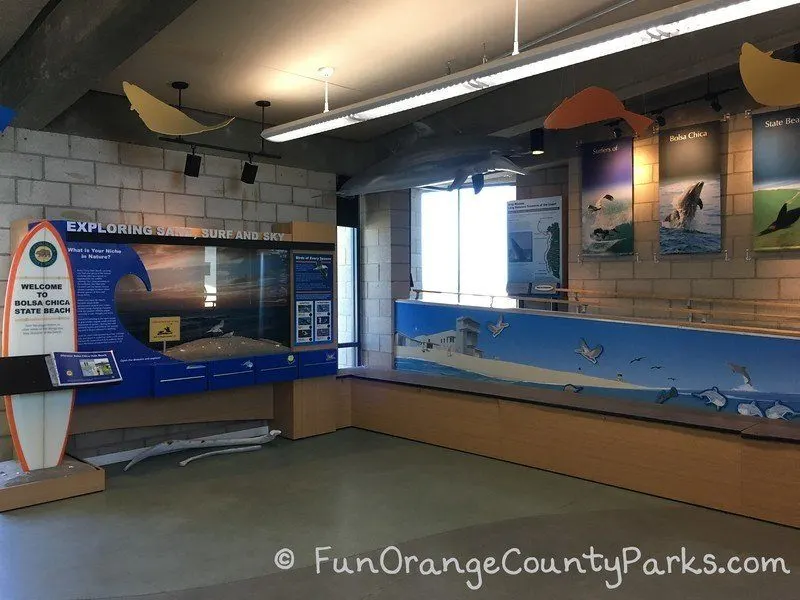 SeaSalt Beachside Burgers
Apparently, the Bolsa Special is the menu item to get at SeaSalt Beachside Burgers.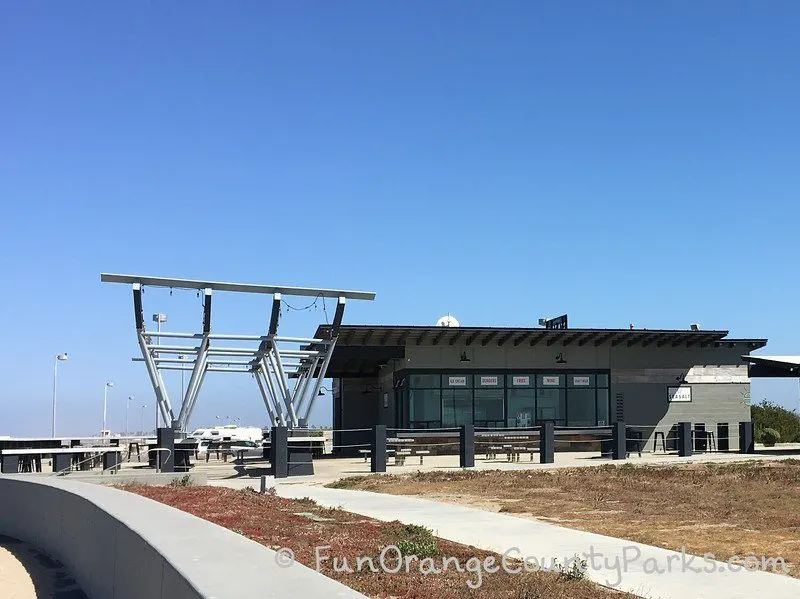 SeaLegs at the Beach
For me, this location looked more geared towards the adult crowd with lounges, curtains fluttering in the breeze, and even swings! Lots of seating arrangements meant for socializing. It still felt fun and casual, but chairs directly in the sand with a stage hinting at lively nighttime concerts and events.
Checklist:
Nearby Nature Experiences:
Bolsa Chica Wetlands are across the street from Bolsa Chica State Beach. You will need to drive to get there because it's not safe to cross by foot from the beach.
Are bikes allowed at Bolsa Chica Wetlands?
Bikes are NOT allowed at the Bolsa Chica Ecological Reserve across the street from Bolsa Chica State Beach. It is a fragile area for wildlife so all the rules are aimed at protecting it. Find out further rules & regulations on the Bolsa Chica Conservancy's FAQ page.
Originally published in June 2017.