The San Clemente Aquatics Center and Vista Hermosa Sports Park helped us beat the heat.
I thought the sports park was going to be near Interstate 5, but it's actually off the freeway and up the hill towards the Talega development.
You know the translation for Vista Hermosa, right? Beautiful view.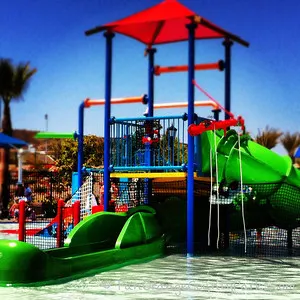 How to Get to Vista Hermosa Sports Park and San Clemente Aquatics Center: Take Interstate 5 and exit at Avenida Vista Hermosa – turn towards the foothills and away from the ocean. The park is obvious with white adobe-like walls across from a massive Target store. Address: 987 Vista Hermosa, San Clemente. MAP TO VISTA HERMOSA SPORTS PARK AND SAN CLEMENTE AQUATICS CENTER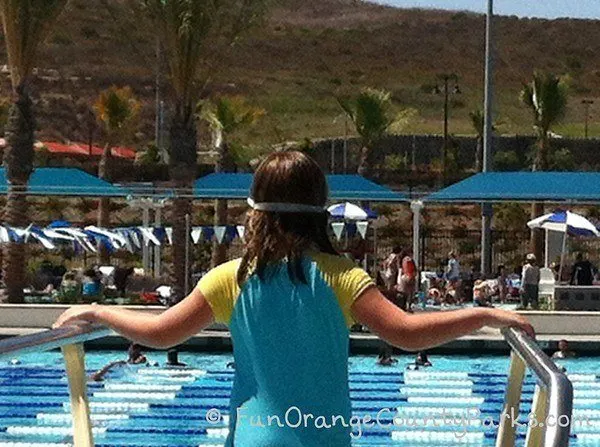 SWIM SAFETY
I used to be a swim teacher and YMCA lifeguard, so I have to throw in this little bit of wisdom:
The lifeguards are awesome, but they are watching the whole pool. Nobody can ensure the safety of your child better than you. The American Academy of Pediatrics recommends TOUCH SUPERVISION until your child is 5 years old. "This means that the adult is within an arm's length of the child at all times." The San Clemente Aquatics Center takes this seriously and their number one rule states: "Children under 7 years old must be accompanied by an adult 18 years of age or older who must be in the water within reach of the child at all times." (Read AAP Water Safety Toolkit)
I wrote an article called "Water Safety & Your Child: Useful Advice for Summertime Swimming" where I interviewed all sorts of water safety experts and the mother of a 2 1/2 year old who drowned. The most chilling quote from the article: "The unique thing about drowning is that the consequences are so dire and so final, that you don't get a second chance," says Dr. Gary Smith of the American Academy of Pediatrics.
Be safe!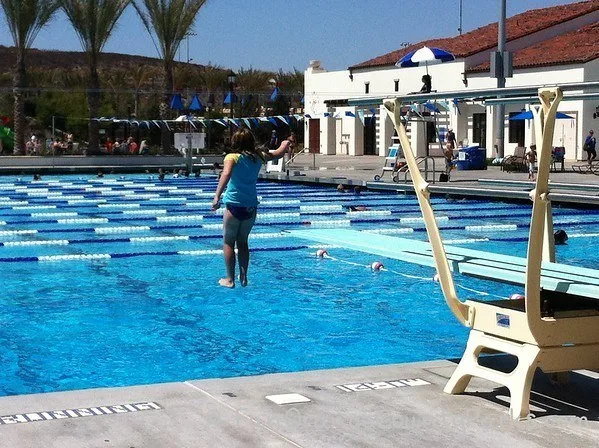 Highlights:
The San Clemente Aquatic Center feels like an oasis with its palm trees and white walls sitting in the middle of the dry coastal valley.
Even though we were a bit away from the ocean, the breeze actually made it feel quite a bit cooler than further inland.
50m Pool Area
The center has a big 50m pool with diving boards and a deep end. The diving boards opened up halfway through rec swim and this was my favorite spot.
The water is a gorgeous clear, deep blue and it's 14 feet deep. Kids lined up and took turns on the diving boards.
The other side of the deep end was set aside for free swim. A good spot to practice treading water.
Also, the bleacher seating in this area has shade covers and was much less busy than other parts of the pool.
The shallow end has stair entry into a rec swim area. The center of the pool is reserved for adult lap swimmers.
The diving boards were the biggest hit for my kids when they were 7 and 10.
Other Pools
There is a shorter 25yd activity pool near the play pool. Kids just splashed and played with their parents in this one. I think it was around 5′ deep with no shallow end.
The most popular spot for kids is the "play pool" with an aquatic playground for little ones. There is one green tunnel slide and a side-by-side red slide, plus all sorts of nozzles to turn and ropes to pull for water features. It's an awesome beach entry where I saw lots of little toddlers having a BLAST and moms sitting still (for once) and cooling off.
There are a number of lifeguards at various stations that switch posts every 15 minutes. There are safety checks where they empty the pools of swimmers (warn your little ones ahead of time that they will need to get out when the lifeguards blow their whistles – lots of parents used this as a snack/potty break).
Outside the center, Vista Hermosa Sports Park has fields for football, baseball, Little League, soccer and event rentals.
There's a 1 mile loop trail around the park made out of DG (decomposed granite).
Read about Courtney's Sandcastle, the playground right outside the Aquatic Center.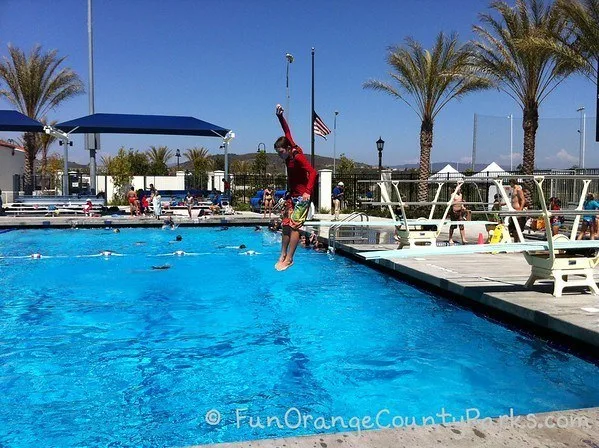 Be Aware:
Reservations are REQUIRED for Rec Swim — online only (no walk-ups). Also, no diving boards available during rec swim.

Recreation swim has limited hours! It's only 2 hours on weekdays and 4 hours on weekends. Get there a little early because you have to pay admission to get in.
Residents of San Clemente get a price break (paying half of what it costs for non-residents).
Signs posted say that you

must

accompany your child in the water if they are age 8 and under.
It is BUSY

all

the time, especially when camps decide to visit.
It can be challenging to be in the water or following all the kids at once — inevitably, they all want to be in different pools or places.
There are shade covers over the lounge chairs, but the seating is hard to come by unless you get there early. It's also quite a distance away from the kid play pool area. I found I had to keep walking around the play pool to keep my eyes on my daughter.
Lap swim is for 14 years old and up.
Toddlers need plastic pants to cover their diapers.
Bring a lock if you want to use a locker.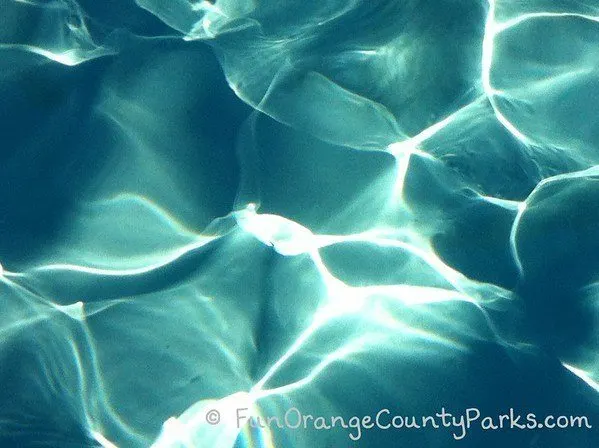 Checklist
Dedicated parking lot (free parking)
Residents of San Clemente get a price break. Monthly, seasonal, and annual passes are available (even for non-residents). Refer to the City of San Clemente Recreation website for the most current information!
Restrooms inside the Aquatics Center are inside locker room
Family-friendly changing room inside the locker room with a privacy door
I saw people bring in coolers and food (it's just not allowed in the water)
Toddlers need plastic pants to cover their diapers
Bring a lock if you want to use a locker
There is a pool lift in the 25yd pool for universal access
Event rentals and party packages are available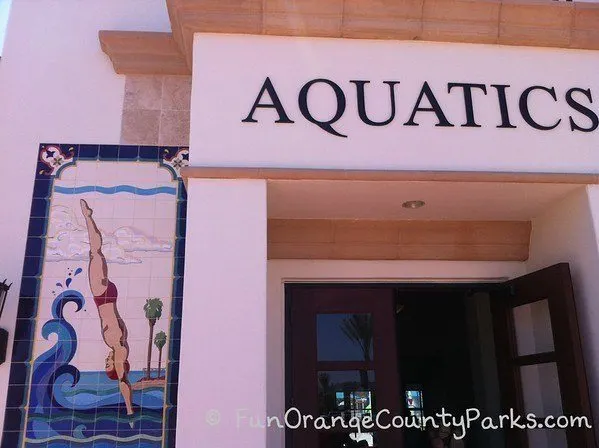 Originally published in August 2012.