Reader Question: I'm going to Northern San Diego for Saturday and Sunday this weekend. It'll be mostly with my 3 year old and myself so I'm thinking about spending most of Saturday at a beach. This means either Oceanside, Carlsbad, or possibly Encinitas. I want an easy access to the beach with some quick-bite choices in the vicinity.
I'll suggest these two kid-friendly San Diego beach and playground combos: Moonlight Beach in Encinitas and La Jolla Shores in La Jolla.
For both spots, it is best to get to the beach by 9am or 10am to beat the crowds and ensure you can get parking. Both beaches have snack bars/concessions open during the summer – and restaurants close by.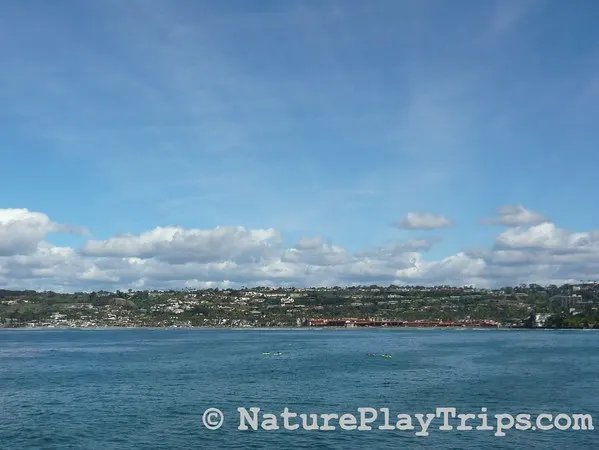 Moonlight Beach in Encinitas & Cottonwood Creek Park
Moonlight Beach is right off I-5 in north county. Exit at Encinitas Boulevard and follow it towards the beach where it turns into B Street. The beach is at 400 B Street (map).
The parking lot is above the beach at 3rd and C Street, but you might be able to find closer street parking. Just pay attention to the signs.
There are lifeguards, restrooms, and showers. There's a grassy area and places to sit near the playground.
If you're wanting to walk, there are lots of places to eat and shop along Coast Highway – mainly to the south of Encinitas Boulevard. We have been going to the Potato Shack Cafe at Coast Highway and I Street for a long time; try the Man Hole Cover Size Pancakes.
[Park Tip: If you were to have 2 adults, you can drop one adult, the kids and stuff at the drop-off area near the playground while the other adult parks.]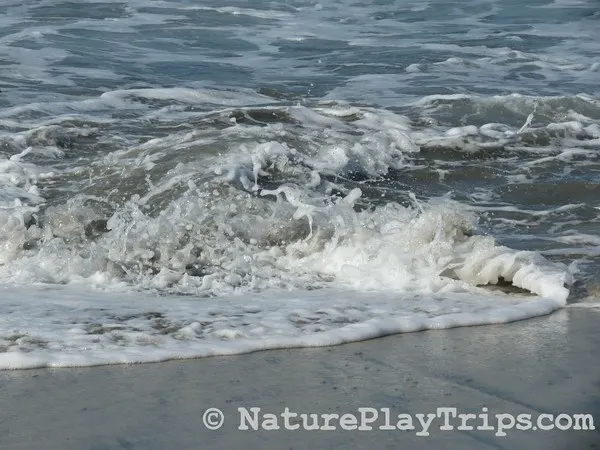 Find more play within walking distance at Cottonwood Creek Park at the northeast corner of Encinitas and Vulcan. You will have passed it on your right as you approached the beach.
La Jolla Shores & Kellogg Park Children's Playground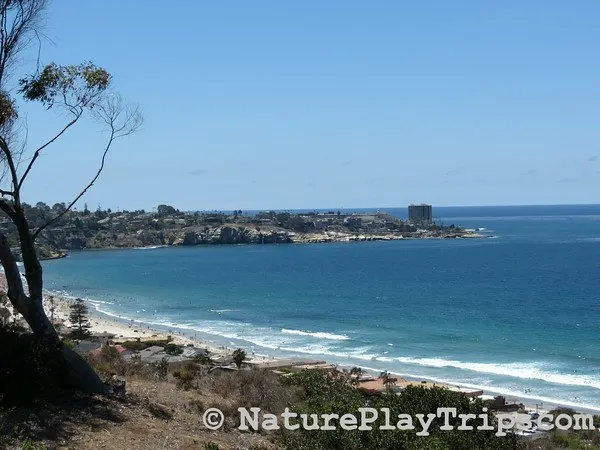 This beach is below UC San Diego before you get to the village of La Jolla. Going a little further south, I think La Jolla Shores is one of the best kid's beaches in San Diego County – if not Southern California.
This is the first beach we ever visited with my oldest – when he was 9 months old. There are a number of restaurants off of Avenida de la Playa on the south end of the beach past the La Jolla Shores Hotel.
There is beach parking off of Camino del Oro. The waves are usually calm during the summer and the water is warm.
You have a view of La Jolla Cove (with swimmers who swim from Shores to Cove and back) and Scripps Pier.
There is a short wall that separates the beach and fire pits from the parking lot and grassy area behind it.
It's staffed with lifeguards during the summer and there are restrooms and showers.
The Children's Playground at Kellogg Park is very close has an amazing concrete map with embedded bronze sculptures.
More Park Tips:
Don't know what to pack? You won't want to walk around with all this stuff, but if you are coming by car read ideas about what to pack in your family

backpack

and beach bag.
Want to see more photos? Just go to Google.com and type in "Moonlight Beach Encinitas" or "La Jolla Shores" – click on the "Images" tab to see an instant photo album.
Another nearby outing for Moonlight Beach is the San Diego Botanic Garden