The big headline is the HEAT. I've lived in the hot, humid, and buggy South before. And I have also lived right near Magic Mountain in Santa Clarita where the high desert sure feels like the high desert. September and October are ALWAYS the hottest months in Southern California, but I ALWAYS feel the need to get cranky and complain anyways.
Things to Do When It's Too Hot in OC
1. Visit a new-to-you public library. They're air-conditioned! And if you've never been exploring, there are some pretty amazing libraries in Orange County. Huntington Beach Central Library boasts one of the largest children's collections. Mission Viejo Public Library and Foothill Ranch have little reading rooms for the kids. Read my post about the 50+ Public Libraries in Orange County you have to choose from! Did you know September is National Library Card sign-up month? The late Stan Lee (90+ year old American comic book writer) talks about how a "library card is the 'Open Sesame' to all the knowledge in the world."
2. Get a new-to-you sweet treat. Seems like ice cream is booming this summer and we have our favorites at our house. Ideas for every budget: Costco has chocolate dipped ice cream bars and swirled frozen yogurt or berry sundaes, Sno2Go in Mission Viejo is my favorite for shave ice although the wait can be long, the kids' size Chocolate Dipped cone at Dairy Queen is scrumptious (and a drive-thru option) and there's always good old Rite Aid scoops.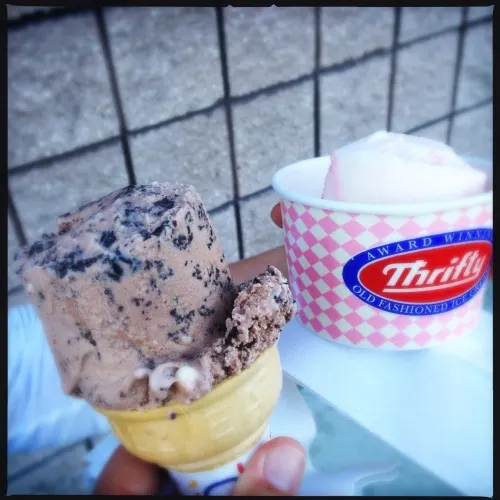 3. Find shade. I have a list of the Top 10 Playgrounds with Shade Covers and Cool Tips for Hot Playgrounds (although I'm honestly feeling like it's too hot unless you go early or late in the day).
4. Find a pool. Call up a friend or check your city's recreation guide to see if any of the public pools have swim hours. I have a list of city parks and recreation websites.
5. Seek out splash parks and water play places. I have a whole list of places you can try. Some may only be open on weekends, now that it's not summer.
6. Dream of fall. Get together as a family and think cool thoughts. Where do you want to go to see fall colors? Pick apples? Taste pumpkin flavored treats? Harvest pumpkins? Everybody picks one thing you want to do before the end of November. October is Kids Free San Diego month so it's a great time to plan activities down there.
7. Loose parts play indoors. Make a pile of unrelated toys and challenge your kids to play something or build something with it. Make something with cardboard.
8. Let the kids make up a new game. This always happens to us when we're on a road trip. They'll come up with a new trivia game or word play game. Give your school-age kids some props (dice, a spinner, a piece of cardboard and pencil, and maybe some bean bags or Legos. Have them make up rules for a new game and teach you how to play it. (Go along for the ride, parents. It's their show – it doesn't even have to make sense.)
9. Go whale watching. No promises, but there have been humpbacks and blues spotted in our local waters. It's cooler out on the water. We like Dana Wharf Whale Watching.
Stay hydrated and play somewhere cool midday when the heat spikes between 9/10am and 4/5pm. I also have ideas for where to play indoors.