Are you looking for OC playgrounds with shade covers? It's still hot and not ideal, but at least these are playgrounds you can visit in a pinch to get the wiggles out.
You can also consult my post for 100+ Ideas for Kids Indoor Play post which includes 13+ frozen treat ideas for hot days and a whole bunch of places with air conditioning!
Top 10+ OC Playgrounds with Shade Covers
The first 8 mentioned are the stand-out parks where the playground shade covers are BIG and effective. The other parks on the list have partial shade covers which provide some relief, but they don't cover the whole playground.
Full Shade Covered Playgrounds in Orange County
Hurray for shade covered playgrounds! When it gets hot, we go looking for shade anywhere we can find it. This list with photos highlights the playgrounds with BIG shades or overlapping shade sails over the entire playground.
There are playgrounds out there with smaller shade sails over the equipment, but that might only be adequate for sun cover and not as much for keeping cool? I do have a list of those at the end of this post.
Partially Shade Covered Playgrounds in Orange County
Brea Sports Park – added shade covers in 2012.
Shaffer Park in Orange – a family favorite.
Brio Park and Splash Pad is one of the rare spots where there is shade over the water play.
Lang Park in Laguna Beach – a playground cover AND near the ocean.
Sweet Shade Park in Irvine – minimal covers, but good for a little relief.
Santa Ana Zoo Playground – the giraffe design makes this one unique.
Liberty Park in San Clemente – inland location so no benefits from the ocean.
Stanton Central Park – new park in 2016.
Tamarisk Park in Lake Forest – the shades are there to cover the midday sun, but they aren't very big.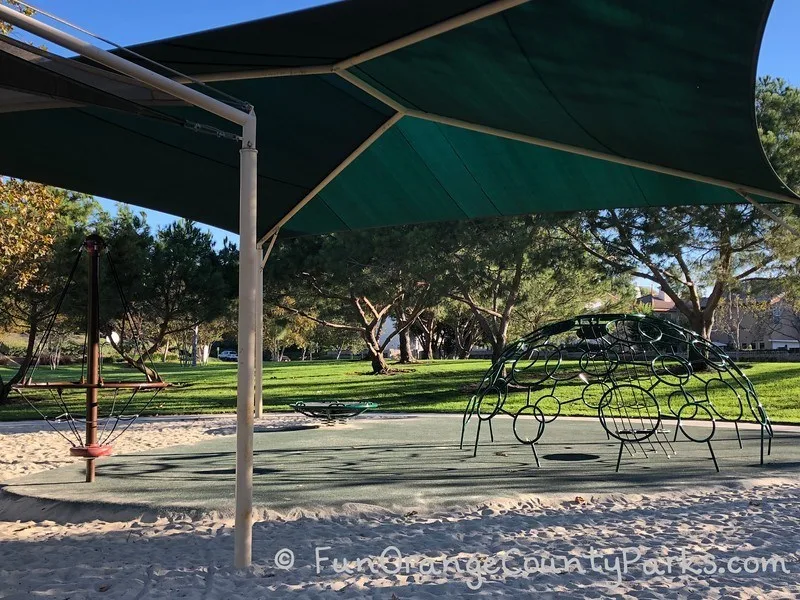 More recommendations from readers:
Anton Park in Irvine
Cox Sports Park in Ladera Ranch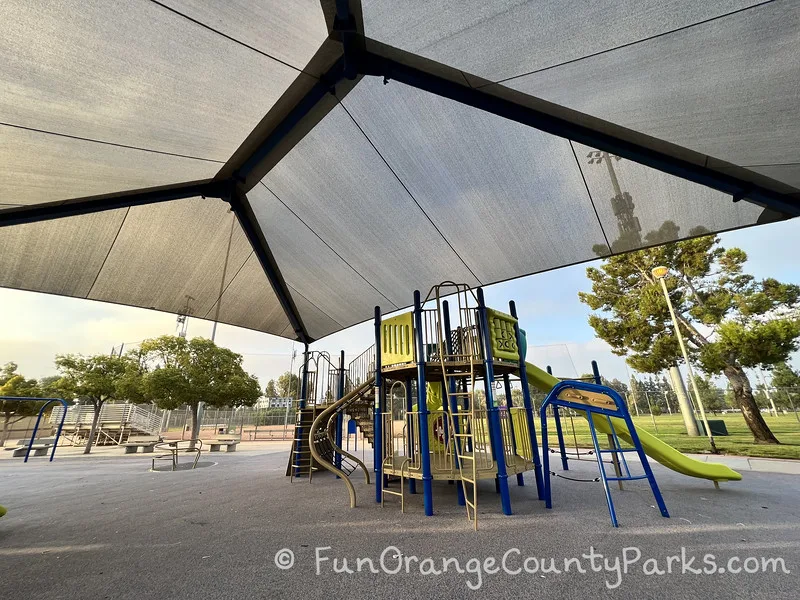 In creating this list, I'm discovering that Irvine, Aliso Viejo, and Laguna Beach have all invested in shade covers for their community, so check out their parks first when looking for shade.
Read Cool Tips for Hot Playgrounds for even more ideas to keep cool on these hot days!
Originally published in August 2010.