Brea Sports Park playground lies at the edge of an incredible lawn surrounded by massive baseball diamonds marked by high black chain link backstops. You can't miss it when you drive by on Birch Street.
The picnic tables surrounding the playground make it really easy to view multiple kids and the lawn area provides lots of run around room.
Directions to Brea Sports Park Playground: Take the 57 to the Imperial Highway exit. Turn away from the Brea Mall. I came from the coast, so I turned right off the offramp. Then I took a left about a mile down Imperial Highway onto Kraemer. Go 2 blocks and then turn right on East Birch Street (PAST road marked "Birch Mall"). You'll turn left into the first driveway. If you hit Valencia, you went too far. MAP to Brea Sports Park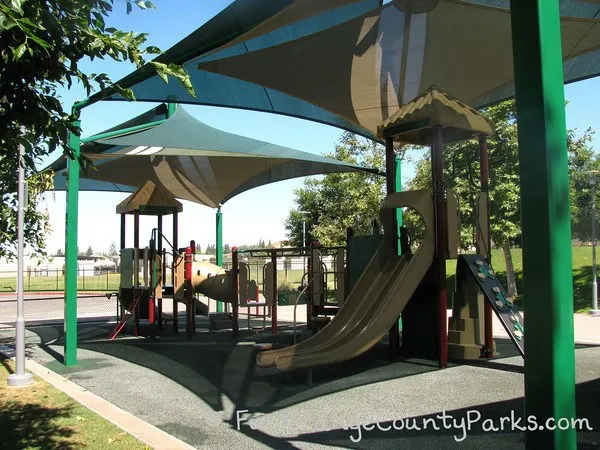 Recommended by: Lisa (read her detailed info in italics). She's been an invaluable resources to our site with her knowledge of north county play places and a generous willingness to share!
Highlights:
There are multiple structures to play on, with plenty of different slides to enjoy. This park is only a little over a year old, and everything still looks brand new.
There's a large grassy field next to the playground area, and on the day we were there some people were playing soccer, and there was a family flying a kite.
There was only one area where I couldn't easily reach my toddler, up near the top of the largest slide. Other than that, this seems to be an extremely toddler-friendly play area.
The bathrooms are a little bit away from the playground area, up some stairs and between some of the baseball diamonds, near the concession stand. The bathroom facility (just walk up the stairs from the playground) is very nice and surrounded by a number of umbrella-covered picnic tables.
Read about the history of the park and Brea from the display at the center of the park.
We had fun picking along the .6 mile walking loop. We saw lots of birds, including a Western Bluebird! There's sweet-smelling honeysuckle growing along the back fence.
It's also historically interesting to see the oil pumps — there are 19 at the Sports Park. I know my son would have loved it when he was a toddler.
Shade structures added in Summer 2012! Hurray!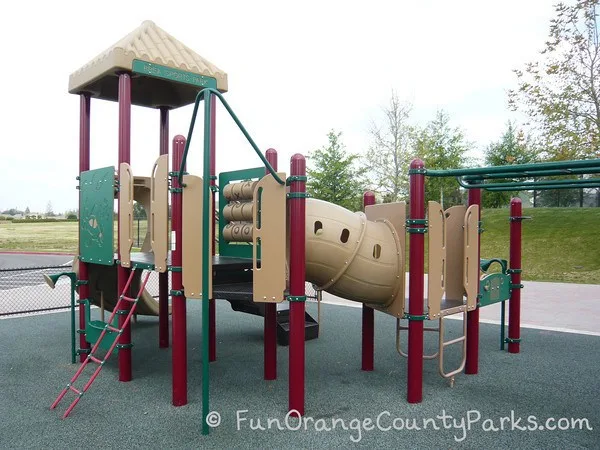 Be Aware:
Since the playground area is just a part of the impressively large sports complex, it's a safe bet that it could be very busy on the weekends when the youth sports are in session.
On the day I visited, the mom's watching their kids seemed to be most concerned about them running into the street. It's pretty easy for a stray soccer ball to roll into the parking lot, but thankfully there's not much traffic.
There's a sign with rules prohibiting "operating inflatable bounce houses and operating remote-controlled vehicles," among other things.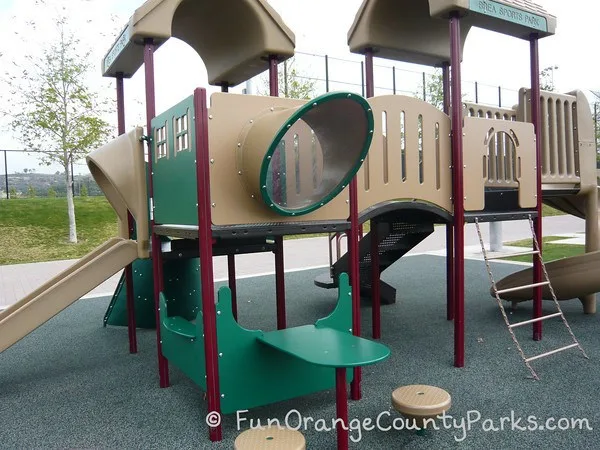 Checklist:
Parking in dedicated lot. Turn right as you come in the entrance off Birch to park in the first spots on your left. You can walk (or run) across the grass to the playground. We made the mistake of driving straight and it's basically just a turn around for dropping off players. There's also gravel area to your left where a few people parked mostly to let their dogs out on the vacant lot (a future elementary school site).
Lots of drinking fountains. One very near the playground and more up the stairs.
Picnic tables near the playground and also up the stairs.
Recycled rubber play surface only.
There are baseball and softball diamonds, soccer and football fields, practice fields, basketball courts and batting cages.
Official City of Brea website (does not allow parks to be reserved in advance)
Parks Nearby Brea Sports Park:
Originally published in March 2010.