Carbon Canyon Regional Park in Brea is ridiculously fun.
FOUR playgrounds lie in sprinting distance of one another – with views of a small lake.
Bring a picnic and plan to stay all day for nature hikes and wildlife viewing.
Kudos to Orange County for bringing the best in playgrounds to its kids.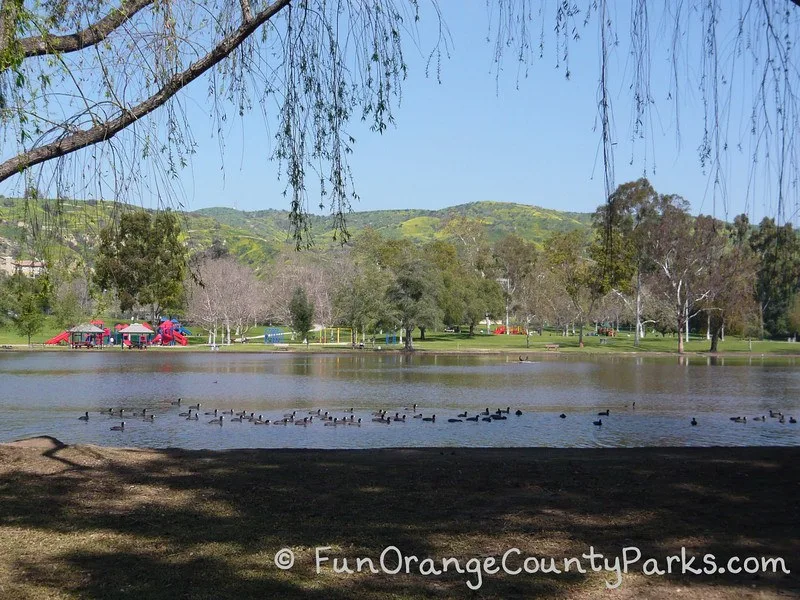 Directions to Carbon Canyon Regional Park in Brea: We took the 57 Freeway exiting at Lambert. If you're traveling from the coast – it's a right turn onto Lambert from the offramp (away from Brea Mall). After crossing Valencia Ave, Lambert turns into Carbon Canyon Road. The park entrance is on your right. After you pass the booth, turn to your left to park closest to the playgrounds. [Address: 4442 Carbon Canyon Road, Brea] MAP TO CARBON CANYON REGIONAL PARK IN BREA
Recommended by: Marisa and Marcy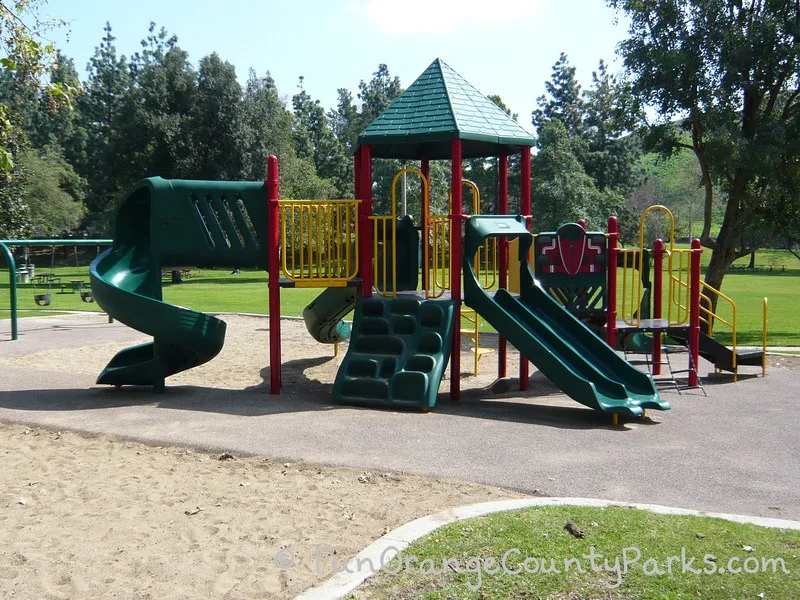 Highlights:
FOUR amazing playgrounds all within sight of each other. Gives the older kids freedom to explore and the younger kids some options for finding the perfect play experience.
A rainbow of colors hit me the first time I visited. There's the massive red structure with triple slides; the smaller blue structure with ride-on spring toys and baby swings; the yellow and red structure with bridges/climbing experiences/stand-alone slide; and finally, the green structure with a funky gray rock wall to navigate.
There's a tire swing, teeter-totter, yellow chain climber, and big kid swings near the largest red structure. They've also added a yellow merry-go-round and other equipment to complement the red structure.
Take an easy stroll around the lake and do some exploring.
Nature Connections:
Save time to visit the Butterfly Garden and go for a hike on the trails past the tennis courts. Consult with a ranger for more information.
We've seen plenty of woodpeckers working the oak trees and see how many waterfowl you can spot on the lake. See any evidence of Canadian Geese?
Carbon Canyon Regional Park Hiking Trails: Many of the trails here are easy and perfect for families. Read about our hikes here — we like to combine the Redwood Trail and Carbon Canyon Creek Nature Trail. Here is a trail map so you can pick a route.
You can take a self-guided hike or take advantage of guided hikes to the Redwood Grove that may be offered the first weekend of the month. Consult the OCParks.com official calendar.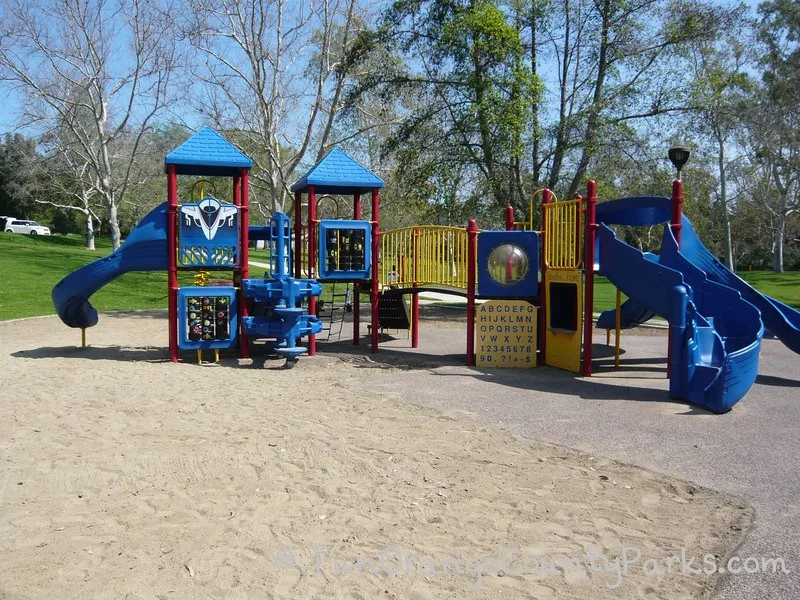 Be Aware:
This park is hot during the summer (although lots of shade trees).
It's a very popular park – so pretty busy on weekends. Plan ahead by using the portal for reserving a shelter for birthday parties or other gathering.
Do you have to pay to get into Carbon Canyon Regional Park?
Yes. There is a fee for parking: $3 on weekdays, $5 on weekends, and more on major holidays. Highly recommend buying an annual day use pass to OC Parks which includes parking at this regional park.
Are dogs allowed in Carbon Canyon Regional Park?
Yes! Dogs area allowed in the park, but must remain on leash at all times. We saw many dogs on leash taking hikes on the trails with their owners.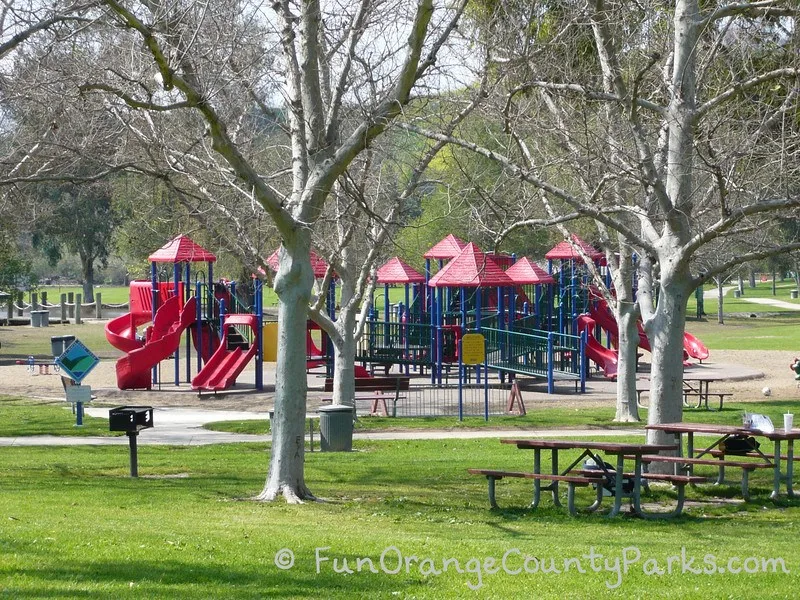 Checklist:
Parking in dedicated lot
Sand and recycled rubber play surfaces
Small restroom with 2 stalls nearest to furthest-from-entrance playgrounds (the yellow/red one and green one by picnic area)
If you could drive straight ahead into the park from the entrance booth, you'd find this much larger and newer bank of restrooms slightly to the right. Since that's not possible, on foot it's closest to the largest red structure

(but a bit of a walk)

Drinking fountains by this larger bathroom
Shade everywhere from large sycamores, pines, and willows
Amazing location for birthday parties and large groups
Find more nearby parks in my North OC Parks Index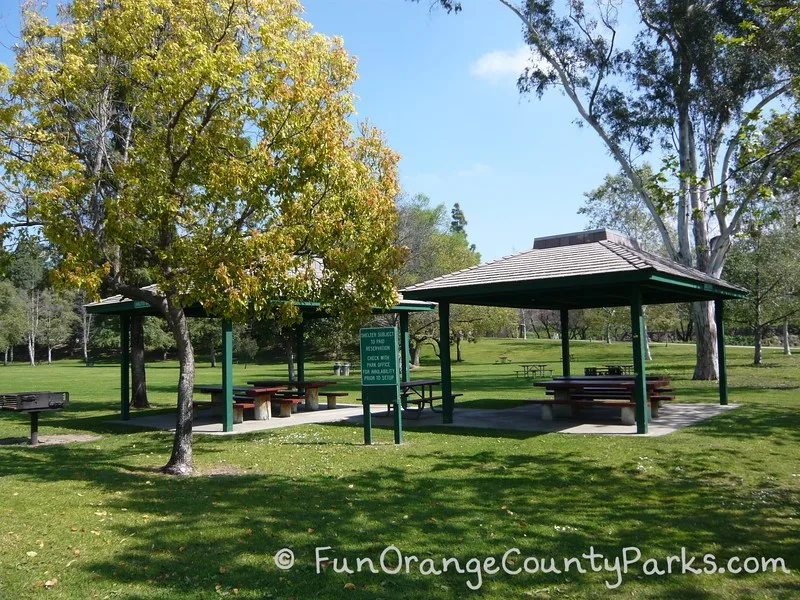 Nearby parks: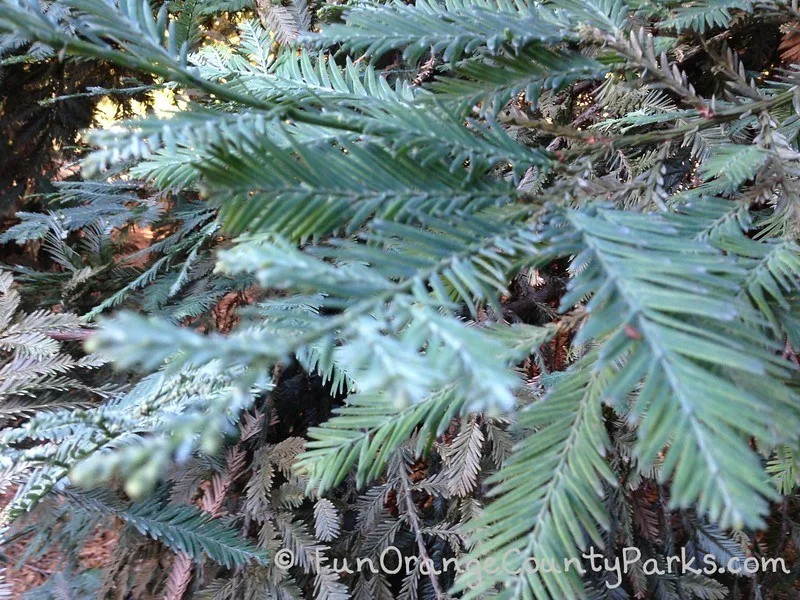 Originally published in May 2009.