Tri-City Regional Park in Placentia has a beautiful lake in the center with a path that goes around it.
There's even a shortcut that goes across a couple of bridges that my toddler loves and runs for as soon as we start our walk.
Tri-City Park is run by the county's OC Parks system since 2013 — and is very near Brea Sports Park.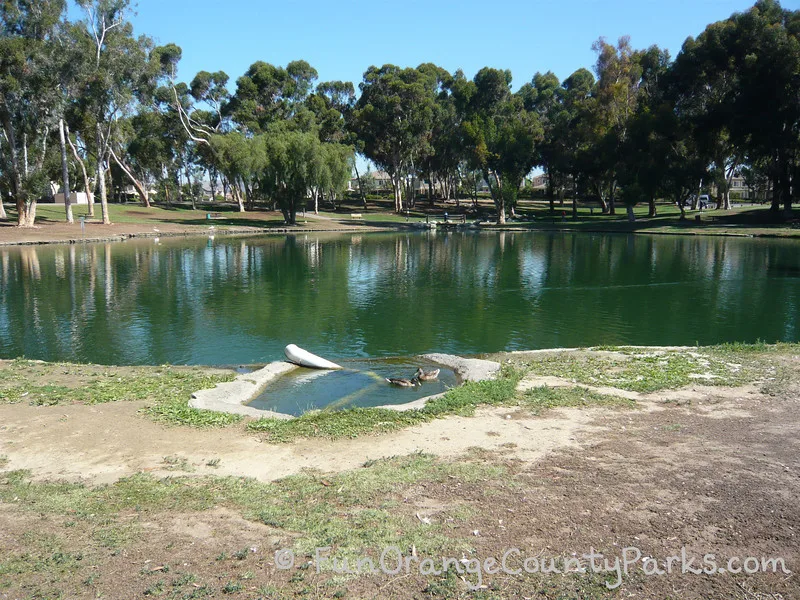 Directions to Tri-City Park in Placentia: Take the 57 Freeway to the Imperial Highway exit. Head in the opposite direction from Brea Mall. We came from the direction of Angels Stadium and turned right off the exit. Stay in the right lane and turn right on Kraemer Blvd. Turn right at Golden where the park entrance is very obvious. To park near the playground, make a left at the fork. (Address: 2301 N. Kraemer Blvd in Placentia) MAP TO TRI-CITY PARK IN PLACENTIA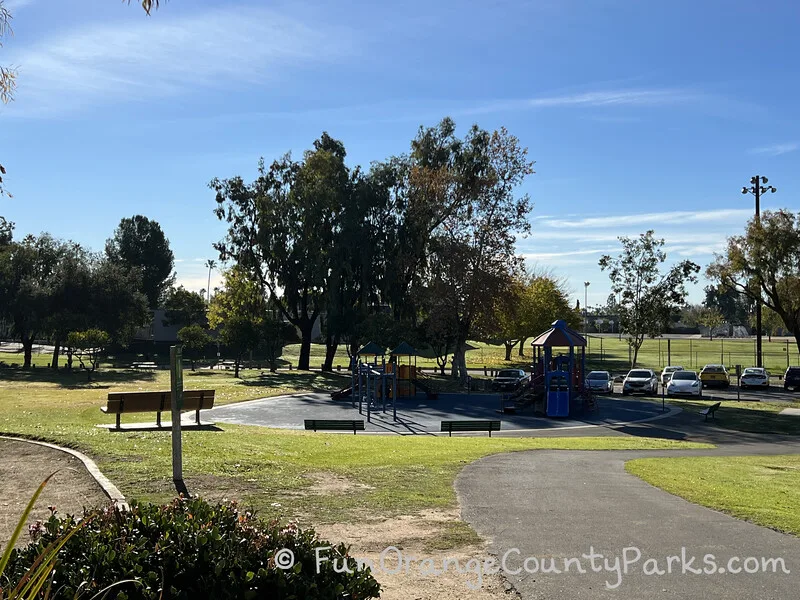 2022 Update: This playground looks exactly the same as in these following photos, except it now has a blue recycled rubber surface (see photo above).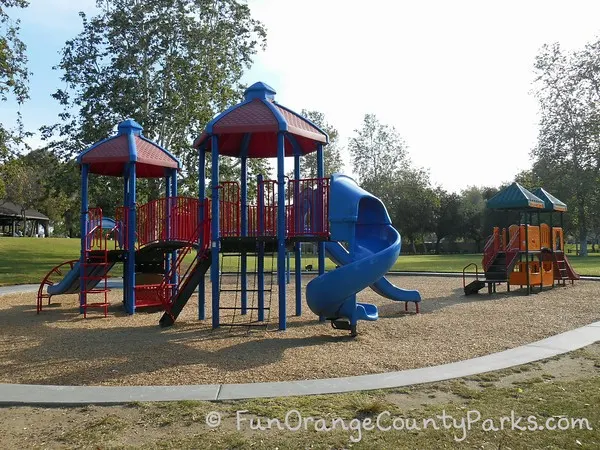 Highlights:
The lake takes the starring role over the playground which is relatively small compared to other nearby parks. The lake is even an "Orange County Historic Civil Engineering Landmark" because it used to be called the Tuffree Reservoir which held Anaheim Union Water District river water from the Santa Ana Canyon.
We've spotted people sailing model boats on the lake many times and it's very fun to watch. There are even turtles in the lake! You can see them sunning themselves on the edges or see their little heads pop up while swimming. Here is some wildlife spotting we did at this park.
Fun playground that's not too large for comfort with a toddler. There are some openings along the sides but it's not higher than you can reach, so it feels pretty safe.
Two structures, including a smaller structure for the 2-5 year olds.
There are 2 baby and 2 bench swings next to the play structure.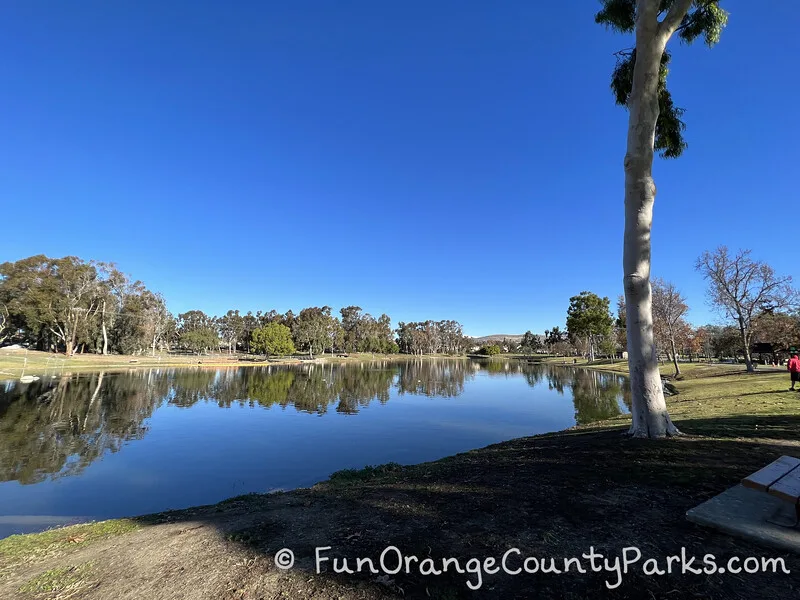 Paved walking path is nice. You can do a loop or even park far away from the playground and make it a destination. There are peek-a-boo views of snow-capped mountains from the playground side of the lake if you catch it in winter after a storm.
Plenty of large, lush trees to spread out a picnic blanket under. I've done this myself numerous times and had some wonderful meals with the family.
There is also a new outdoor fitness equipment area if you turn to your right as you go in the entrance.
Be Aware:
Hot in the summer. No shade over the playground area, but there are plenty of trees just outside of the play area to cool off under.
There are some very aggressive geese that spend a lot of time here. If they don't think you have food they will typically ignore you. It's bad to feed the ducks and geese anyway, so there's no need to run into any trouble with them.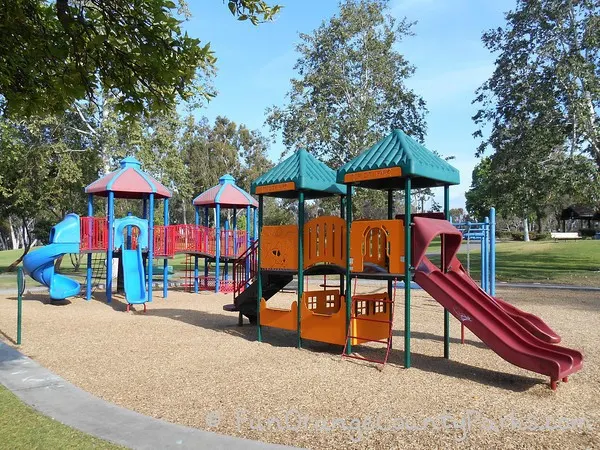 Checklist:
There is typically an entrance/parking fee for OCParks.com parks, but this is an exception. This park is still managed by OC Parks, but there is no fee at this time.
To park near the playground, take the left fork just after you enter the park and follow the road around until you reach the parking lot.
Playground play surface is recycled rubber (even though the photo shows bark).
The walkways all around the park are paved and good for walking!
New fitness equipment to expand your workouts!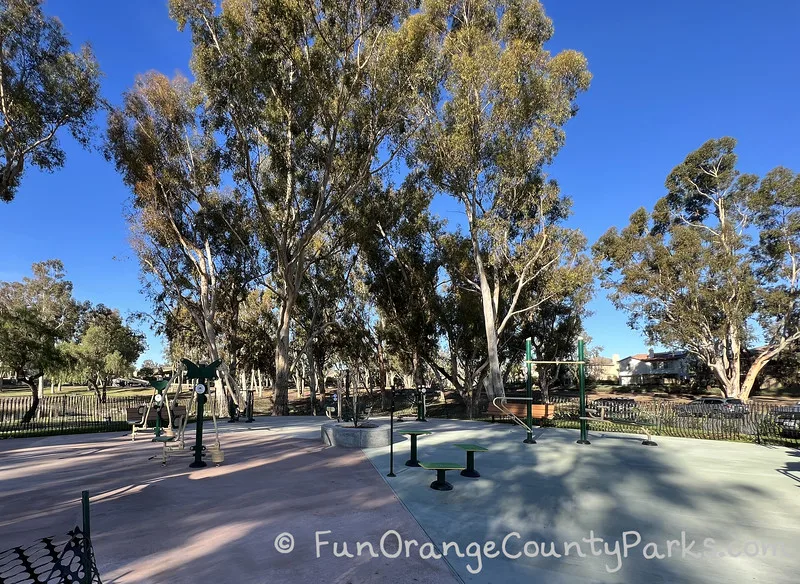 Two restrooms are available – one near the main entrance to the park, and the other is by the entrance on the opposite side with a smaller parking lot area. The restrooms were refurbished in 2021/2022.
There are LARGE picnic shelters available to reserve through OCParks.com. I actually had my son's first birthday party here, and it was great. The picnic shelters are just up a small hill from the playground.
Parking will be $3, but fees aren't being collected yet.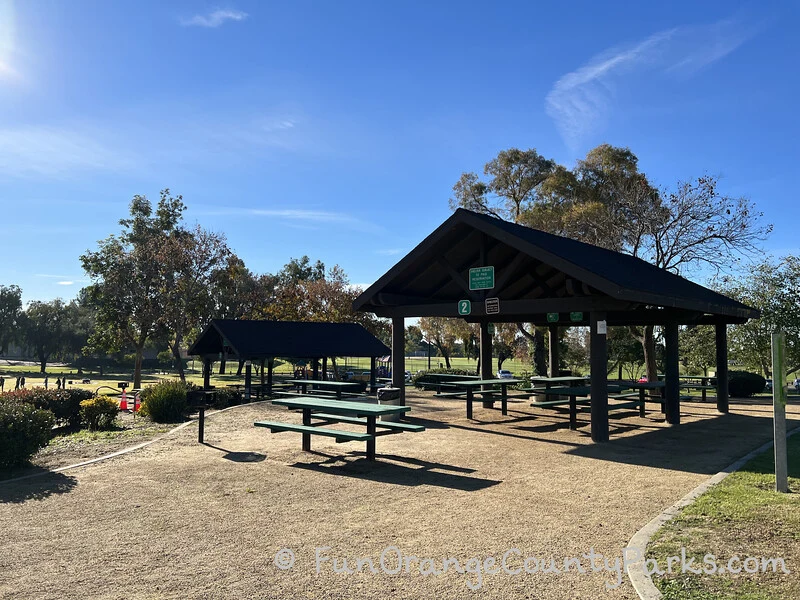 Originally published July 2010.