Chino Hills State Park Discovery Center in Brea is just past Carbon Canyon Regional Park on Carbon Canyon Road.
It's the perfect spot to begin an exploration of this inland California State Park.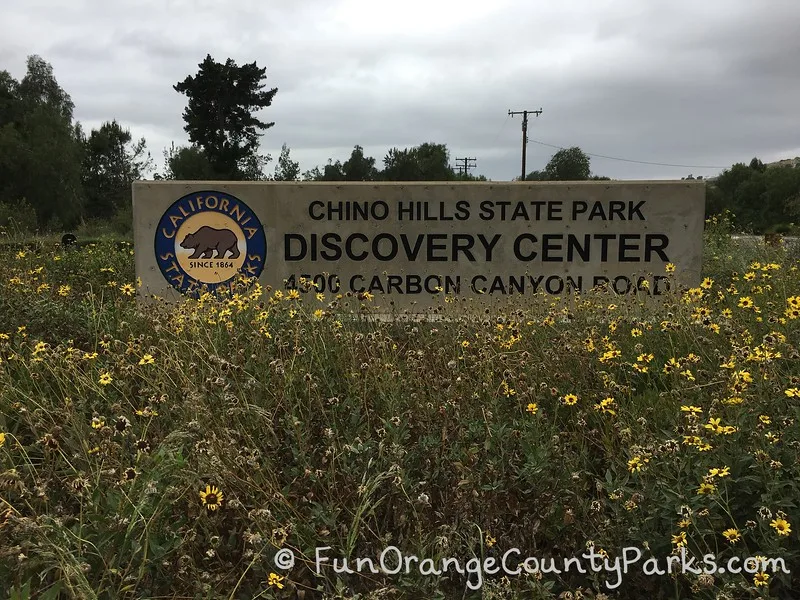 Directions to Chino Hills State Park Discovery Center: Exit the 57 Freeway at Lambert and head towards Carbon Canyon Regional Park (Address: 4442 Carbon Canyon Road, Brea). There are signs along the way! This road will shift from Lambert into Carbon Canyon Road. The Chino Hills State Park Discovery Center is in Brea (Address: 4500 Carbon Canyon Road, Brea — see how close this is to Carbon Canyon Regional Park?). Pass the entrance to the regional park and the very next right turn you'll see the sign for the Discovery Center. MAP TO CHINO HILLS STATE PARK DISCOVERY CENTER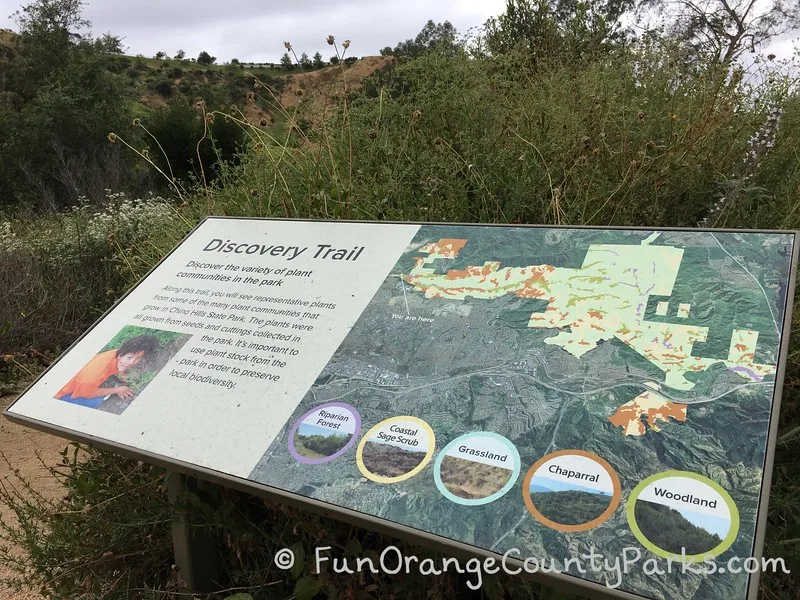 What is there to do at Chino Hills State Park Discovery Center?
Check out a hiking kit with binoculars. They have hiking kits available for checkout from the front desk. You just have to turn in your driver's license which you will get back when you return the backpack. It's for kids, but also works for adults!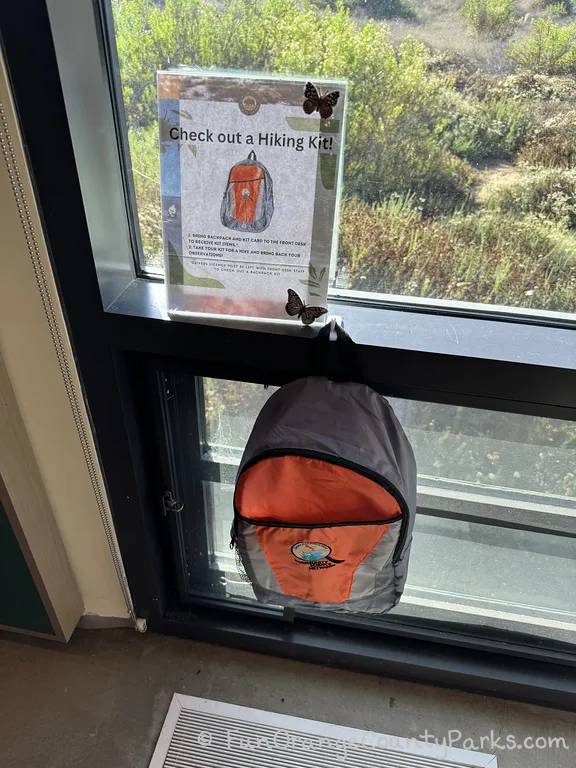 Attend the Weekend Explorers program from 8:15am-9am on a Saturday or Sunday. As of October 2023, the education team here has put together a great family program available on weekend mornings right after the parking lot gates open.
Explore the exhibits at the center! There are interactive exhibits where you can touch and experience a lot of the wildlife and information about this massive park, including lots of maps to orient yourself!
Maybe read a book and look out the big picture window. It can be a quiet experience when you hit it on a day without many people there.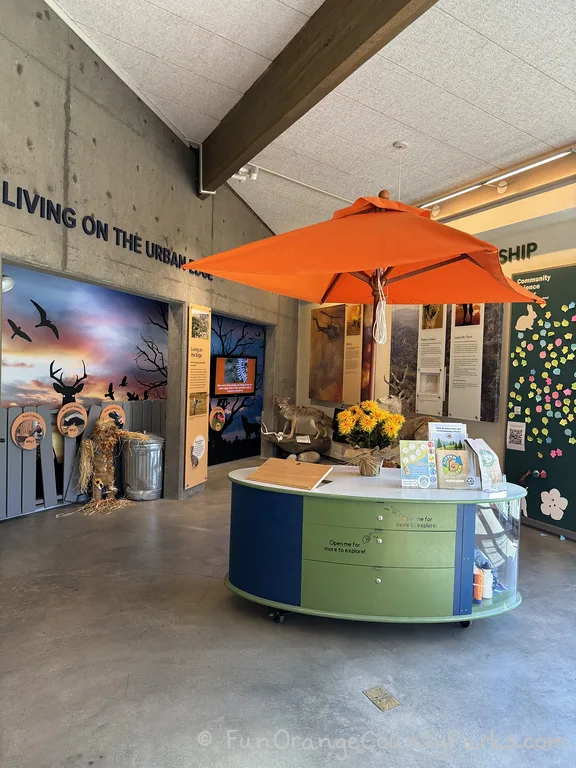 Walk the small trail outside the center. Explore the center first and then go out through the doors and down the stairs to wander the path lined with native plants and see what you can spot!
Be a Litter Getter and clean up the trail. They have Litter Getter bags on display and you can help keep litter out of the state parks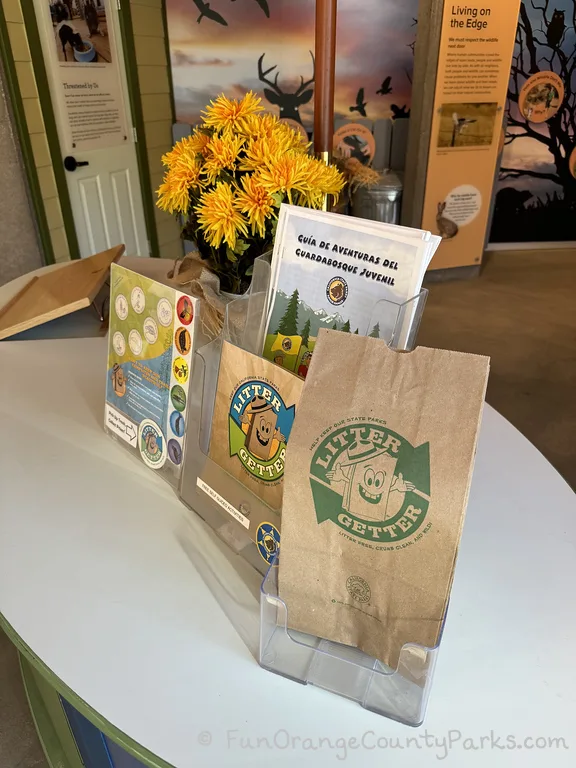 How much does it cost to park at Chino Hills State Park Discovery Center?
Even though it's a CA State Park, you can pay hourly $3/hour or $10/day. Pay inside when it's open or use the Yodel app. (We have an annual CA State Parks pass so we were able to use our pass). Gates open at 8am. Fall/Winter hours 8am to 5pm.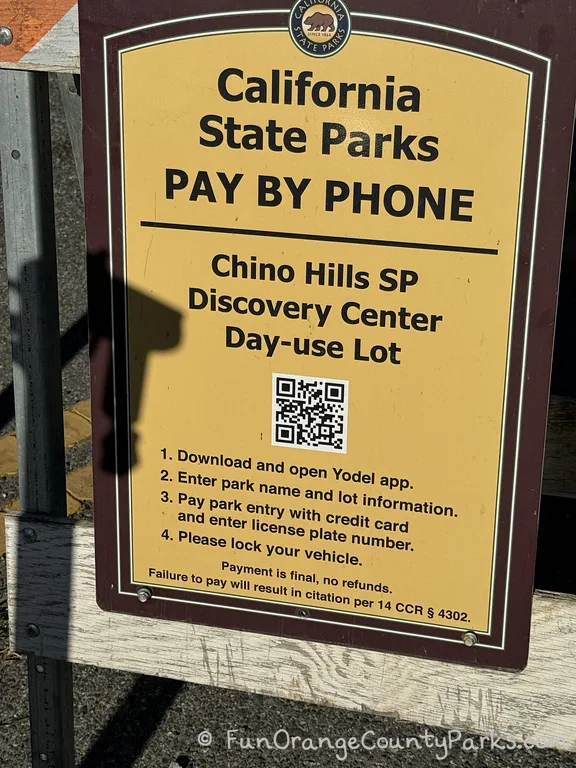 Do you have to pay to enter Chino Hills State Park?
You do need to pay to park outside the Discovery Center.
The easiest way to park is to use the Yodel parking app.
Your CA State Parks annual pass (Explorer, Golden Poppy, Limited Use Golden Bear, etc.). You can also purchase your annual pass from here.
If you have a 4th grader, the CA Adventure Pass gets you free parking here. You just need to print a pass to display.
You can also check out a CA State Library Parks Pass from your local library and park for free. It should come as a hangtag that parking attendants could see.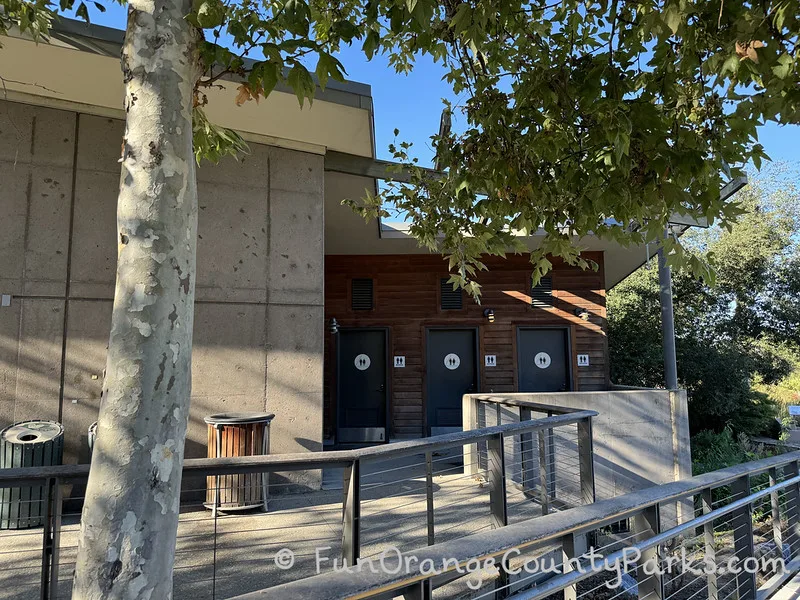 Checklist:
Restrooms: Located at the center.
Be Aware: Regular wildlife risks here including rattlesnakes.
Park closures: They happen periodically and are usually announced on the park's social media or website. According to the website: "The park will close following rain of more than one quarter inch and remain closed until road and trail surfaces are no longer saturated. High clay content in the soil causes "greased" conditions when wet. Trail use during this time causes severe erosion and rutting of trail and road surfaces. The park is also closed during times of extreme fire danger."
Discovery Center Hours:

Open 8am-5pm daily for autumn & winter

Remember that this is a trailhead, so do not leave valuables in your car.
Official website for Chino Hills State Park and their official Instagram account is @chinohillsstatepark
Parks nearby: