Wildcatters Park in Brea is a unique park with beautiful landscaping, fun play elements and a bit of shade built right into the structures.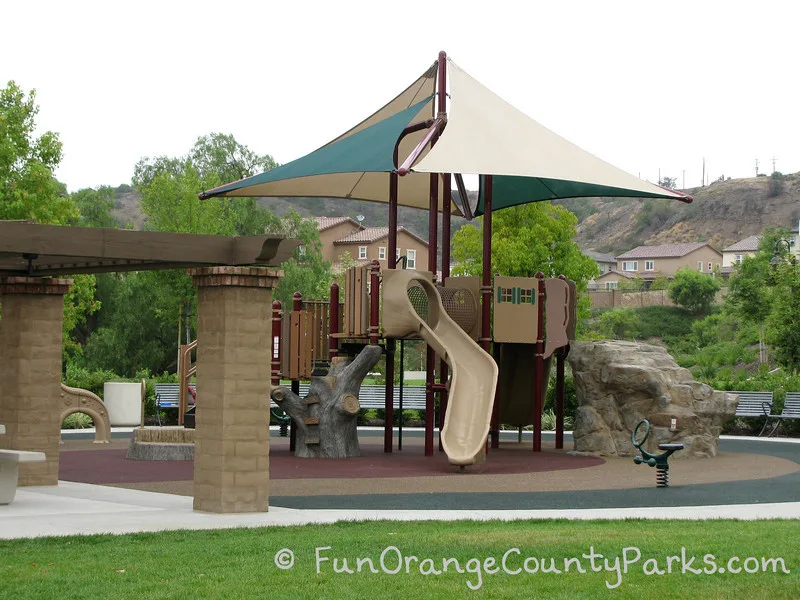 How to Get to Wildcatters Park in Brea: Located off of Santa Fe Road, just west of Valencia Avenue. From the 57 freeway, exit at Lambert and head east. Make a left onto Kraemer Blvd, which becomes Santa Fe Road as it winds through the hills. Wildcatters Park will be on your left, just before you come to Valencia Avenue. The playground is near the parking lot on the west side of the football field. (Address: 3301 E. Santa Fe, Brea) MAP TO WILDCATTERS PARK IN BREA
Recommended by: Jaimee (Readers like you make this site possible!)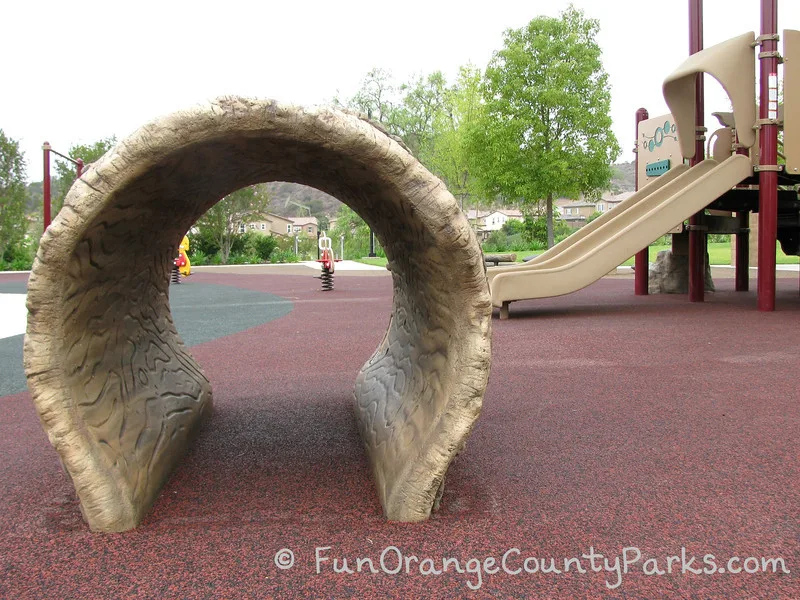 Highlights:
Fun tree house elements on the larger structure – can you spot all of the animals living in the tree?
Log tunnel near the smaller structure – my kids particularly love this!
Piano and drum play panels
Some shading built into both structures
.6 mile Loop Trail which is fun to explore
4 baby swings and 3 bench swings
One accessible swing with the bench swings
Benches galore – more seating for parents then I've ever seen surrounding a playground
Some parents will like that the playground is sand-free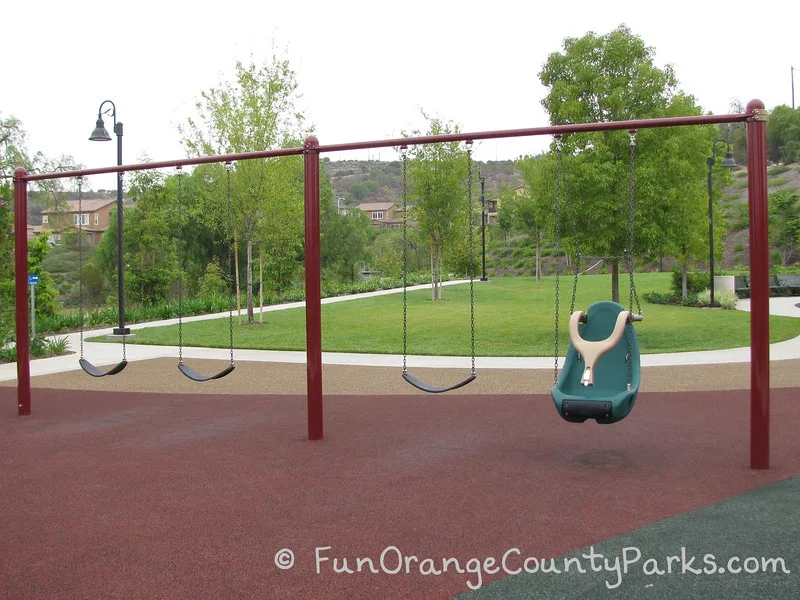 Be Aware:
This playground is part of a sports complex and may be very busy during games
Exposed areas of the playground can become extremely hot on very warm days
Upper section of the larger structure is only accessible via tunnel or rock climbing – be prepared when following smaller explorers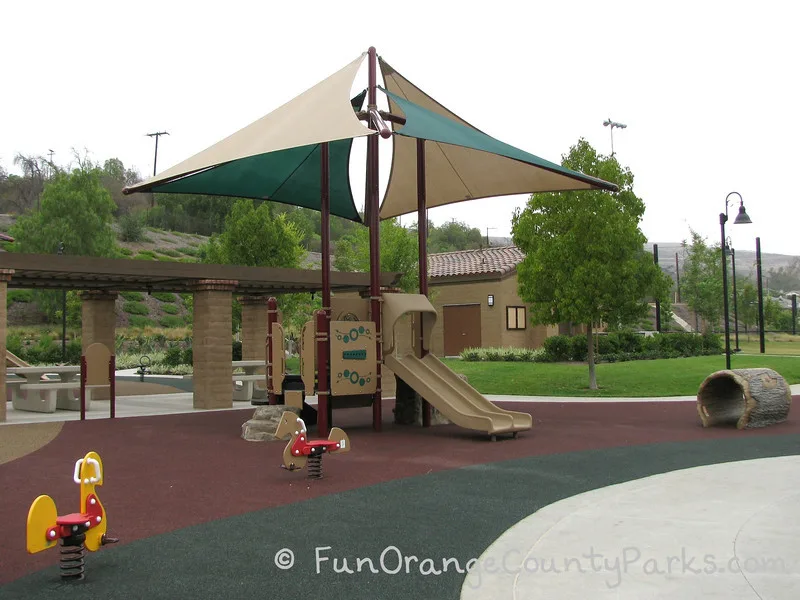 Checklist:
Two dedicated parking lots (one near the playground, one on the other side of the football field)
Restrooms (near the playground as well as on the other side of the football field)
Recycled rubber surfacing
Drinking fountains
Concessions during sporting events
0.6 mile paved trail
Picnic benches and BBQs
Large grassy area just downhill from the play structures
Football/multi-use field, baseball diamond and full basketball court
Dog parks
Nearest Public Library: The Brea Branch Library of the OC Public Library is located at 1 Civic Center Circle. Brea Branch Library website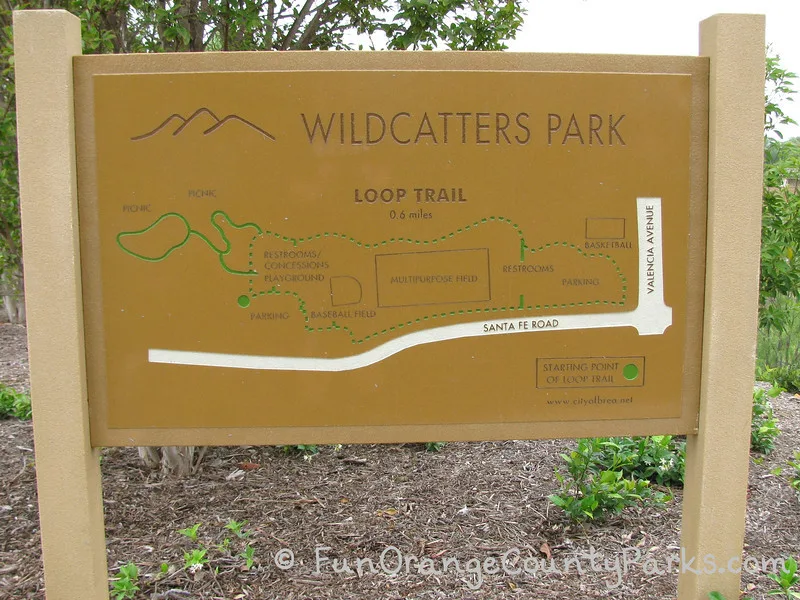 Parks Nearby Wildcatters Park in Brea: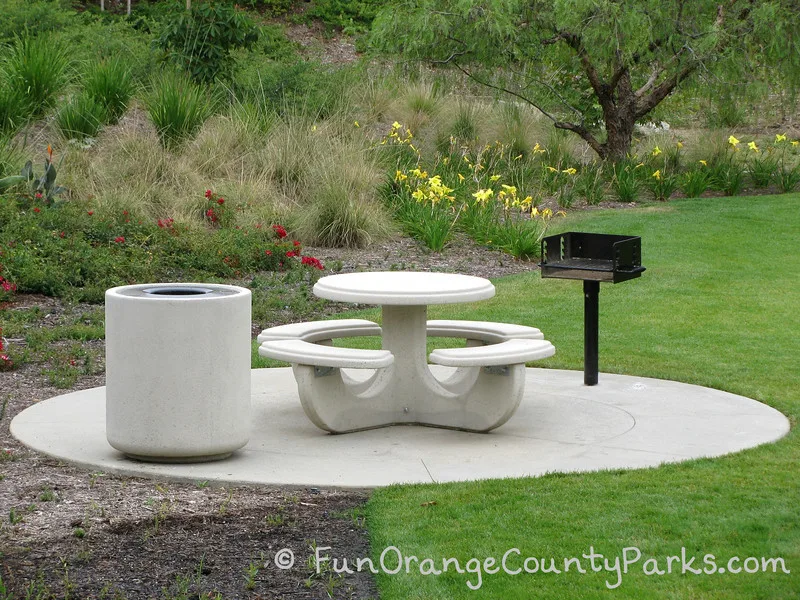 Photo credit: Awesome photos by Lisa Lasater, North County Parks Reporter
Originally published July 2013.