West Newport Park in Newport Beach is the long park you can see when you're driving between Huntington Beach and Newport Beach on Coast Highway.
Restaurants and shops are on one side and there's a long and skinny park on the other side, just a block away from the beach.
There are 3 playgrounds along this long stretch of park. Seashore Drive is the street where you can grab parking for the playgrounds.
It's a one-way street (from south to north). So we'll call this Playground #1. It's near the tennis courts and handball court.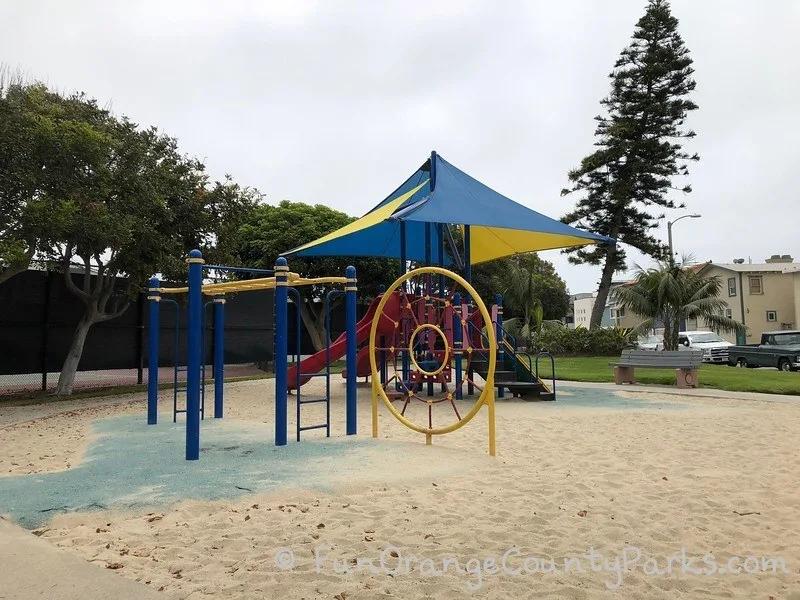 How to Get to West Newport Park in Newport Beach: The street that parallels Pacific Coast Highway is called Seashore Drive. It is a ONE WAY street running from south to north. So if you want to catch up with the first playground, you need to access Seashore Drive from way south (off of Balboa Blvd) – winding your way through residential streets. Otherwise, the park spreads along here and you can access it from Coast Highway via Orange Street or Prospect Street. The easiest way to find it is to look at the map! MAP TO WEST NEWPORT PARK IN NEWPORT BEACH
Highlights:
3 different playgrounds in ONE park
Playground #1: The first playground is the hardest to reach by car, because it's near the handball and tennis courts. It's a small playground with a vertical spiderweb and some monkey bars. It also has 2 bench swings and one baby swing.
Playground #2: The second playground is between Orange and Prospect. It only has the swings, a spinner, a clubhouse, and an interactive musical panel.
Playground #3: The last playground you will hit coming from the south is off Orange Street. It is great for younger kids. It has a shade cover and ride-on animals.
Both of the last two playgrounds have 2 baby swings and 2 bench swings.
It's a lovely place for a picnic.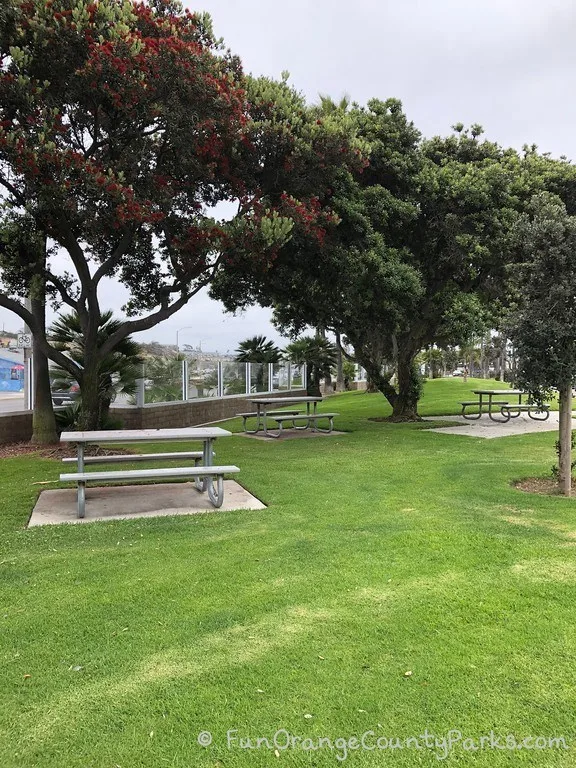 I've always wanted to try the deli across the street, too. Let me know how it is, if you go!
Walk one block and you're at the beaches off 57th Street up to Summit Street — so you can bring sand toys and dip your toes in the ocean.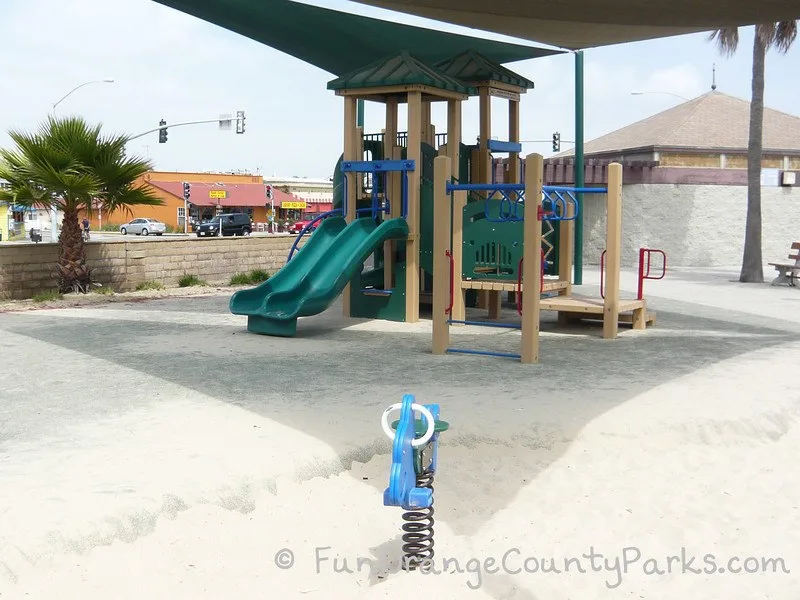 Be Aware:
Pretty loud with street noise from PCH
Parking could be an issue since it's close to the beach, but there were tons of spaces open when we visited. You'll need to pay for parking in the lots, but it's easy via a parking app.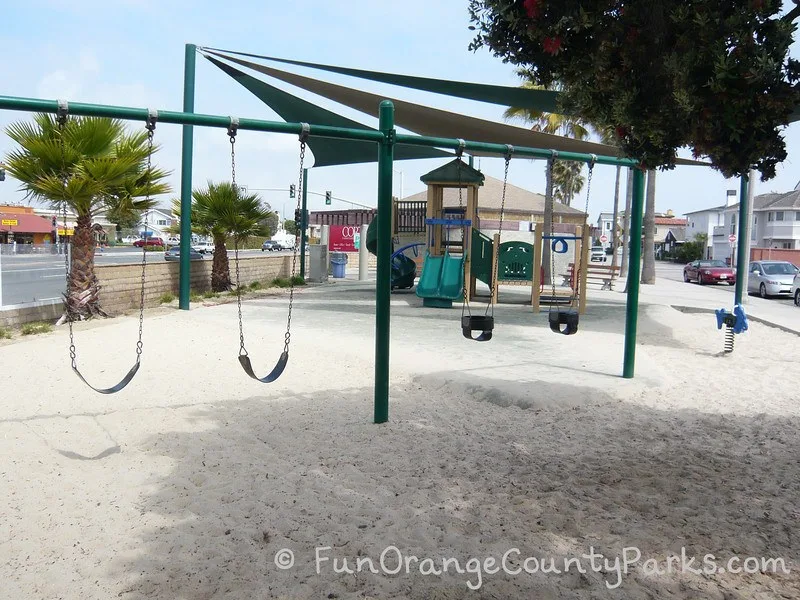 Checklist:
Parking in dedicated lots or along Seashore Drive
Play surface: All recycled rubber at Playground #2. Recycled rubber and sand at Playgrounds #1 and #3.
Restrooms located at Playground #1 and Playground #3.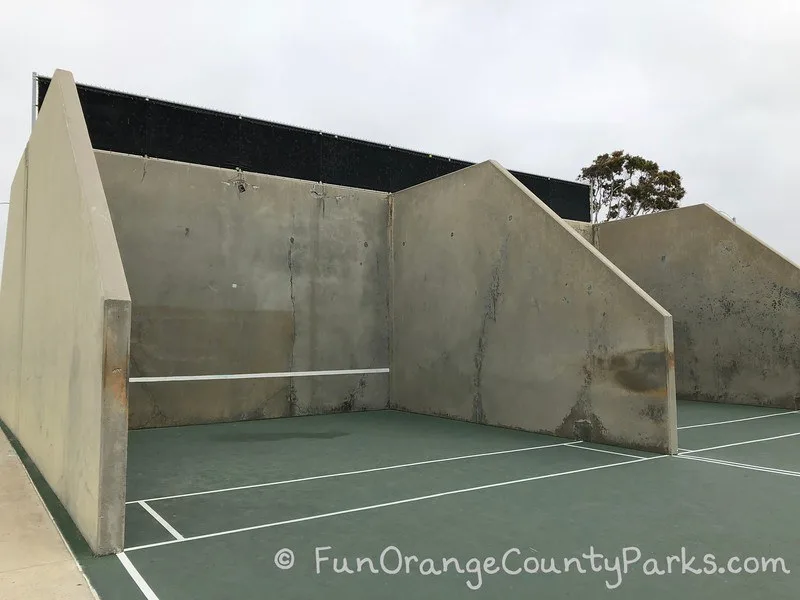 Handball courts, basketball courts, and tennis courts at the far end of the park by Playground #1 (near Seashore and 58th Street)
Benches for watching the kiddos and picnic tables in the shade
Nearest public library branch: Balboa Branch or Mariner's Branch of the Newport Beach Public Library system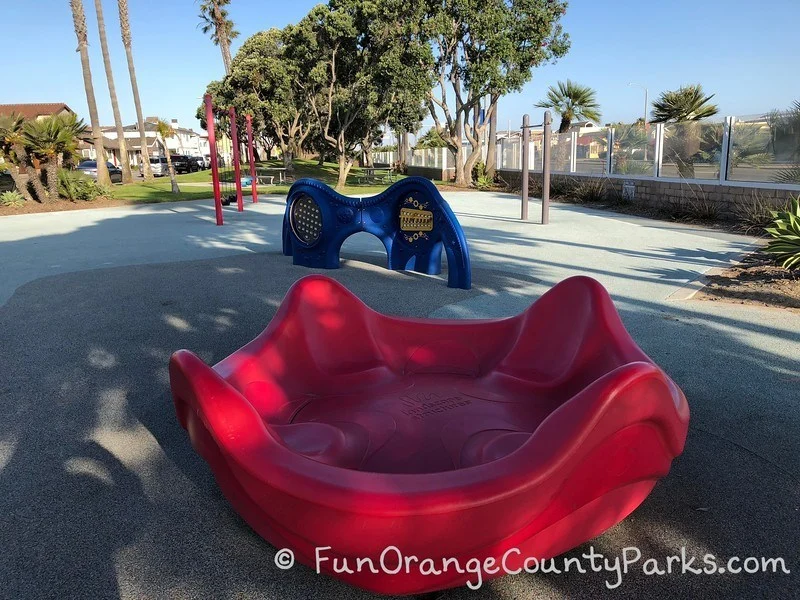 Nearby parks:
Originally published in August 2011.