The Lake Forest Sports Park playgrounds and Recreation Center is my new favorite place to hang out. I think this might be the most underestimated place for fun in South County! I finally had a lazy weekend morning to really explore this park enough to cover it for you. I spent over an hour wandering around and I didn't even come close to seeing everything! Even though I tried.
How to Get to Lake Forest Sports Park: The Sports Park is high on a hill overlooking the intersection of El Toro Road and Santa Margarita Parkway (which turns into Portola Parkway at this intersection). Exit Interstate 5 at El Toro Road and drive towards the foothills. Turn left onto Portola Parkway. Pass the small shopping center with LA Fitness and turn left at Rancho Parkway. Take your first left into the Sports Park. Both playgrounds are on your right – in fact, the road dead ends into the Community Center and really nice playground. (Address: 28000 Rancho Parkway, Lake Forest) MAP TO LAKE FOREST SPORTS PARK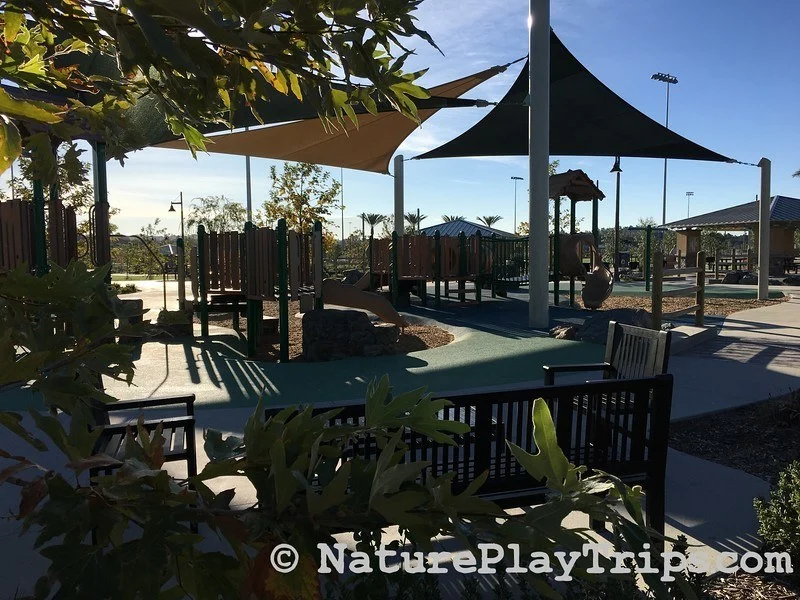 Highlights:
This place is massive and it's not just for organized sports! There's lots of free play to be had at this location.
Beautiful native landscaping with creek beds and sycamores littered with cast iron cut-outs of native birds and animals (see if you can name/spot them all!)
Palm trees and spectacular views of Saddleback Peak — lots of wide open spaces which make you feel like you have room to roam
Shade covers on the playgrounds
North Tot Lot (Completely shade-covered in between the baseball fields)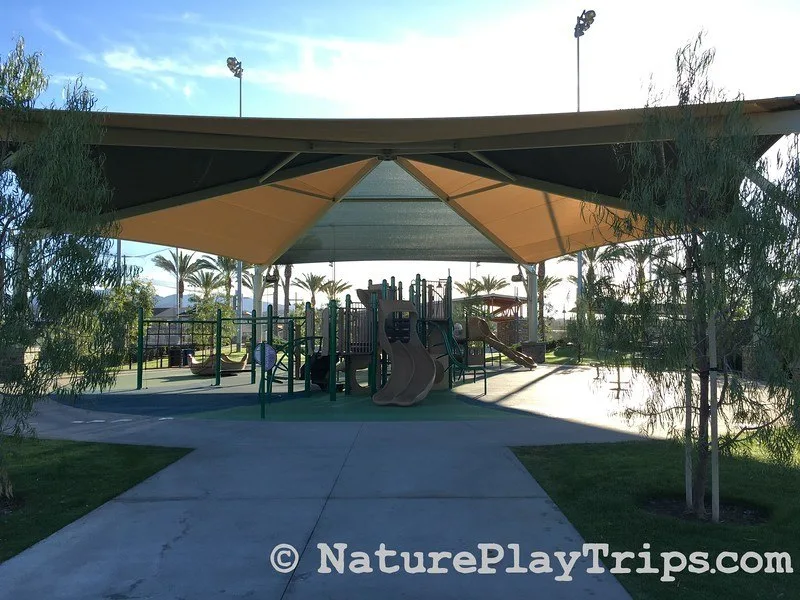 Very easy to see the kids playing
Completely covered with shade
Play surface: All recycled rubber
Climbers and spinners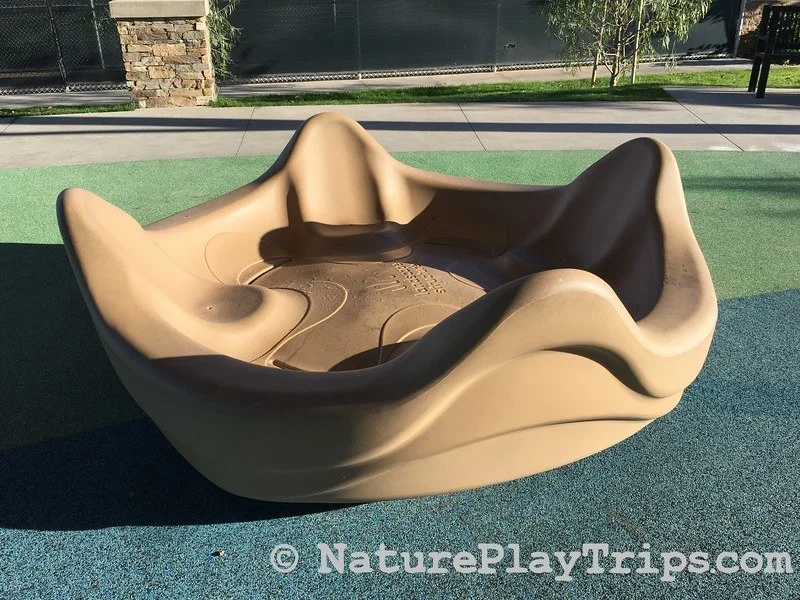 4 person teeter-totter
Restrooms nearby at concession building
Usually not as busy as the main playground (South Tot Lot)
Views of Saddleback Peak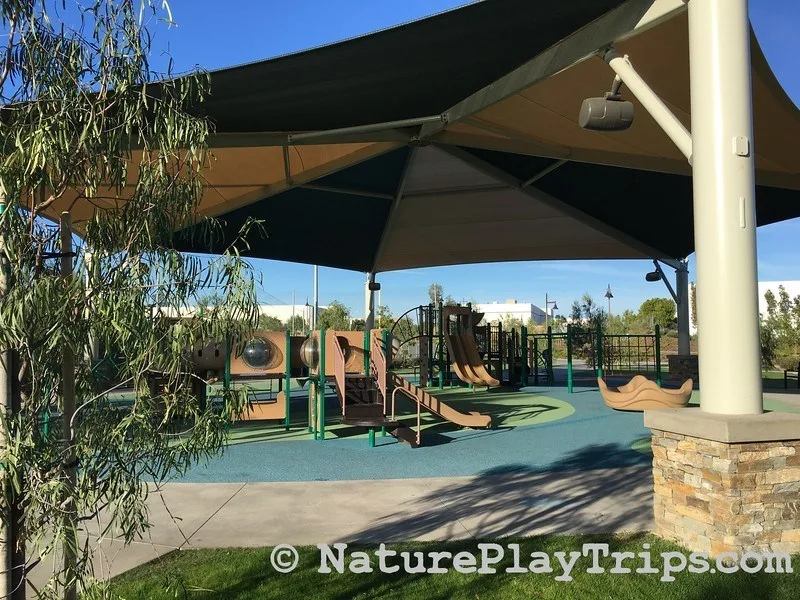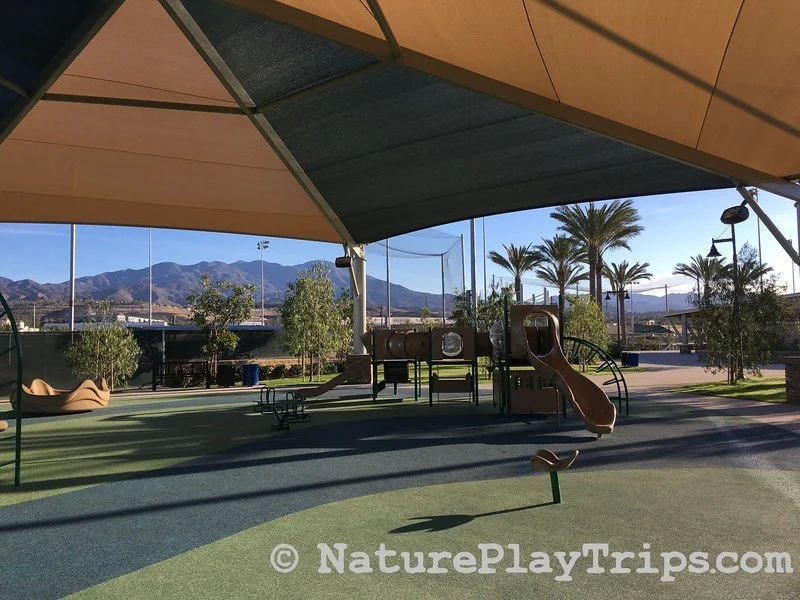 South Tot Lot (Near the Recreation Center and soccer fields)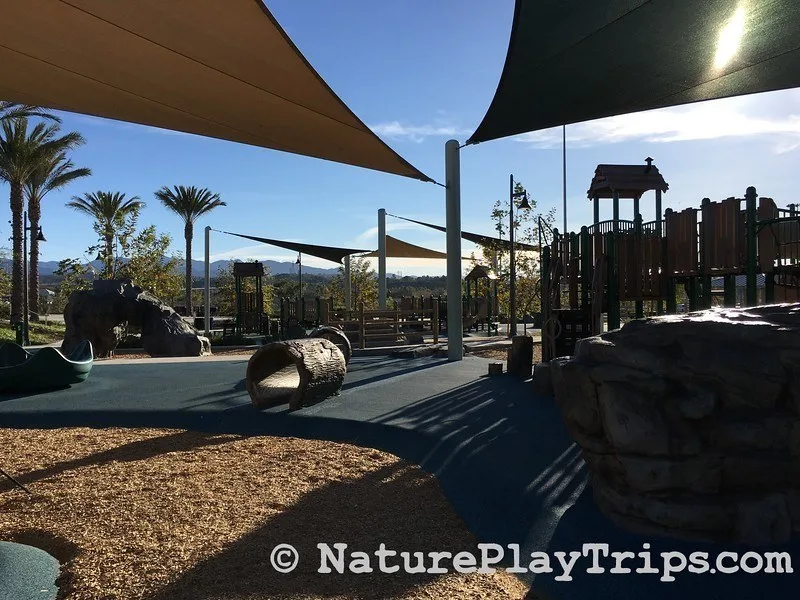 Big kid and little kid playgrounds near each other
Great rock pile to play on that separates the playgrounds
Mixed with more natural elements like a creek bed
Picnic areas near the playground
Play surface: Recycled rubber and bark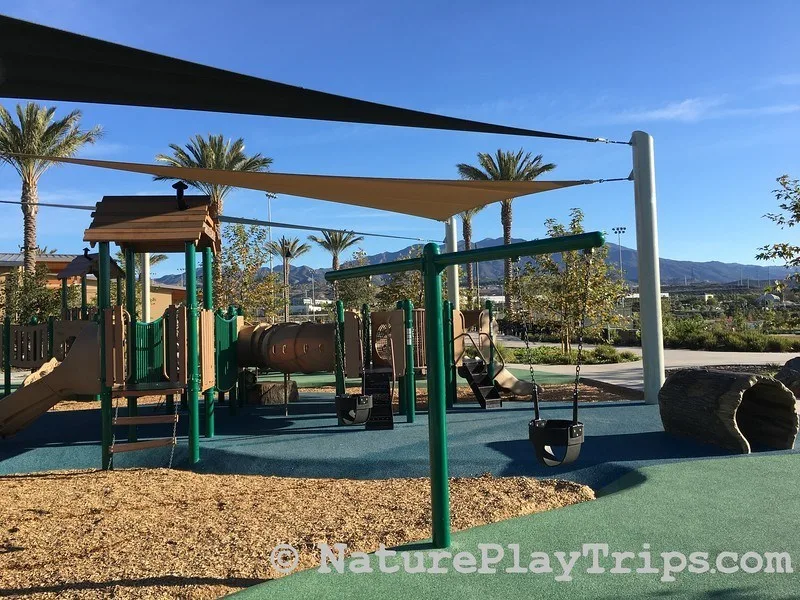 Tunnels to crawl through and big rocks and structures to climb
Spinners
Spread out over a large area so there's lots of room to play
4 bench swings
2 baby swings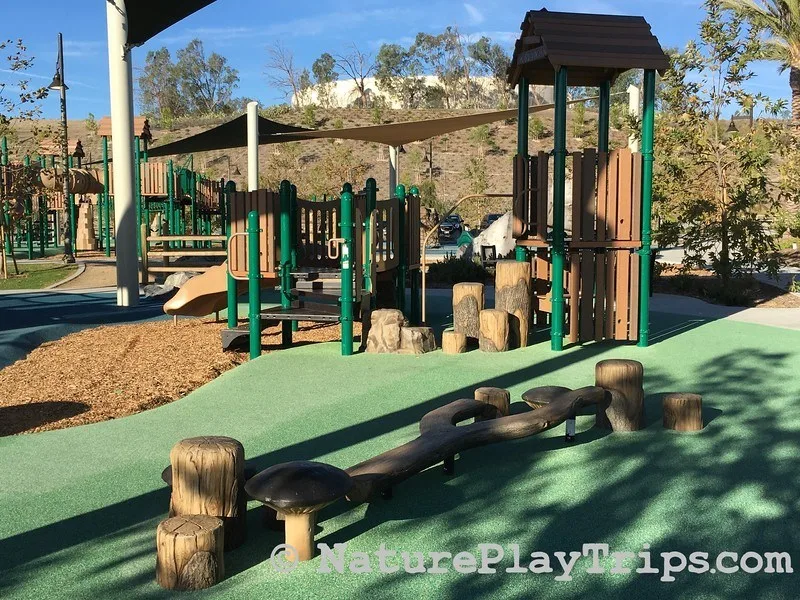 And when you're done with the playgrounds, you can either take a walk around the fitness trail (for parents and kids over 14 years old) which is just beyond the soccer fields or go to the Glass Creek Overlook & trail which hooks up with the Aliso Creek Trail below.
Glass Creek Overlook & Trail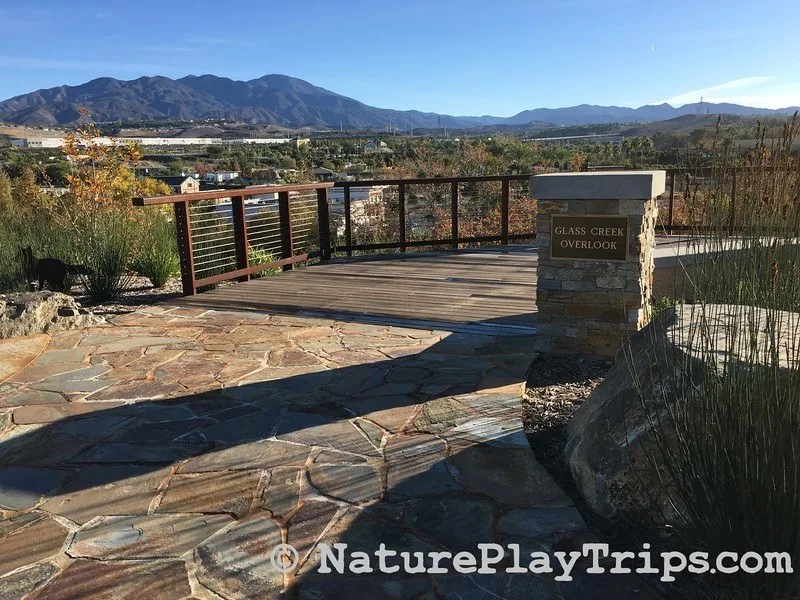 If you walk straight through the playground from the Recreation Center to the parking lot on the opposite side, you'll end up at the Glass Creek Overlook which goes down the hill and over a bridge on the creek or hooks up with Aliso Creek Trail. I'd bring a friend if you hike the trail – it's beautiful, but can feel a little isolated.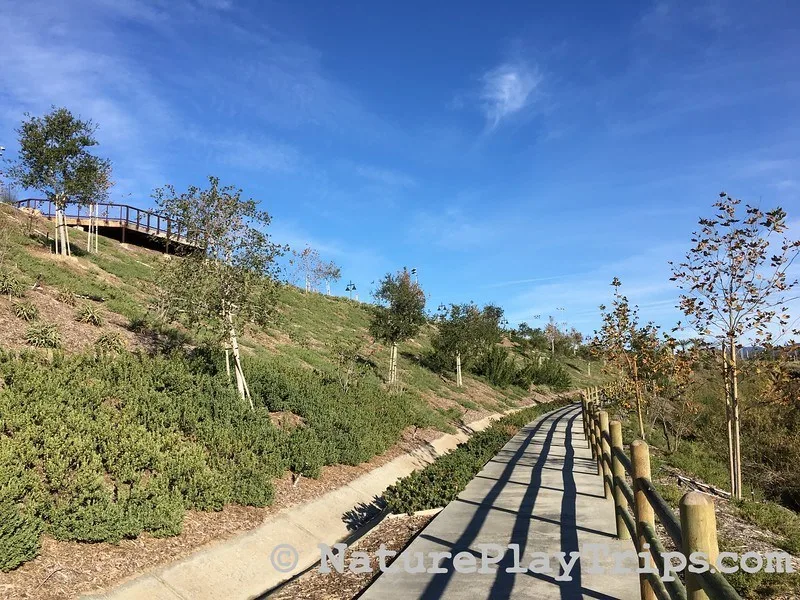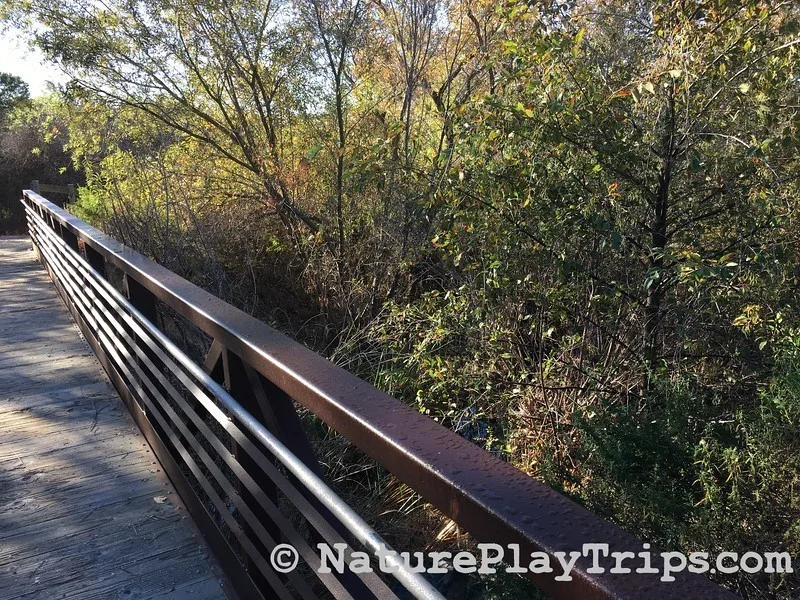 Be Aware:
Sports games, practices, and community events will affect how crowded the playgrounds feel and how full the parking lots get
There are signs posted everywhere that your cars and/or YOU should be cautious about foul balls or stray baseballs – so when games are being played keep your wits about you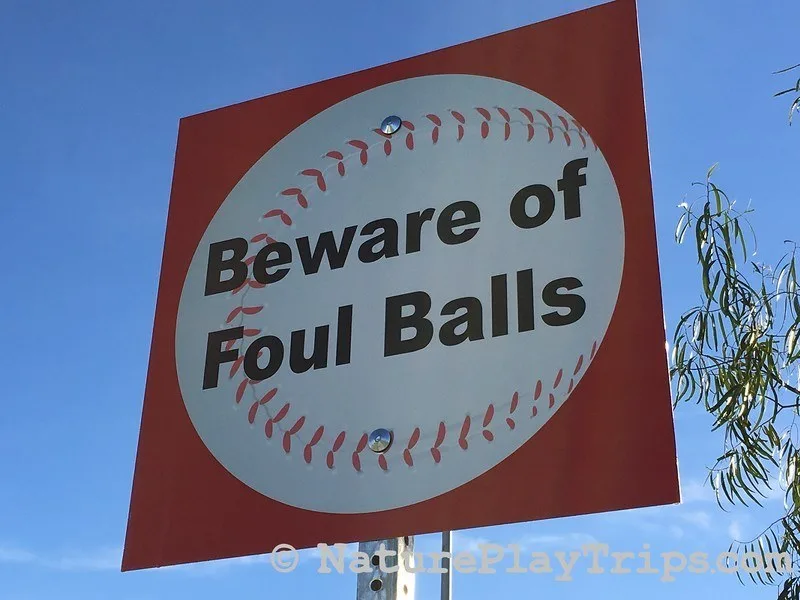 Hard to see multiple kids at the South Tot Lot – they can spread out and it's near the parking area. It's definitely for active supervising.
Some very high drops off the tallest structure in the South Tot Lot – stick to the more manageable side for smaller kids and toddlers.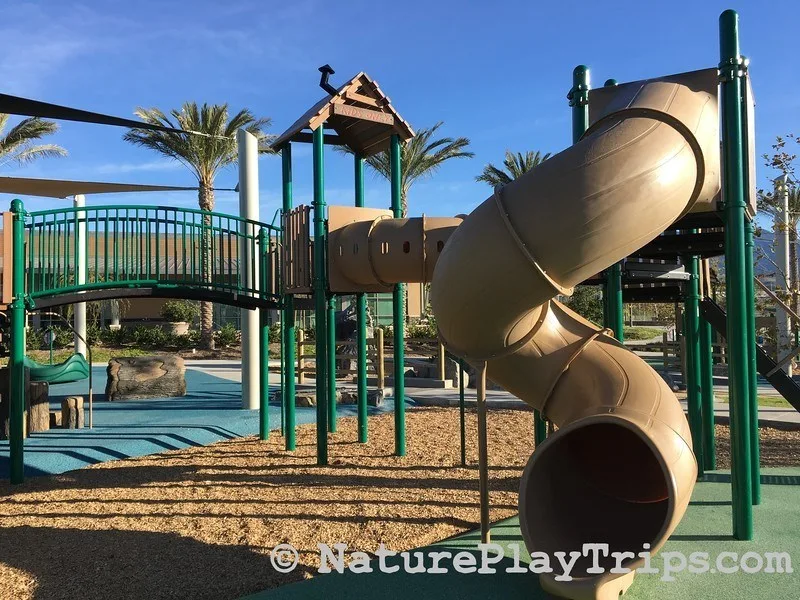 Checklist:
Free dedicated parking in multiple lots at multiple access points to the recreation opportunities
Restrooms behind the concession building at the North Tot Lot, in the main Recreation Building, and out near the soccer field concession building
Outdoor basketball courts
Indoor basketball courts with Open Gym hours
4 baseball fields
1 softball field
5 soccer fields
Picnic areas with barbecues and receptacles for hot ashes
Fitness trail and 1.6 miles of hiking around the perimeter of the park
Nature trail from Glass Creek Overlook
City of Lake Forest official website with calendar of events and reservation info