Baker Ranch Community Park in Lake Forest can make adults feel like kids going down a tunnel slide and provides new play opportunities for little ones. It opened in the new community of Baker Ranch in May 2014.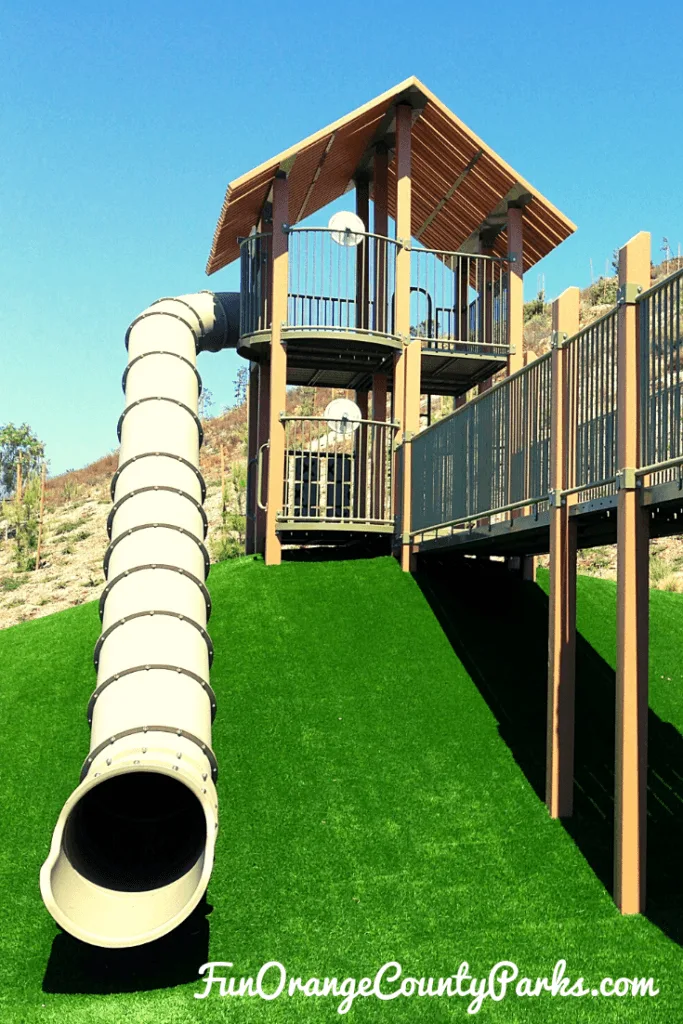 Directions to Baker Ranch Community Park in Lake Forest: From Interstate 405, take Bake Parkway towards the foothills and Lake Forest. You'll drive quite a few miles past Trabuco and turn left on Dimension Drive where the big Baker Ranch neighborhood sign sits. You'll bear to the right at the roundabout and head towards the sign pointing to Catalina. The park is past "The Grove" on your right. (Address: 26380 Rancho Parkway, Lake Forest) MAP TO BAKER RANCH COMMUNITY PARK IN LAKE FOREST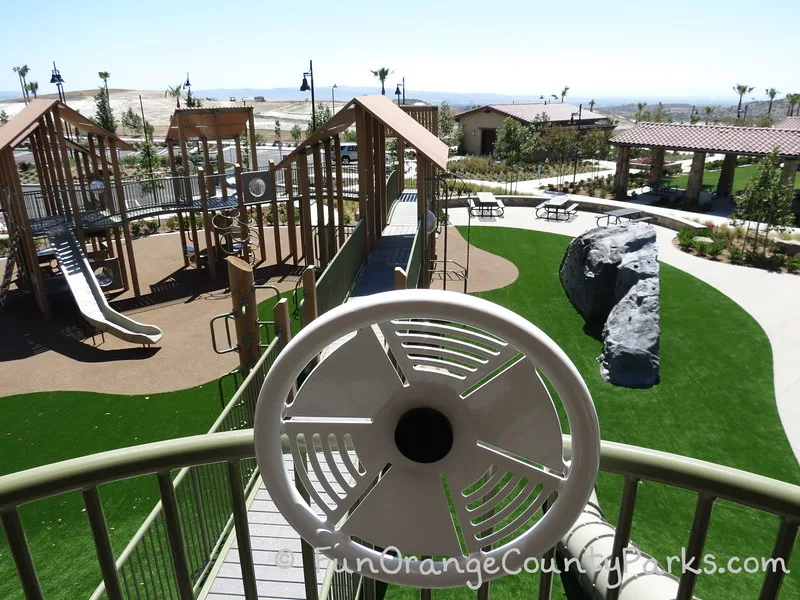 Highlights:
It feels big. Adults look small standing around it. Also feels much "greener" than most playground areas – and the sycamores should provide shade when they grow.
Ah, the tunnel slide! It's pretty long and awesome. Kids have to be brave enough to climb a ladder to the "tower" that leads to the slide entrance. The ladder has a fireman's pole behind it, which kind of sandwiches you in as you climb. (I don't know if this is a good thing or a bad thing).
Climbing rock with arch that is even fun for older kids.
Bouncy green turf playground surfacing under the slide, rock, and on the hill (prevents kids slipping on the usual rubber play surface!).
A little interactive puppet show area on the small equipment.
Other unusual play features:
telephone pole climber with handholds,
lots of steering wheels for imaginative play,
interactive board with map of ranchos,
bring sand toys for smaller play equipment,
two chess/checker boards – bring pieces,
large abacus,
wheel-shaped monkey bars,
small ride-on pony,
chain climbers,
clear hamster tunnels,
and funky ladders.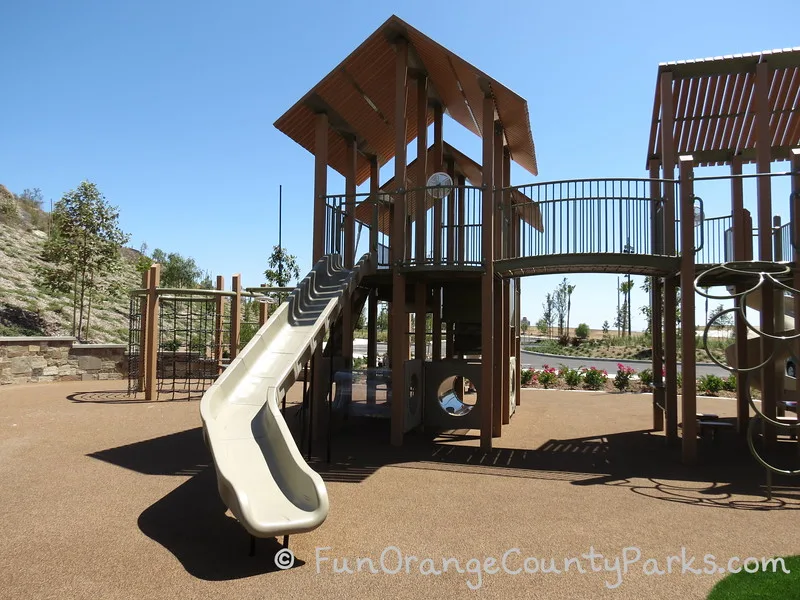 Slide count = 1 long tunnel slide, 1 tall twisty slide, 1 open tall slide — and then a smaller open slide on the 2-5 year old equipment.
Amazing sunken basketball court surrounded by lawn and palm trees.
Two shaded picnic areas for small parties or easy to combine for a large party.
Best for ages 4 or 5+.
Potential views of the ocean on a clear day. The OC Great Park big orange balloon is visible.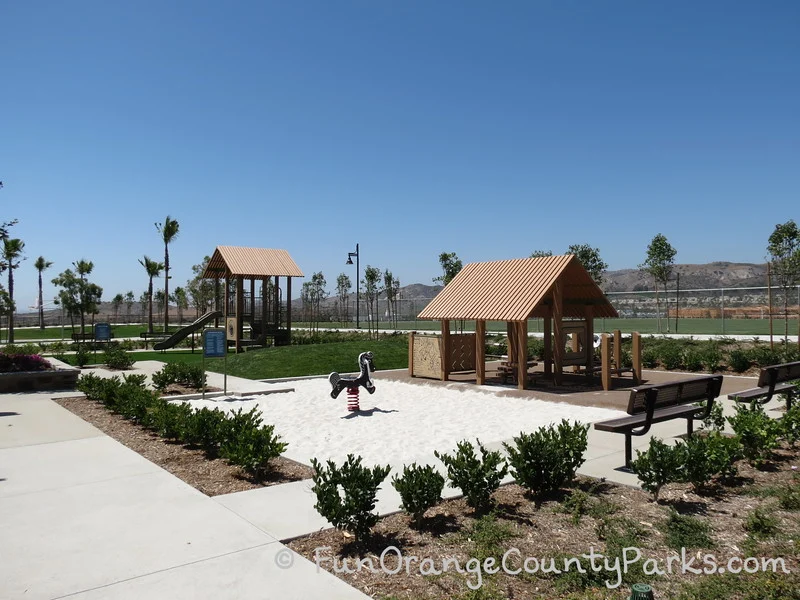 Be Aware:
No swings.
Sitting areas near the playground are not shaded and it gets hot up here on the hill. So bring an umbrella — or I spent my time standing underneath the play equipment which actually provided quite a bit of shade.
The climbing rock can get hot to the touch during the heat of the day – do a "feel test" to make sure it's manageable for your child.
The two smaller play areas are rated for 2-5 year olds while the big equipment is meant for 5-12 year olds. The 2nd level of the big equipment feels very tall for little ones. You'll probably have to do some running around to keep up with the kids here. Smaller kid area is separated from big kid area, but I see the little ones would have a hard time resisting the draw from the big equipment.
Big play equipment is near the parking lot, but there's not a lot of traffic there.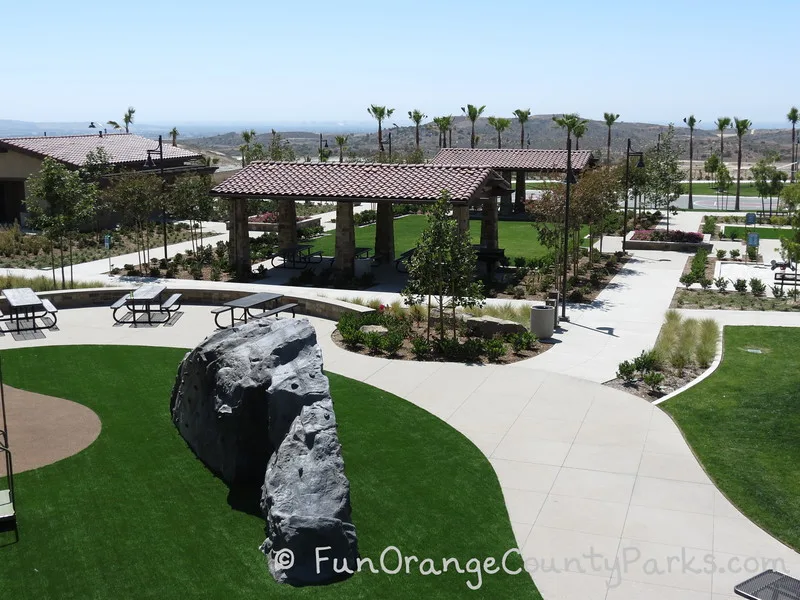 Checklist:
Dedicated parking lot, plus street parking if necessary
Nice new restroom near the playground
3-size drinking fountains for 1) adults, 2) kids, and 3) pets
Lots of picnic tables and benches for sitting and watching the kids
Two shaded picnic areas with a grassy area in between each has LARGE charcoal barbecue grills with a hot coals disposal receptacle – plus 3 coated wire mesh picnic tables
Sunken full basketball court
One baseball diamond
Nearest public library branch: Foothill Ranch Public Library or El Toro Public Library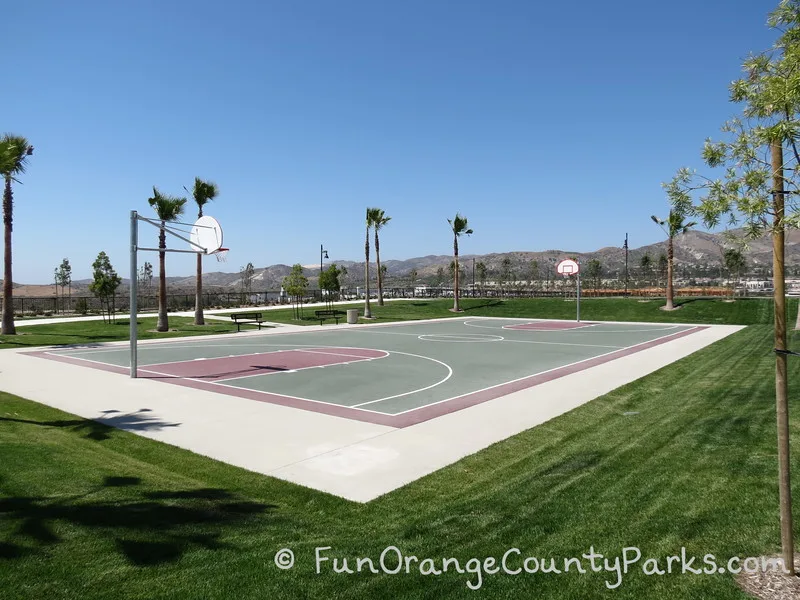 Nearby parks:
Originally published in June 2014.