Borrego Park in Foothill Ranch (Lake Forest) shares a driveway and parking lot with Foothill Ranch Library — for a perfect playful afternoon.
[Note to Readers January 2018: I'm noticing an upsurge in traffic to this post upon the tragic news of Blaze Bernstein's death. The tone in my post about this park (originally written in 2009 when Blaze might have been 10 years old) is quite happy and carefree. I feel the need to acknowledge the sadness I'm feeling for the Bernstein family and for their unimaginable loss. For those who've never visited Borrego Park or don't live in this area, it feels like the very last place something so devastating could occur. It shares a well-used parking lot with a public library. The play spaces and lawn areas are wide open. I might be cautious of the public restroom, but it otherwise feels like such a safe park, in a safe neighborhood. That's part of what makes this so hard. First comes the "How could this happen here?" question and then comes the disquieting realization that "This can happen anywhere." Sending my deepest condolences and love to surround the Bernstein family. I am so sorry you have to suffer such a loss. Visit the Blaze Bernstein website and honor Blaze's memory with kindness.]
The children's section at the Foothill Ranch Library is especially fun. They have their own little reading room with windows set three feet high off the ground for little eyes above padded benches. Their chapter book section was great for my 2nd grader.
Oh yeah, back to the park. It's a good one for older kids. I'd say Foothill Ranch Community Park would be better for toddlers.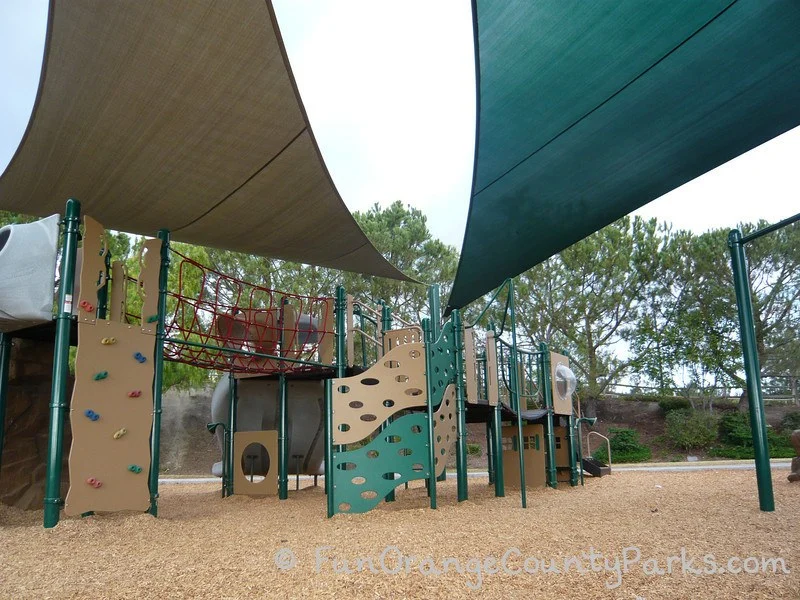 Directions to Borrego Park in Foothill Ranch: Take Bake Parkway or Lake Forest Drive east all the way until Bake turns into Rue de Valore. From Bake: Turn left onto Rue de Fortuna and then an immediate left on Cabriole. Then a final left into the parking lot. From Lake Forest Drive: Make a left at the stop sign on Rue de Valore and turn right onto Rue de Fortuna followed by an immediate left onto Cabriole. (Address: 26982 Cabriole, Foothill Ranch) MAP to Borrego Park in Foothill Ranch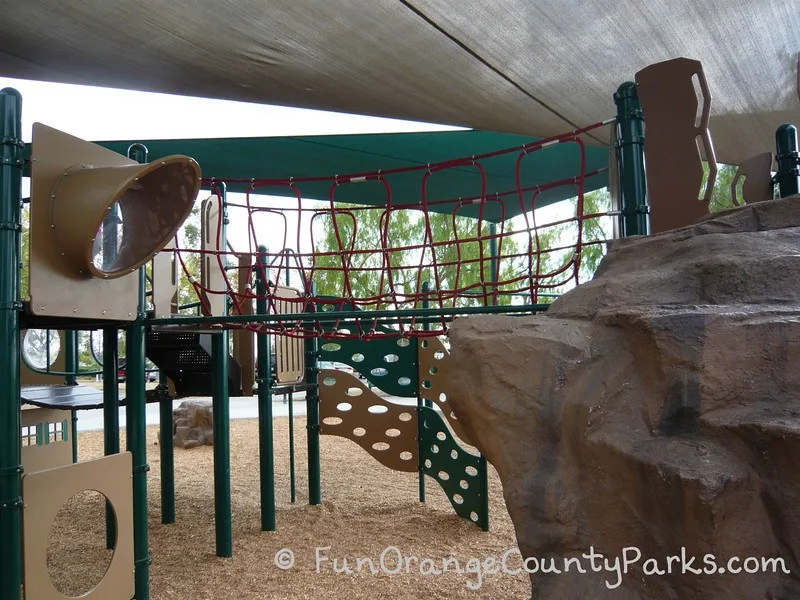 Highlights:
Love the pairing of a playground with a public library! We played, checked out books, and played some more. Nice bathroom facilities and drinking fountain inside the library.
Foothill Ranch backs up to Whiting Ranch Wilderness Park so there's beautiful hills behind you and a great view of Orange County from the walking path. We could see all the way to Long Beach and it wasn't even that clear of a day.
I liked this playground for older kids. Challenging rocks and apparatus to climb and a high rope bridge to navigate across.
Shade cover over the play equipment, although it was triangular so it doesn't provide total shade. Still, every bit helps.
Only 1 baby swing and 2 big kid swings right on the playground.
The park has its own set of bathrooms right of the playground.
Also an accessible ramp down into the bark play surface, but the equipment didn't seem overly accessible?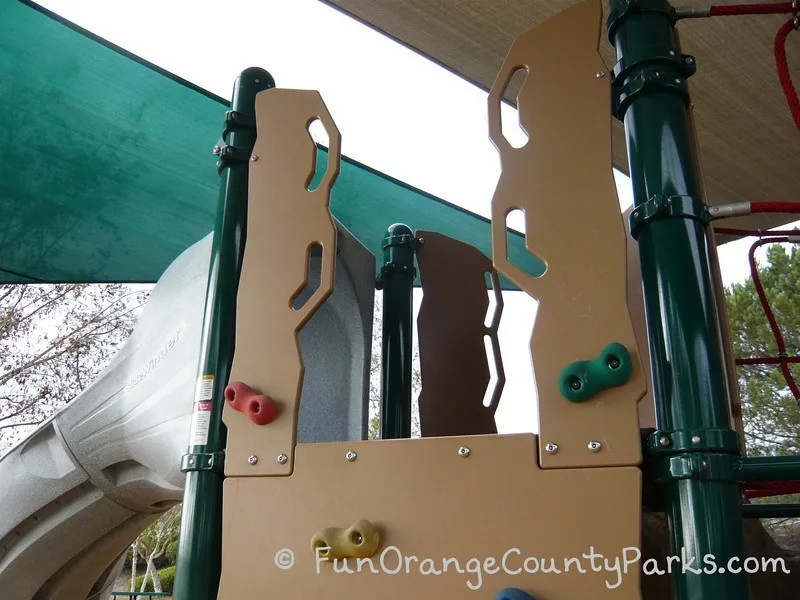 Be Aware:
On the day we went, the soccer fields were buzzing with activity making for a busy playground, once the games cleared out the park was almost empty.
There's also a neighboring elementary school which could make the park busy at certain times of the day.
Really HIGH rope bridge and openings. If I had an adventurous two year old, I'd probably skip this playground and head on a walk around the park.
A Foothill Ranch resident commented about wildlife over on the Foothill Ranch Community Park post. I'd say the same would go for this park.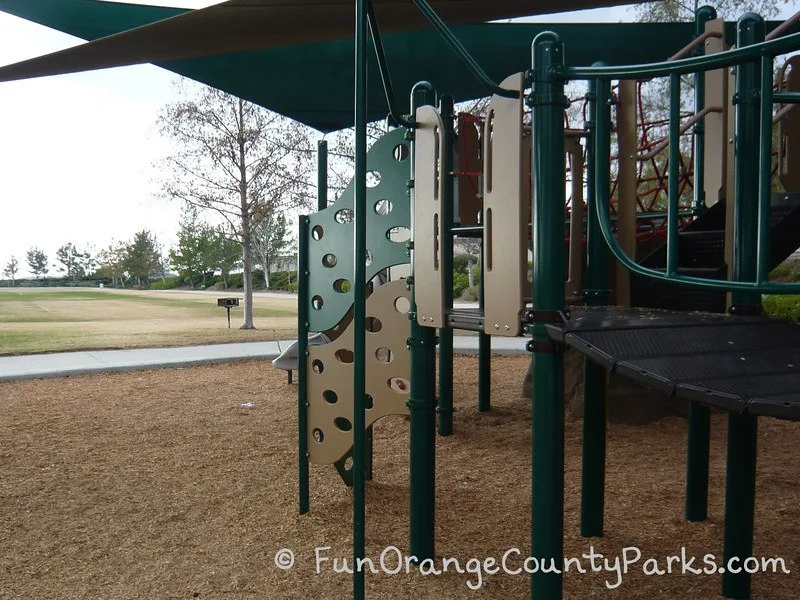 Checklist:
Bark play surface
Dedicated parking lot for park and library
5-12 year old playground
Drinking fountain and restroom nearby
Soccer field and full basketball court
Great views and picnic tables scattered throughout
Nearest Public Library: Orange County Public Library branch – Foothill Ranch Library (closed Sundays)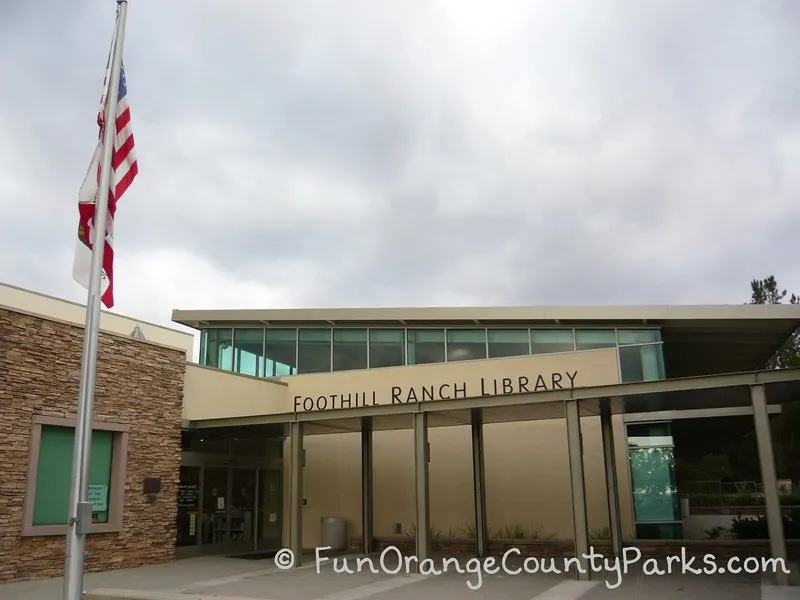 Nearby Parks: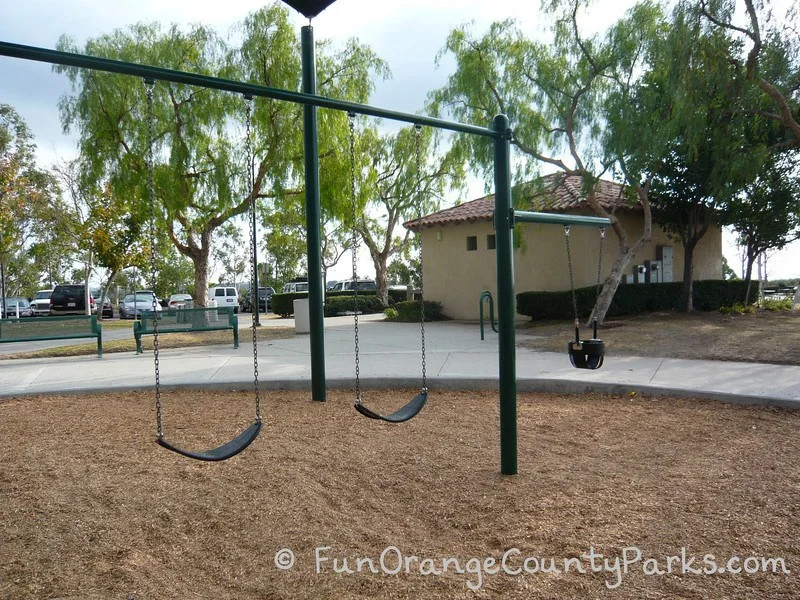 Originally published in December 2009.