Sheep Hills Park sits within the boundaries of the City of Laguna Hills as part of a September 2000 annexation. However, it's still listed as an Aliso Viejo park managed by the Aliso Viejo Community Association.
Although the playground is simple, the adjoining field has a fantastic quarter mile loop that connects to the Aliso and Wood Canyons Regional Park.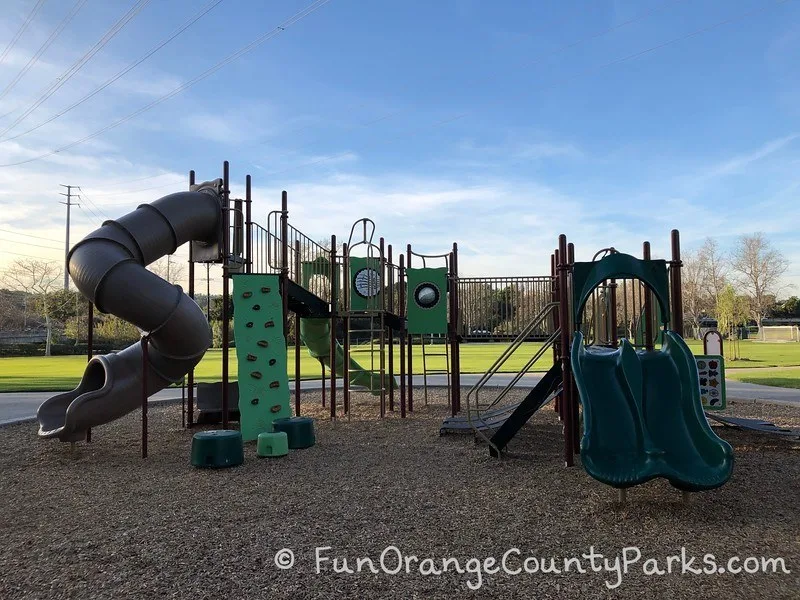 Directions to Sheep Hills Park: Sheep Hills Park is easy to find at the corner of Laguna Hills Drive and Moulton Parkway. The playground is closer to Indian Hill Lane. From Interstate 5, exit at Alicia Pkwy and head away from the mountains toward the Laguna Hills Community Center. Turn right onto Paseo de Valencia toward Laguna Hills High School and turn left onto Laguna Hills Drive. The park is on the left hand side so you will need to make a u-turn at Moulton Pkwy so you can park on the correct side of Laguna Hills Drive. (Another access point to the park is off of Indian Hill Lane. From Laguna Hills Road make a left onto Indian Hill Lane. The park is on your right hand side.) MAP to Sheep Hills Park in Laguna Hills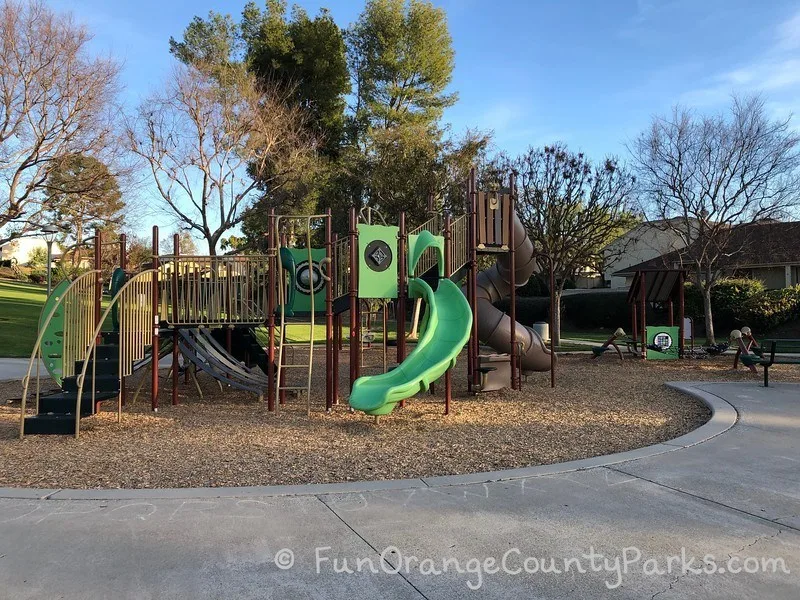 Highlights:
The #1 highlight of this park is the walking path. It proved to be a fantastic place to teach my daughter how to ride her bike without training wheels. There was nothing better than having a flat path with grass on either side to help cushion some of my daughter's inevitable falls! I also enjoyed many mornings exercising with other moms as we pushed strollers around the loop.
This 10 acre park is perfect for playing all kinds of sports. We always make sure to bring an assortment of balls and Frisbees.
It's actually a great park for older school-age children who have the skills for climbing and can skillfully move across the playground.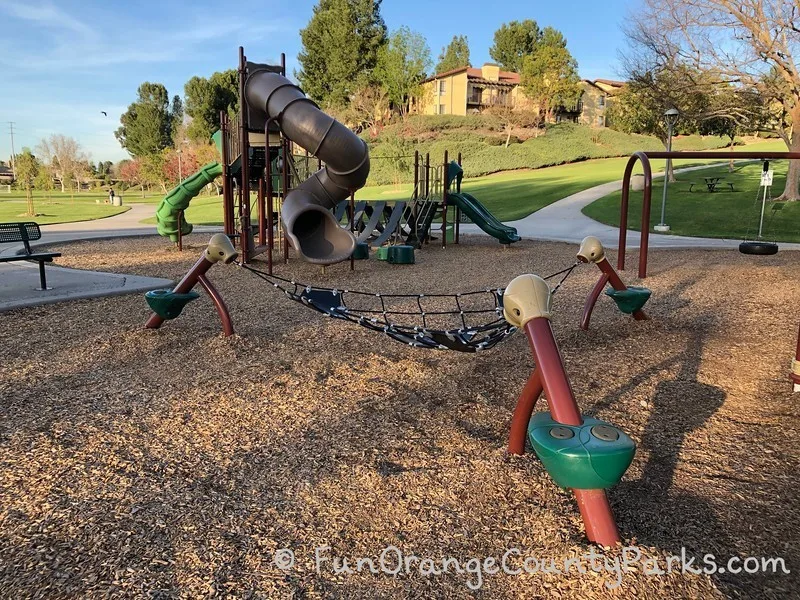 1 tire swing and 1 swing-with-me baby swing. Visit my post with a list of Mommy and Me baby swings at other parks, with some that are even more popular than this design.
The playground has a twisty tunnel slide and lots of climbing opportunities.
There is a big grassy hill that my kids always love to roll down.
Little ones will like playing pretend in the clubhouse, but the big play structure is more suited to older children.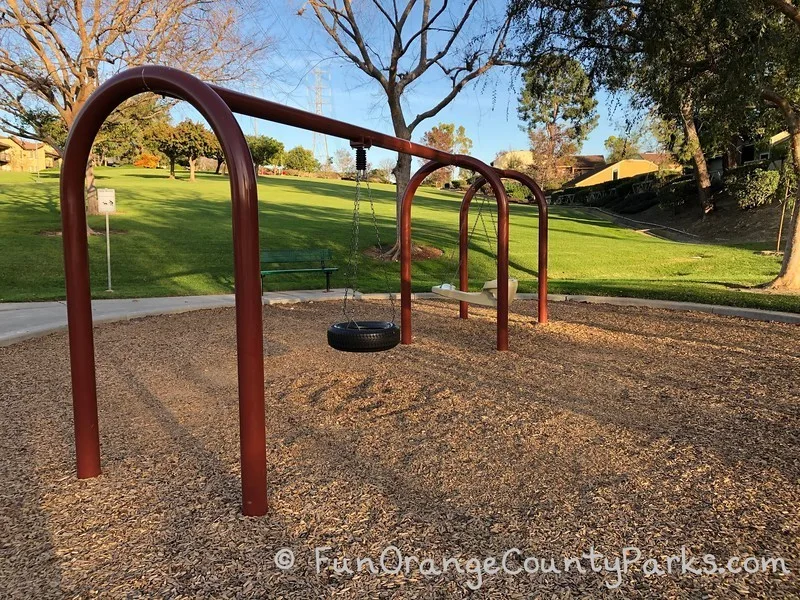 You can access the Aliso/Wood Canyon trail from the park.
There are benches right on the playground and some picnic tables with grills near the playground.
I suggest bringing a blanket so you can sit on the grass.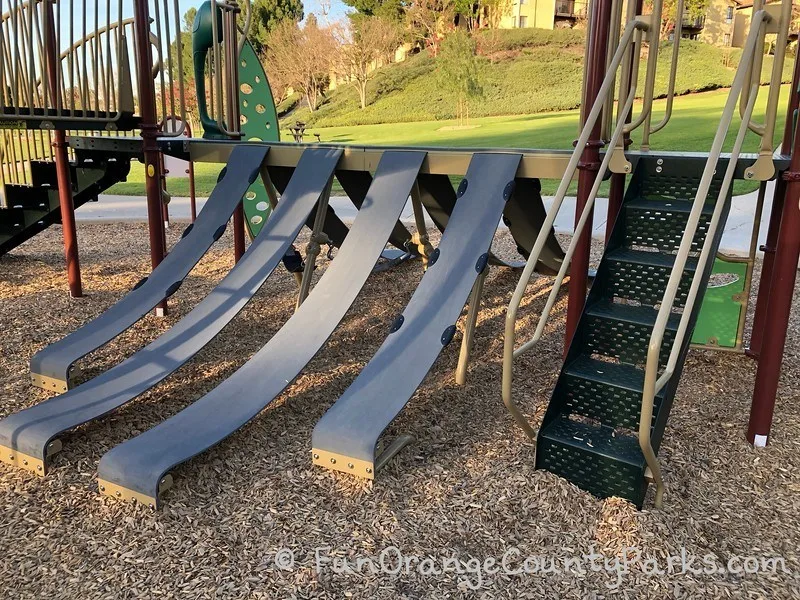 Be Aware:
Do NOT park inside the housing development. There are signs everywhere warning of towing. You'll have to park at a distance and walk in to the playground.
Whether you park on Laguna Hills Drive or Indian Hills Lane, you have quite a walk to the playground area. Make sure you have everything you need before leaving your car. There is nothing worse than realizing your child's sippy cup is in the car after you have walked all the way down to the playground!
If you access the park from Indian Hill Lane you will have a pretty steep hill to walk down to get to the park. Convincing our toddler to walk down a hill is no problem. Convincing our toddler to walk up the same hill after playing at the park, always a problem.
There is no shade over the playground equipment.
The park gets crowded on the weekends with birthday parties and soccer games.
The big play structure is tough for a toddler because of the open drops and lack of railings on all points. Be prepared to stand by and be a helper if you have a very little one.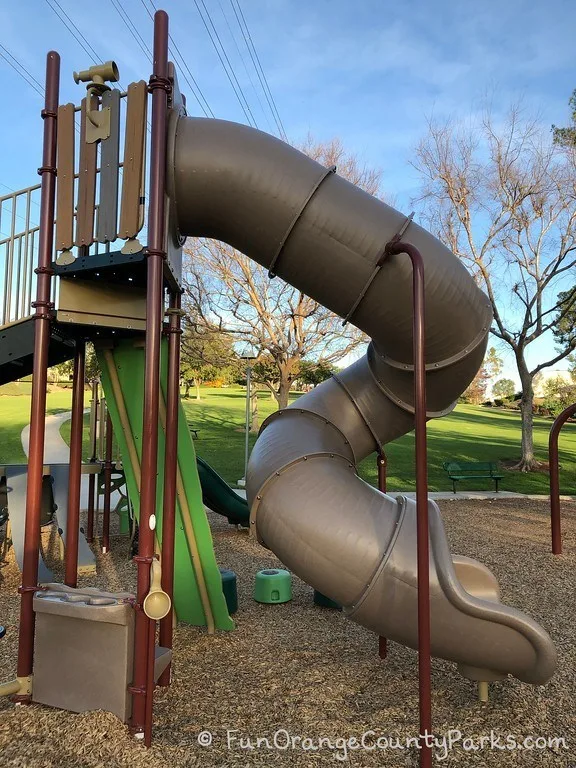 Checklist:
Originally posted in November 2009.