Aliso and Wood Canyons Visitor Center is the answer to ALL your questions about how to enjoy the canyons and trails. Plus it has nice restrooms!
The Aliso and Wood Canyons Wilderness Park is tucked away behind Laguna Niguel, Aliso Viejo, and Laguna Beach. You can access the canyons from all these cities and there are a variety of trails available for pretty much every level of fitness.
For families who have never been, I always recommend starting at the Visitor Center!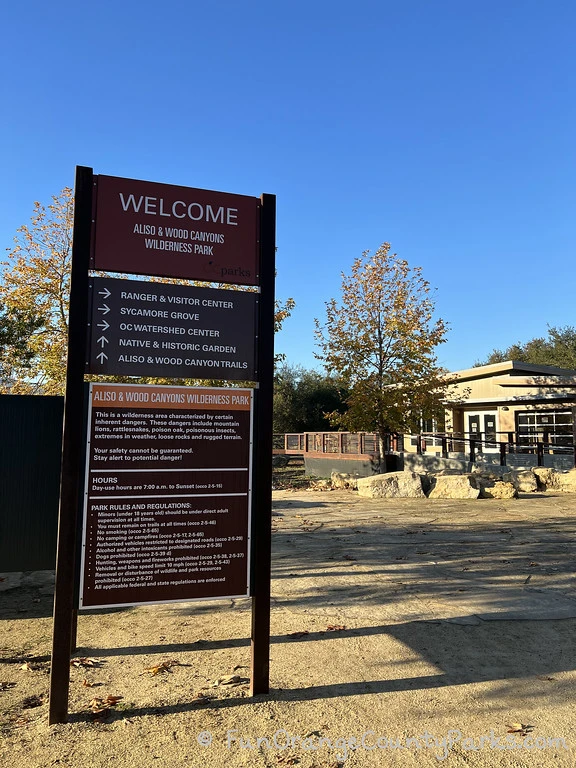 How to Get to the Aliso and Wood Canyons Wilderness Park Visitor Center in Laguna Niguel: The most direct way to get there is to exit I-5 at Alicia Parkway and drive until you cross over Aliso Creek Road. The next street on your right is Awma Road. Turn right and watch for pedestrians and bikes! It's a popular spot. The Visitor Center is on your left and there is a church on your right. Try to park in the Visitor Center parking lot and pay the OC Parks fee. (Address: 28373 Alicia Parkway, Laguna Niguel) MAP TO ALISO AND WOOD CANYONS VISITOR CENTER
Highlights
The Aliso and Wood Canyons Wilderness Park touches 3 cities: Aliso Viejo, Laguna Niguel, and Laguna Beach. There are entrances via trailheads all over the place, but this is the main one that starts you on the floor of the canyons.
This Visitor Center opened in May 2021, so it's relatively new and it truly helps visitors understand the park, especially when you are coming from outside this immediate area.
The topographical map inside the center will really help orient you to the Aliso Viejo / Laguna Niguel area that is affectionately known by locals as "The Bermuda Triangle" due to the directional confusion that comes from driving around this area.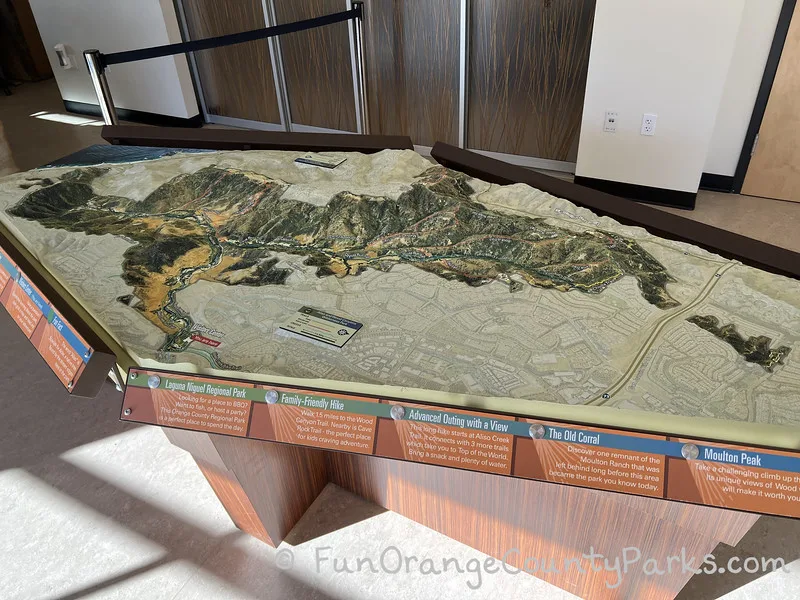 I can't tell you how nice it is to have modernized restrooms at this spot! And rangers to consult about which trails to take or ask about local wildlife.
We always see so many birds when we are walking the trails. It's different every time and I just LOVE it. For instance, this is what you'll see INSIDE the visitor center.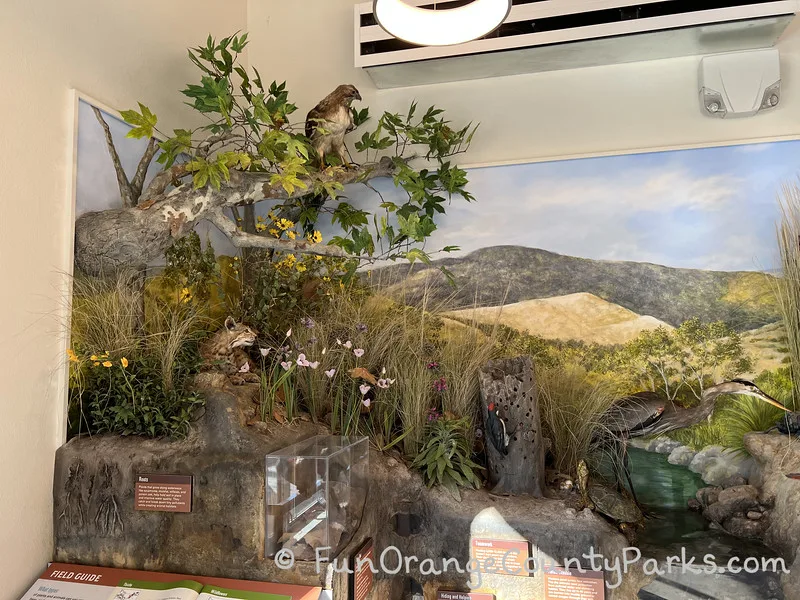 And this is a photo I took on the trail not far from the Visitor Center. Not the greatest, because I zoomed in — but it's a hawk and it looks pretty true to what's represented inside the center.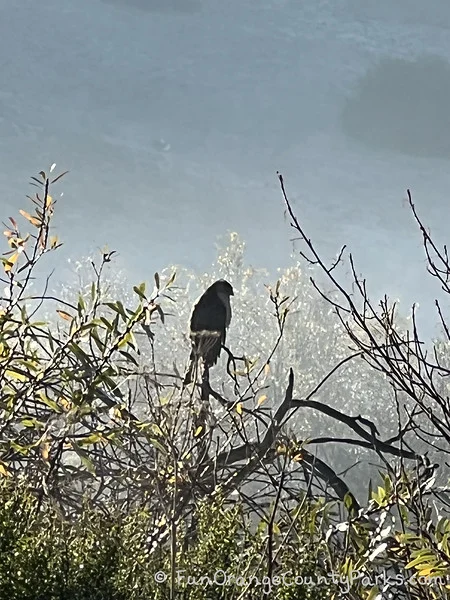 Dripping Cave (also known as Robber's Cave) is a big draw to this park. I see Instagrammers promote it a lot. However, if you are not a super active experienced hiking family — it is FAR from the Visitor Center. Don't casually take on this hike. Be prepared for a long day and bring lots of water and all the supplies needed for a serious trek.
I prefer riding bikes to from the Visitor Center to this location – even though the end is on dirt because it's just a more manageable trip. Read my blog post about visiting Dripping Cave here. It has all my tips and lots of photos.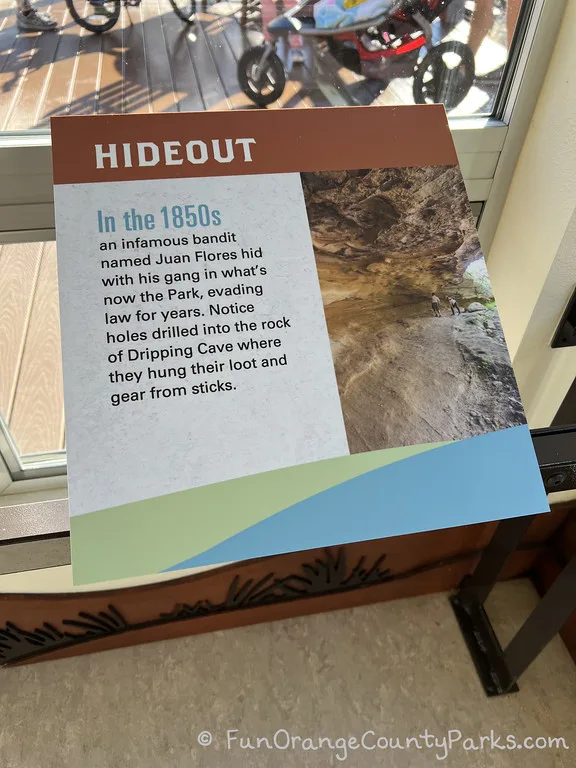 These canyons are also an excellent place to view wildlflowers in the spring. I wrote a blog post called Aliso & Wood Canyons Wildflower Hike which shows some of the blooms you might see in the spring. The hike I describe takes off from Canyon View Park in Aliso Viejo which also has access to the trails in Aliso and Wood Canyons.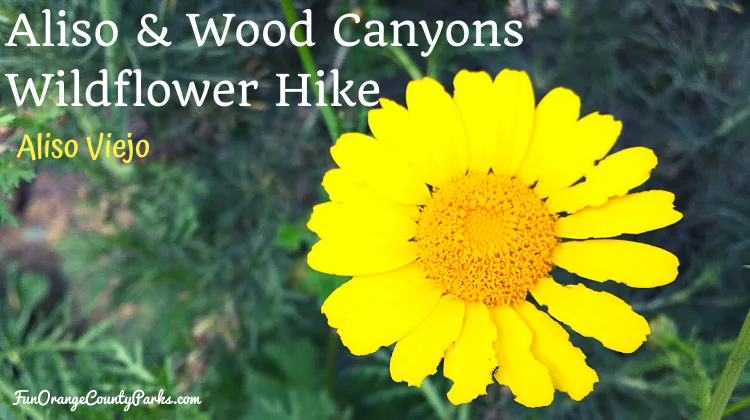 The Visitor Center also has a great resource for naming the plants you might see on the trails in the Field Guide Exhibit.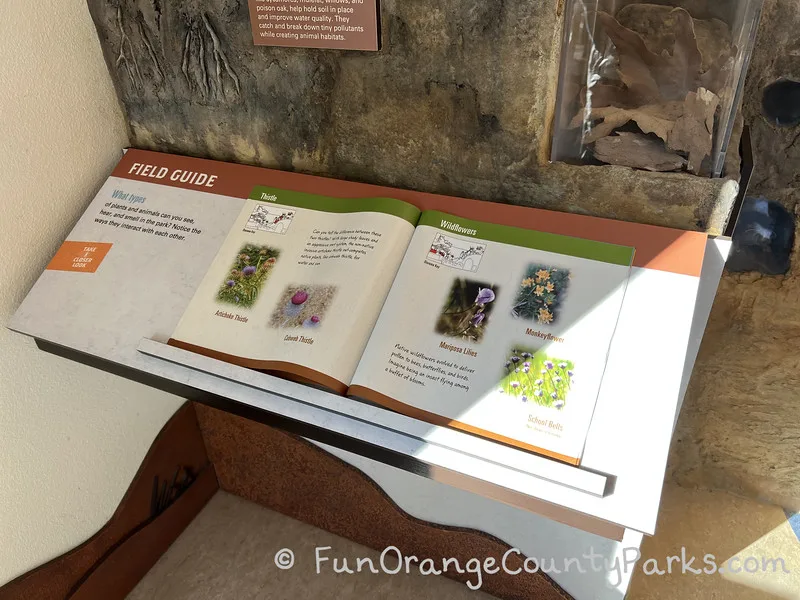 Another cool play trip option is connecting to the other OC Parks park nearby. You can walk across the pedestrian crossing at Alicia and enter Laguna Niguel Regional Park. There are two playgrounds and even a lake to extend your play or walk. I have blog posts written about all 3 options.
Hikes (Easy Nature Walks) from the Visitor Center
I like to go early in the morning as soon as it opens at 7am to walk and we often miss the Visitor Center because it's closed at that hour, but on your first trip you can go to the Visitor Center and scope things out. Then go back for your nature walk or hike!
The trail is perfectly suitable for strollers and joggers because it is a wide road. That's part of the reason I love it here!
COMING SOON – MORE FAMILY-FRIENDLY TRAIL DESCRIPTIONS!
FUN TIP: What is this place called? Aliso AND Wood Canyons Wilderness Park. Some get confused and call it Aliso Woods Canyon or other combos of the names. I remember by separating the canyons in my head, so Aliso Canyon + Wood Canyon = Aliso and Wood Canyons (plural for 2 canyons)!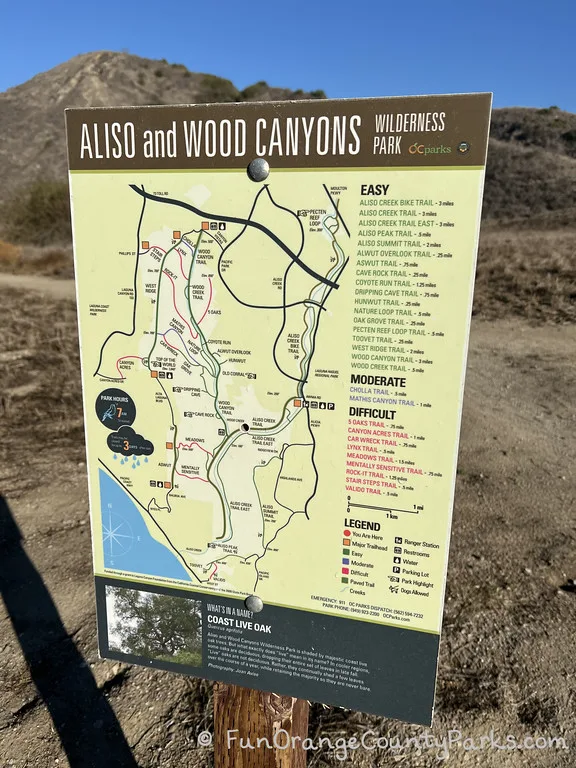 Be Aware
Please note that even though Visitor Hours are posted, it can be closed for unexpected reasons: weather, staffing, etc. So check the website before you go! (Listed hours are: M-F from 9am-3:30pm and Sat/Sun from 9am to 2pm).
DO NOT leave any valuables in your car. Just like any trailhead your car will be a target for theft since a lot of people make the mistake of leaving their wallet when they head out for a hike or ride.
The trails can be empty — or very full of running groups (we've been there with cross country teams) or people getting out to exercise on mountain bikes. I always promote hiking or walking with a buddy, especially here. You never know what can happen in a wilderness area.
I have never see a rattlesnake here, but I know MANY people who have. So definitely be aware and don't go off trail or let the kids run ahead of you. Especially if you make it to the cave areas or under signs you might be reading.
Do not count on cell phone service once you get back in the canyon.
It is a HUGE park and it closes at sunset. Don't get in on the trails too deep that you can't get out before it gets dark.
It can get HOT back here. Not a lot of shade on the trails, so it's best to go early in the morning and you'll get some relief from the sun because you are somewhat sheltered in the shade of the canyon.
No e-bikes.
No dogs (because it's a wilderness park).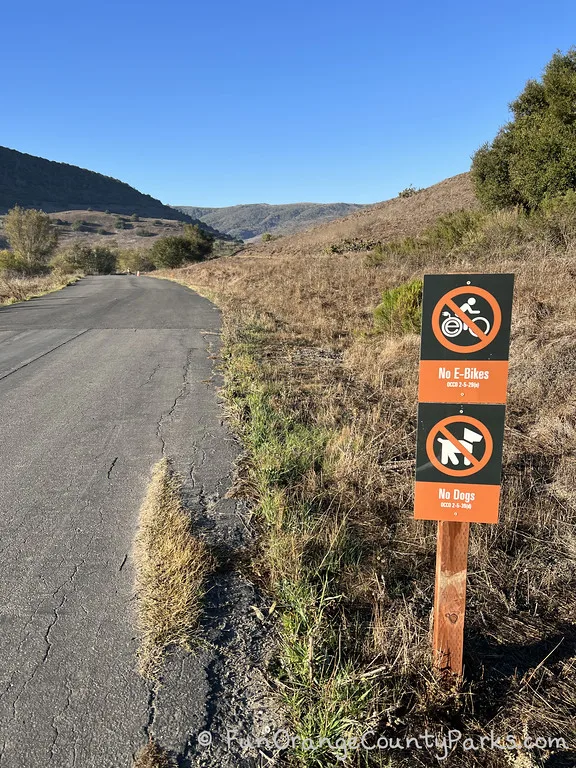 Checklist
Fee to park in Visitor Center lot, but you can use your OC Parks annual pass if you have one. You can pay with credit card.
Restrooms at the Visitor Center – not when you get inside the park.
Many people park on the street or at the church which I would not recommend. If you have the means, pay the parking fee to show how much you value this place. They can count the demand by counting the parking tickets printed/sold.
Official Aliso and Wood Canyons Visitor Center info from OCParks.com
Official info on the Aliso and Wood Canyons Wilderness Park from OCParks.com
Trail map (the most updated version will always be on the OFFICIAL park website)