Laguna Niguel Regional Park in Laguna Niguel is a great place to take the jogger stroller and do a turn-around with the play area as a final destination and reward for your little one.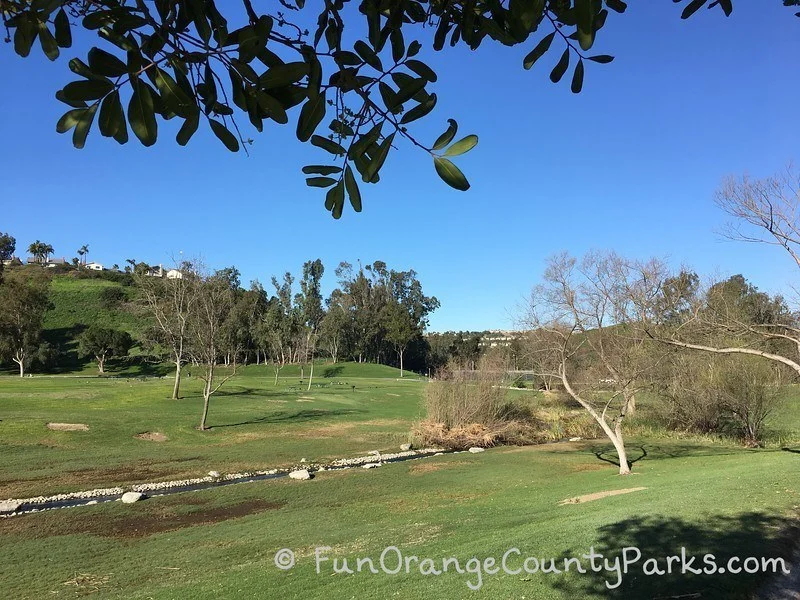 How to Get to Laguna Niguel Regional Park: Near the intersection of La Paz and Aliso Creek Road in Laguna Niguel. Take the Crown Valley exit (head away from the mall and toward Costco) to reach the park from the 5 Freeway and turn right on La Paz. You must have the current Orange County Beaches and Parks pass to park on the grounds (or pay $3 during the week, $5 on weekend, $7 holidays for parking). Play area is just inside park entrance. Turning right from the entrance brings you to tennis courts, horseshoe pits, sand volleyball courts, and picnic shelters. Turning left brings you to the main play area, followed by the bathroom, and then a choice of turning left toward the lake or right in a loop back towards the tennis courts. (Address: 28241 La Paz Road, Laguna Niguel) MAP to Laguna Niguel Regional Park in Laguna Niguel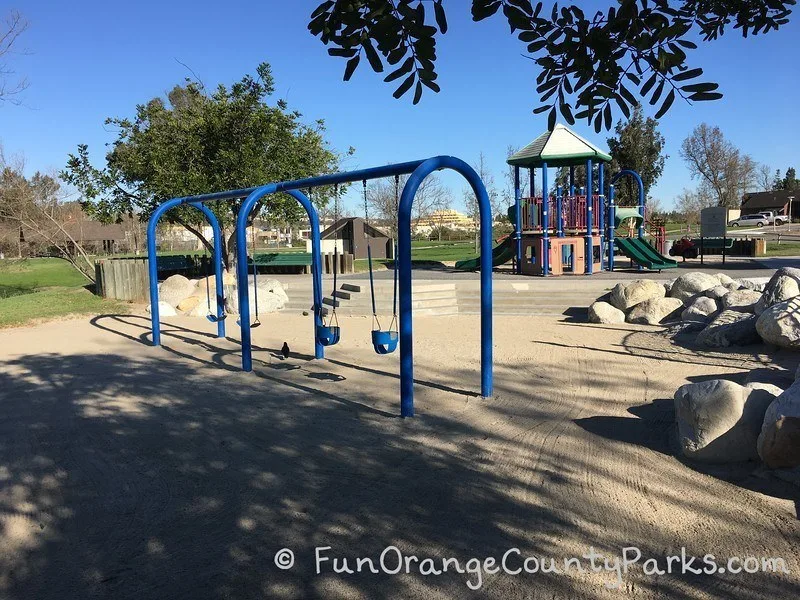 Please enjoy this PLAY FOR A MINUTE video to get a sense of what fun you'll have playing! Everything pretty much looks the same except some of the trees are gone and replaced by shade covers.
Highlights:
The red standing teeter totter is the first order of business for most kids
The tunnel bridge is another popular feature along with the climbing rocks
Come to SEE the ducks, Canadian geese, and other wildlife surrounding the stream running through the park (please DO NOT feed them)
Two distinct areas with shaded benches nice for picnics or snacks
Take the kids to the lake for a change of scenery and more wildlife viewing – or even fishing with a permit
Lots of room to roam for nature walks, exploring, and getting the wiggles out
Park grounds covered with sycamores, eucalyptus, liquid amber, and pine trees. Beautiful green reeds surround the water areas.
Play structures for all ages – toddler structure includes a general store and motorcycle for pretend play
Make sure you walk over to the lake if you get a chance!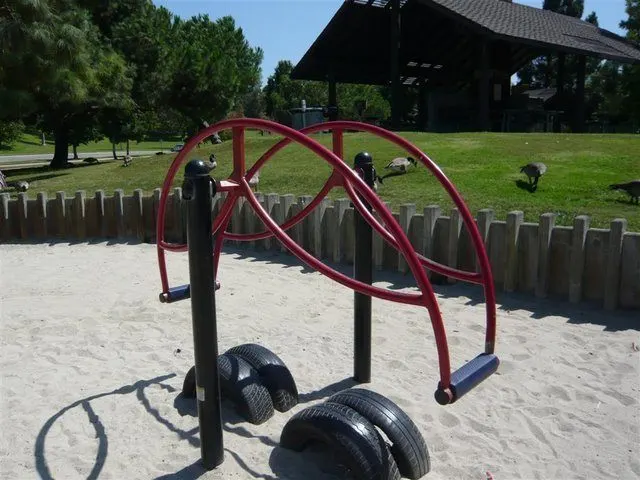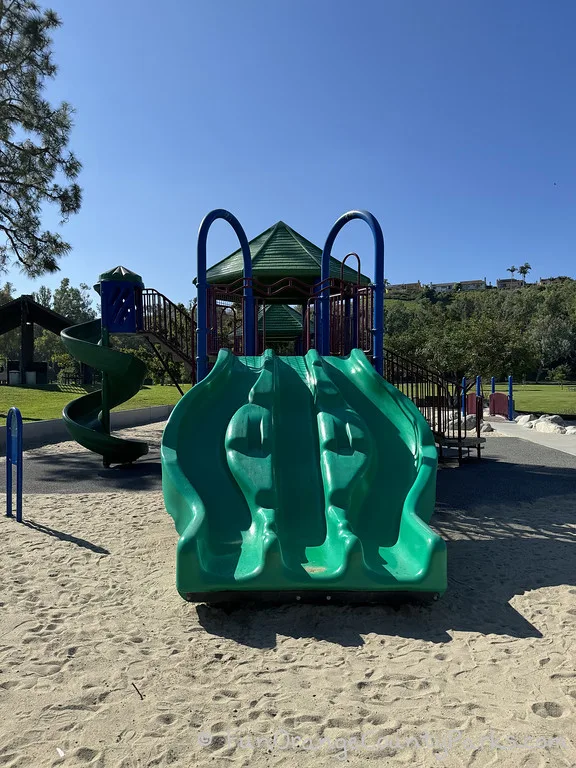 Be Aware:
An OC Register article about not feeding ducks specifically mentioned this park. It warns against feeding the waterfowl because it may cause botulism outbreaks resulting in paralysis and sometimes death for the ducks. There's a detailed sign by the stream describing other possible outcomes from feeding human food to the birds.
Pay $3 on weekdays, $5 on weekends, or $7 holidays for parking. Or get in with your OC Parks parking pass.
Toddlers will need supervision on the older kids structure because of a few drop-off areas. Some kids don't like the 3 textured slides (one bumpy, two twisty – all steep) when they go down w/o a warning of what's to come!
Extra hot here in the summer, nice the rest of the year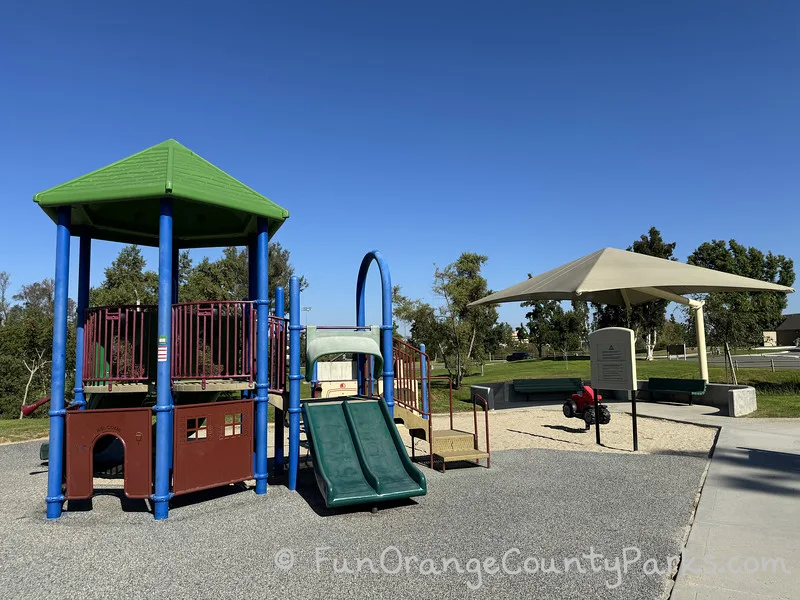 Checklist:
Pay for parking at the entrance off La Paz. Seriously consider buying an annual pass or paying the fee to park – your contribution helps keep the parks nice!
Some people park and walk in from Yosemite Street (see map under Location) – it's a bit of a walk and uphill on the way back. Great for exercise, horrible with a fussy kid confined to the stroller (or if you forgot the diapers in the car). This provides a safe option by following a paved walkway UNDER the busy La Paz Road.
Parking in the Whole Foods retail lot is discouraged. After one mom navigated the high traffic and lack of sidewalk from this lot, I overheard her comment: "The $3 would have been worth it." Pushing a stroller and holding her 2 year-old's hand, she worried about the safety of her young child darting out into the street.
Recycled rubber and sand play surfaces
Simple bathrooms just past the picnic gazebos near the play area.
Newer bathrooms with 8 separate rooms and outside sinks/soap are directly across the stream – reachable by driving around on your way out of the park.
Nice shade provided by trees in corners of play area. Domes over equipment give some relief to the kids.
Easy supervision – lots of places to sit while viewing your kids
Picnic on park benches or grill at nearby gazebos (may need reservations)
My post about Going on a Lake Walk at Laguna Niguel Regional Park
Find nearby parks in my South OC Parks and Playgrounds index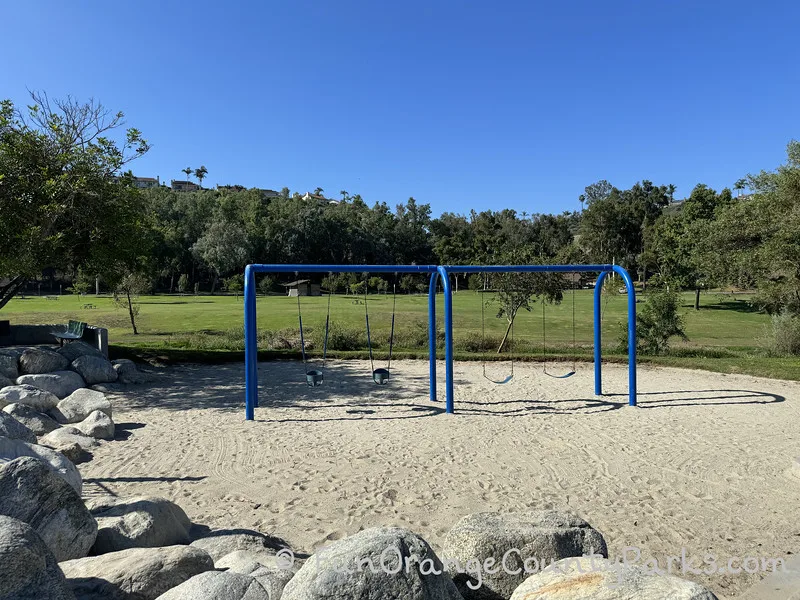 Originally published in March 2009.