2023 Pumpkin Patch at Irvine Park Railroad is a family tradition at Irvine Regional Park. Our family tries to visit every year. We always take the kids photo next to the pumpkin ruler to see how tall they've grown.
HINT: Best time of day to visit is about 2 hours before closing. The light is so pretty then! Just make sure you get on the train and the hay ride first, so you don't run out of time. Go EARLY in the day if you'd rather beat the crowds and have easier parking.
Photos in this post may be from past years, since we've been going so long! Check out the @irvineparkrailroad Instagram account for current photos of 2023.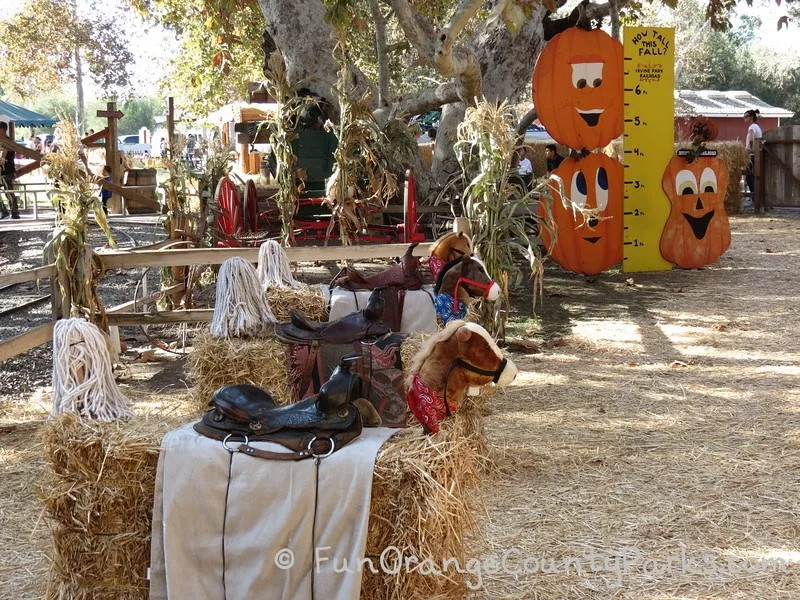 You do have to pay $3-$5 for parking at Irvine Regional Park, but you do NOT have to pay to get into the Pumpkin Patch.
You can easily spend the entire day at Irvine Regional Park by adding a trip to the Orange County Zoo ($2 per person) and putting in some good playground and nature time.
Their are 4 playgrounds here! Try them all.
The bike and paddle boat rentals can add even more fun to your day outdoors.
Grabbing some lunch or dinner at the kid-friendly snack stand next to the train station ticket booth or packing a picnic means there's no reason to rush your time spent here.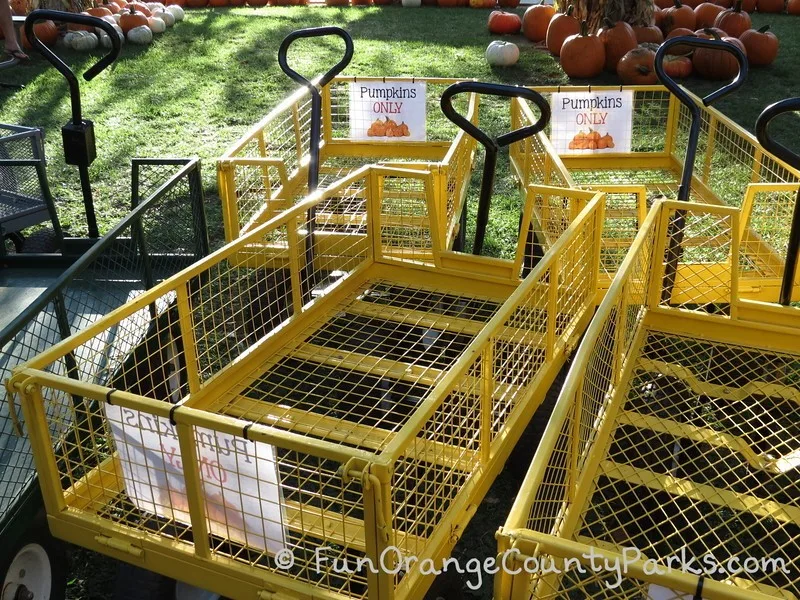 FREE activities include:
Haunted House
Hay Maze
Take your own fall photos of the kids near pumpkins or at the painted picture stands (where you peek your head through a mural)
Walk through Irvine Regional Park on a fall day where you can see peacocks, horses, ducks, and even a flock of wild green parrots if you're lucky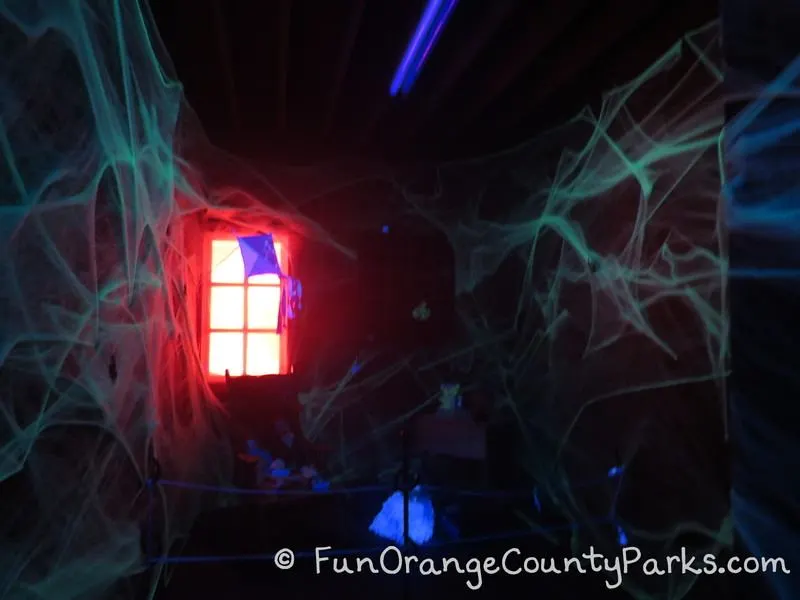 TICKET activities requiring purchased tickets include:
One Ticket
Train Ride (one ticket)
Hay Ride (one ticket) – my husband LOVED this
Moon Bounce (one ticket)
John Deere Tractor Racers for 5-8 year olds (one ticket – and younger kids may ride as a passenger for an additional ticket)
Bank-a-Ball (one ticket)
Carnival Games (2 games for one ticket – and everyone wins a prize)
Cookie Decorating (one ticket – and they are BIG cookies!)
Two Tickets
Pumpkin Ring Toss (one ticket for small prize, two tickets for large prize – everyone wins a prize)
Pumpkin Decorating (two tickets)
Panning for Gold (two tickets)
Face Painting (two tickets)
Mini Diggers (two tickets – for ages 3 and over)
Tickets are $7.00 each or you can save $15.00 by purchasing a book of 15 tickets for $90.00. 2019 was the first year they raised the prices in 10 years. These are the same prices as 2022. They did have a flash sale for the book of tickets right before September — so look for that next year if you missed it this year. Children 12 months old and younger do not require a ticket for the train or hay ride.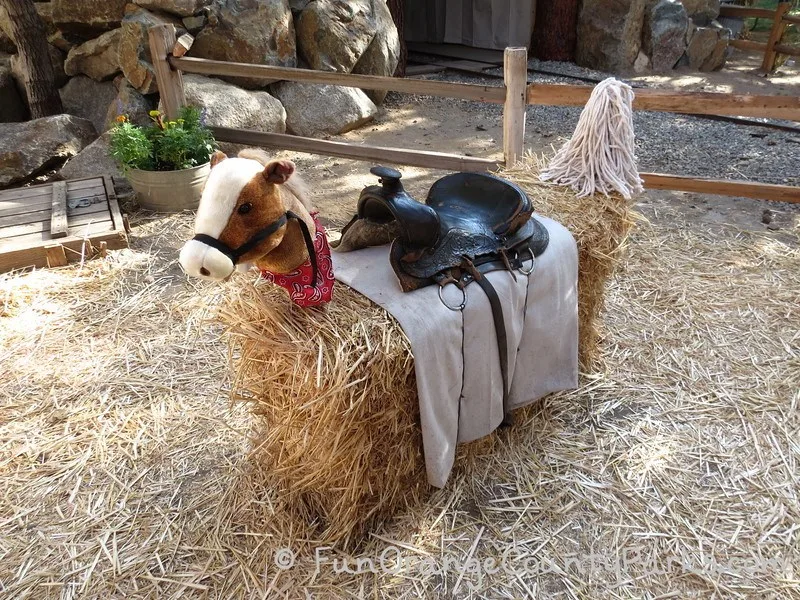 Check out the price guide as you head into the patch for an idea of pumpkin pricing. The pumpkins are clustered together around the trees and along the fences, making for great photo opportunities.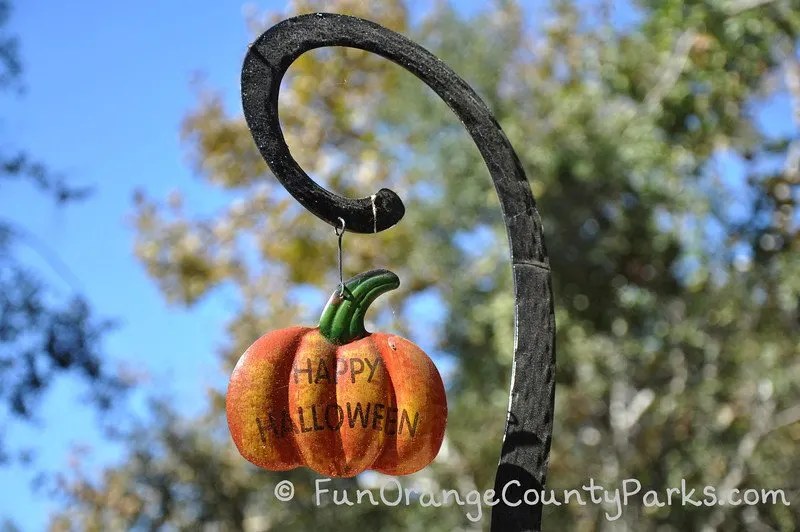 Checklist
Parking at Irvine Regional Park is $3 on weekdays and $5 on weekends — and $7 on holidays. Entrance to the pumpkin patch is free. Arrive early in the day for a more convenient parking space and a shorter line for the ever-popular train ride. Their website warns: "As Halloween nears, we encourage visitors to plan to arrive early to help avoid crowds, particularly on the weekend."
When there is no parking left in the park, the entrance to the park can and will close.
Irvine Park Railroad's Pumpkin Patch will be open daily at 10:00, closing at 5:00pm on weekdays and 6:00pm on weekends, through Halloween.
Visit Irvine Park Railroad's Pumpkin Patch page for coupons and more information.
Visit my post for info on playgrounds or go to the official Irvine Regional Park online for official information about the park itself.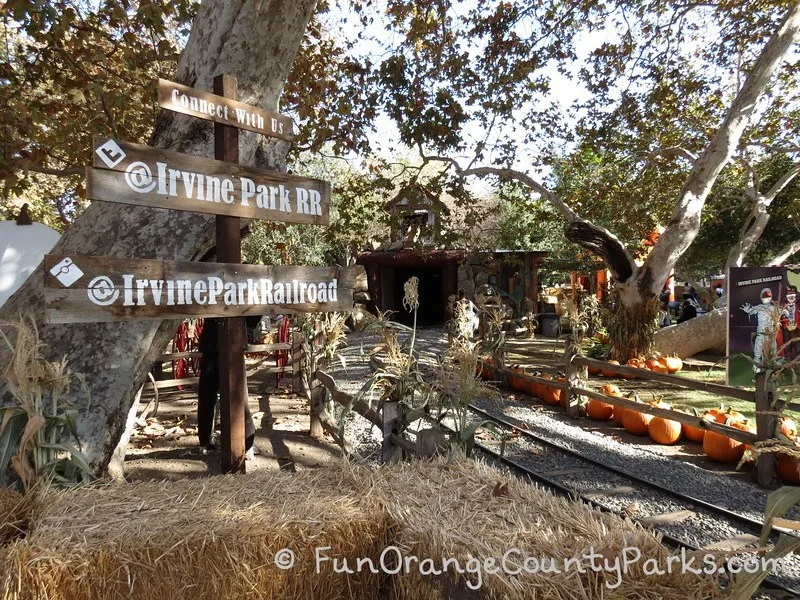 Disclosure: My family has received complimentary tickets to past pumpkin patch experiences during media previews in past years — but not 2023. Irvine Park Railroad never requests or requires that I state any particular point of view. Some photos courtesy of Lisa Lasater.
Originally published a post on this Pumpkin Patch back in 2009!