Irvine Regional Park is located in Orange, but you'll pass through Tustin, Irvine, and Orange as you climb Jamboree to reach this massive regional park. I even filed it under all three cities since it's close to them all and worth a little extra drive. You can get in with your OC Parks annual pass or pay $3 at the gate on weekdays ($5 on weekends). You'll find the scoop on the FOUR playgrounds in this blog post – plus all the other fun things for families to do at Irvine Regional Park.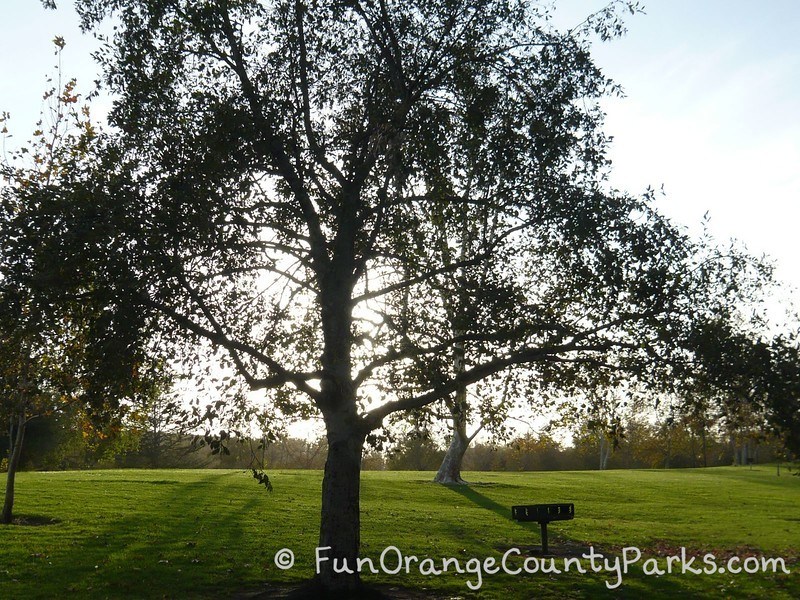 Location of Irvine Regional Park in Orange County, CA: Follow Jamboree Road east to where it dead ends. (Address: 1 Irvine Park Road, Orange) MAP to Irvine Regional Park in Orange
Playgrounds at Irvine Regional Park
Highlights:
This would my pick for a fall/winter/spring birthday party – it has bathrooms and reservable picnic areas with grills – and it's usually not too busy. (The private Irvine Park Railroad also offers birthday party packages).
FOUR playgrounds within one park!
My favorite play area is visible from the entrance (park in P2 lot). Love the large boulders accenting play area. 4 big kid and 2 baby swings. Zip track and lots of slides.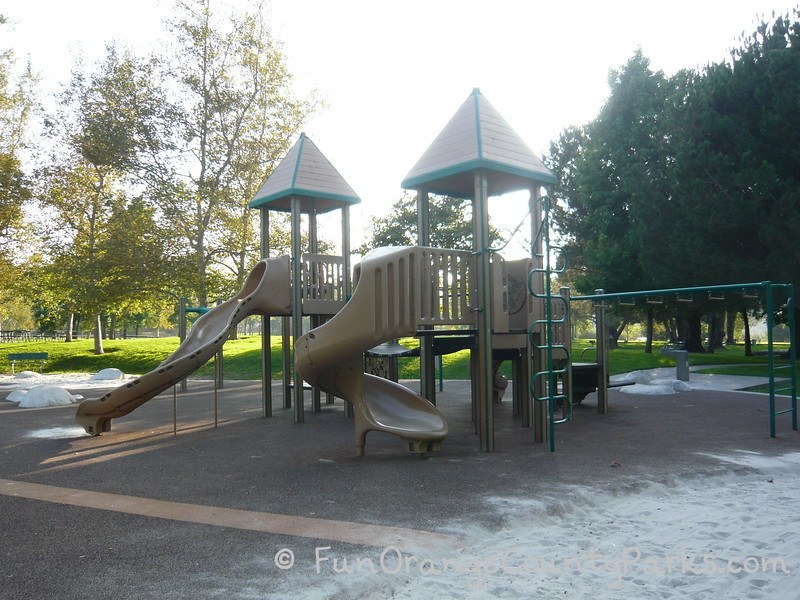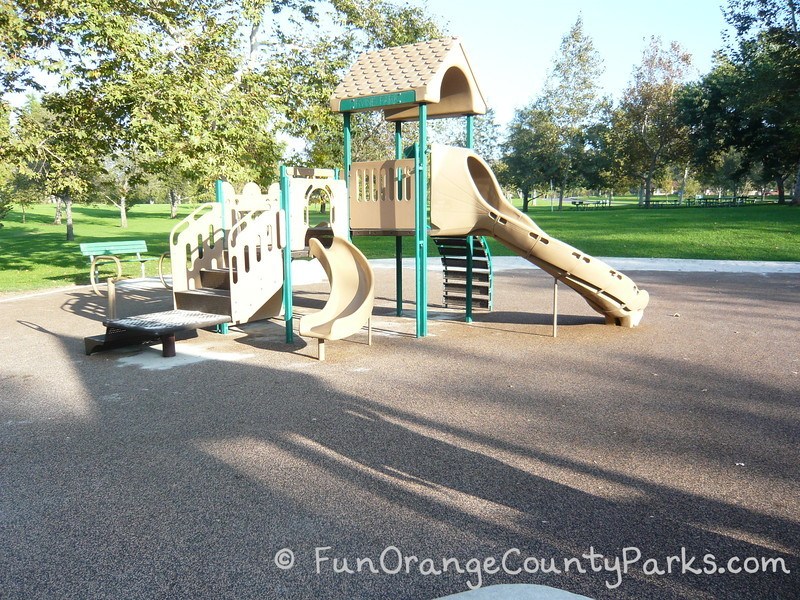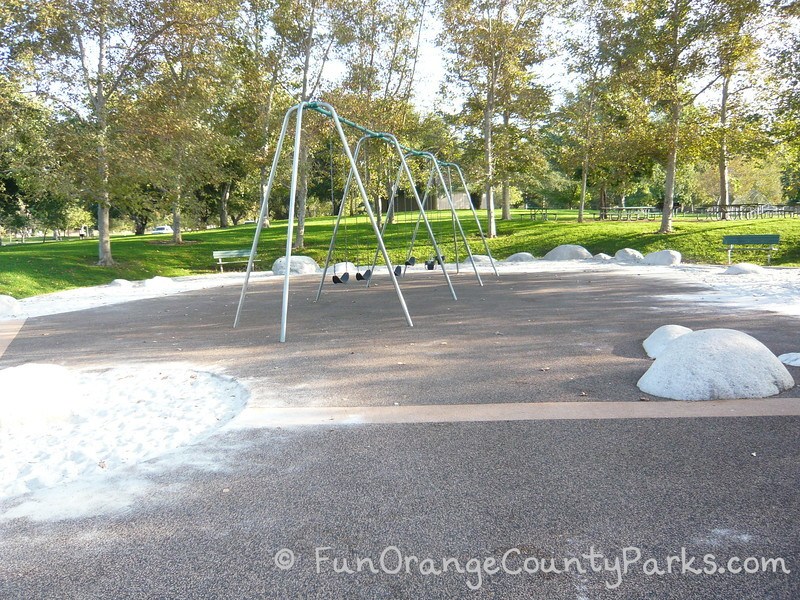 Learn to ride bikes near play area at P3 parking lot. Start on the grassy hill and continue in the parking lot. This play area has swings, too. Zip tracks and monkey bars.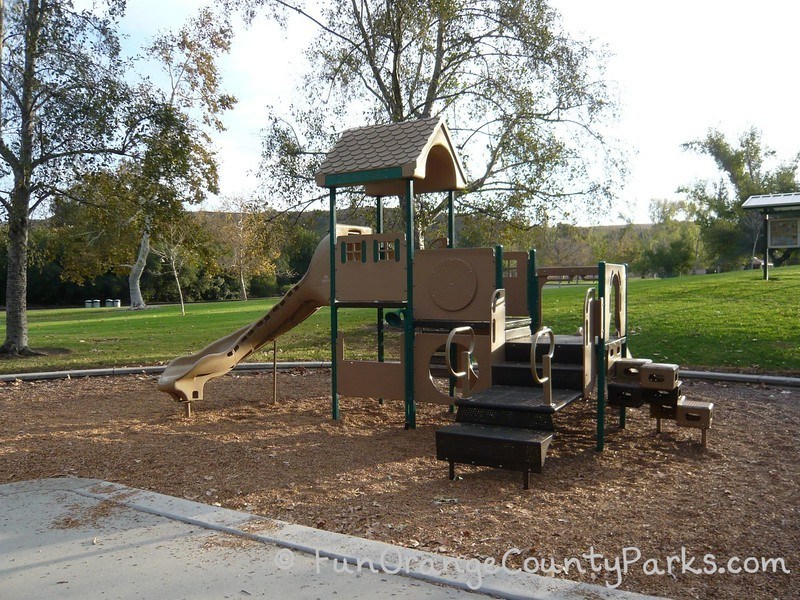 Smallest play area near Group Picnic Area #1 and parking lot P21. This one is closest to the zoo and lake. But no swings here – just fun little ride-on spring animals.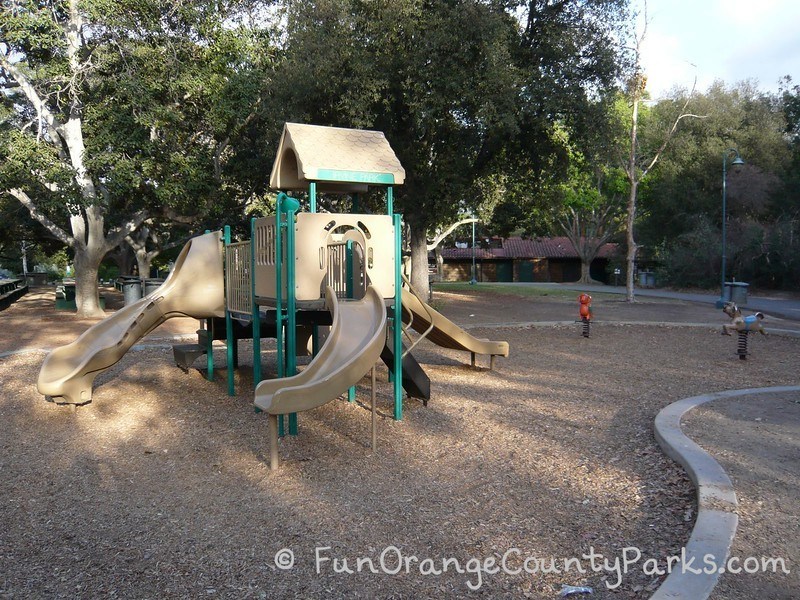 The last play area is tucked in a wooded area between parking lot P12 and P17. You'll have to walk in from either lot. 2 baby swings and 4 big kid swings.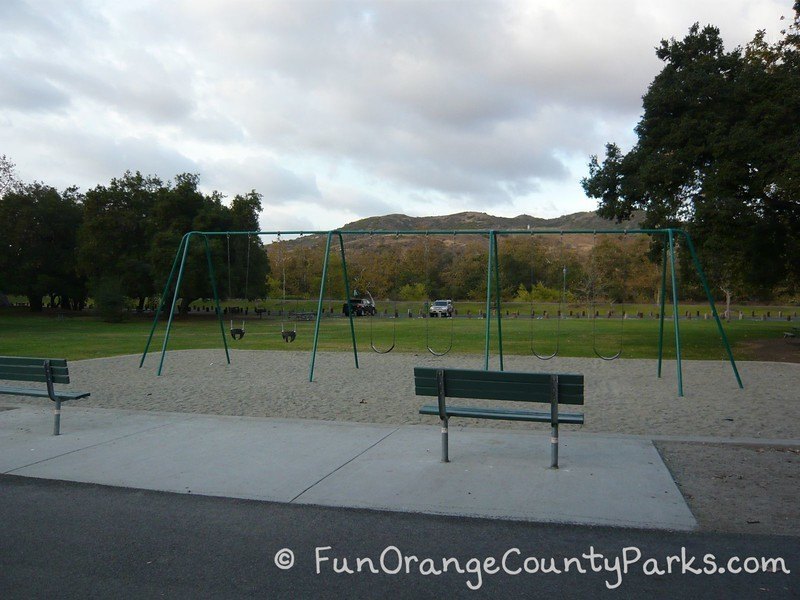 The lakes and waterfalls provide unique opportunities for family photos.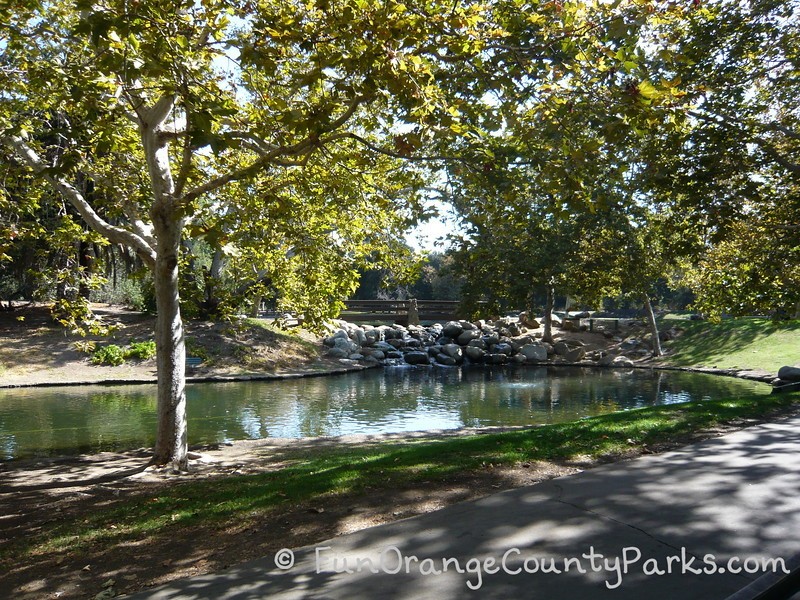 Going to the OC Zoo at Irvine Regional Park
This is such a favorite destination! It's cheap – only $2 for adults. The animals are mostly rescues and mostly wildlife that you can see in nature in Orange County. There's also a petting zoo area.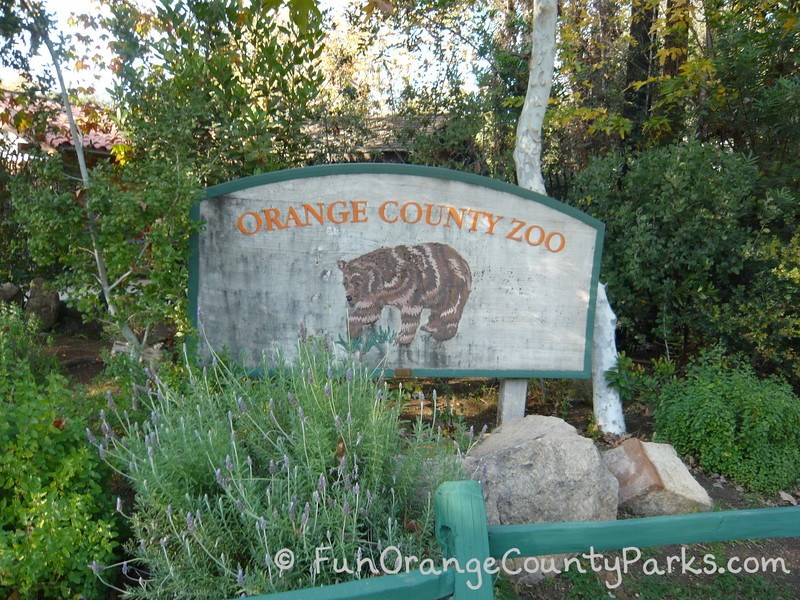 Visit Irvine Park Railroad at Irvine Regional Park
Irvine Park Railroad is a nice outing any time of year for the sweet little train ride. But they really amp things up for holidays! There are annual events like the Pumpkin Patch and Christmas Train. You can visit for free and walk the grounds, but they charge for the activity booths and train rides.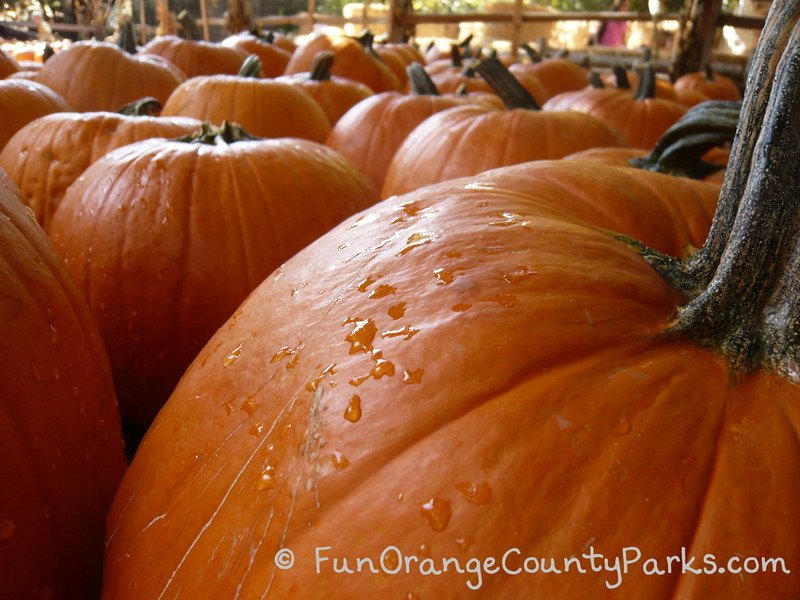 The Christmas Train features a train ride to the North Pole to visit Santa. It's fun to be at the park on a chilly December night and drink hot chocolate in the dark.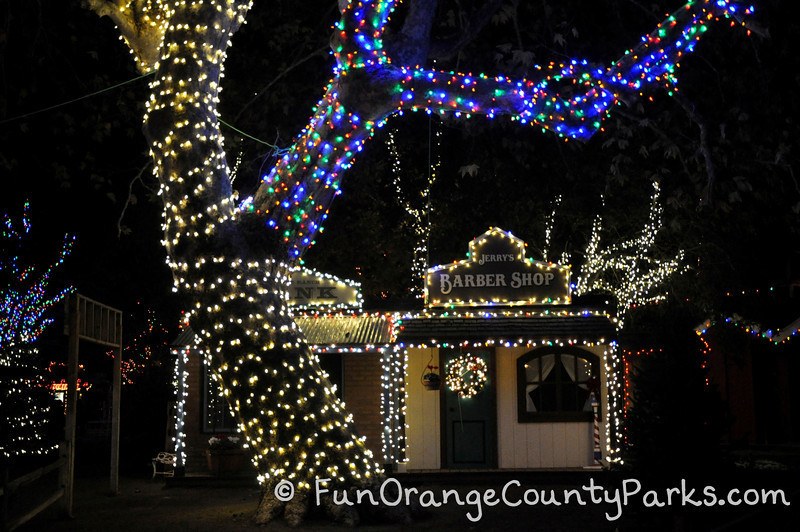 Surrey Cart and Paddle Boat Rides at Irvine Regional Park
There's a snack bar near the zoo and Wheel Fun Rentals rents out surrey carts and paddleboats from this location.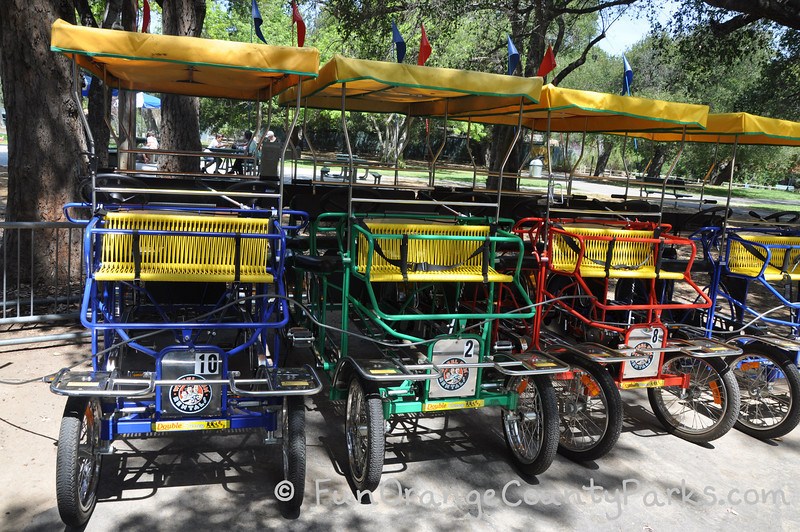 Nature Center at Irvine Regional Park
If you're lucky, you'll get there on a weekend when there are volunteers to staff the nature center. There are lots of hands-on activities for kids and educational displays about our local natural history. The last time we visited, the center was open from 11:30am to 3:30pm on Saturday and Sunday.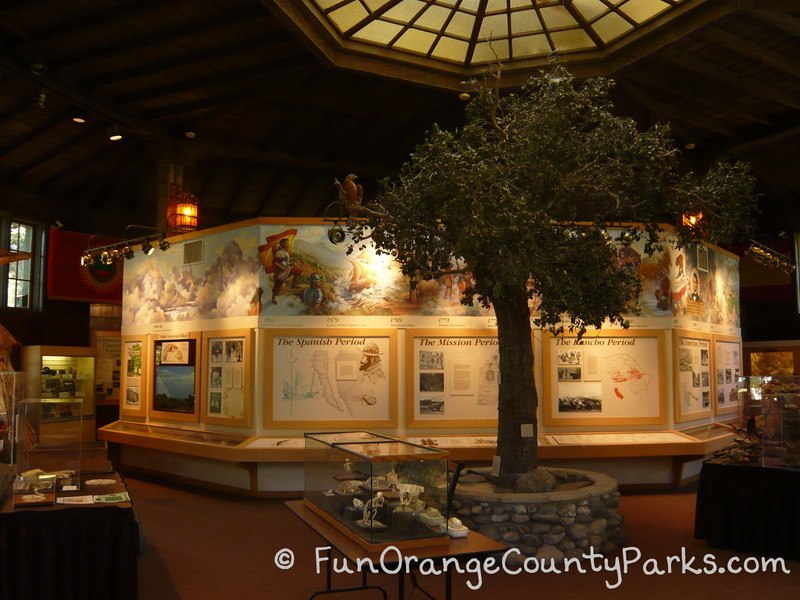 Be Aware:
As a reader reminded me, parking can be hard to come by when there are special events! So bring your patience and try to get there early.
Get a map at the entrance to locate the play areas and reference the numbered parking lots – it's especially important to know which parts of the park are open or not because of recent wildfire damage and recovery.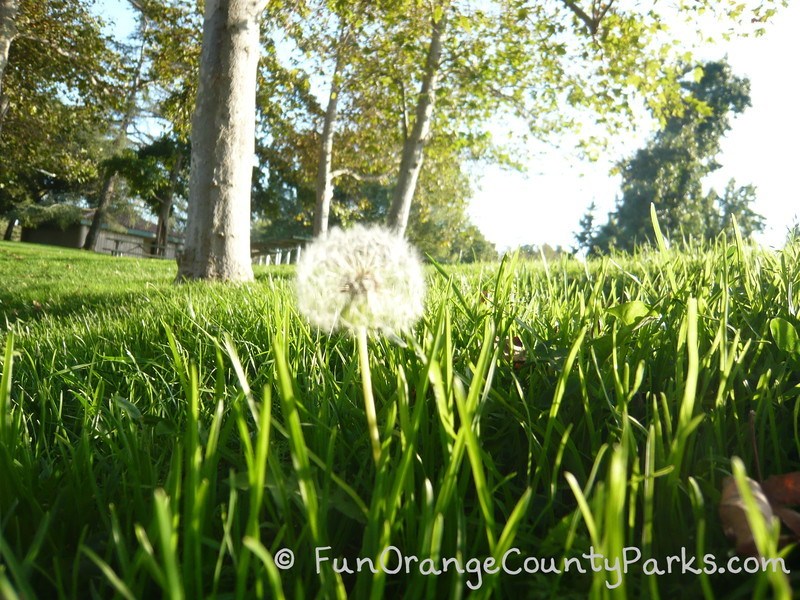 Checklist:
Multiple lots ($3-$5 per entry into park)
Bark play surface at most playgrounds, although some have switch to recycled rubber
Drinking fountains at each play area
Bathrooms at each playground and near picnic areas
Plenty of shade with large trees surrounding the playgrounds
Easy to supervise kids at each playground with tons of room to roam
King of all picnic parks! Grills and picnic tables everywhere for large or small groups.
Trash cans nearer to parking lots than play areas.
Great for wildlife viewing – look for peacocks roaming the park.
OC Zoo charges $2 (kids under 2 free) – no bathroom within the zoo – need to use the one in the parking lot P19. Try the Scavenger Hunt brochure available at the ticket booth for school-age readers – finish it and get a prize.
Park opens at 6 a.m. and closes at 6 p.m. (Fall and Winter Hours) and 9 p.m. (Spring and Summer Hours).
Find other nearby parks in my Central OC Parks and Playgrounds index
Privately-owned enterprises charging their own fees – but located inside the park:
Originally published November 2008.