Irvine Adventure Playground at University Park is home to many happy childhood memories. In the 1970s, it opened with one structure: The Shack. What came after was created by the children.
Open year-round (10AM-DUSK) – except for City-recognized holidays – and completely free to the public.
This undated historic photo shows just how long the Adventure Playground has captivated the Irvine community's imagination – and how rough it was at the start.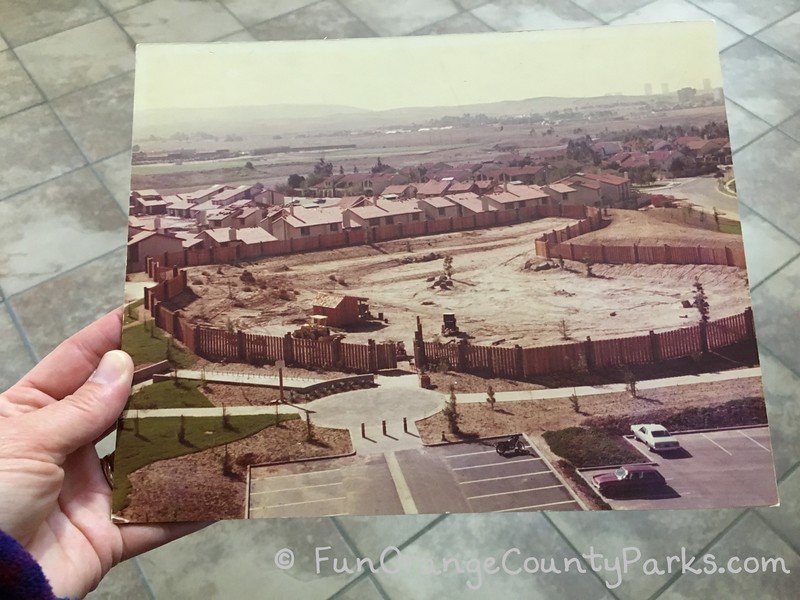 You'll see the same spirit of creation and child-led play infuses the latest incarnation of Irvine Adventure Playground. It starts with a simple playground structure and the rest is a blank slate.
Adults will feel like: "This is it?"
And children will see room to roam and spaces to fill with forts and hideouts.
Directions to Irvine Adventure Playground at University Park: Exit Interstate 405 at Jeffrey Rd./University Dr. and turn towards the UC Irvine and Tanaka Farms. Turn right on Beech Tree Lane and park in the lot ahead on your left next to the Community Center. (Park Address: 1 Beech Tree Lane, Irvine) MAP TO ADVENTURE PLAYGROUND AT UNIVERSITY COMMUNITY PARK IN IRVINE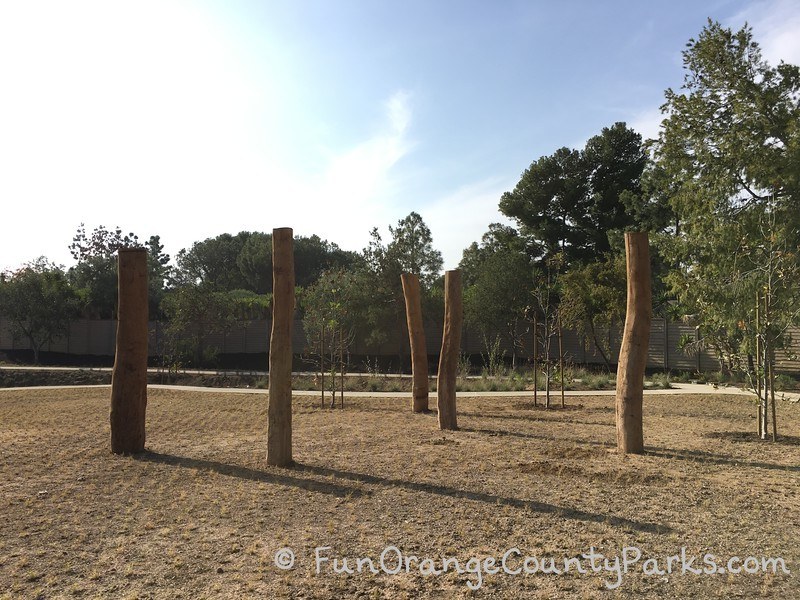 Before I launch into my regular list of highlights, I want you to pause and realize how important this playground is as a symbol of what childhood play could and should be.
I don't want you to ever take for granted the community activism, progressive planning and design, and governmental support that this project represents. Of course, no one got everything they wanted — budget constraints, liability concerns, and timeliness all played a role in the final version.
I have met so many of the PLAYers in this project, since I wrote my first letter of support to the Community Services Commission in October of 2010. Without exception, every single person I've encountered shares a passion for play.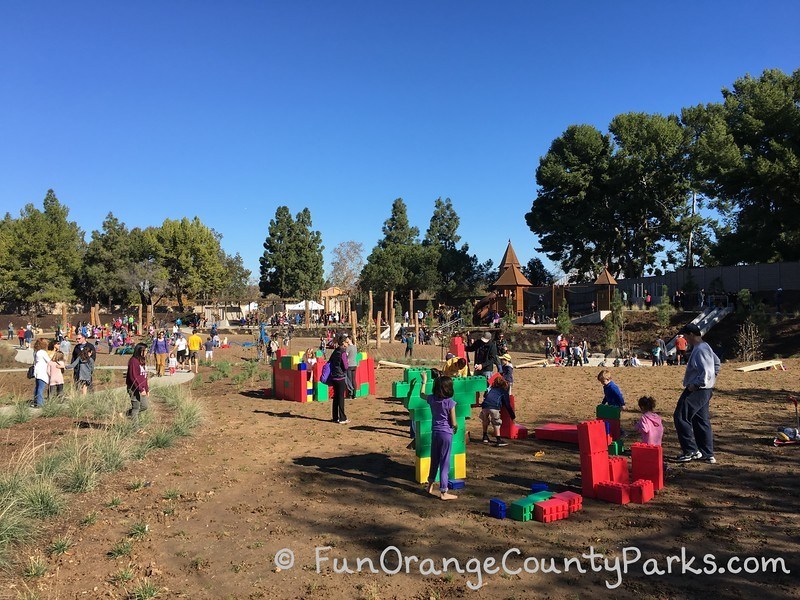 And it's ALL about the kids and their self-directed play!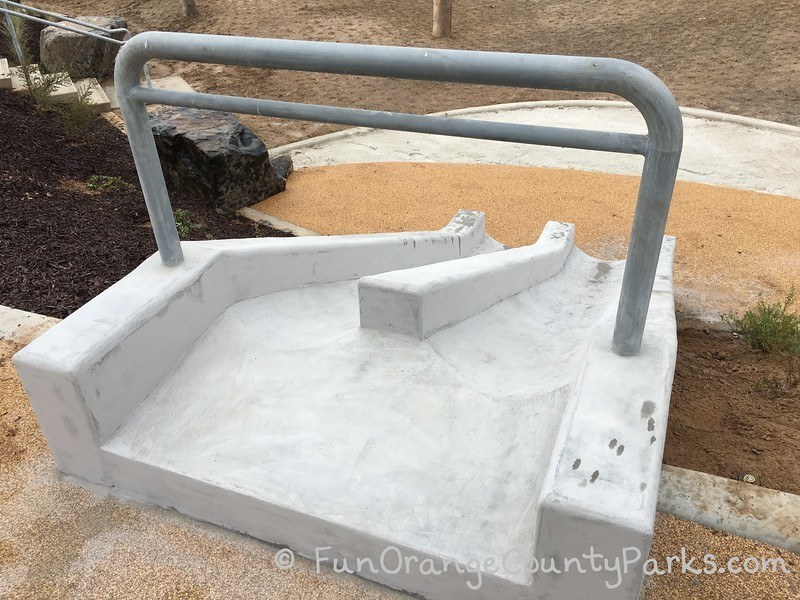 This is a BIG deal! Why?
The Irvine Adventure Playground is one of only 3 such playgrounds in the United States. According to the NPR story, "there are roughly 1000 scattered across less litigious Europe."
Unstructured play is essential to every child's development. These spaces allow kids to build forts, play in the mud, and get creative with unstructured play outdoors!
Play opportunities at typical playgrounds are limited to the equipment provided. Here, play and imagination spill over into every corner of the park.
It will be open and staffed every day with a minimum of two people from 10am to 5pm.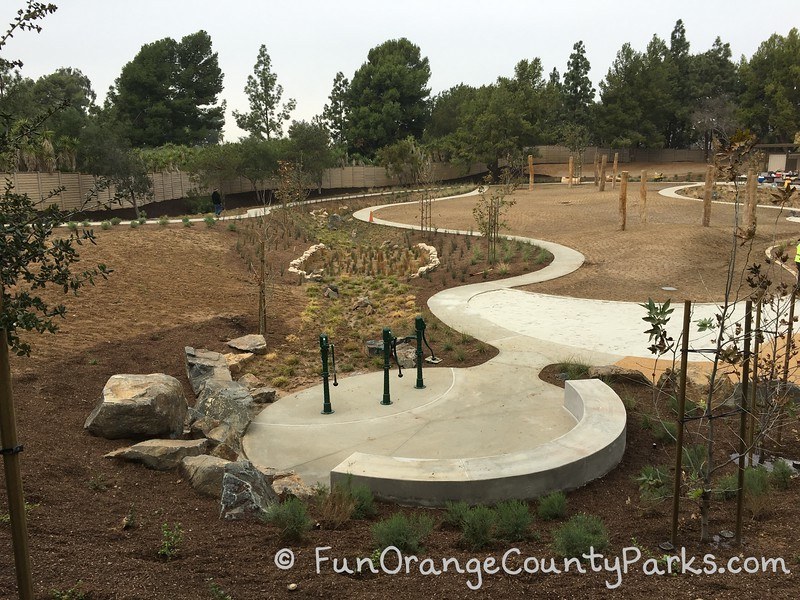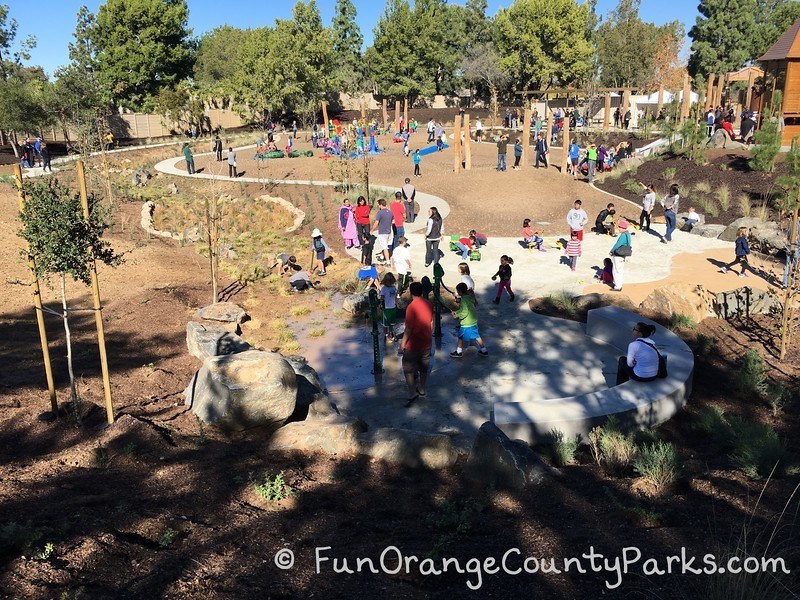 Highlights:
It's an Adventure Playground! That means it's like a new coloring book without a lot of personality or style yet. The children will bring the markers, crayons, and paintbrushes of their imagination to color it with PLAY. As one of the City of Irvine staff members told me: "This playground will never be done." The kids will constantly have an effect on the landscape and the pretend games that happen here.
It's completely enclosed by an earthy-colored fence with only one spot for entry/exit.
Even though there are incredibly nice restrooms in the nearby community buildings, there are two restroom stalls inside the Adventure Playground so you never have to leave.
The one main play structure is almost like a mini Hogwarts or castle overlooking the rest of the park.
The tunnel slide is smooth and fun with just the right amount of speed (for me, at least!). You'll have to report back on what your kids think.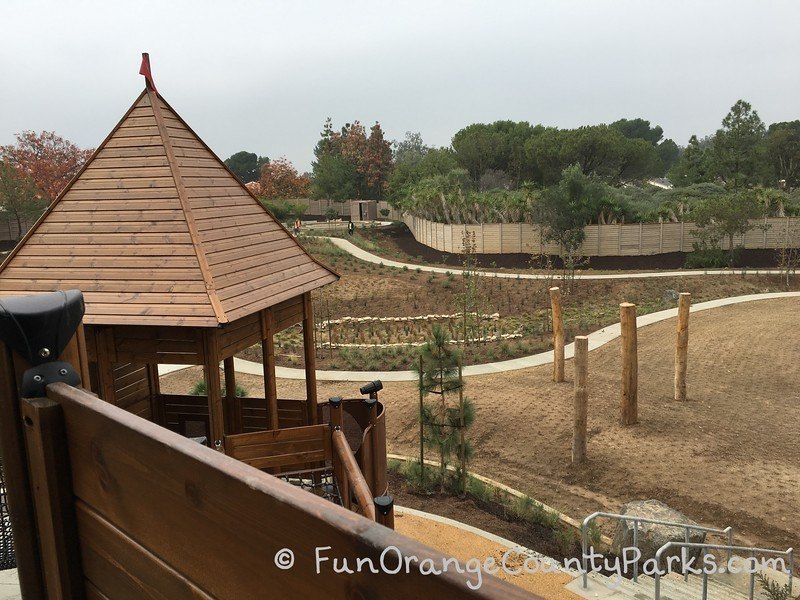 Their are quiet spots: like in the far corner where there's a sensory garden – or in the front behind the restrooms with the wooden counters. Maybe there will be building projects or woodworking there someday? Or maybe a place to do homework outdoors?
There's the start of a grassy bamboo forest which could lend itself to all sorts of jungle pretend play in the future.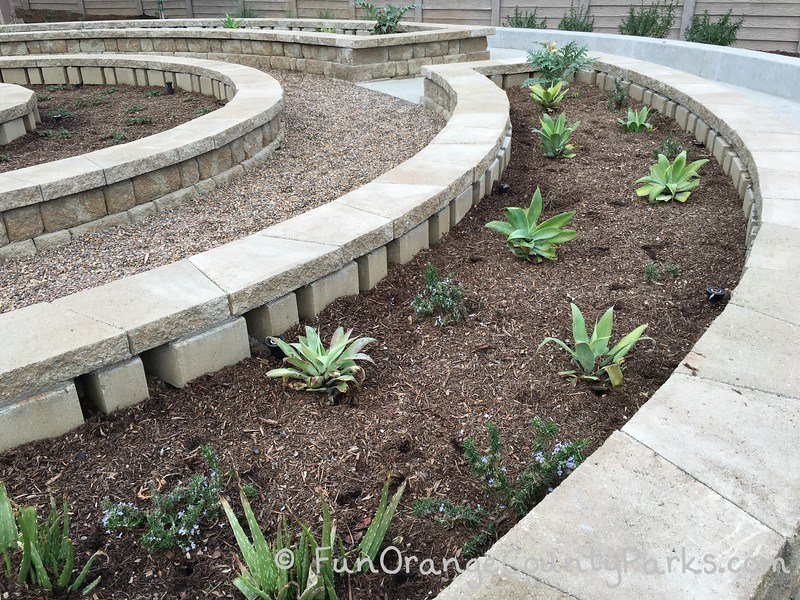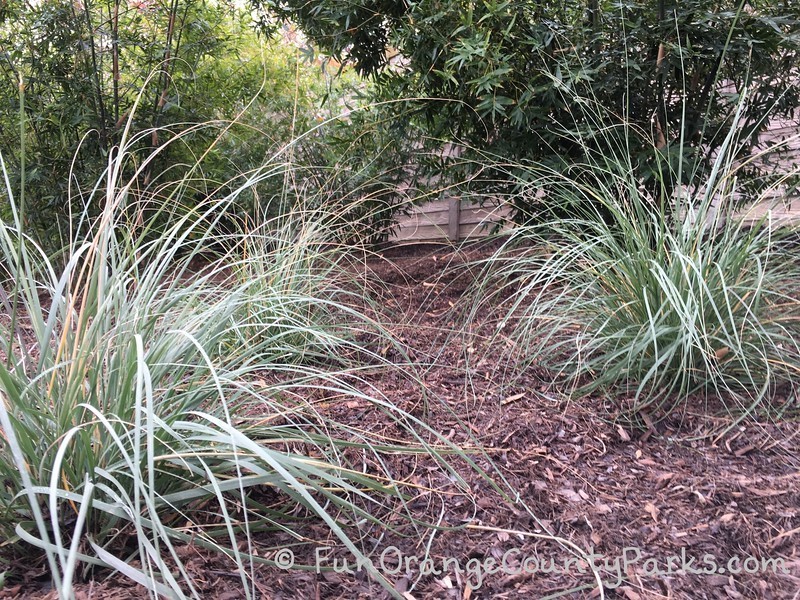 There are 2 sets of concrete slides. Hmmm . . . what do you do with those? Some combo of sand used with burlap mats might be the key?
3 water pumps provide water to fill the dry creek bed. Or maybe it won't be dry by the time you make it to the playground? Maybe it will be a place to see frogs someday?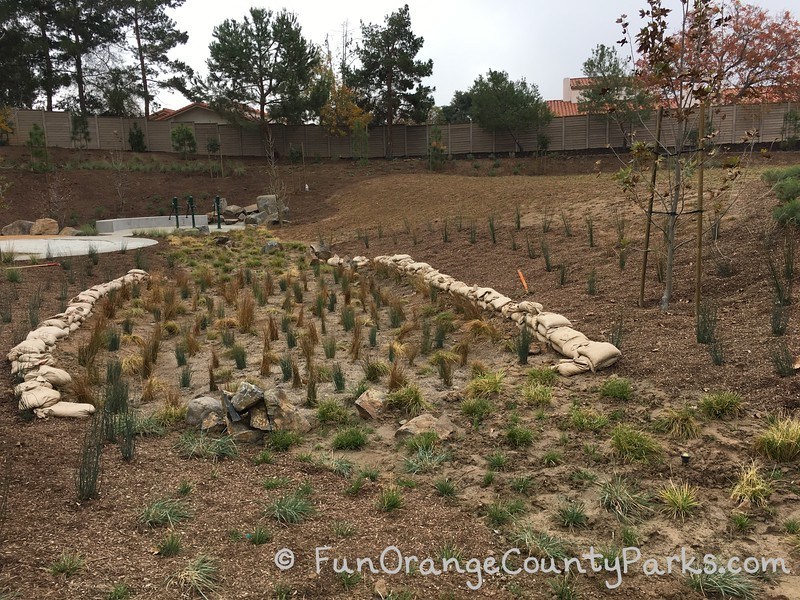 Elevation changes really make you feel like there's a lowest point and a highest view. In the future, there will be a vine-covered tunnel walkway behind the play structure.
Tons of climbers on the front end of the play structure.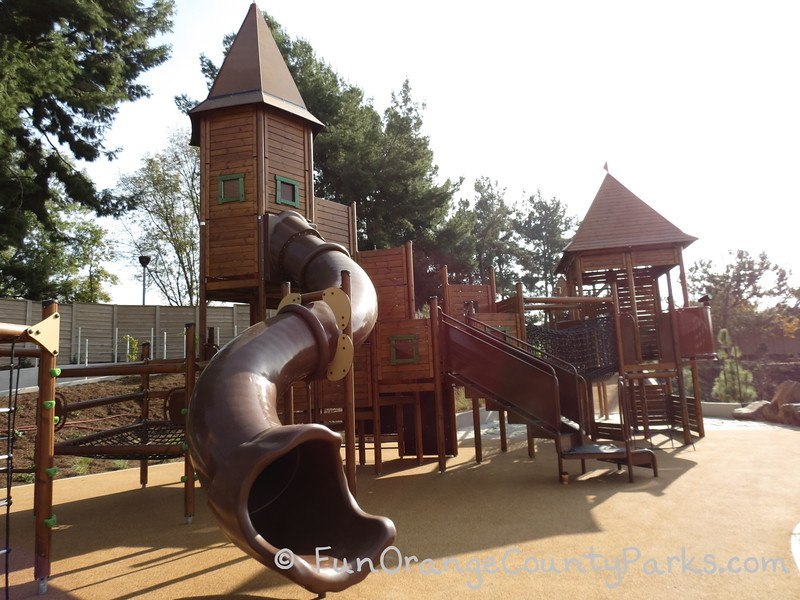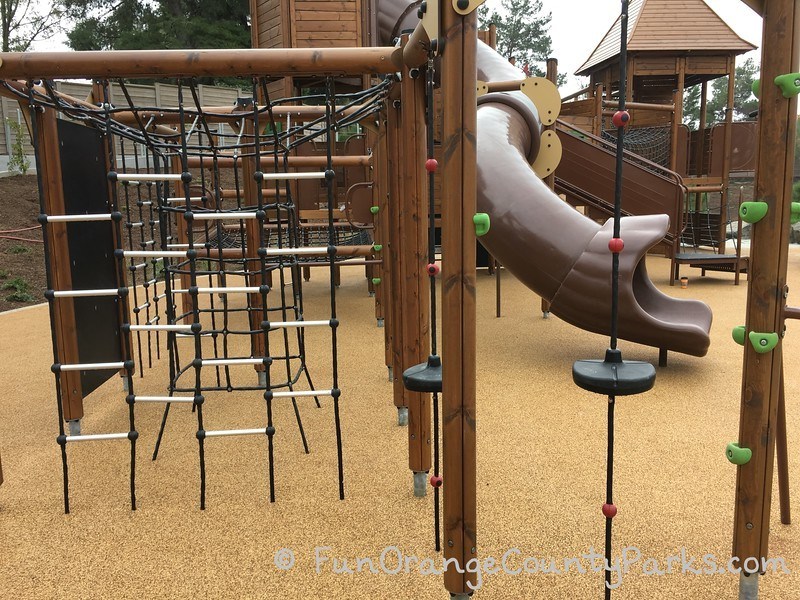 There are PlayCore SnugPlay USA "loose parts" play pieces and life-sized blocks available for the kids to use for building (see video to understand what I'm talking about). Plus, staff will be pulling out all sorts of different play props and crafts on different days – and as time goes on. My favorite is the big dump trucks and diggers in the sand.
Be Aware:
This park is only open from 10am-DUSK daily. Playground closed on City-recognized holidays.
Park also closes during inclement weather. (Be flexible – University Park is RIGHT next door and a great Plan B. If it's raining, you can go inside the library.)
Your child WILL get dirty! That's the whole point. Bring a spare change of clothes. Bring a towel. Have them wear shoes that can get muddy. Be okay with it! This is the fun stuff. Concentrate on the laughter and not the mess.
Shoes required — even though they will get muddy and dirty.
This playground is appropriate for every age, but the big tunnel slide and high points on the play structure might be more suited to kids 5 and up.
According to City of Irvine: "Large groups, private reservations and

birthday

parties are not permitted. Reservations are welcomed in the adjacent buildings at University Community Park. Please contact Facility Reservations regarding availability."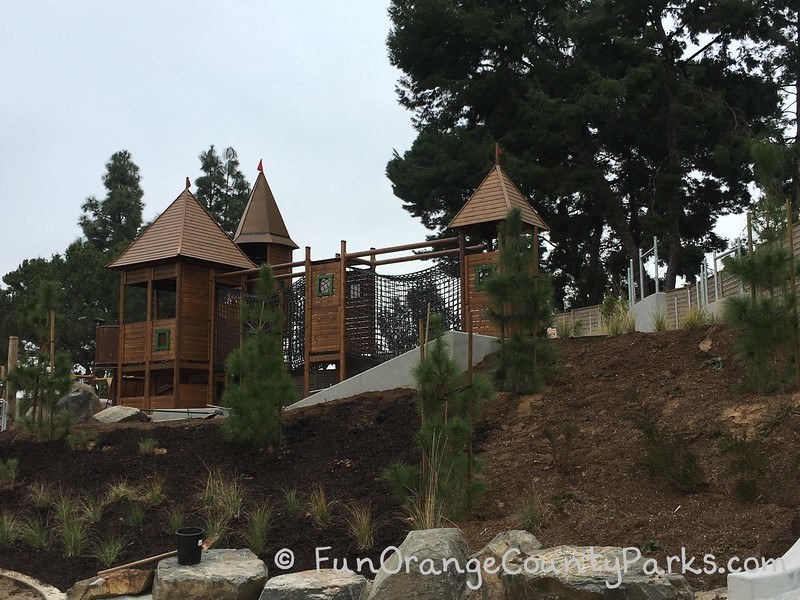 This is NOT a traditional playground. Visiting an Adventure Playground is an experience! The idea is to let the kids use their imaginations and the props provided to participate in developmentally appropriate play. All you have to do is supervise for safety and see what they do!
Parents: watch your heads if you follow the kids on the play structure. There are some spots where you need to duck through tunnels and you won't want to whack your head when you look up!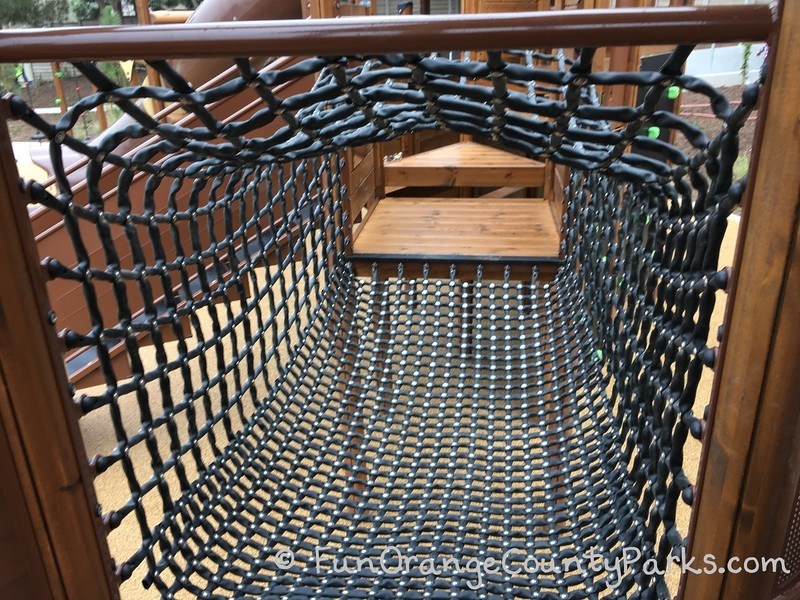 Checklist:
Open year-round (10am-DUSK daily, except for City-recognized holidays)
Holidays observed:

Park closed on: Easter Sunday, Thanksgiving, Christmas, New Year's Day
Closed early at 3pm on: 4th of July, New Year's Eve

FREE – my contact at Irvine says: "No entry fee whatsoever. Free play should be free."
Dedicated parking lots for University Park on both sides of the community buildings
Incredibly nice restrooms in the nearby community buildings, there are two restroom stalls inside the Adventure Playground
Play surfaces: Concrete paths, recycled rubber, sand, mud, dirt, gravel paths, mulch/bark
Picnic tables at the front of the park overlooking the whole "yard"
Big log benches line the paths in other parts of the park
Bring: Change of clothes, shoes that can get muddy, a towel
Part of University Park which has another playground, picnic areas, & sand volleyball court
Nearest public library: Irvine University Park branch of the Orange County Public Library is right outside the playground. I recommend visiting the Friends of the Library Bookstore!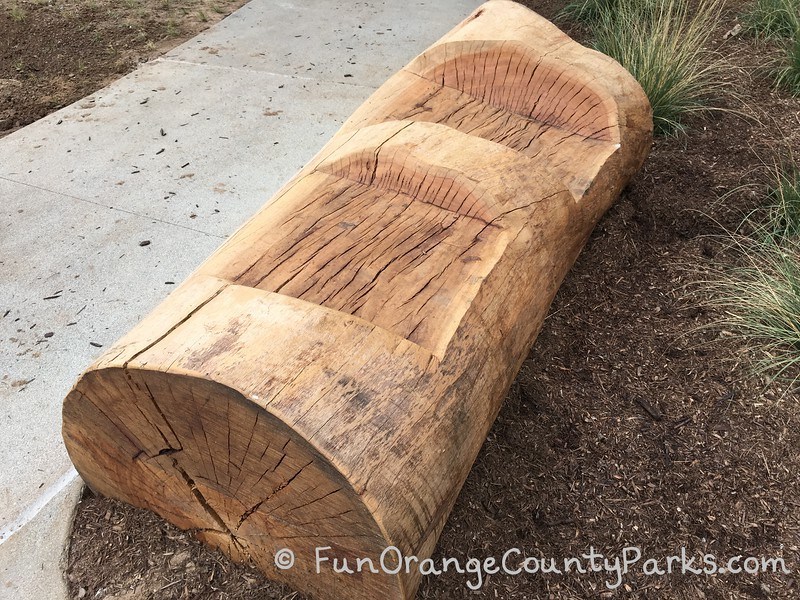 Nearby Parks: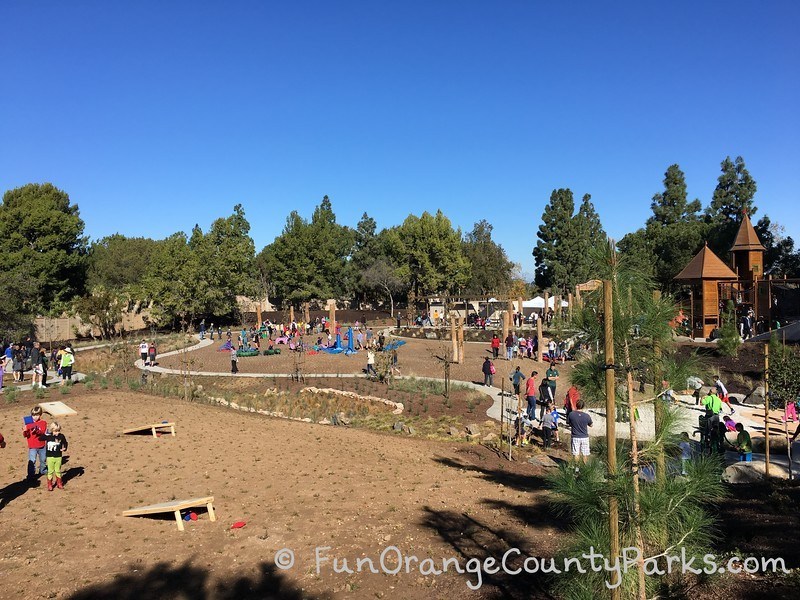 Park Architects (EPT Design) – Travis Ebbert and Matt Hall
Community Support – Defend Adventure Playground
Learn More about Adventure Playgrounds and Unstructured Play
Disclosure: The City of Irvine supports my blog by sponsoring this post. I sincerely appreciate the support. As always, all opinions are my own. Read our full disclosure policy.
Originally posted in December 2015.