William R. Mason Regional Park in Irvine is a massive park near UC Irvine and the Turtle Rock neighborhood.
It's especially good for families who want to take long strolls/bike rides on winding sidewalks beneath towering sycamores. The park is relatively flat, so perfect for young riders.
There are three separate playground areas each with different features. My favorite time to visit is sunset.
Mason Regional Park Overview
Beautiful lake with waterfowl and nice walking paths – for more adventure, cross Culver and walk along wetland paths.
Directions to Mason Regional Park in Irvine: Between Culver Drive, University Drive, and Harvard Avenue winds around it. Very near Tanaka Farms and the San Joaquin Golf Course. MAP to Mason Regional Park in Irvine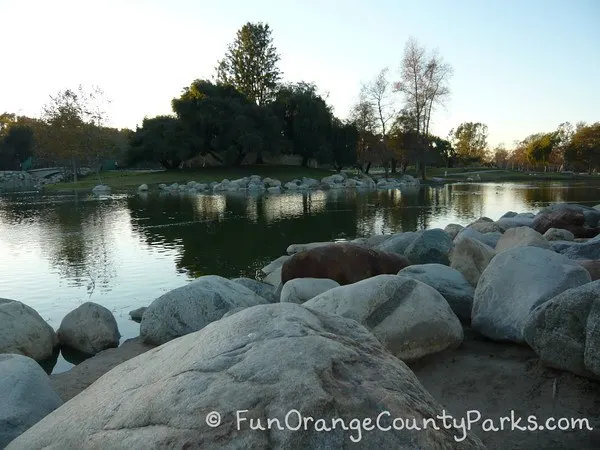 There are 3 play areas scattered throughout the park, but the largest and most updated is to the left when you reach the T-intersection driving in.
Main BLUE Playgrounds near Parking Lot D (Left from entrance)
This main playground area is closest to the VERY large Picnic Shelter 6.
Two structures make up this brilliant blue play area. One is for the 5-12 year old age group and right across the sidewalk is the 2-5 year old playground.
Great for all ages. Easy viewing of multiple kids from benches.
Fun hill for rolling down near the play area.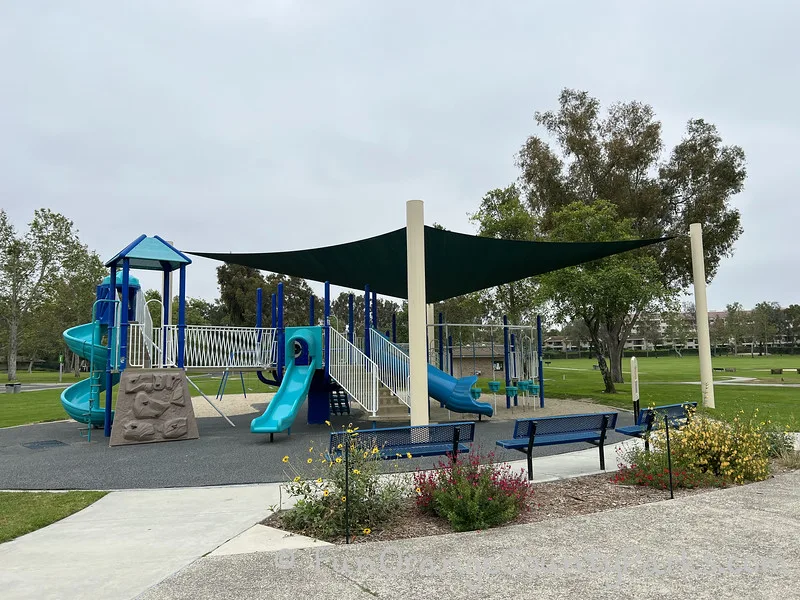 The big kid playground has just a few more balancing and climbing elements, like these pedestals and monkey bars. It also has 2 bench swings and 2 baby swings.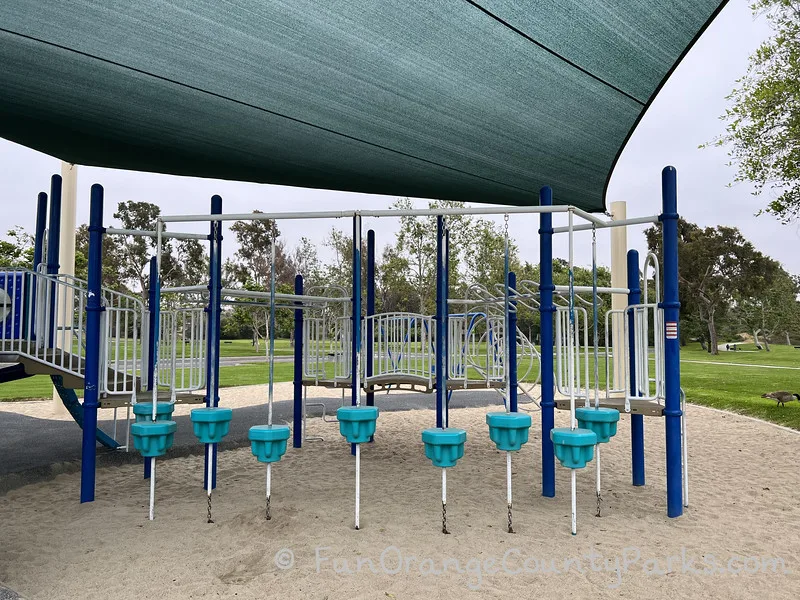 The smaller kid playground has: baby swings, a short double slide, climbing rings, a twisty slide, a tunnel slide with skylight, and a fun fish – bridging one side of the structure to another.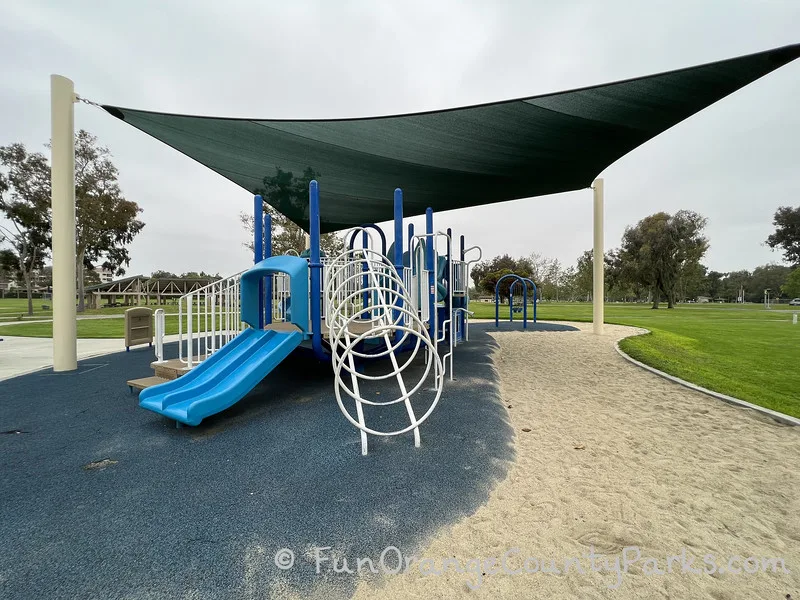 The smaller kid playground has 2 baby swings and a little General Store pretend area.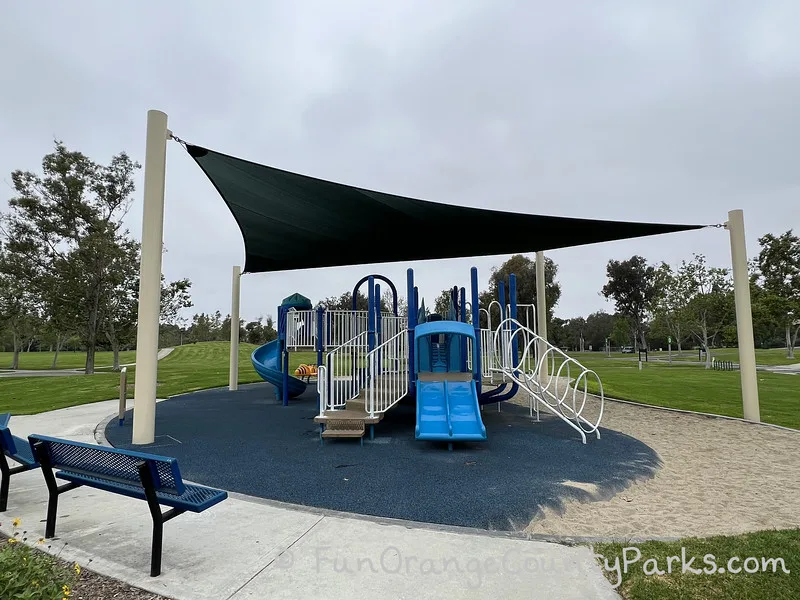 Smaller Playground near Parking Lot F (Go left from entrance)
This is very close to the playgrounds above. You can even walk to it! Or you can drive to reach it from Lot E or Lot F. Either lot works. Lot F is closer to the picnic shelter. Lot E is probably closer to the playground.
It's basically the playground closest to Culver Drive which is a really busy street. So if you have a runner, this isn't the best option for you.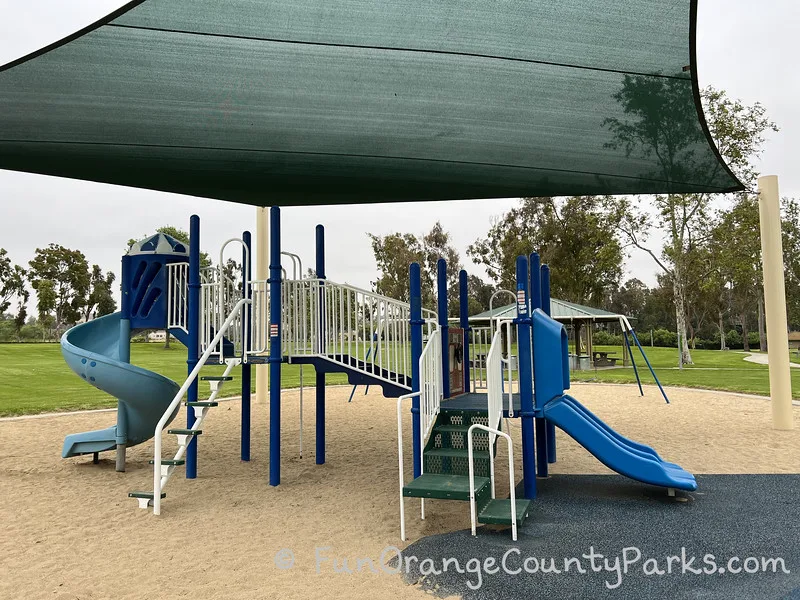 There are 2 bench swings and 2 baby swings at this playground and it's close to a smaller picnic shelter.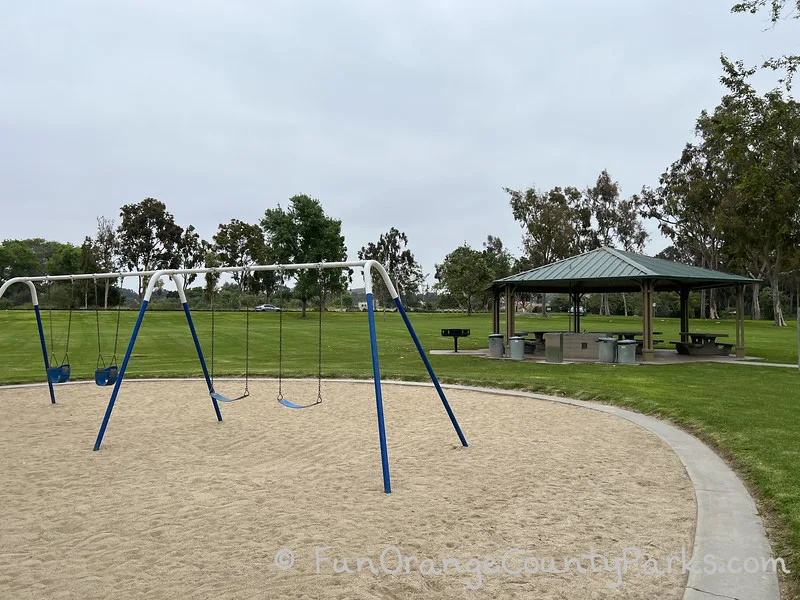 RED Playground near Parking Lot A (Go right from entrance)
I call this one the "red" playground since the others are all so obviously blue. This one is closer to the lake and always seems to have a large group picnic planned nearby.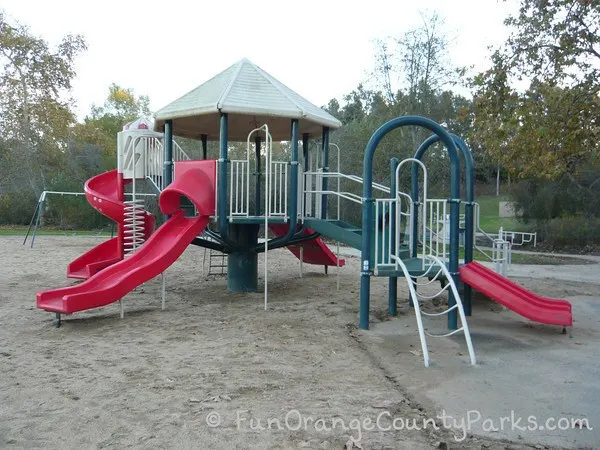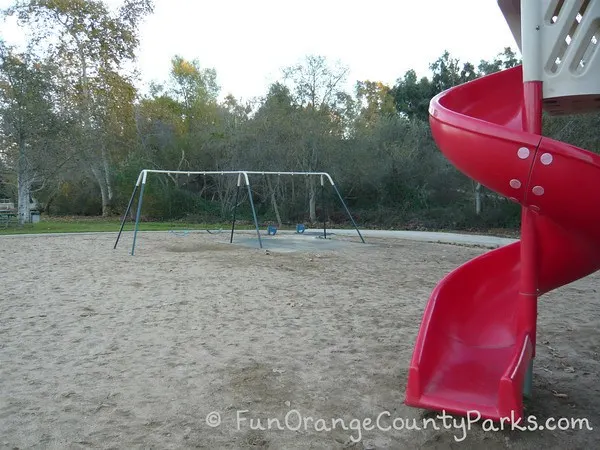 Sand Canyon Wash Trail and Turtle Rock Trail
You think about the park being contained along University Drive bookended by Culver Drive and Harvard Avenue, but it actually spreads out along University towards Tanaka Farms until the property hits Ridgeline. You can explore it on paved pathways via the Sand Canyon Wash Trail.
You need to cross the very busy Culver Drive and the trail is right there on your right.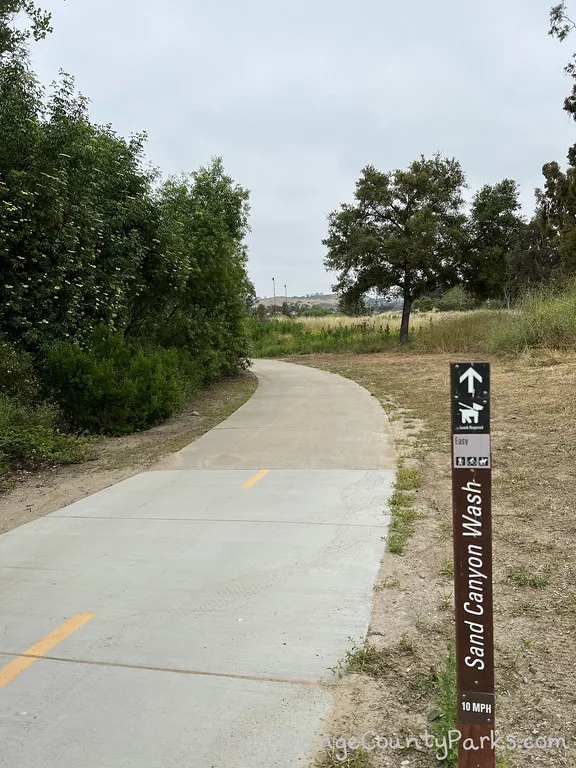 Be Aware:
Fee for parking unless you have an

Orange County Parks pass

Definitely prefer play area mentioned above – there's a very small one near the one mentioned above (but closer to street) and one to the right of the entrance towards the back of the park (too secluded for me)
Don't feed the ducks – it can cause botulism outbreaks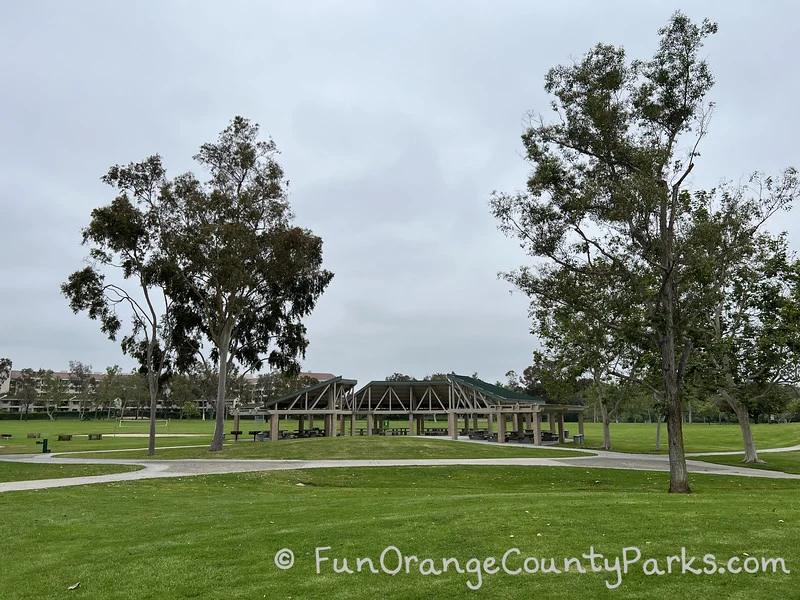 Checklist:
Originally published in January 2009.