Eisenhower Park in Orange first came on my radar in 2009 when we finally visited this expansive oasis off the 55 freeway.
I always know it's going to be good when we get the last spot in the parking lot and it's hard for me to grab photos without people playing.
I apologize for the lack of playground photos, but that just means you'll have to go play and discover it on your own.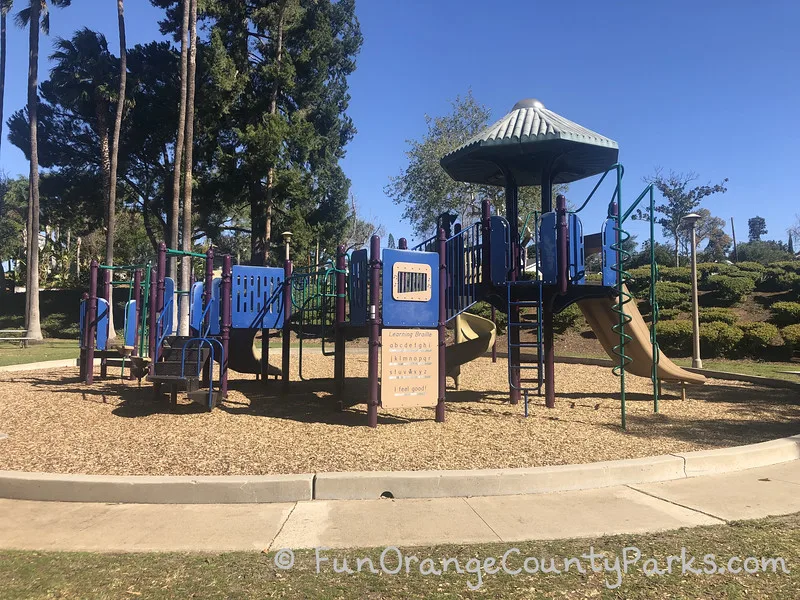 Directions to Eisenhower Park in Orange: Exit the 55 at E. Lincoln Avenue by "The Brickyard" shopping center. We parked off North Tustin Avenue in a small lot off E. Bixby Avenue. (Address: 400 North Main Street, Orange) MAP to Eisenhower Park in Orange
Thank you to the volunteer park scouts/moms who have shared information on this park over the years. I first covered it in December 2009 and although it's largely stayed the same, the very honest reviews by those who visit more often than me help so much!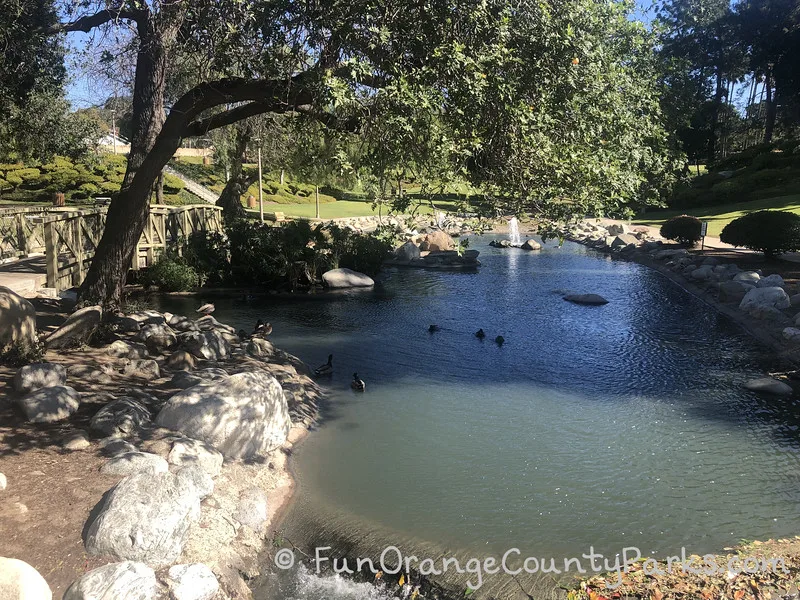 Highlights:
The most notable feature of the park is its stream with fountains. Water runs under bridges and along paths to a large lake off Lincoln Avenue.
Families abound here – playing at the playgrounds, napping on the lawns, picnicking, fishing, and strolling.
We liked playing together among the fig trees overlooking the stream.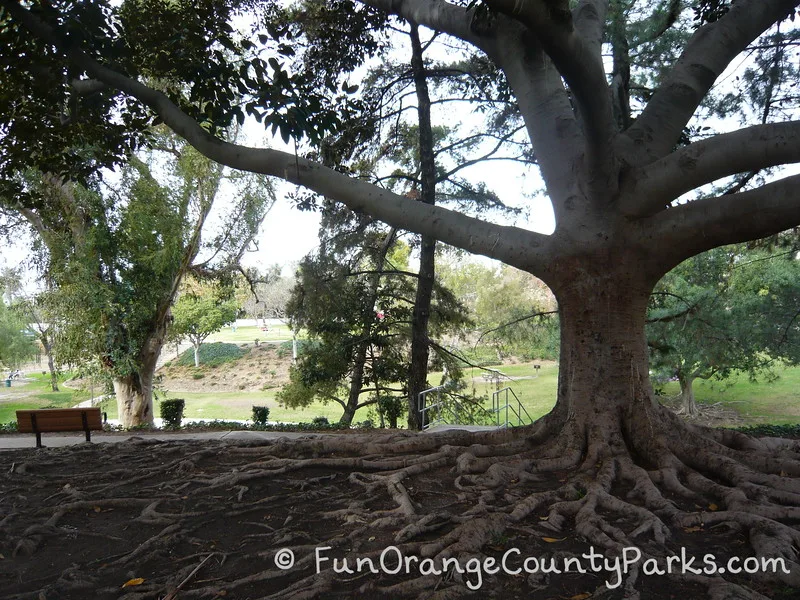 Pretty standard playgrounds, but nice when mixed with all the open space and trees. The landscaping and mature trees are beautiful, as are the meandering pathways
There's a small playground near the parking lot. One baby and one bench swing. Also a big hill near here with ivy. Seemed to be a favorite for kids to ride their scooters down (I closed my eyes!) or play ball near the hill.
The other playground is past the stream up closer to Tustin Avenue. There are two structures at this playground and a ride-on dolphin. Really steep double slide which the kids loved and no swings.
All the benches are made of recycled materials.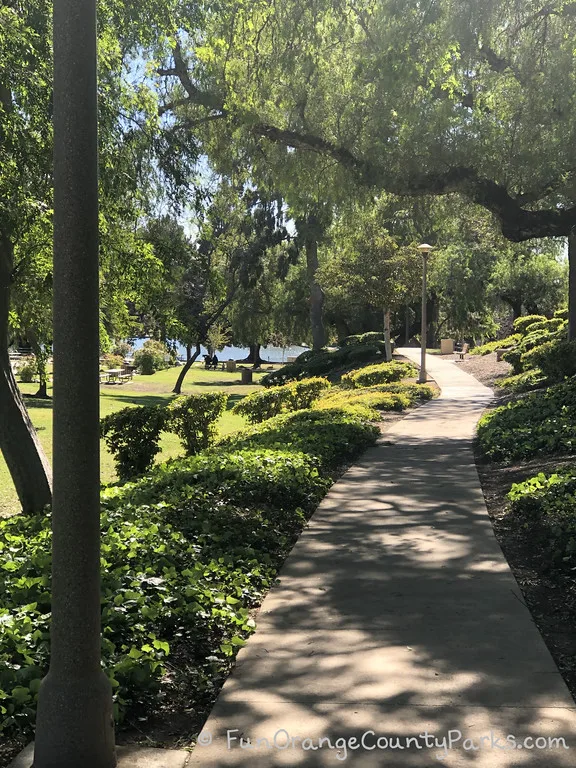 Be Aware:
Watch your children closely near the lakes and streams. They are not for swimming or wading.
You might find duck and goose droppings since it's a popular park with the birds!
Also, as with any park, be aware of your surroundings and maybe choose to go around the midday hours when there are more people? Or go with a play group?
Over the years, I've heard reports of caregivers noticing more people experiencing homelessness in this park — and feeling an added layer of caution in terms of responding with closer supervision depending on the day and your comfort level.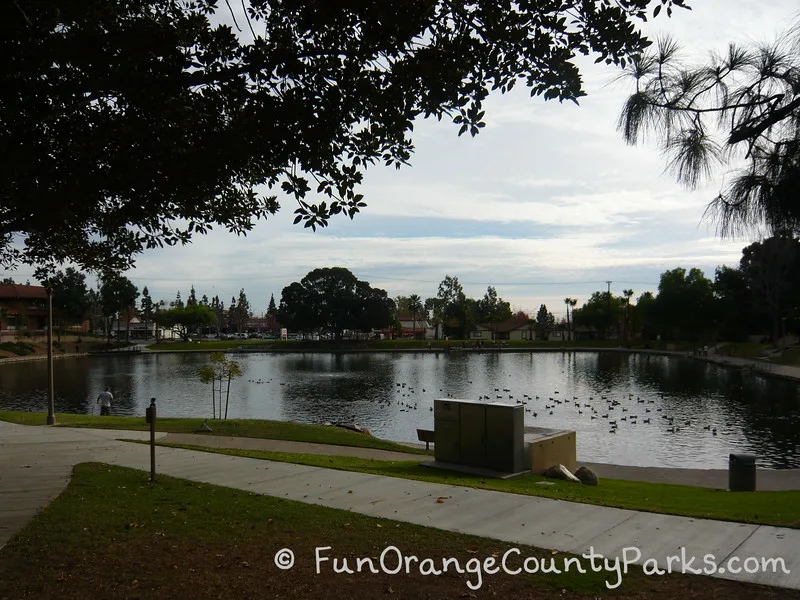 Checklist:
Bark play surface
Dedicated parking lots (free)
Drinking fountain and restroom centrally-located, plus another building near the lake
Nice shade under mature trees, but not near playgrounds
Good spot for picnics
Can you find the plaques? One for the park's namesake, Dwight Eisenhower — and the other for the Olive Mill that was once on this site.
Fishing allowed in the lake
Official City of Orange Eisenhower Park page – this page also has a distances of the paths graphic so you can track your walking
The City even has an Eisenhower Park map which gives an aerial view of the park so you can see where the playgrounds are.
Originally published in December 2009.