Pretend City Children's Museum in Irvine opened in August 2009 when my kids were 4 and 8 years old. We were so excited to find an indoor play space with so many enriching play opportunities. Kids are naturals at creativity and imagination. There's really nothing parents need to do except stand-by and engage their kids with questions and pretend play — even narrating their endeavors lets kids know you're paying attention.
Pretend City almost sounds like a theme park, but it's more of an interactive play space where kids can engage in pretending with real world props and places.
Want to pretend you're a farmer? Visit The Farm and see the real baby chicks!
Want to be a pretend chef or restaurant server? Go to the rotating restaurant space and see what's on the menu!
I've visited children's museums in other cities, but this is the only one with so many play opportunities in Orange County.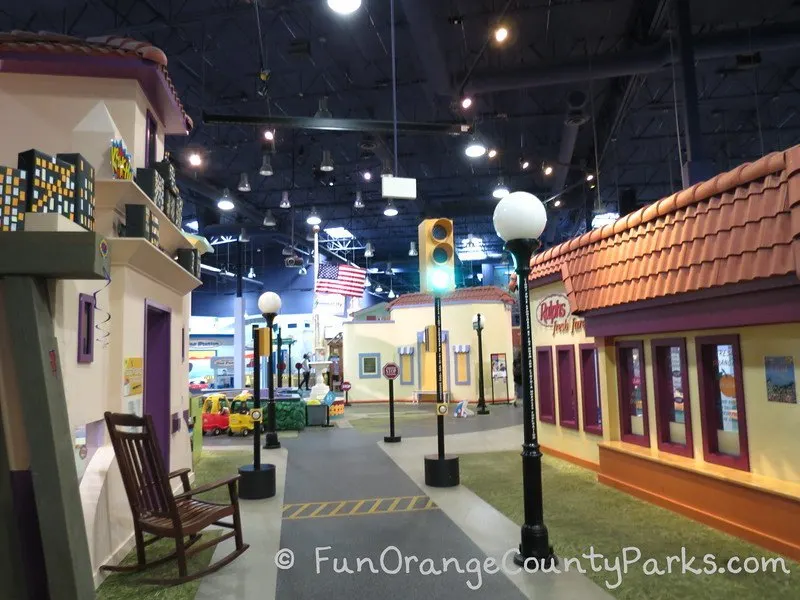 Scroll to the end of this post to find out When to Go, What About Babies & Toddlers?, My Top 5 Favorite Exhibits, and more.
Everything You Need to Know About Pretend City in Irvine
Think of Pretend City as a mini-representation of Orange County. With each of 17 interactive exhibits (parts of a city) lending itself to play. Adults like to know what to expect, but I suggest you keep it all a secret for the kids – let them discover this place on their own and maybe lead YOU on a exploration. For once, let them be in charge. Let's take a clockwise tour . . .
Art Studio
Usually 2 craft projects per day and staffed with volunteers to help out. There are cubbies to let the art dry while you play. Just remember to retrieve it before you go.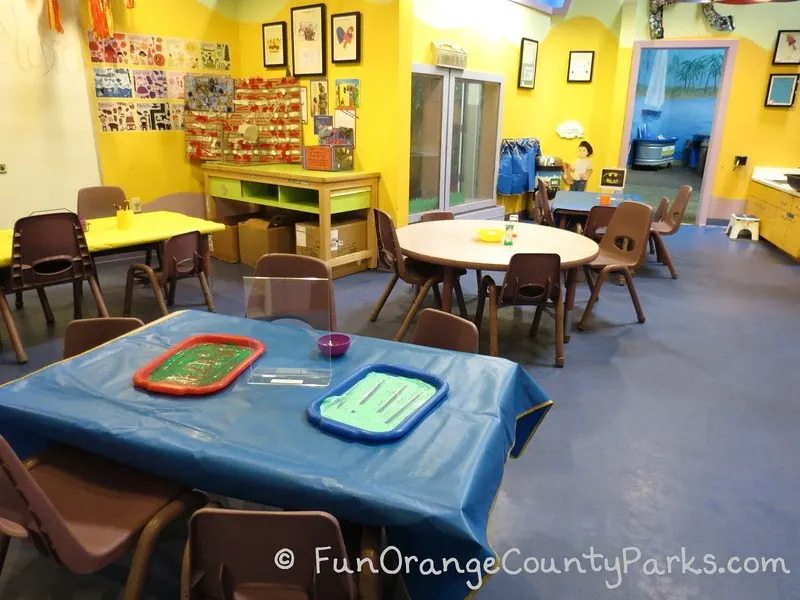 Marina
Ahhh! Playing with water, floating boats and foam blocks, fishing.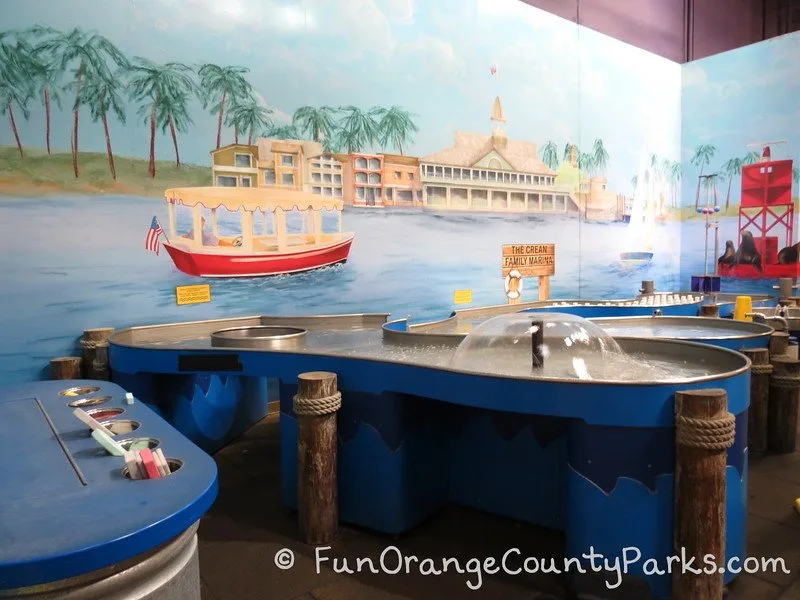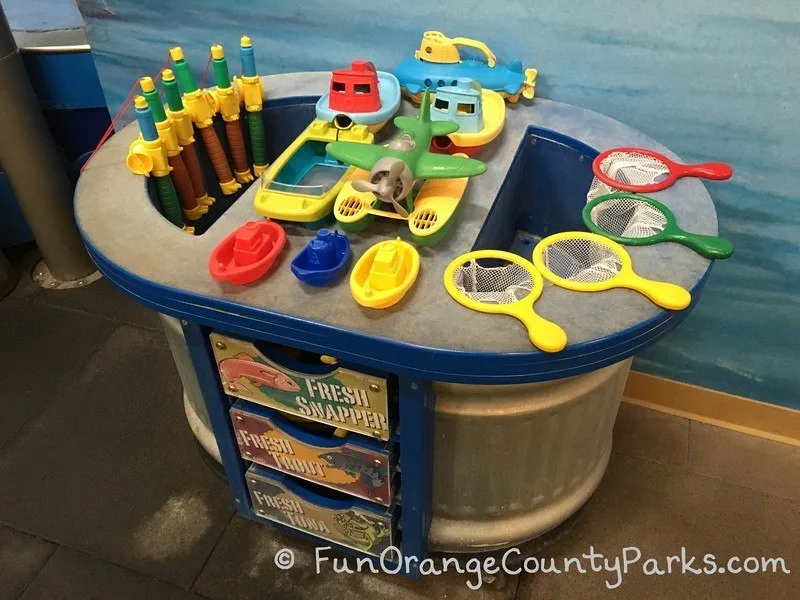 They even have slickers and foul weather boots to dress the part! My kids would spend hours here.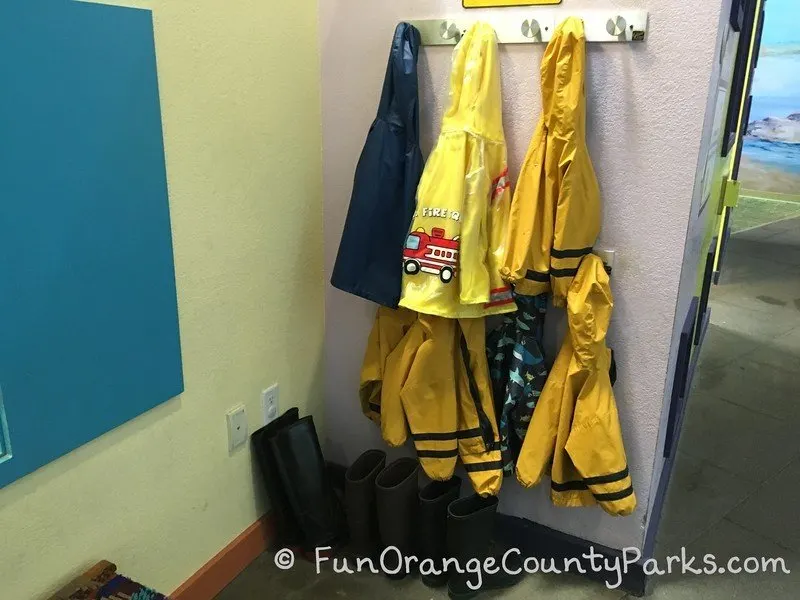 Health Center
The dentist and doctor's office can be scary places for young children. But imagine if they've been "treating" their parents with all these pretend props for years before they walk into their first medical office appointment. This is a chance for parents to be the patient!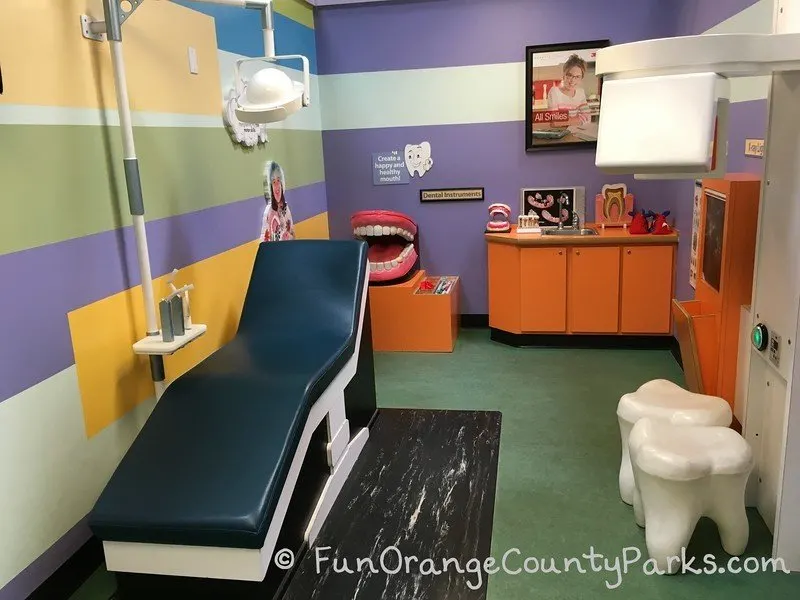 Cafe
It's like the ultimate play kitchen! The cafe changes ownership quite frequently to express diversity. On my visit, the Mexico Consulate sponsored the cafe. Get ready to sit at the counter and have your child take your order and serve you. Play along and be a good customer — you might be here a while. Some days we never even got past this point.
Emergency Services & Gas Station
Whether your little one wants to work at the Fire Department or Police Department, there are opportunities for playing at all the emergency jobs and a gas station to refuel those fire trucks and police cars.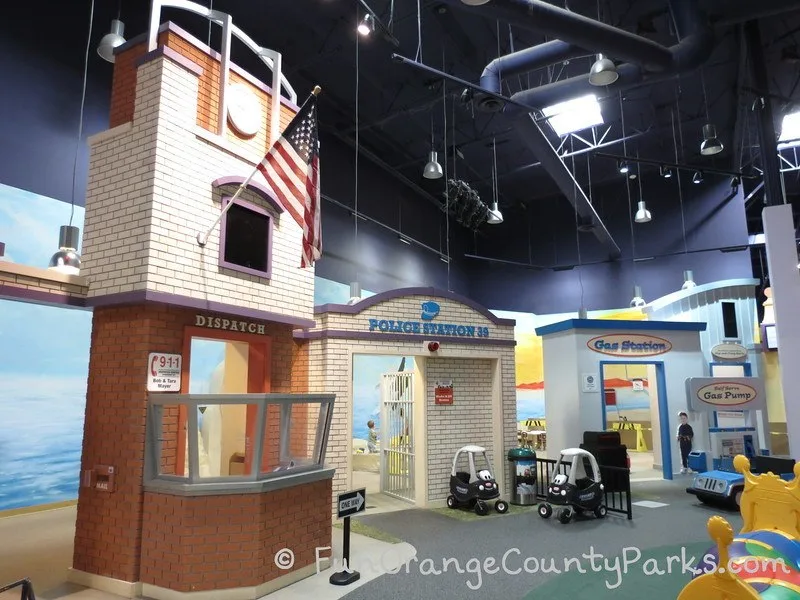 Beach, Traveling Exhibits Room, and Home
The beach is an indoor sandbox tucked away behind the Police Station. There is a shoe cubby and picnic tables with a beachy mural to make it all come to life. It can be a quieter spot at the museum. The Traveling Exhibits room comes next and then the Home. Actual local families and their cultural backgrounds are spotlighted in conjunction with the diversity themes at the Cafe. Talk about playing house!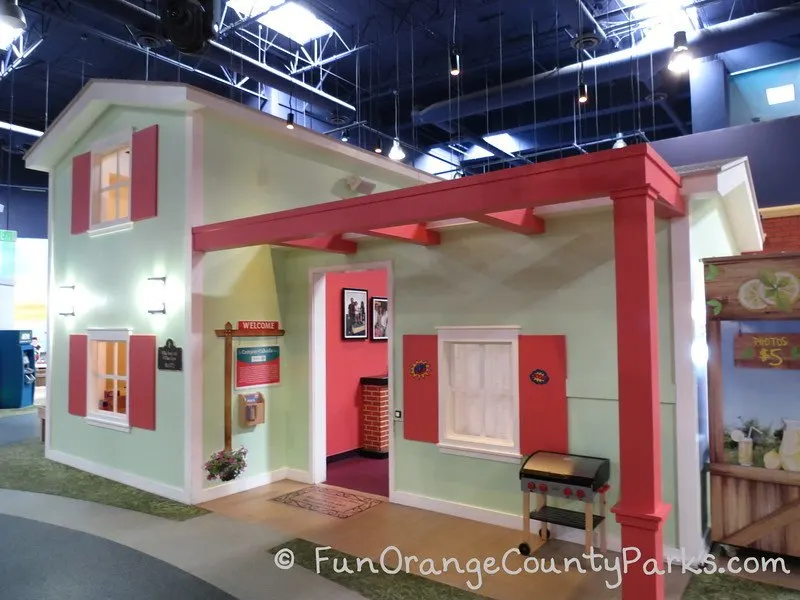 Amphitheater
The sounds of this place will haunt you in your sleep, but the fabulous shows your kids will put on should make up for it! Clap loud and long for their performances.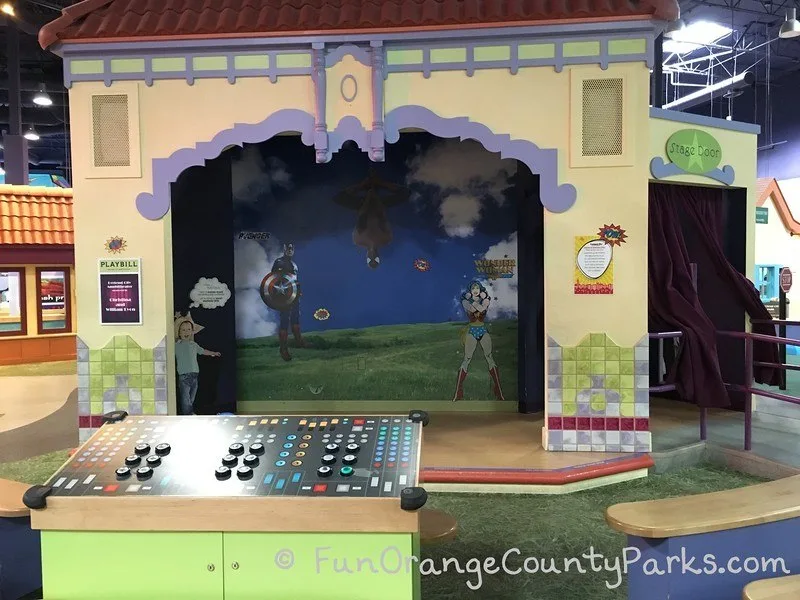 The "Real" Cafe
This is NOT the place for sipping your coffee and working on your computer. However, you can bring your own snacks from home or purchase relatively healthy snacks (Brown Bag sandwiches, Naked Juice, Sun Chips, Horizon milk) from the vending machines — and have a nice sit-down with your child.
You can pay for coffee from a Keurig machine. There are also microwaves available and high chairs. Keep in mind that this is a nut-free facility.
Construction
Build, build, build. And when one child starts building others will come to help!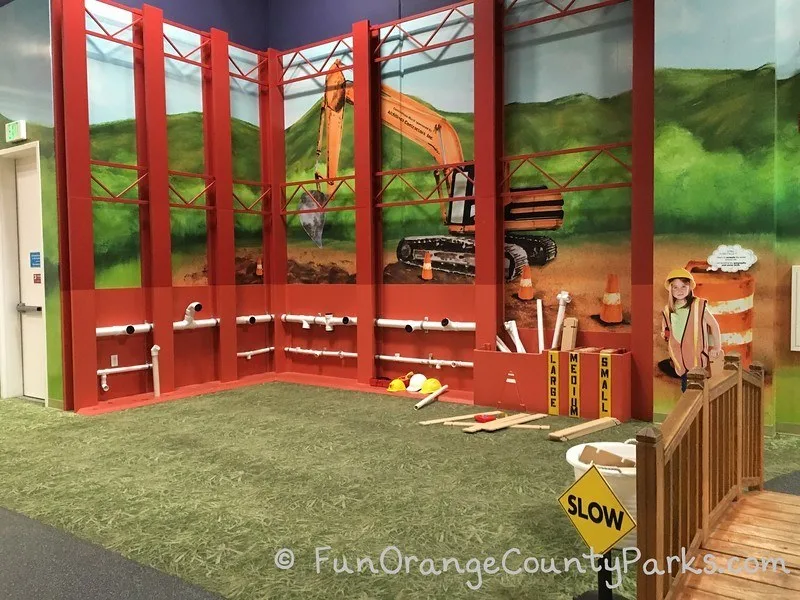 The Farm
Plant pretend gardens and talk about what we eat that comes from the farm.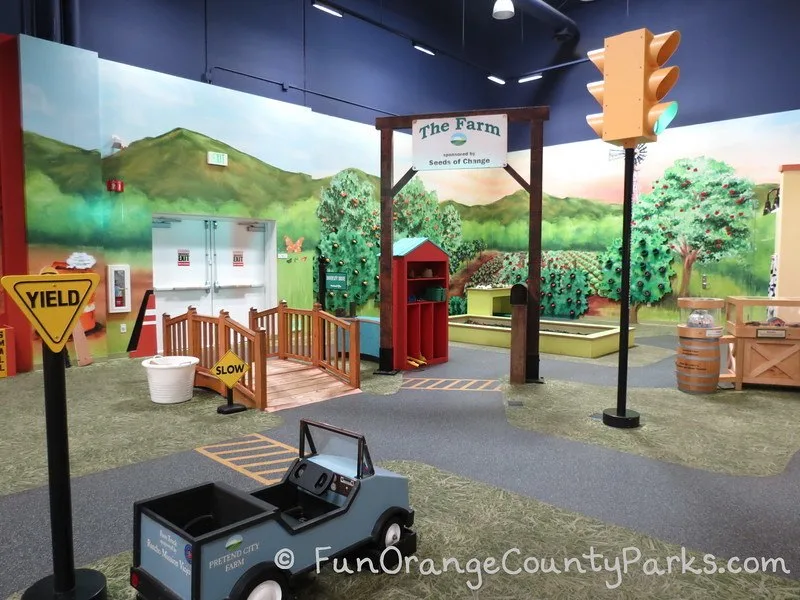 We've had the great pleasure of watching eggs hatch here. The chicks are soooo cute!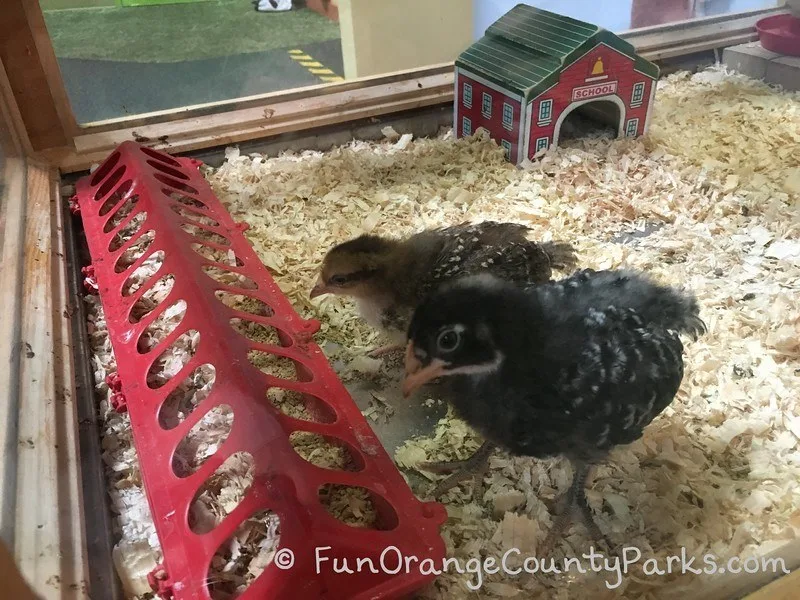 Grocery Store Just Like Trader Joe's!
Oooh! And the cash registers. But for some reason, kids always gravitated towards ringing the bells and the little carts. You can even dress as a crew member here.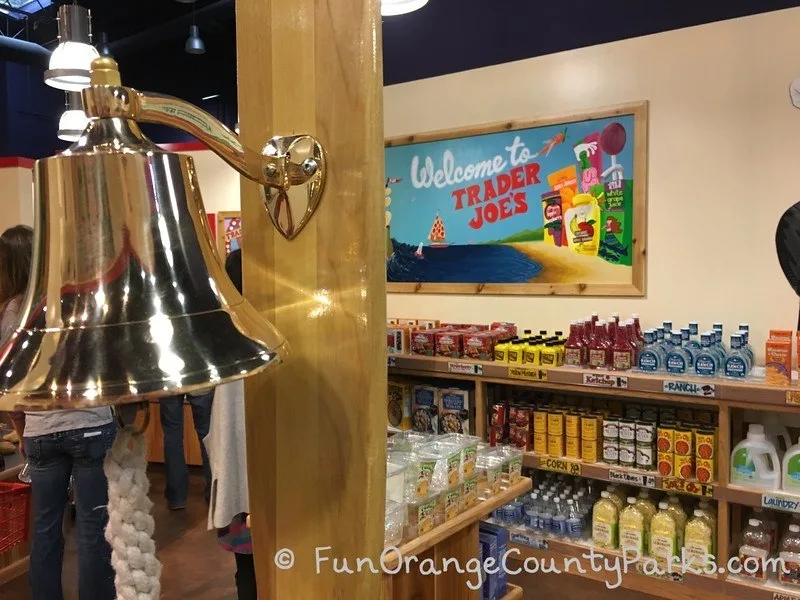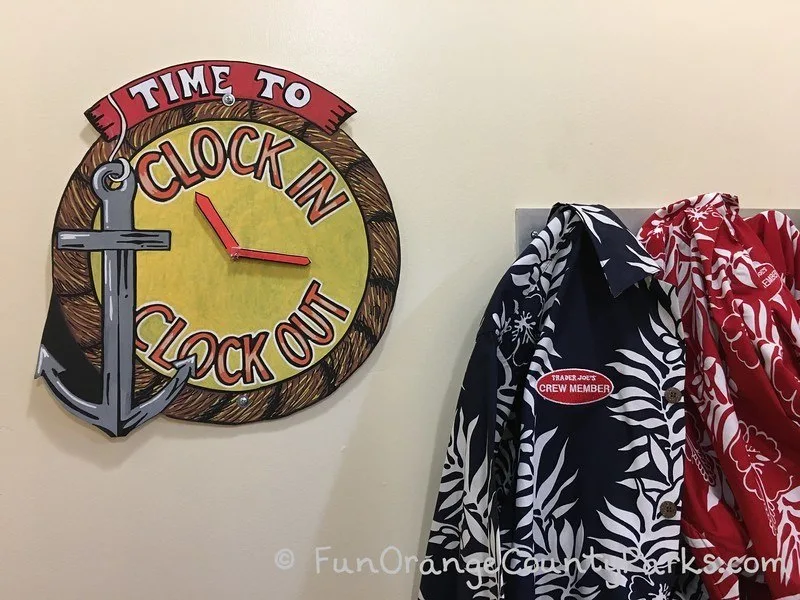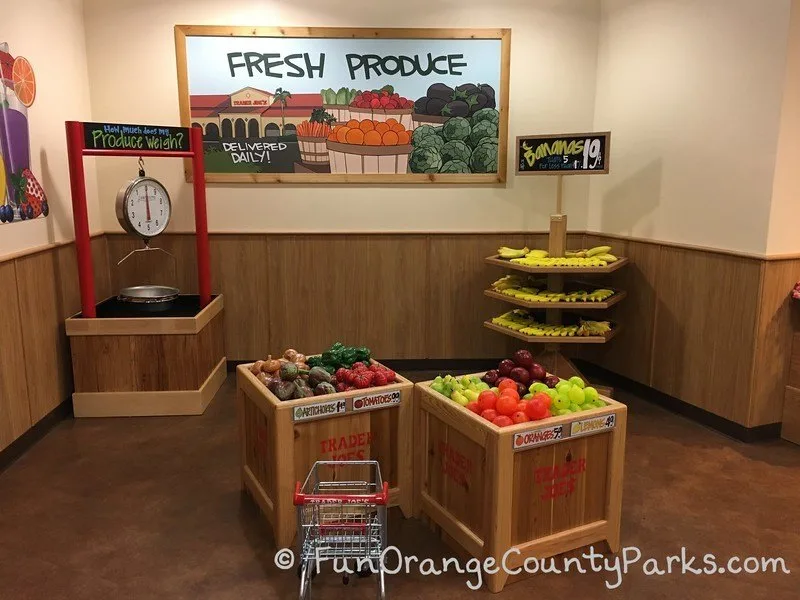 Orange Plaza, Future UPS Store, Library, Bank & City Hall
All of the community events happen in the center of the Museum at Orange Plaza. Older children can earn a paycheck by stamping their time card at various locations and returning to the ATM for pay. Sometimes the bank drive-thru is staffed by volunteers. The Library is another quiet spot when the rest of the museum gets overwhelming.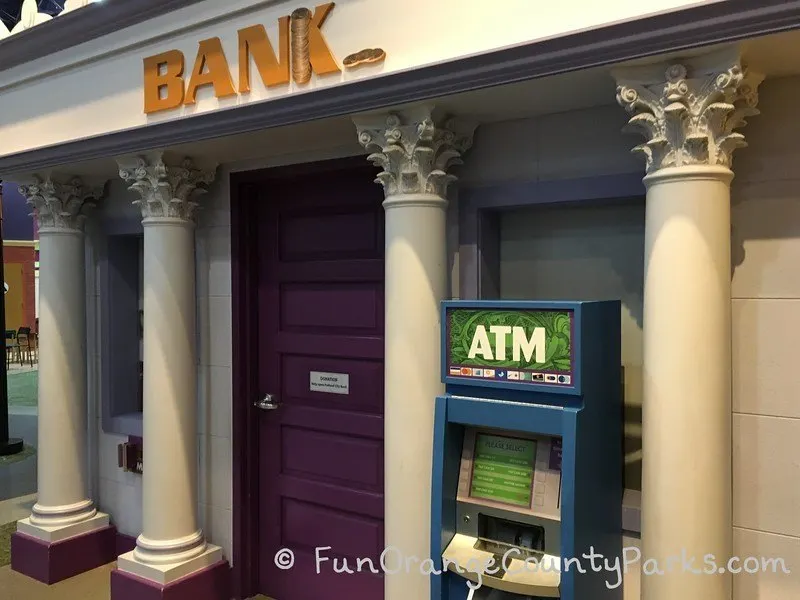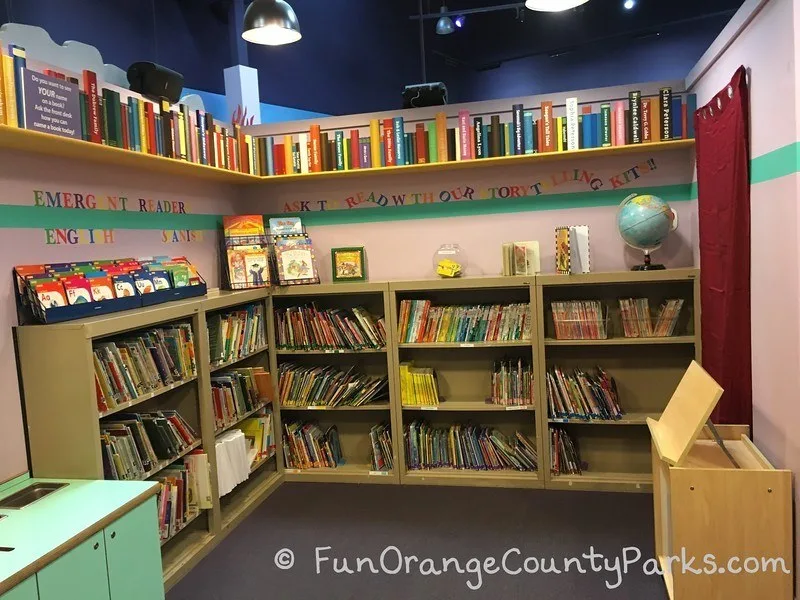 And that concludes the tour. Just a few more tips to share . . .
Pretend City Places and Props + My Top 5 Personal Favorites
I always encourage you to take your child to new places and maybe provide them with a few simple play props. This place has it all. Once central place to experience 17 more "places" – plus the props to go with it. My favorite exhibits are:
Cafe
Grocery Store
Farm
Construction
Marina
What About Babies and Toddlers?
They may not be able to take full advantage of all the exhibits, but the Pretend City Park has some spaces for the youngest guests and there's also a corner of the grocery store designed for baby play.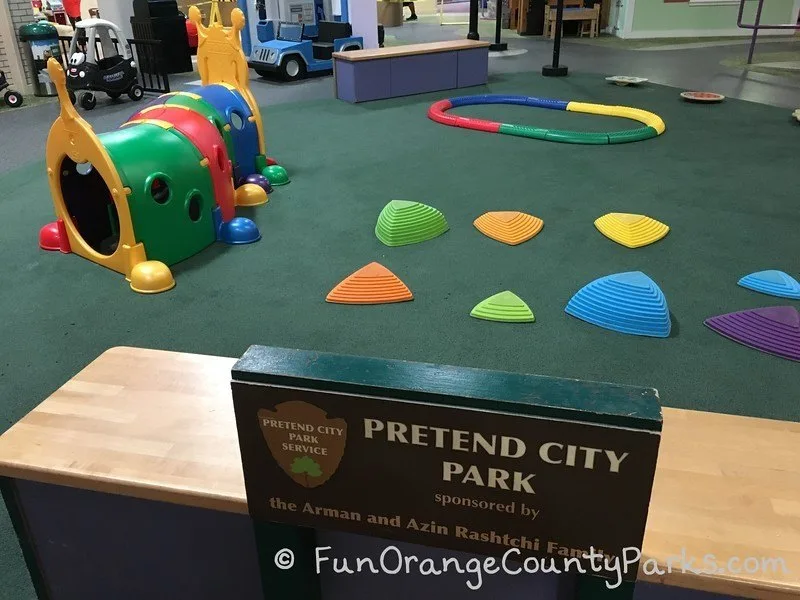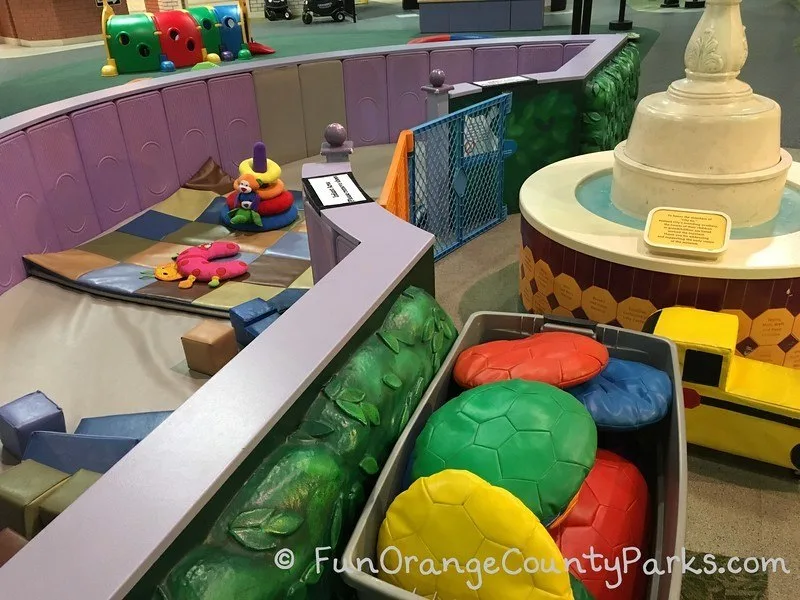 What Ages are Best?
I saw visitors from newborns all the way to about 8 years old on my visit. I think it's ideal for 3-6 year olds, but there are still things to do for 0-2 year olds and 7-8 year olds (depending on the child).
Leave It Alone
Cell phones and computers are NOT really welcome in this environment. Even though your kids might be used to it — it can be distracting to other parents and children. Be a kid again and play pretend — or just sit and watch their imaginations explode without distractions.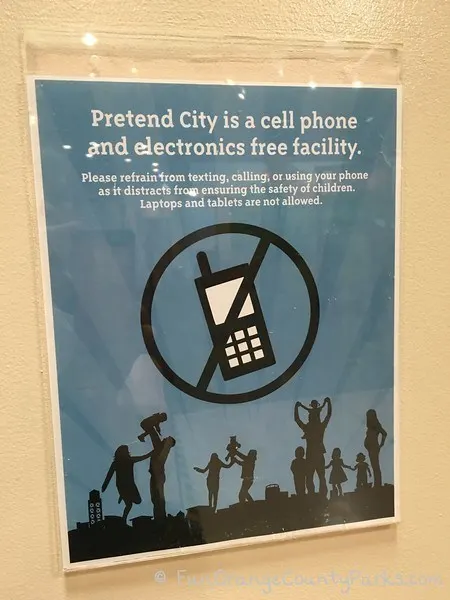 Germs?
I know that's where your brain is going! The museum has sanitation protocols to keep things clean. At the time of my visit, these are just some of the steps taken to keep the museum as clean as possible. You can help by dropping toys your child chews on into one of the Sanitation Stations. It is a heavily used play space so normal wear and tear is bound to happen. They have a resource page of Security and Sanitation protocols.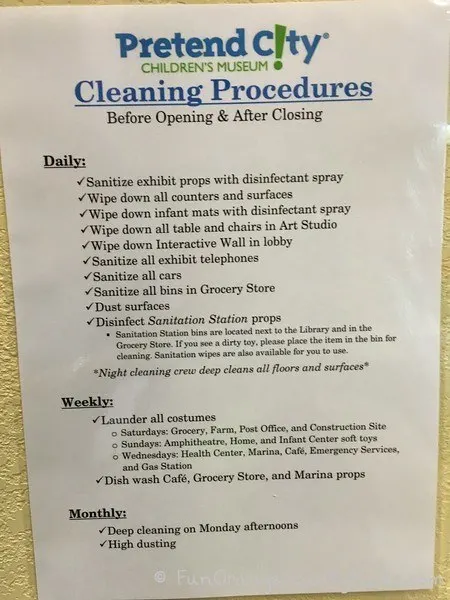 Pretend City Restroom Details
There are two family restrooms at the back of the building by The "Real" Cafe and separate restrooms in the corner by the Marina area. The family restrooms have a changing table and a stool by the sink. The other restroom has a little potty in one of the stalls and a shorter sink, perfect for toddlers, as well as clear walls to see the pipes so even the restrooms are educational!
When to Go to Pretend City Children's Museum – Insider Tips
I'd highly recommend investing in the membership and then you can go during Members Only hours between 9am and 10am (before the museum opens to the general public and there's only a few families visiting).
Visit the website at the beginning of each month to see what events and exhibits are new that month. Discover Way to Play Days, Baby Steps, and Family Autism Events by exploring the the Good to Go monthly programs.
One reader likes to go at 4:00pm when it's half off admission. She says the bonus is that there are no tantrums upon leaving because the museum closes at 5pm and EVERYONE has to leave.
Best Tip Ever: They used to have a "Field Trip Report" which you could find by scrolling down to the bottom of the home page. It reported on the field trips for the week and how many kids would be visiting. It was the perfect way to know if it will be a busy or quiet day for your visit! This was so helpful — I hope they bring it back.
Explore the wonder & curiosity (and air-conditioning) of Pretend City Children's Museum in Irvine near Bake Parkway and Irvine Center Drive.
There are rarely coupons, but it is a place where you can have events like birthdays or parties.
Did you know? You can get your hand stamped before you leave, allowing you to come and go all day.
More Children's Museums in Southern California
I mentioned at the start that this is the only museum like this (on this scale for a younger age group) in Orange County. But there are other spots to try if you are looking at something like Pretend City.
Originally posted in June 2016.

Disclosure: We did not receive compensation for this post, however we do periodically attend media events (at no charge) to learn about new exhibits so we can provide you with the most up-to-date information possible. We are on the 2020 Media Team and we do get a limited number of free visits this year to cover events and update the posts.