Visit Discovery Cube OC for a stimulating experience that feels like cross between a children's museum and science center. Lots of stuff for kids to try and touch — and they won't even realize they are learning science at the same time!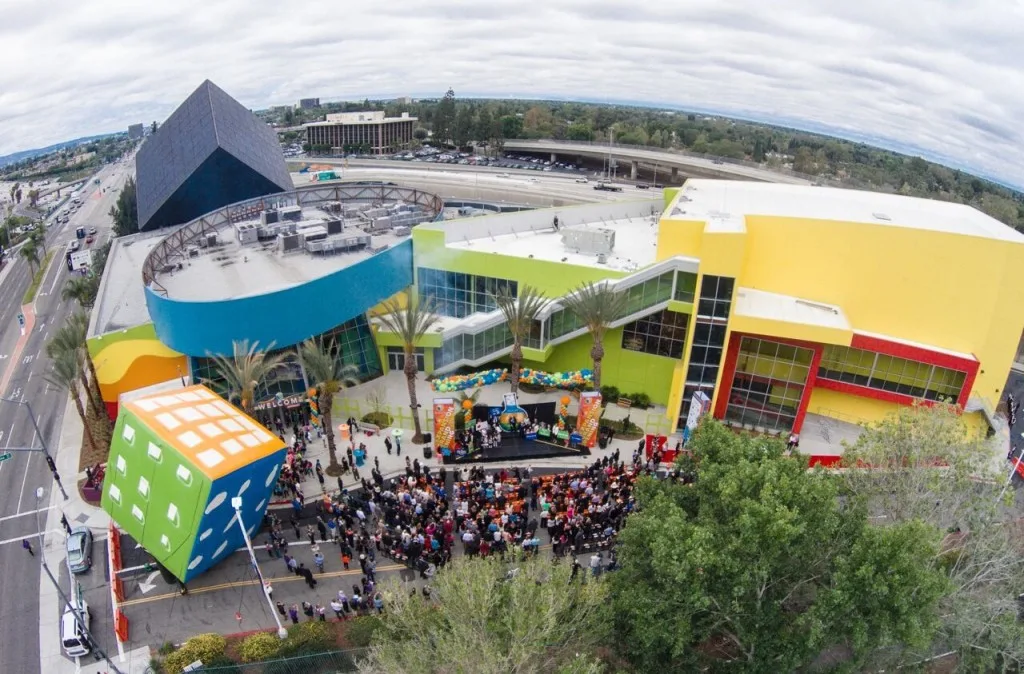 The coolest bit of the 2015 expansion is what happens outside the cube! More science-based learning for classrooms and students in Los Angeles and Orange County driven by the work of the Discovery Science Foundation. The Discovery Science Foundation supports both LA and OC campuses helping to "inspire, educate, and impact" through the core initiatives of: STEM proficiency, Early Learning, Healthy Living, and Environmental Stewardship. As a parent who really values the educational experiences Orange County offers, I'd like to personally thank the individual donors and companies who made this possible for my kids and all the students with new opportunities for hands-on science!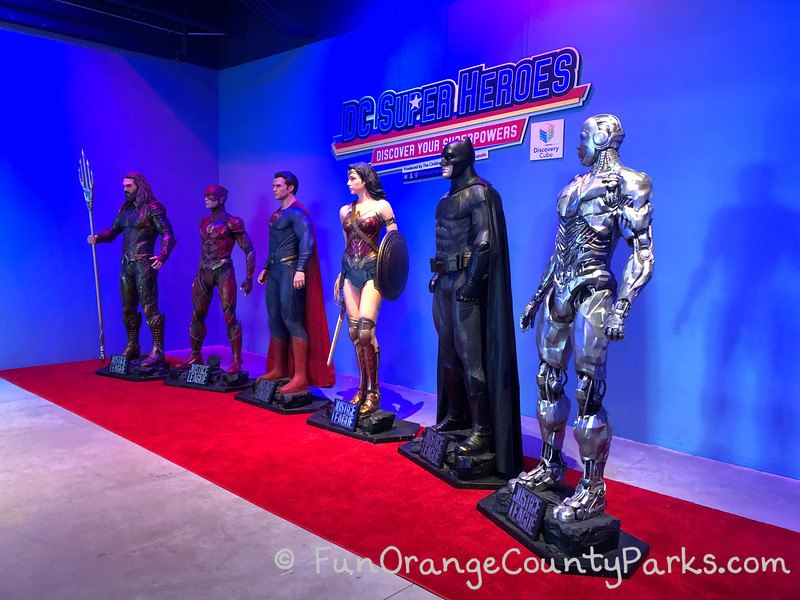 Special Exhibits (through September 2019) — The DC Super Heroes: Discover Your Superpowers exhibit is a way for kids to play out all their superhero pretend scenarios with props. I love that there is a lot of space for kids to move and enough stations so that you can rotate through without getting clogged up in one spot.
There's even games to play at each station and a mission to complete to fix the Bat-Signal.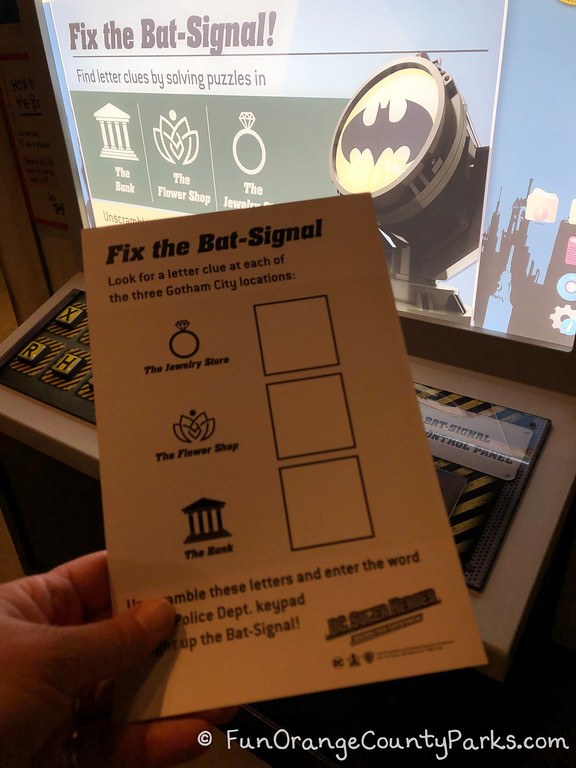 Whereas many of the exhibits tend to be for younger kids, my teen had fun with this entire special exhibit since she's a superhero fan. Even though it was easy, it was still fun. I could have watched kids go through this laser room — or run as fast as they could in the "Training with The Flash" section — all day. It's HILARIOUS!
7 Reasons to Visit Discovery Cube OC
Have you been to Discovery Cube LA since it opened back in November 2014? There are quite a few exhibits that are similar and they make up the first four reasons you should visit:
Reason #1: Helicopter Tour
This one is local to OC and showcases Irvine Ranch Natural Landmarks among other places that are distinctive to Orange County
From Lisa: The helicopter tour is amazing. It brought tears to my eyes on our first viewing. We had to do it multiple times, as the kids were really impressed, too.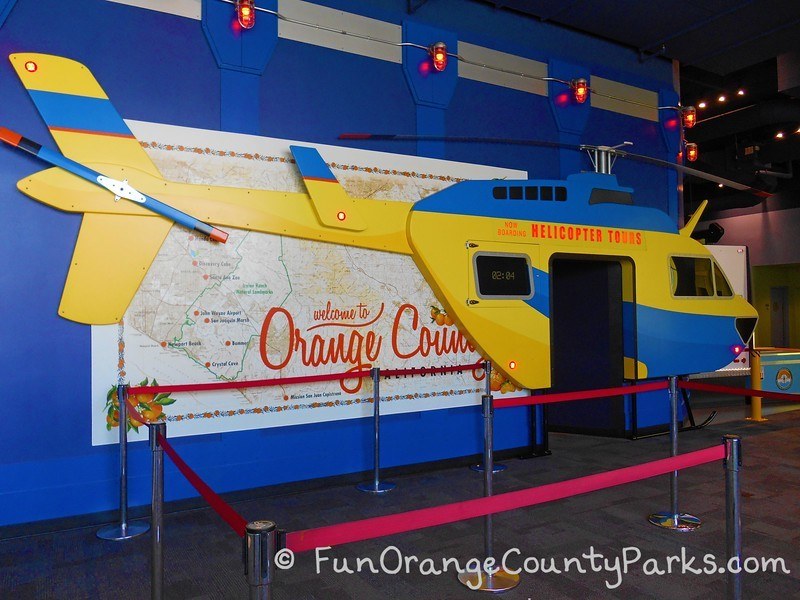 Reason #2: Aquavator and parts of the Water Gallery (see fish exhibit on Reason #6)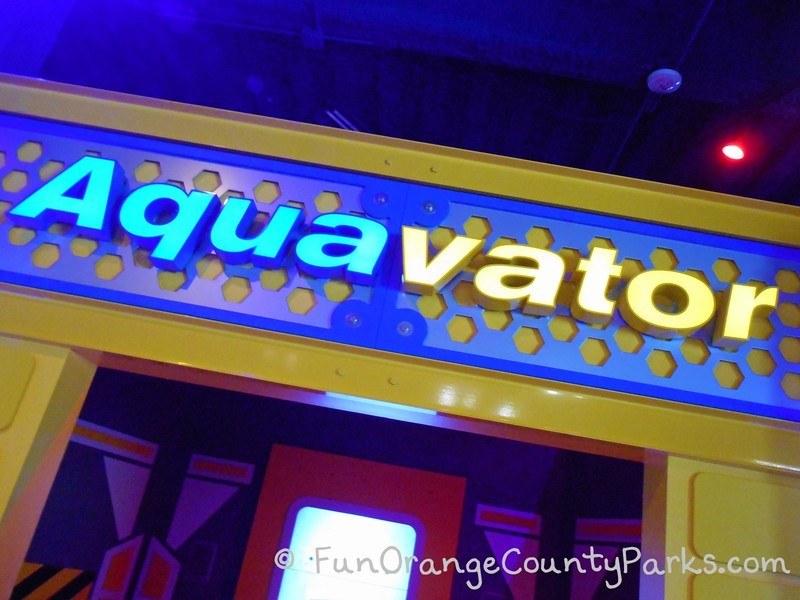 Reason #3: Inspector Training Course
The OC version concentrates on outside vector control vs. the LA theme of going green at home
From Lisa: The vector control inspector training course was really cool, too. There were two different courses to take and my oldest enjoyed working through both of them with almost no help from me. My youngest enjoyed working through one of the courses while I helped him with the reading.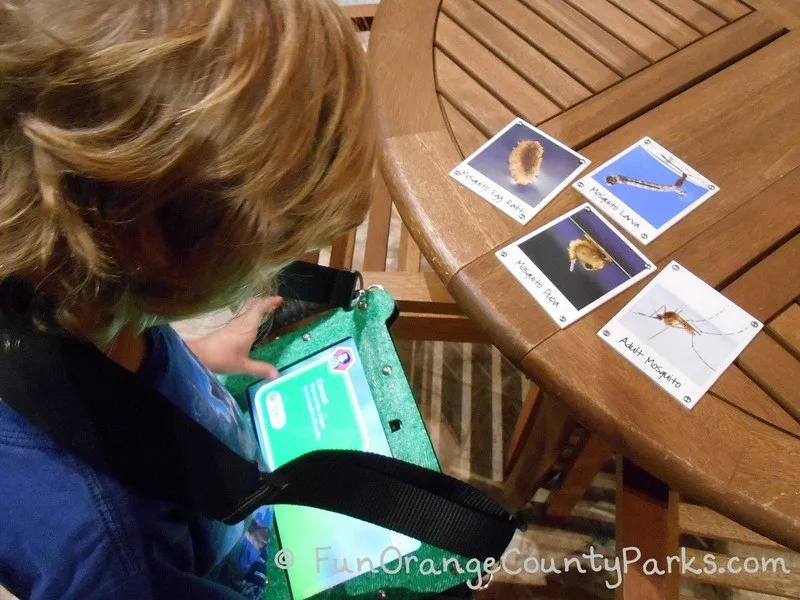 Reason #4: Huge gift shop called Launch Pad Science Store (in LA it's called Elements Science Store)
Shopping here benefits the museum and teachers get a discount. During Summer 2019 — there are a lot of DC Super Heroes capes & gifts for sale!
Reason #5: My daughter is a science girl and was inspired by Mission Control Center.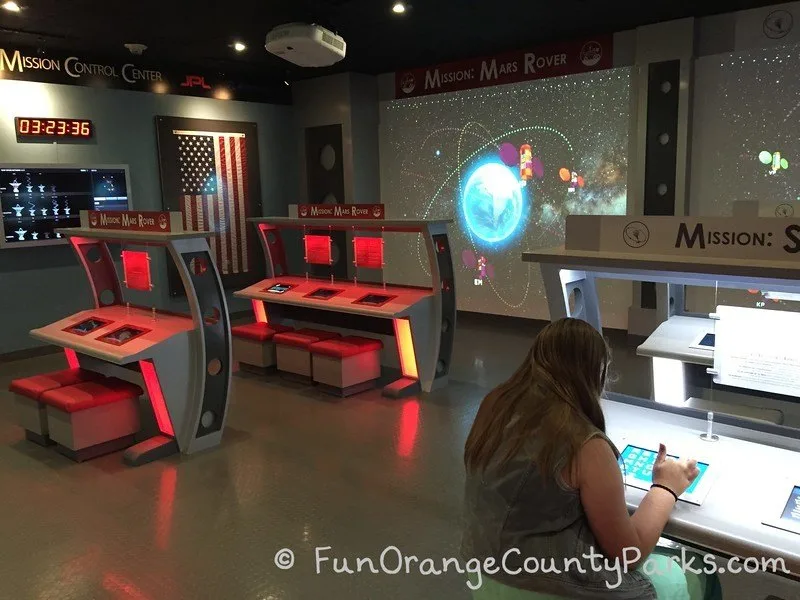 Reason #6: Everything is hands-on! (The Molecule exhibit was especially intriguing for Lisa's boys.)
From Lisa: The hands-on molecule exhibit was neat, too. We spent nearly half an hour on that alone. My oldest loved puzzling out the molecules with my help and my youngest just started making constellations, but he had a great time doing it. It was upstairs across from the helicopter tour.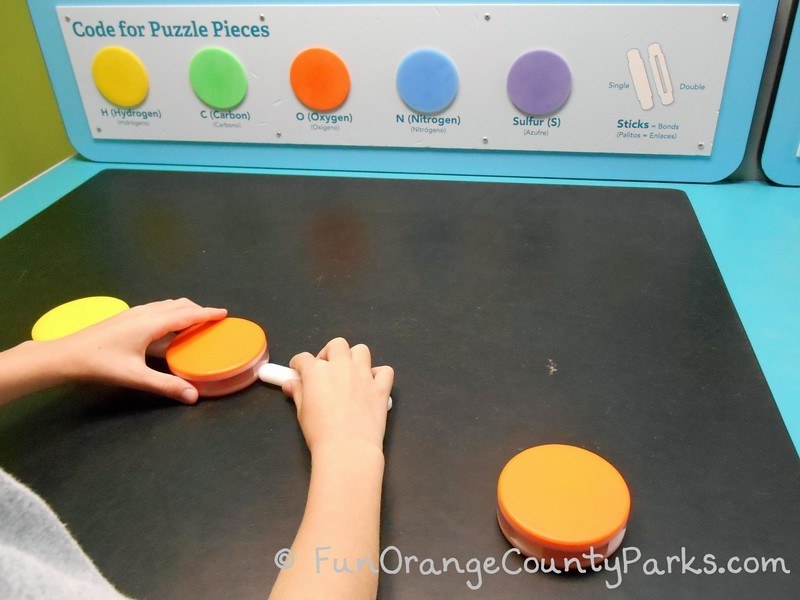 From Lisa: The kids also really enjoyed figuring out which habitats the fish belonged in (saltwater vs. freshwater) on the huge touch-screen display in the water gallery. (And I have to admit that I played here for a long time when I visited.)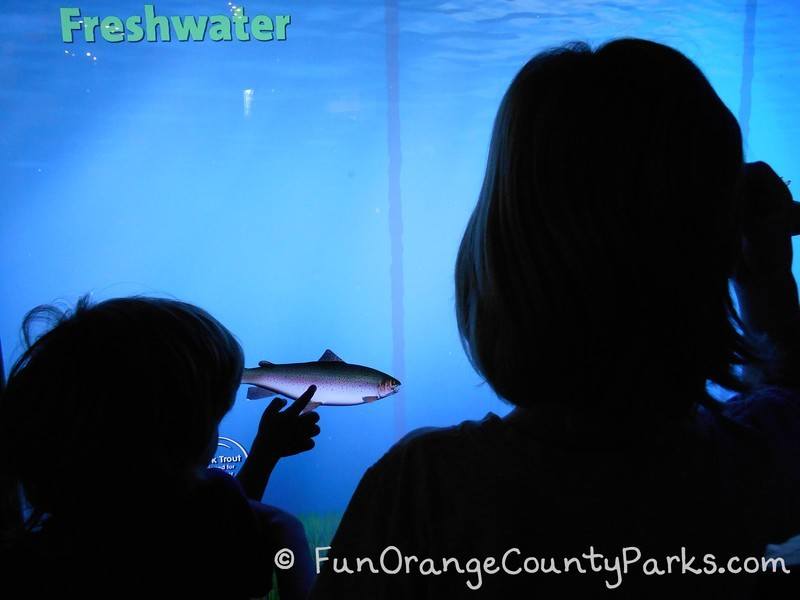 Reason #7: The Bean Sprouts Cafe is open and serving healthy food to kids and a wide selection of coffee drinks to adults! I'm also excited to see the Petersonville Healthy Kitchen exhibit where cooking classes are held for guests at an extra cost of $20 (for up to 4 participants)!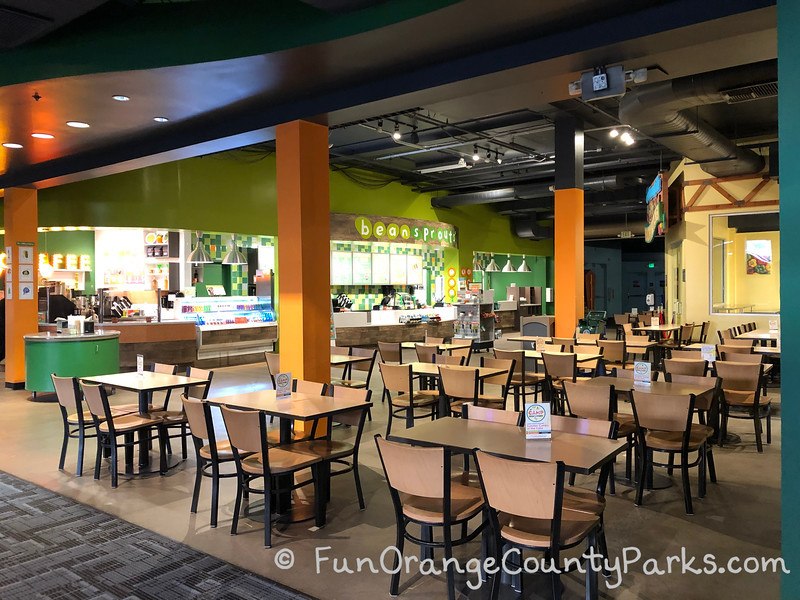 And, of course, there's always Dino Quest which is the main outdoor component of the museum. Kids love this area outside because they can touch everything and stand under the big cube they can see from the freeway. The big dinosaur outdoors and all the surrounding exhibits help explain the bodily processes that take place inside a dinosaur. But it's all visible to the kids in a cross-section of the animal's insides (muscles, bones, digestive processes, and more). Kids don't even know they are learning while they are playing.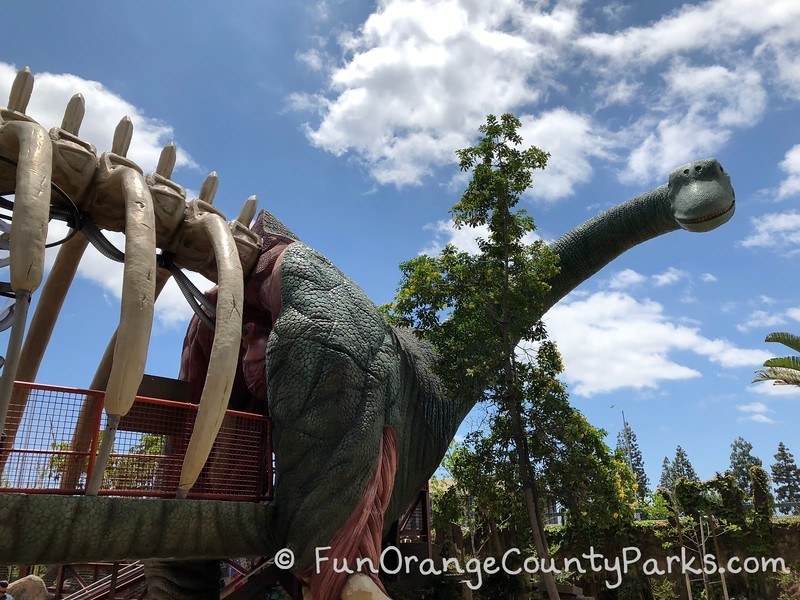 Checklist:
Disclosure: We attended media previews of the Discovery Cube OC which opened in 2015 — and a media preview of the DC Super Heroes exhibit in May 2019. All opinions are our own!
Photo credit: Me & Lisa Lasater, Volunteer North County Parks Reporter
Published my first post on Discovery Cube OC
back when it was the Discovery Science Center in June 2009.