The beach Christmas tree at Crystal Cove State Park does not disappoint! I'd seen photos from photographer friends and heard about this Christmas tree at the beach, but never visited until 2017. Now we go every year!
I hope you can see how magical it was from my UNEDITED photos! I did not change the colors or even crop these photos taken in years past – it was one of those nights when it all came out right.
Beach Christmas Tree at Crystal Cove State Park
I love how simply the beach Christmas tree is decorated. The beach provides the backdrop and the sunset adds to the mood.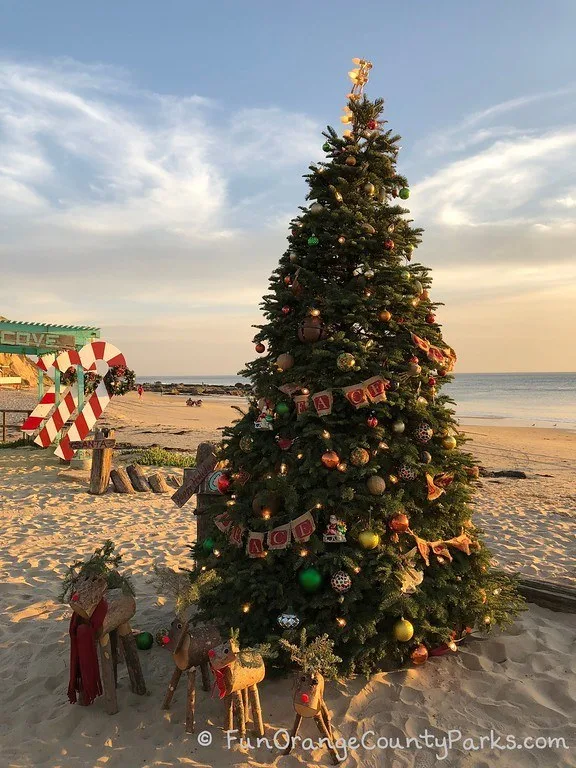 December and January are times for ultra-low tides so it can be an awesome time to combine the family photos by the Christmas tree with tidepooling, too.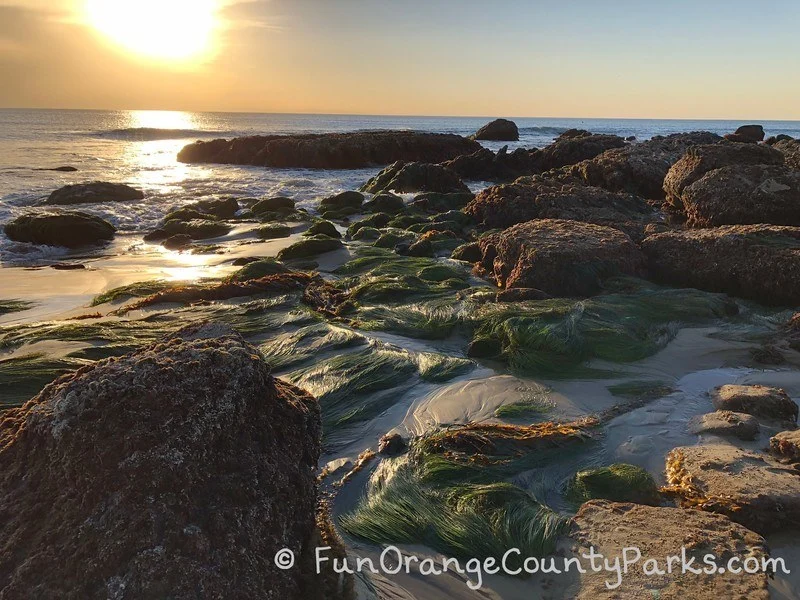 Of course, all our wishes came true on our FIRST visit with a beach sunset, Christmas tree on the beach, tidepooling, AND Shake Shack milkshakes to end the day with a cherry on top.
Then in 2022, we came just after sunrise for a walk on the beach and enjoyed breakfast burritos with a view. There are so many ways to do this outing and they are ALL fun!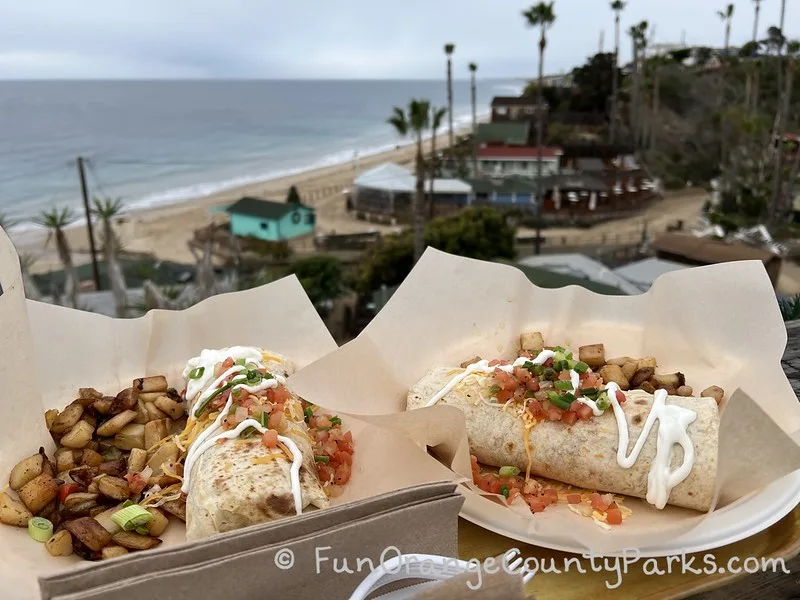 So how do you get to the beach Christmas tree at Crystal Cove State Park?
Crystal Cove State Park is one of my favorite "wild" places in Orange County. It's a stretch of beach and inland hiking trails that run from north of Laguna Beach to south of Corona del Mar/Newport Beach.
If you've ever seen the bright yellow Shake Shack while driving on Pacific Coast Highway (PCH), then you've driven past the cottages and Christmas tree which are on the beach below.
I've written a number of posts about what to do from each parking area of the park. But the beach Christmas tree is best reached from the historic district where the Crystal Cove cottages are located.
Must Read:
I explain how to park and get to the beach area in my Family Guide to Crystal Cove Historic District via Los Trancos. It's kind of complicated so it took a full post to describe all the ways to get down to the sand. Just be ready for a bit of a trek. One mom last year braved this trip on her own with her kids and reported back that they had an awesome time!

How to Extend Your Beach Trip
Tidepool or walk the beach.
See the sunset.
Grab a milkshake or dinner at the Shake Shack. It can be really busy. So pick a time when you can avoid crowds.
Go on a date night to The Beachcomber without the kids. (You could get food to go and eat on the beach.)
I suggested stopping at Fashion Island (north) or Dana Point Harbor and the Ritz Carlton (south) to see Christmas lights or another Christmas tree on your way home.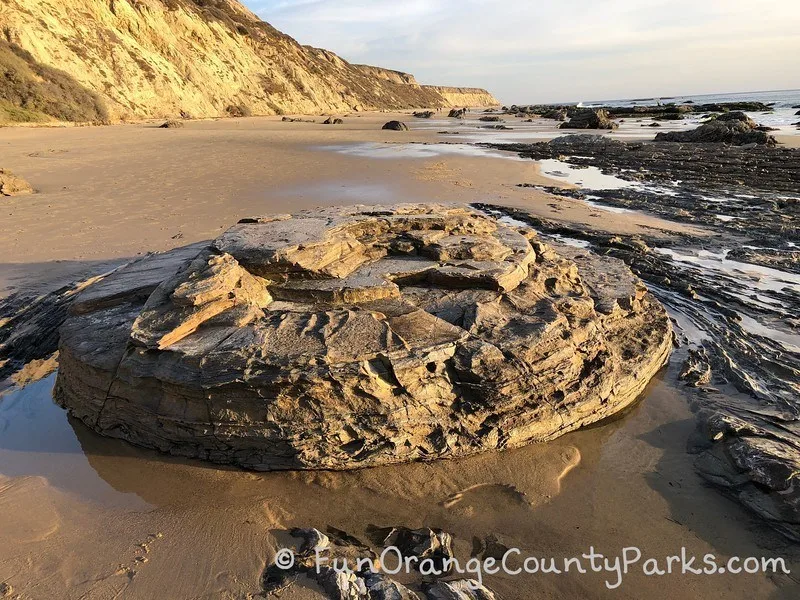 What You Need to Know
Here are more things you will need to know about your December visit to the beach . . .
The annual treel lighting is scheduled for Saturday, December 2nd, 2023 at 5:15pm. There will be a tree lighting and Holiday Bazaar in the Historic District. Crystal Cove Conservancy says: "Kick-off the holiday season at Crystal Cove State Park on Saturday, December 2 from 10AM-5:30PM for a tree lighting and holiday bazaar. Shop for gifts from local artisans, meet Santa during a beachside photo op, munch on cookies and cocoa courtesy of The Beachcomber, make a special holiday craft, and hear holiday tunes sung throughout the Cove by the Corona del Mar High School Madrigal Singers."⁠ You can go to their website for their FULL schedule of events, but here are the highlights for families.
Holiday Craft
Time: 12:00pm-4:00pm
Location: Cottage #22
Santa Meet & Greet
Time: 4:00-5:00pm
Location: Cottage #46
Cookies and Cocoa by Beachcomber Cafe
Time: 3:00pm-5:00pm
Location: Outside Education Commons
Be aware of weather and tides. Sometimes the trail to the beach from the parking lot closes due to weather or flooding. Sometimes there are high surf advisories and extra high tides. Sometimes there is fog at the beach and it's chilly — you might not get to see a sunset! And, really, who wants to be at the beach when those conditions are happening anyways?
Don't leave your valuables in your car. These parking lots are targets because thieves know you are going to go on a hike and to the beach — and then leave your car and be gone for a while. Take all valuables with you and lock your car manually.
Your food options are Crystal Cove Shake Shack up on the bluff or down at The Beachcomber at Crystal Cove. You can start with burgers and shakes up on the bluff at the Shake Shack and then take the stairs down to the beach — or end your night with a walk up the stairs to get food after visiting the beach. Or make reservations for a sit-down at The Beachcomber at Crystal Cove.
Parking and getting to the beach. As I said above, Crystal Cove is between Laguna Beach and Corona del Mar/Newport Beach. My best advice for parking and navigating this area of the park is in this post: Family Guide to Crystal Cove Historic District via Los Trancos.
Get the official information. Visit the OFFICIAL Crystal Cove Conservancy and Crystal Cove State Park websites for OFFICIAL information and notices.
Other Holiday Lights posts on my blog: