Our family got in the habit of seeking out restaurant buffet options for Thanksgiving dinner back when we used to celebrate with my in-laws. It's kind of an annual hobby to figure out good places to go.
Unfortunately, it takes some digging to find out which restaurants offer a Thanksgiving BUFFET (not just a dinner) and then it's challenging to navigate popular review sites which make you jump through hoops with photo slideshows or clicking to their site instead of another.
I just wanted a simple LIST split into Thanksgiving Buffets, Thanksgiving Dinner, and even a Thanksgiving To Go or Thanksgiving Takeout options for taking the meal home.
For 2022, my list has a few buffets and some dine in options with takeout.
I hope my list helps you make plans and answers your "What restaurants are open for takeout on Thanksgiving?" and "What's open on Thanksgiving?" questions this year.
I revise my list in late October / early November every year and many times leading up to the holiday (last updated Nov 18th!) – so check back often. Restaurants often don't release their Thanksgiving reservations or menu until late October!
2022 Thanksgiving Dinners Orange County
All are updated for Thanksgiving 2022! And it's very exciting to see all the buffets back in action. Thanksgiving 2020 and 2021 had much more limited options.
2022 Thanksgiving Buffets in Orange County
We are back to 14+ Thanksgiving buffets!
Look further down the post for:
Thanksgiving dine-in restaurants
Thanksgiving takeout options
and Thanksgiving treats.
The Resort at Pelican Hill in Newport Beach has buffet options for 2022!
Coliseum Pool & Grill Thanksgiving BRUNCH – Buffet Menu ($135 per adult, $35 for children 12 and under)
Pelican Grill & Bar Thanksgiving BRUNCH – Buffet Menu ($195 per adult, $45 for children 12 and under)
Heirloom Farmhouse Kitchen Thanksgiving Buffet ($89 per adult, $29 per child ages 12 & under) – 2 hour max dining time and you need to pay for parking.
Hendrix Restaurant in Dana Point – Thanksgiving Buffet (adults $85, kids 12 years and under $19)
Mrs. Knotts Chicken Dinner Restaurant at Knotts Berry Farm – Thanksgiving Champagne Buffet (Book ahead of time)
Ritz-Carlton Laguna Niguel Thanksgiving Day Buffet ($250 per guest, $125 per child (3 to 9) includes tax and gratuity). It is an incredible spread.
Driftwood Kitchen Laguna Beach – Thanksgiving Buffet ($125 per person, $19 kids 12 and under)
Goofy's Kitchen at Disneyland Hotel – Brunch Buffet ($60 plus tax adults – 10 & up, $32 plus tax kids – 3-9) and Dinner Buffet ($85 plus tax adults – 10 & up, $35 plus tax kids – 3-9)
Storyteller's Cafe at Disneyland Grand Californian Hotel – Brunch Buffet and Dinner Buffet priced the same as Goofy's Kitchen
Tangerine Room at the Westin Anaheim Resort – This may be your best bet for variety of food at a relatively reasonable price ($79 adult, $40 kids under 12 – tax & gratuity not included). Click on the Thanksgiving menu tab.
Majestic Garden Hotel near Disneyland and their Garden Court Bistro Thanksgiving Buffet – limited items, but lower price. ($37 adults, $19.50 children 3-12 years of age).
El Torito All-You-Can-Eat Thanksgiving Buffet (Dana Point Harbor, Anaheim, Irvine, Laguna Hills, Orange, Tustin, Westminster, Yorba Linda) – "Enjoy a Turkey and Ham carving station, apple-jalapeño stuffing, chipotle-honey sweet potatoes, green bean casserole, taco station, your Mexican favorites, soups and salads, dessert bar with pumpkin pie, unlimited champagne and more!" Adults $36 and Kids $12.
Balboa Bay Resort Thanksgiving Buffet (adults $145+, children $75+ and does not include tax or gratuity — unclear from website, but you may need to be a member or hotel guest to reserve a spot?)
O'Neill's Bar & Grill at Arroyo Trabuco Golf Club in Mission Viejo ($99.95 per adult or with unlimited Champagne option for $119.95, $49.95 for kids 5-12 years old with children under 4 free.) Tax and 20% gratuity not included.
Hyatt Regency Huntington Beach Thanksgiving Buffet "Pumpkin Kisses & Harvest Wishes" – 12pm-4pm buffet for $140 adults, $75 kids ages 4-12. Sales tax and 18% gratuity added.
NOT in OC, but definitely an experience! Hotel Del Coronado in San Diego is an iconic historic property with a pretty amazing Thanksgiving buffet which will be in their new Southpointe Ballroom this year for the first time. It's worth going for the dessert buffet alone! Early bird pricing is $205 adults going up to $225 adults and $100 for children (4-10 years old). Children under 3 get complimentary buffet.
Notes:
I included prices for the buffets just for comparison purposes. Some of these restaurants may already be fully booked for the holiday.
In some cases, you may need to pay in advance at the time you make your Thanksgiving reservation. Make sure you call and confirm prices and details when you make your reservation.
Some reservations are brunch, some midday meals, some dinner.
These prices can be daunting and they can be something you save up for all year long. We have eaten humble meals at home and saved up for these kinds of incredibly memorable experiences.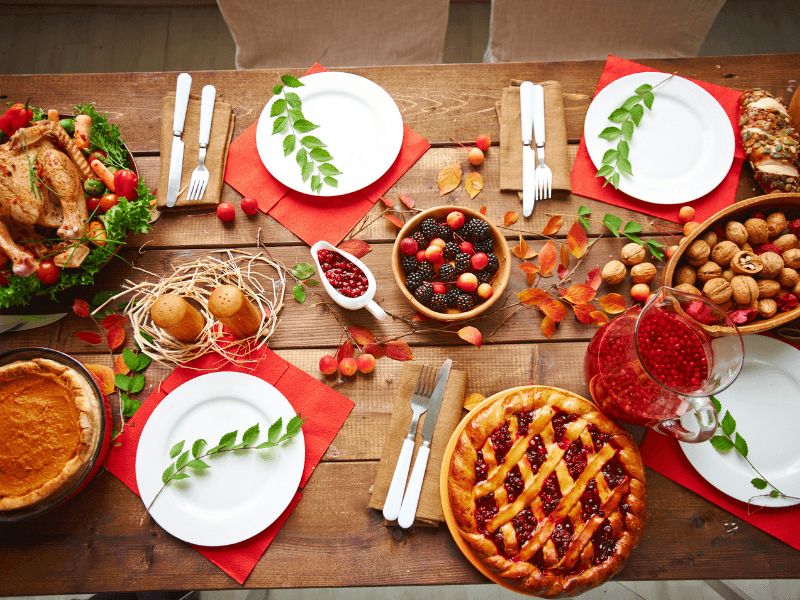 2022 Thanksgiving Dine-In Dinners in Orange County
The Resort at Pelican Hill in Newport Beach has Tasting Menus two of their restaurants for the evening hours.
Montage Laguna Beach also has two options. One is a family-style meal and the other is ordering off a set menu.
Summit House OC in Fullerton – 3 course dine-in
Fleming's Prime Steakhouse and Wine Bar 3-Course Thanksgiving – 3-course and children's menu at Newport Beach and Anaheim locations. Starting at $57.
Water Grill in Costa Mesa – 3-course Thanksgiving menu ($68 per person, $25 children 12 and under).
Napa Rose at Disneyland Grand Californian Hotel – 4 course prix fixe meal ($140 per adult, $35 per child)
Orange Hill Restaurant – Thanksgiving Day Experience – 4 course menu for Thanksgiving Brunch or Dinner ($89 adults, $35 children, $30 Bottomless Mimosas)
Bucca di Beppo Italian Restaurant Dine-In Thanksgiving served family style in Anaheim, Brea, and Huntington Beach restaurant locations
Urban Plates – Family meals for 4 priced around $100 and you can add extra sides + desserts to go. Locations in Brea, Tustin at the Marketplace, Irvine, Aliso Viejo.
Ritz-Carlton Laguna Niguel RAYA Thanksgiving Dinner ($175 per person, 3-course prix fixe menu)
The RANCH Restaurant and Saloon Anaheim – Thanksgiving menu where you pay for what you order
Bistango Fine Dining in Irvine – Prix-Fixe menu for $79.95 for adults or kids for $39
Salt Creek Grille in Dana Point – Open from Noon-8pm. Go to Menus tab and then click on the drop-down for More Menus to see their Thanksgiving offering. Traditional Thanksgiving Dinner is $50 adults and $24 for children – with a choice of starter and dessert. Also vegetarian, fish, and prime rib options available for a slightly different price.
Five Crowns in Corona del Mar – this is a Lawry's restaurant so Prime Rib is the main feature on their Thanksgiving menu.
Bayside Restaurant Newport Beach – 3-course Thanksgiving menu ($79 per adult, $39 per child).
Harvest Restaurant at the The Ranch Laguna Beach – Thanksgiving menu with a la carte specials
Chart House in Dana Point – Thanksgiving with a view. This is part of the Landry's family of restaurants. No price listed.
Habana in Irvine Spectrum or Costa Mesa – see their Cuban cuisine Thanksgiving menu $58-$65 depending on your seating reservations
Lucille's Smokehouse BBQ Thanksgiving Dinner – ($33.99 for adults, $17.99 for kids).
Friendsgiving Thanksgiving Dinner at Pacific Hideaway – ($55 adults, $35 kids 12 & under) at the Kimpton Shorebreak Hotel
Black Angus (Fountain Valley, Buena Park, Santa Ana) – Turkey Feast for $25.99 (adults) and $11.99 (kids)
McCormick & Schmicks Restaurant in Anaheim – Traditional Turkey Dinner for dining in ($35 adults, $14 kids).
Wind & Sea Restaurant in Dana Point Harbor – Thanksgiving Dinner with choice of fresh oven-roasted turkey, fresh grilled Atlantic salmon, or prime top sirloin steak with all the trimmings for $49-$59 per person with children eating at half price.
Harpoon Henry's in Dana Point Harbor – Family Style Dinners similar to Wind & Sea with choice of oven roasted turkey ($49), Atlantic salmon ($49), mahi-mahi macadamia ($49), or prime rib ($65). Children selections for those under 12 years old.
Duke's Huntington Beach – Traditional Thanksgiving Dinner special with a Duke's twist or order from the regular menu. ($33 adults, $16 kids). Takeout options, too. Ocean view!
Hyatt Regency Huntington Beach – Watertable Restaurant 3-course Thanksgiving meal for $95/per person OR Thanksgiving plated meal at Pete's Sunset Grille.
The Capital Grille in Costa Mesa – Thanksgiving plates with mashed potatoes for the table ($49 adults, $18 children – dessert and special sides not included).
Choosing Your Options for Thanksgiving Dinner To Go
We have done our Thanksgivings so many different ways over the years.
You can get the complete meal or just parts of the meal while you prepare the rest at home.
As I see it, here are your options:
Option #1 – You can order only the MAIN COURSE (turkey, prime rib, vegetarian option) and make the SIDES and DESSERTS yourself.
Option #2 – You can order just the MAIN COURSE and SIDES, but make the DESSERTS yourself.
Option #3 – You can order the whole deal: MAIN COURSE, SIDES, and DESSERTS.
Option #4 – You can concentrate on making a homemade Thanksgiving feast and just grab DESSERTS from your favorite bakery or specialty grocery.
Many of these are ORDER AHEAD – so don't wait until the last minute to put in your order! Especially this year, they may need some extra time to get supplies.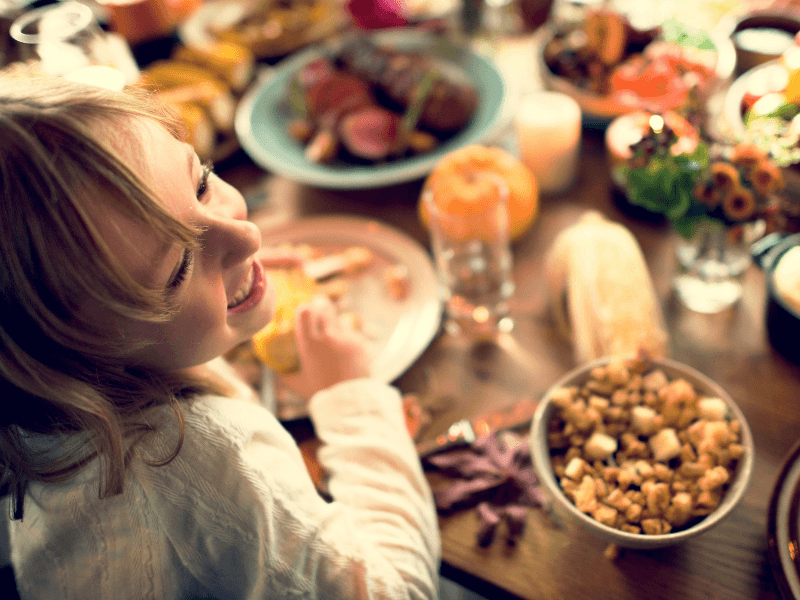 Where to Order Thanksgiving Dinner Takeout in Orange County
Thanksgiving with Porchbox Restaurant Laguna Hills – order a la carte trays that feed 8-12 people to mix and match (priced separately) or order "The Whole Meal" for $340. Order by November 18th and pick up on November 23 to reheat on Thanksgiving Day.
Hendrix Restaurant Thanksgiving Feast To Go (feeds 8-10 people for $350, order by November 21st and pick up on Thanksgiving Day)
The Winery Restaurants (Tustin) – Thanksgiving Dinner to Go ($425 for 6-8 guests)
Stefano's Golden Baked Hams in Yorba Linda (feed 4-6 people with a holiday ham or turkey plus 6 sides for $199)
Bad to the Bone BBQ in San Juan Capistrano – order your dinner ahead of time and reheat at home on Thanksgiving Day
Heritage Craft Barbecue in San Juan Capistrano – check out their pre-order option and it sells out fast!!!
Polly's Pies (Fullerton, Huntington Beach, Laguna Hills, Los Alamitos, Orange, Santa Ana, Yorba Linda) – Lots of options to feed 6 or more with a Whole Turkey Feast $189.99 plus tax and tin deposit, Sliced Ham Feast $179.99 plus tax and tin deposit, Everything But the Bird with sides only $89.99 plus tax and tin deposit, and all of their Famous Pies priced individually.
Bucca di Beppo Italian Restaurant Thanksgiving Feast to Go in Anaheim, Brea, and Huntington Beach ($105 serves 3 or $192 serves 6). Pick it up cold to reheat or hot right before serving.
Mrs. Knott's Chicken Dinner Restaurant Thanksgiving Turkey or Ham Take Home Dinners – $189 and save 10% if you are a season passholder
Detention (formerly Playground restaurant in downtown Santa Ana) – Thanks to Sara Marshall and This Week in Downtown Santa Ana newsletter for this pick. Thanksgiving Take & Bake where you pre-order and pick up main dishes, sides, desserts, and even cocktails. Prices vary, but serving size for most items is for about 4-6 people.
Lucille's Smokehouse BBQ – Get Thanksgiving Family Feast which feeds 10 or more for $269.99 or Thanksgiving Supper which serves 6 or more for $199.99. You can also just order the main course protein or desserts. Lots of options here! Must pre-order by November 21st.
Duke's Huntington Beach – You can get a single portion of the Thanksgiving meal to go for $33. Or you can feed a family of 4 for $125. Extra sides and desserts available a la carte.
The Capital Grille in Costa Mesa – Thanksgiving sides at home. Get a full set up of prepared sides for $135.
Urban Plates – Family meals, sides, desserts to go. Locations in Brea, Tustin at the Marketplace, Irvine, Aliso Viejo.
Black Angus (Fountain Valley, Buena Park, Santa Ana) – Turkey feasts to go for 4 ($104), 8 ($208), or 12 people ($312) with the option for ordering whole pumpkin pies
McCormick & Schmicks in Anaheim – order a Thanksgiving Feast To Go for 4-6 people for $220. Must place orders before November 21st.
Bristol Farms – Order fully cooked meals from the deli department. Choose pickup or delivery. Locations in Irvine at Irvine Spectrum, Newport Beach, and Yorba Linda.
Whole Foods Market – shop holiday meals by entering your state/store.
Albertson's Market – holiday dinners order ahead (still showing 2021 meals on their website)
Ralphs – order "Holiday Meal Bundles" by choosing your store
Gelson's – Order prepared holiday meals online and pickup
Pavilions/Vons – Order turkey, ham, or roast beef holiday meals (again, choose your store, this link is set to Irvine)
A few other places to pick up your turkey if you are cooking at home: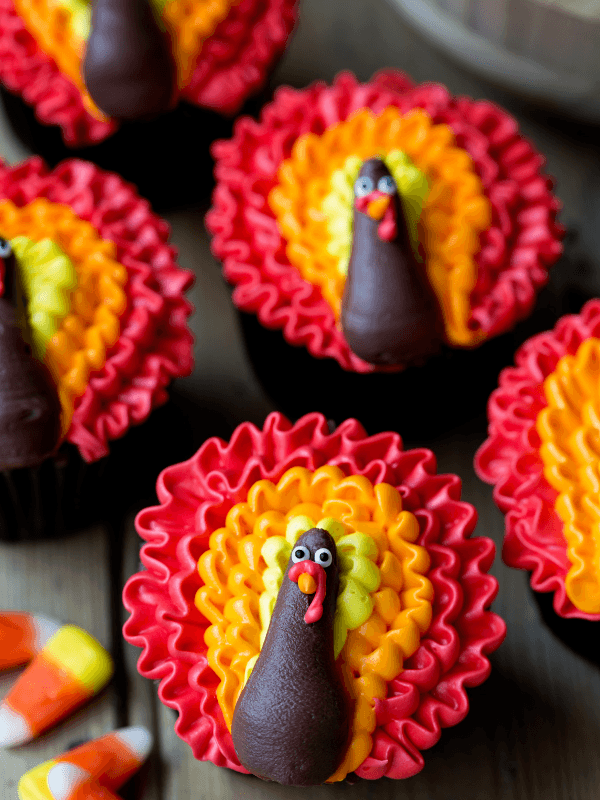 Thanksgiving Treats
85 Degrees Celsius – Don't know what they are offering for 2022. But in 2021, they sold a Giving Box with assorted pastries and Thanksgiving cakes/pies. I don't have a good link, but their Instagram account @85cbakerycafe had all sorts of photos and how to order.
Porto's Bakery Thanksgiving – has a few seasonal options including a Turkey & Gravy version of their delectable potato balls! (I tried last year and they are YUM!). Also pumpkin cheesecake and danishes.
Urth Caffé – offers pre-order for their "famous" Thanksgiving pies to pick up in the days before Thanksgiving. You have to order before November 22nd. There are locations in Orange and Laguna Beach.
Blue Scoop Creamery – Ice cream pies for Thanksgiving!! They have Bourbon Pecan Chip, Pumpkin, or Cookies & Cream.
Elisa Marie Baking – a favorite stand at Farmer's Markets and you can find her bakery items at hotels & gourmet food shops in OC. She has a Thanksgiving menu with pies, cornbread, and pecan bars. Yum! Support a small business woman!
Pop Pie Co. in Costa Mesa – Offering Thanksgiving Pies. Pre-sale until Thursday, November 17th. 9 inch pies for 6-8 people. Choose from: Salted Maple, Pumpkin Pie, Honey Bourbon Pecan, Salted Caramel Apple Crumble, or Apple Crumble.
If you're looking for fun things to do Thanksgiving week, read my post on 7 Fun Ways to #OptOutside During Thanksgiving!