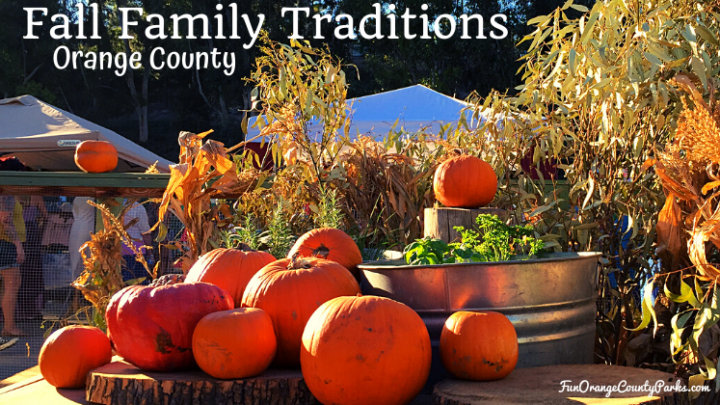 October is my favorite month for families in Orange County! I made my picks of the best outdoor fall family traditions in OC based on the family outdoor experience and if it's low or no-cost.
Wait! Almost forgot. Before you read any further, think about your fall. Think about how you want to spend your time. If you want to snuggle at home with a cup of soup and a good book, that's okay!
If you want to be out under the trees with the leaves falling all around – you don't necessarily need the excuse of an event. Just find a park and hang out. The kids will love it.
Better yet – come up with your own family fall tradition:
a pilgrimage to a special far away restaurant
an overnight stay at a certain favorite hotel or AirBnB
making sandcastles on an empty beach
cooking a family recipe together
attending a local community event or festival
It doesn't have to be a big deal at a crowded place to be special!
Outdoor Fall Family Traditions in OC (2021)
Make sure you pay attention to the weather and check all the OFFICIAL details for fees and suggested ages. Click on the bold green titles to link to official information.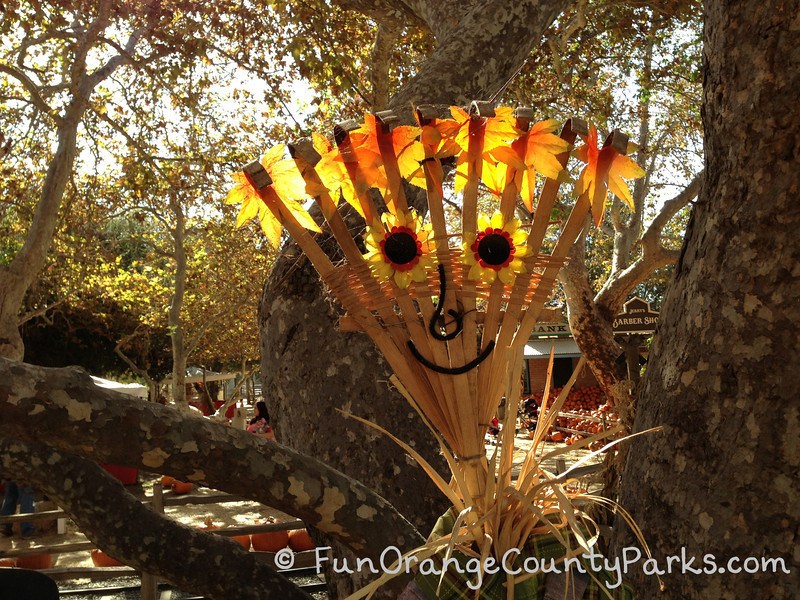 Outdoor Fall Family Events in Orange County
KID-FRIENDLY OCTOBER
U-Pick Pumpkin Patch at Tanaka Farms in Irvine is perfect if you want to visit the farm and support our local farmers. There are wagon rides, a barnyard educational exhibit, and lots to do at the farm. Reservations required on weekends. Open through October 31st. This is the first year for the Hana Field Pumpkin Patch in Costa Mesa which is a smaller and more relaxed experience.
Irvine Park Railroad Pumpkin Patch. Open from through October 31st. (It's free if you just wander around the patch.)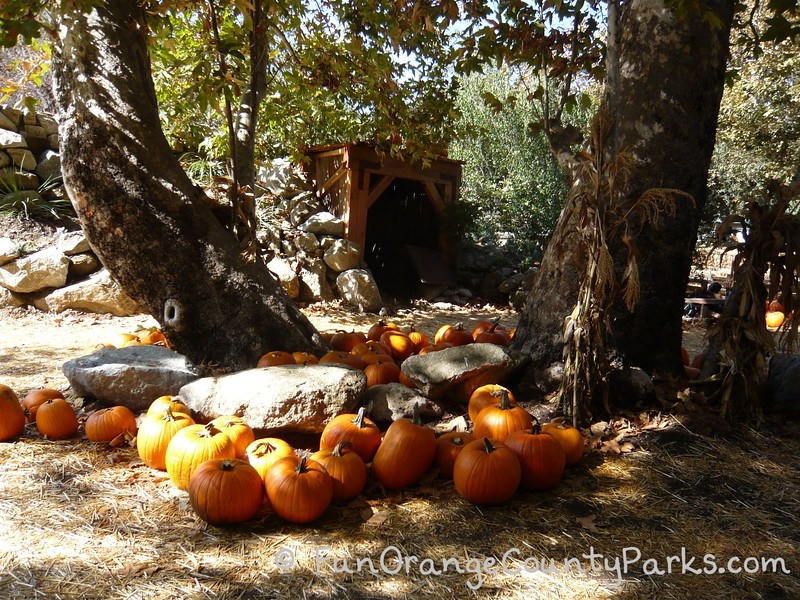 Environmental Nature Center Fall Faire & Pumpkin Patch. October 17, 2021. Proceeds benefit their environmental education programs.
Pumpkin Patch, children's crafts and games, face painting, entertainment, and Savor OC restaurant showcase.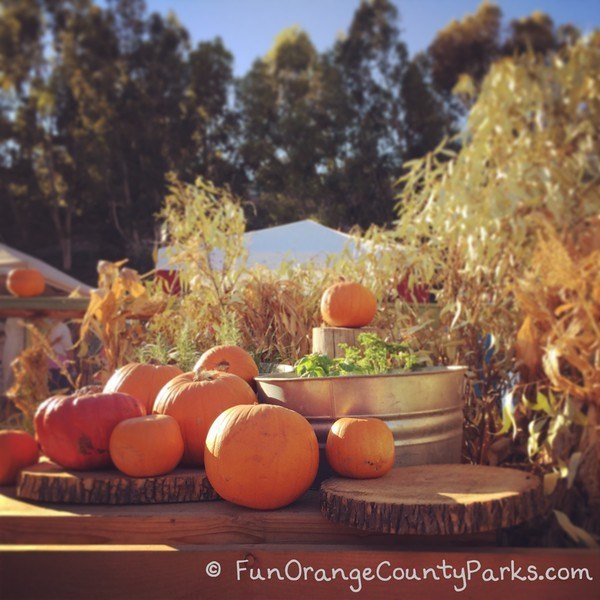 Apple Picking at Oak Glen* — I, personally, like to wait until it's COLD. It may mean there are no apples left to pick, but that's okay with me. Make sure you hike the Children's Nature Trail and visit the Montane Botanic Garden.
*Not OC, but as my daughter reminded me — it's tradition so we have to go!
Remember, you don't have to wait for someone else to plan fall fun! You can always take your kids outside to play anywhere in this beautiful weather (even if it's just the front yard!).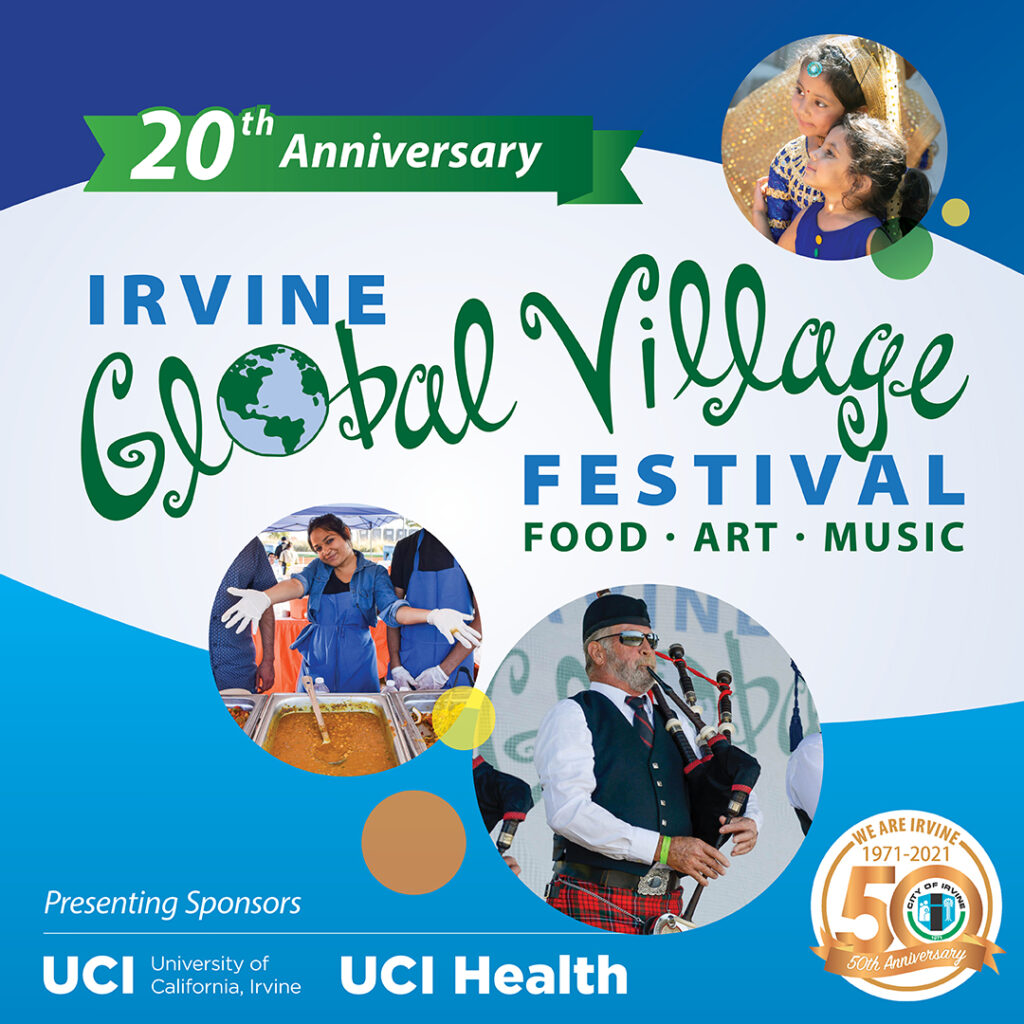 Fall events in 2nd weekend in October
Thank you to City of Irvine for their sponsorship of this section.
The 20th Annual Irvine Global Village Festival (FREE Event) is from 10am to 7pm on Saturday, October 9th at Great Park. It's celebrating its 20th anniversary and there is plenty for families and your kids to experience.
Our family clears our schedule every year for this favorite of fall traditions and we have so many fond memories of the people we've met and the stories they've shared with us.
They have more for kids this year than ever! Visitors to the expanded Kids Village near the playground and Great Park balloon can enjoy a variety of fun, interactive activities including karate demonstrations, learning to write names in different languages, a henna tattoo station, a puppet show, arts and crafts booths, and more, including:
Interactive arts & crafts
Petting zoo
Inflatable obstacle courses & games
Face painting & puppet show
Bubble zone & STEAM activities
Check the entertainment schedule and event map showing the Kids Village and more.
Fall activities starting the 3rd weekend in October
Fall-O-Ween at Heritage Hill Historic Park (FREE Event & FREE Parking) for 2 weekends October 15-17 and Oct 22-24 from 4:30pm to 8:30pm. Super sweet family event at an amazing location.
Tour the decorated historical grounds during special park hours and take your picture at a variety of fall and Halloween-themed photo opportunities.
Try to find your way through the hay maze and complete a scavenger hunt for ghoulish goodies at this free, family-friendly event.
Costumes are encouraged and pets are welcome on leashes no longer than 6 feet. Be sure to bring your cameras! 2021 Fall-O-Ween Flyer (PDF).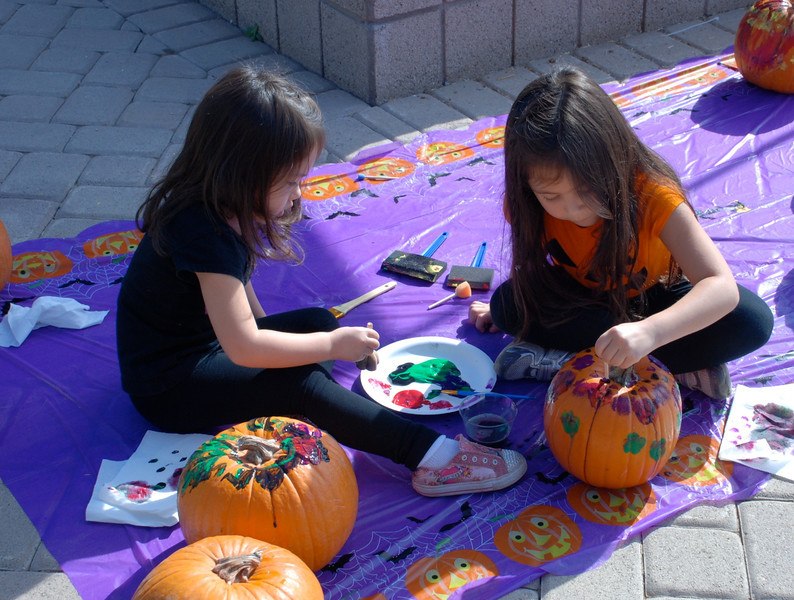 Environmental Nature Center Fall Faire & Pumpkin Patch "To Go". October 17, 2021. Proceeds benefit their environmental education programs.
Fall traditions to start during the 4th weekend in October
Halloween OC Zoo-tacular. It's awesome – the animals get pumpkins filled with treats.
Join them for Halloween fun at the OC Zoo! Activities include trick-or-treating*, spooky kids crafts, a scavenger hunt*, and fun games!
The first 100 children in costume receive a free gift!*(*Children ages 12 & under.) Come see the zoo animals receive treat-filled pumpkins throughout the day!
Reservations are not needed. Activities are free with paid zoo admission ($2 per person, ages 2 & under free).
Zoo coupons and free passes are not valid for this event. Parking is $5 per vehicle.
(It's easy to pair this outing with the Irvine Park Railroad Pumpkin Patch, but it'll be busy this particular weekend!)
Fall things to do during the last week in October
Boo at the Bay: Family Halloween Party (FREE Event & FREE Parking) is a new event at the Peter and Mary Muth Interpretive Center on Saturday, October 30th from 11am-3pm.
Join the fun family Halloween party featuring spooky stories, creepy crafts, weird science experiments, bizarre animals, and hair-raising games. All children who attend in costume will receive ghoulish door prizes.

Also try Sherman Library & Gardens in Corona del Mar for Creatures of the Night on Friday and Saturday October 29th and 30th from 5pm to 7pm! You have to buy tickets ahead of time, but it's described as:
". . . a lively and engaging event where families can come to have fun while learning about the habits of birds of prey and nocturnal animals. OC Birds of Prey, Santa Ana Zoo and Adventures in Living Science will be here sharing their knowledge and their creatures."
Make sure you click over to their website to buy tickets and read the descriptions of this event unlike any other I've found in OC: "Attendees will receive a passport to explore the Gardens after dark and visit interactive animal stations that delve into the nocturnal world and its inhabitants."

Costume Week at Pretend City from Oct 27th-29th. Get 25% off your second admission if you wear a costume.
I know, it's not outside – but hard to pass up a chance to show off a costume.
[Tip – Check Pretend City's event calendar to get info on Frankenstein Friday, the OC Ghostbusters Visit, and Trick or Treat through the City.]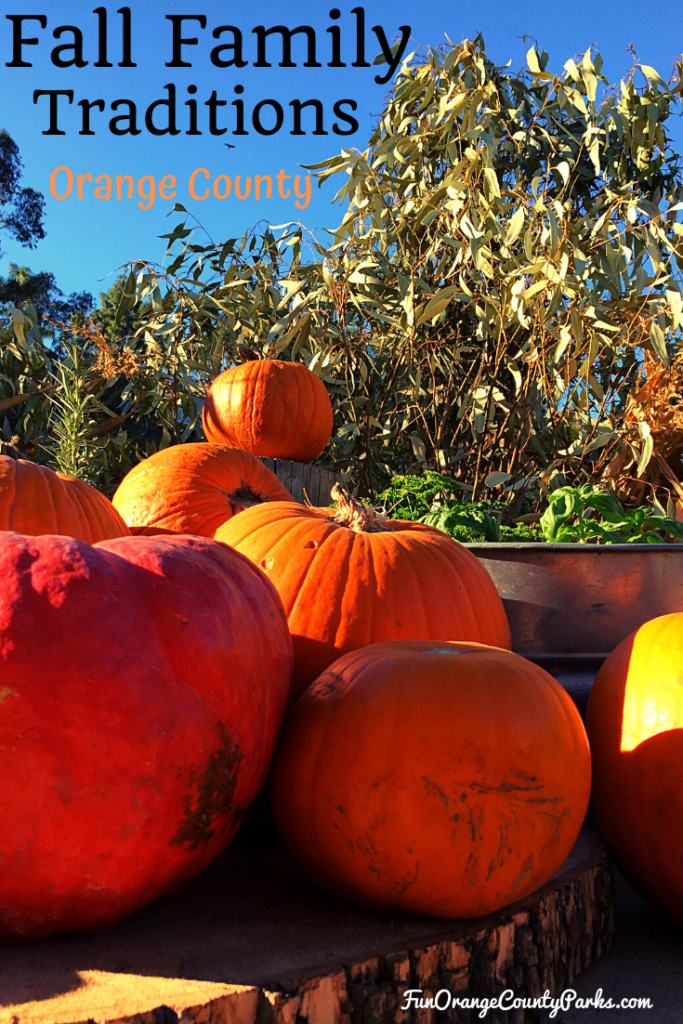 Originally published in September 2013.