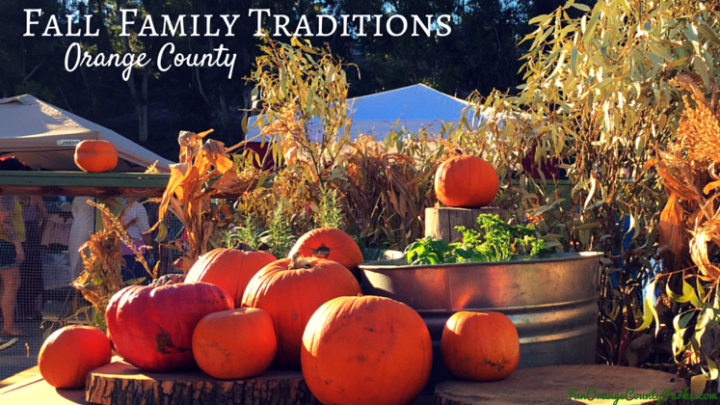 October is my favorite month for families in Orange County! I made my picks of the best outdoor fall family traditions in OC based on the family outdoor experience and if it's low or no-cost.
Wait! Almost forgot. Before you read any further, think about your fall. Think about how you want to spend your time. If you want to snuggle at home with a cup of soup and a good book, that's okay!
If you want to be out under the trees with the leaves falling all around – you don't necessarily need the excuse of an event. Just find a park and hang out. The kids will love it.
Better yet – come up with your own family fall tradition:
a pilgrimage to a special far away restaurant
an overnight stay at a certain favorite hotel or AirBnB
making sandcastles on an empty beach
cooking a family recipe together
It doesn't have to be a big deal at a crowded place to be special!
Outdoor Fall Family Traditions in OC (2020)
Make sure you pay attention to the weather and check all the OFFICIAL details for fees and suggested ages. Click on the bold green titles to link to official information.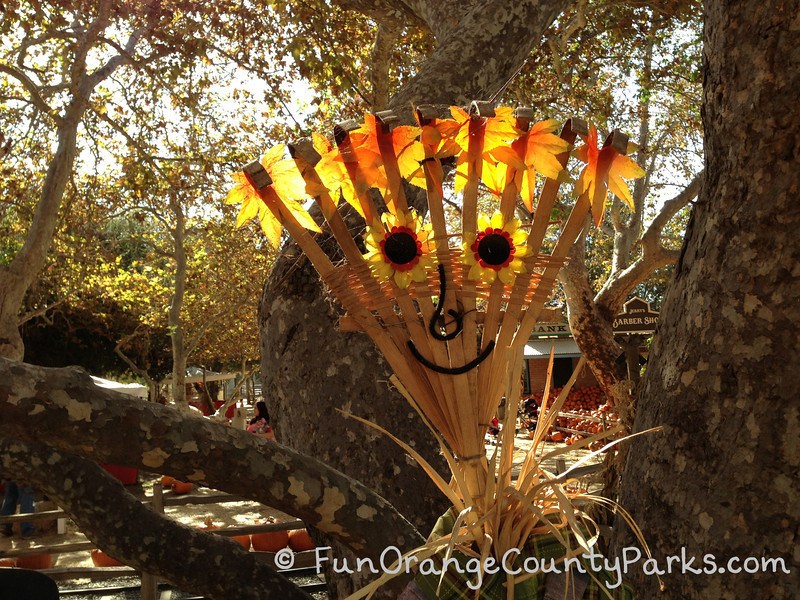 Outdoor Fall Family Events in Orange County
KID-FRIENDLY OCTOBER
Drive-Thru Pumpkin Farm Experience (Weekends) OR U-Pick Pumpkin with Wagon Ride (Weekdays) at Tanaka Farms is perfect if you want to visit the farm and support our local farmers. September 19th through October 31st.
Irvine Park Railroad Pumpkin Patch. The patch will be open, but activities will be greatly scaled back. Open from October 1st to October 31st. (It's free if you just wander around the patch.)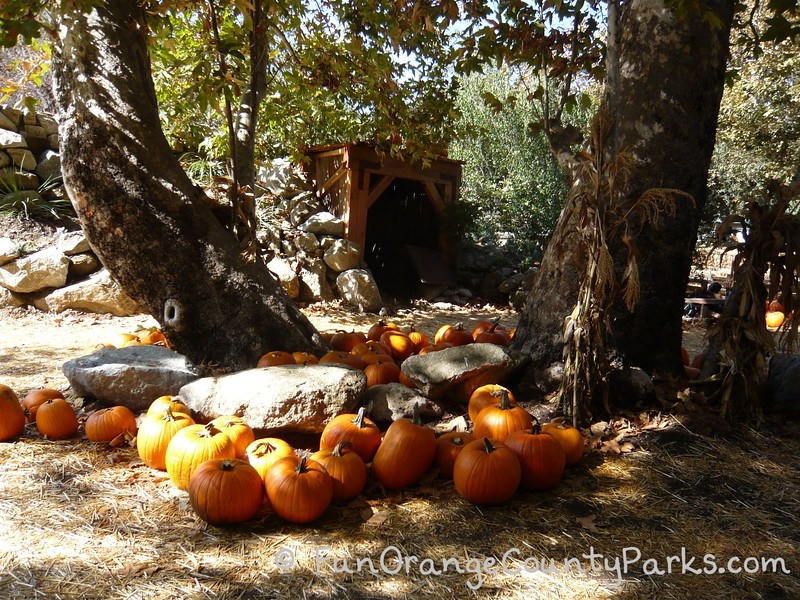 Environmental Nature Center Fall Faire & Pumpkin Patch "To Go". October 18, 2020. Proceeds benefit their environmental education programs.
Pumpkin Patch, childrens crafts and games, face painting, entertainment, pony rides and petting zoo, and Savor OC restaurant showcase.
Apple Picking at Oak Glen* — I, personally, like to wait until it's COLD. It may mean there are no apples left to pick, but that's okay with me. Make sure you hike the Children's Nature Trail and visit the Montane Botanic Garden.
*Not OC, but as my daughter reminded me — it's tradition so we have to go!
Remember, you don't have to wait for someone else to plan fall fun! You can always take your kids outside to play anywhere in this beautiful weather (even if it's just the front yard!).

The following events have been cancelled for 2020. However, I'm leaving the listing up in hopes I can update for 2021.
1st weekend in October
(Cancelled for 2020) Acorn Day at O'Neill Regional Park. This free, family-friendly day of excitement and learning offers activities for every age.
It includes free crafts for kids, a live butterfly enclosure, active games, face painting, live music and introductory ukulele lessons.
There's also nature and animal exhibits, very special storytelling sessions with painting on water, acorn and oak tree planting.
Free, except for park entrance.
(Cancelled for 2020) Autumn Harvest Festival at Heritage Hill Historic Park. Super sweet family event at an amazing location.
Bring the family to a fun-filled adventure and experience the
park transformed into a spooky Halloween festival.
Enjoy the trick-or-treat stations, Adventure Maze, and dare to visit the Haunted School House. Children of all ages can participate in ghoulish games, costume contests and the pumpkin decorating zone.
Costumes encouraged, but NO masks or full-face paint will be allowed inside the event. $5 per person age 3 and up.
(Cancelled for 2020) Orange County Fire Authority Headquarters Open House. Events will include live fire demos, fire engine rides, search & rescue dog demo, and kids activities.
(I know it seems funny to have this as a fall tradition, but many families look forward to this October event all year long!)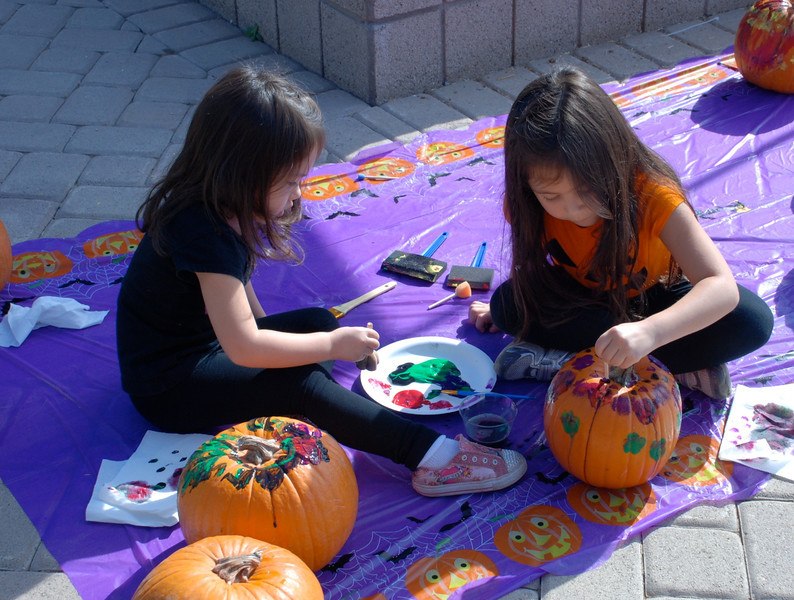 2nd weekend in October
(Cancelled for 2020) Prehistoric OC. Join OC Parks at Ralph B. Clark Regional Park. for Prehistoric OC, a free event that invites families to explore the prehistoric history of Orange County.
Prehistoric OC will present fun and educational activities and information to the public about Orange County's rich history and prehistory with activities, fossils and artifacts.
Families can enjoy free educational entertainment in the form of hands-on activities from Dino Encounters, volcano demonstrations by the CSUF Geology Club, crafts in the Junior Scientist Camp, an Ice Age interactive live show, a giant dinosaur obstacle course and vehicles from the Jurassic Park Motor Pool.
The Interpretive Center will also be open for viewing of real artifacts and fossils from around Orange County. All ages are welcome.

3rd week in October
Environmental Nature Center Fall Faire & Pumpkin Patch "To Go". October 18, 2020. Proceeds benefit their environmental education programs.
Pumpkin Patch, childrens crafts and games, face painting, entertainment, pony rides and petting zoo, and Savor OC restaurant showcase.
(Closed for 2020) Tucker Wildlife Sanctuary used to have their "Bat Night" the 3rd weekend in October
Maybe a great weekend to go to Oak Glen or Julian for apple picking?

4th weekend in October
(Cancelled for 2020, although zoo now open with modifications.) Halloween OC Zoo-tacular. It's awesome – the animals get pumpkins filled with treats.
Join them for Halloween fun at the OC Zoo! Activities include trick-or-treating*, spooky kids crafts, a scavenger hunt*, and fun games!
The first 100 children in costume receive a free gift!*(*Children ages 12 & under.) Come see the zoo animals receive treat-filled pumpkins throughout the day!
Reservations are not needed. Activities are free with paid zoo admission ($2 per person, ages 2 & under free).
Zoo coupons and free passes are not valid for this event. Parking is $5 per vehicle.
(It's easy to pair this outing with the Irvine Park Railroad Pumpkin Patch, but it'll be busy this particular weekend!)
(Closed for 2020) Costume Week at Pretend City. Get 25% off your second admission if you wear a costume.
I know, it's not outside – but hard to pass up a chance to show off the costume.
[Tip – Check Pretend City's event calendar to get info on Frankenstein Friday, the OC Ghostbusters Visit, Healthy Halloween, Trick or Treat through the City, and Dia de los Muertos.]
NOVEMBER
Harvest Faire at Journey School in Aliso Viejo. A true family event that's like a "nature-themed maker's faire for kids" with food trucks and live entertainment.
Originally published in September 2013.