These October and Halloween activities make up my 31 Day October Play Plan. The list is meant to add some fall fun to every day.
I tried to keep recipes easy and crafts low on supply lists because I originally created the list in October 2020 — don't worry it's updated for 2022. Bigger outings fall on weekends. You can check out my Best Outdoor Fall Traditions post for more ideas.
Many are links are to outside blogs who have amazing fall ideas for recipes or crafting. You'll see I've pulled out Halloween activities, plus simply October and fall activities depending on your interests.
Don't miss the FREE Printable PDF [list AND calendar] at the end of the post!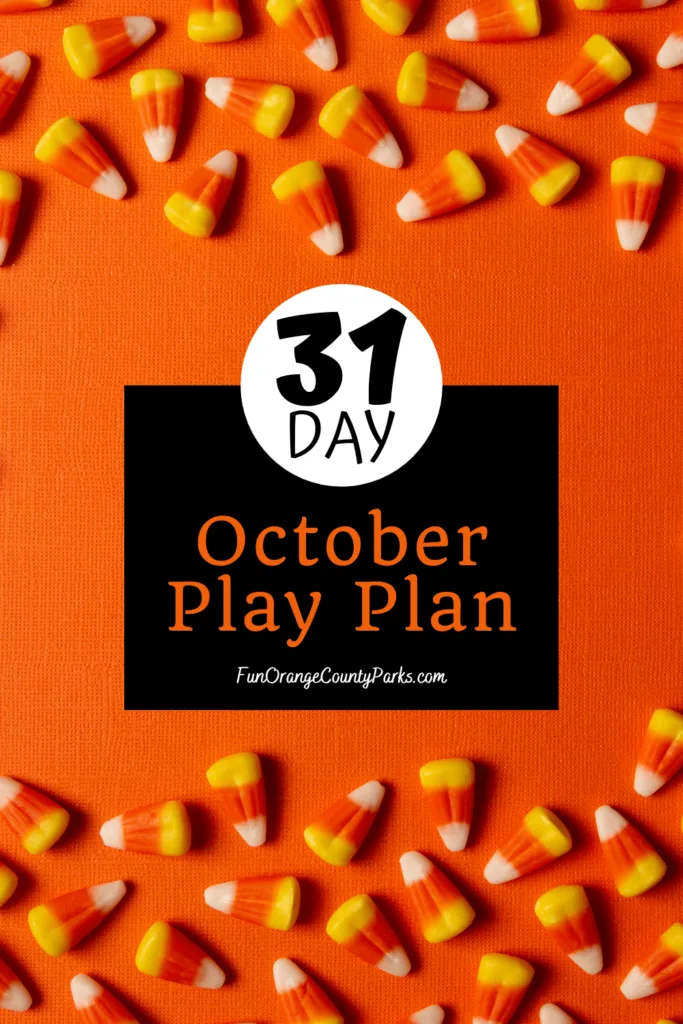 Day #1 – Make spooky DIY Soap Bottles. Super simple craft where you put small Dollar Store Halloween decorations inside clear liquid soap bottles after removing the label.
Day #2 – Read Amelia Bedelia's First Apple Pie book and make Apple Pie in a Cup. Oh, I love this idea! Amelia Bedelia is one of my favorite children's book characters. Reading her stories aloud are so much fun!
Day #3 – Visit Tanaka Farms Pumpkin Patch. You have to make reservations ahead for weekends. It is $10 per person.
Day #4 – Paper Spiderweb craft out of parchment paper from a blogger who wrote a book called Low-Mess Crafts for Kids! It's the perfect October Halloween decoration.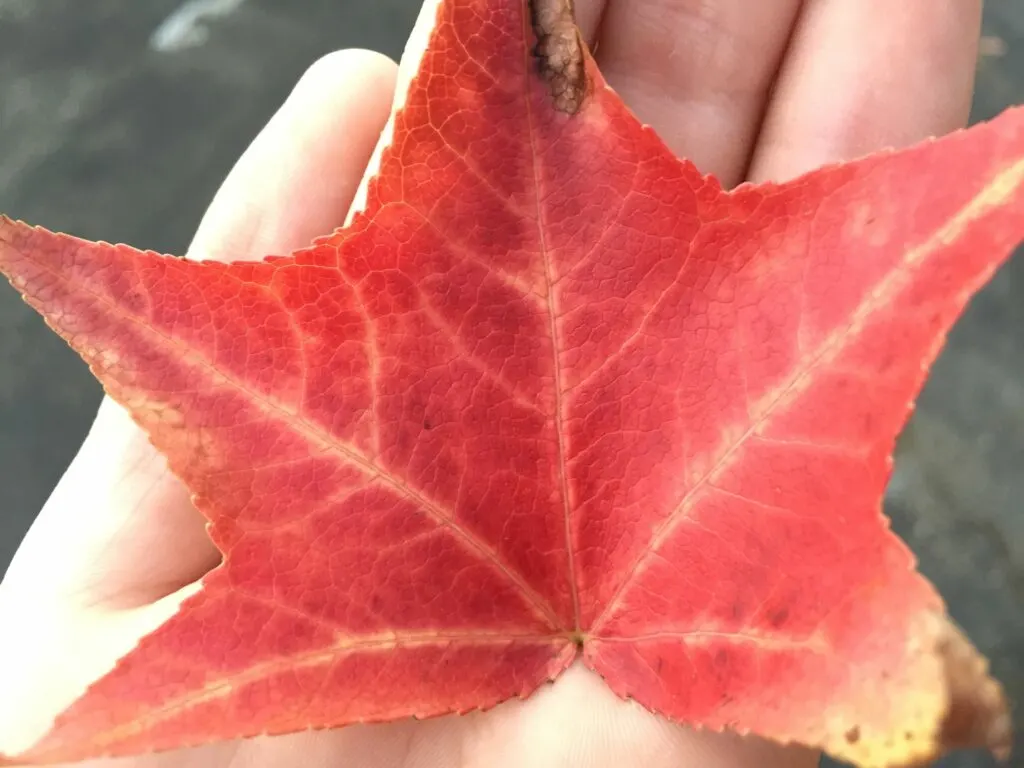 Day #5 – Check out Halloween or Fall books from the library or order a new children's book from your favorite online bookseller. Pick something that you'll read every year! Here's a list of Best Halloween Books for October Read Alouds to get you started.
Day #6 – Make Mini Pumpkin Pie Rice Krispie Treats that just LOOK like pumpkin pie and don't actually have any pumpkin in the recipe – except a little pumpkin pie spice. Remember to get extra marshmallows for this fall recipe.
Day #7 – Take an early-in-the-day weekday trip to Irvine Regional Park when crowds might be a little less busy than on Saturday or Sunday. Even afternoons around sunset would help you avoid crowds. You can take advantage of all the freebies. Playgrounds are nearby and the OC Zoo is open from 10am-3:30pm. The nature center is also all decked out with decorations for the season. The park is also a beautiful place for walks, bike rides, or picnics. Look for peacocks!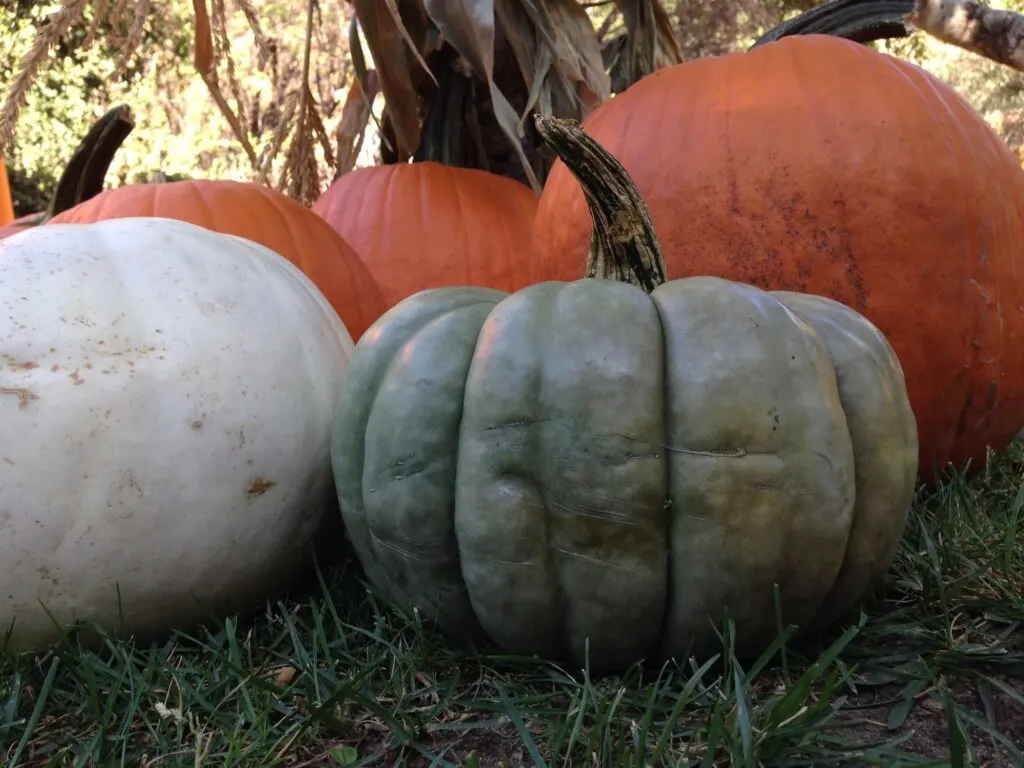 Day #8 – Make the cutest Yarn Wrapped Mummy craft to decorate around the house. If that's not colorful enough, the same blogger has a minimal supplies Plastic Lid Pumpkin Sewing Craft which involves feeding orange yarn through holes in a lid to make a festive pumpkin. If you want more easy crafts, this particular blogger has a list of 25 Spooktacular Halloween Kids Crafts. If you are a fan of Busy Toddler, Susie has a list of 40+ Halloween Activities for Toddlers.
Day #9 – This Easy Apple Pie Bites recipe counts on refrigerator crescent rolls to hold all the fresh apple pie flavors. Read all the way to the end of her recipe to find links to 3 more apple recipes which might suit your family.
Day #10 – Set up a tiny Pumpkin Hunt inside your house, yard, or at the park. Either get some mini pumpkins (a.k.a. Jack Be Little pumpkins) or make some flat paper versions out of construction paper. Hide them and let the kids find them (kinda like an Easter egg hunt).
I also had the idea, if you happen to have a lush green or brown blanket or bedspread lying around, that you could make a DIY Pumpkin Patch at home and the kids can "pick" their mini pumpkins from the patch. After you're all done with these games, the pumpkins can decorate your front porch or dining room table.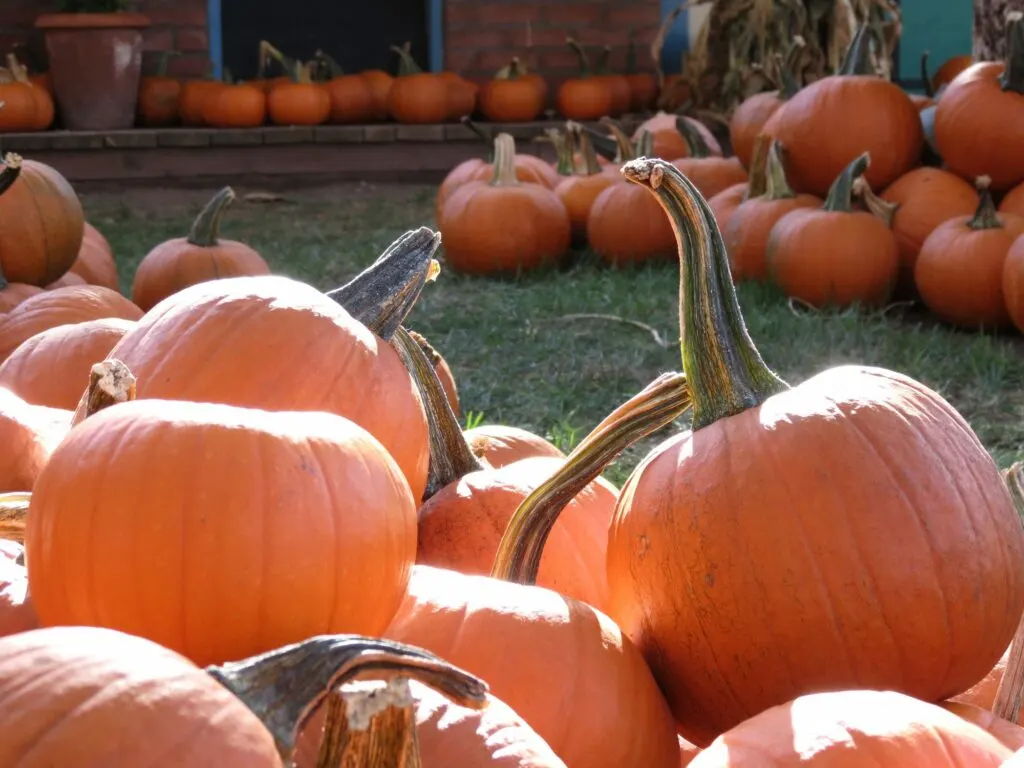 Day #11 – Take a fall neighborhood walk and see if you can notice any signs of the new season. As we get later into October, you can even go early in the morning or as the sun sets to feel a little chill coming on. In Southern California, even Santa Ana winds are a sign of fall!
Day #12 – Try this Easy Ghost Craft with a clothespin, pom-poms and a little paint. This blogger has a list of Halloween books to pair with this craft and some other ideas for crafts at the end of her post.
Day #13 – Decorate candles with cinnamon sticks for a simple centerpiece.
Day #14 – Halloween without See's Candy just doesn't feel right (yes, I was spoiled with See's as a kid!). Check out all their special offerings this time of year. I'd rather have one or two pieces of See's than a whole bag of regular Halloween candy. Ummm, Scotchmallow Jack-O'-Lanterns???!!!! Yum.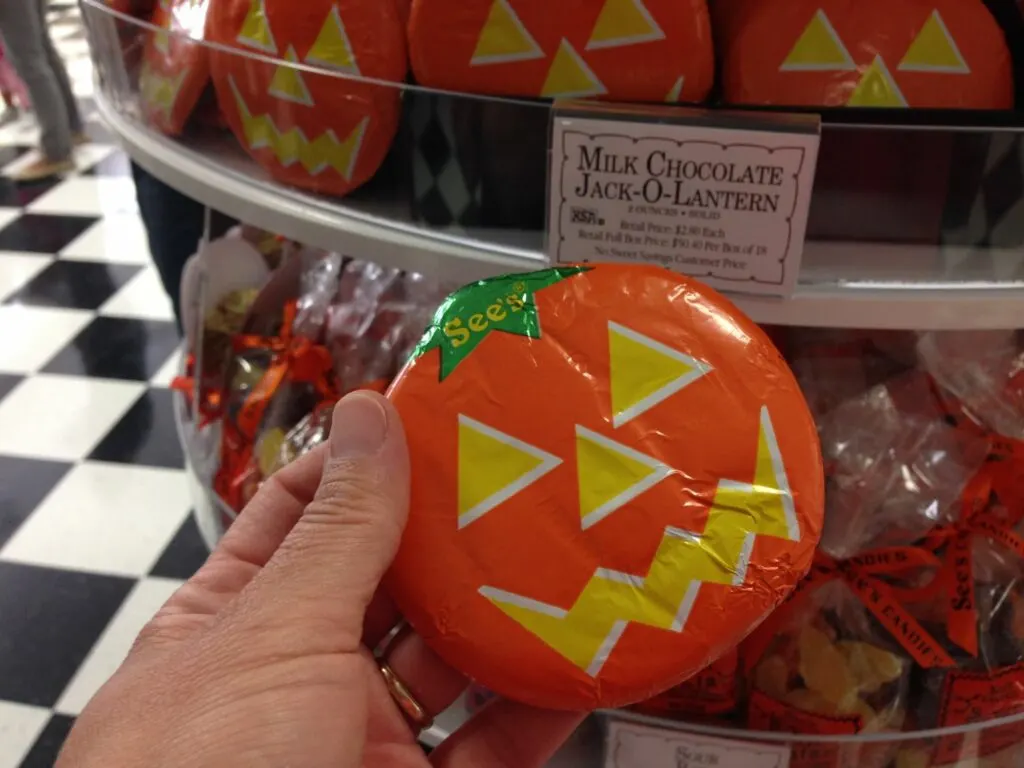 Day #15 – What about good old-fashioned Pumpkin Carving or Pumpkin Decorating? Do you roast the pumpkin seeds? That's my favorite part!
Day #16 – The Environmental Nature Center is holding a virtual version of their Fall Faire and Pumpkin Patch on October 16th, 2022.
Day #17 – October is "kids free" month in San Diego, so it seems like this should be on your play plan. We were able to pull off the San Diego Safari Park last year and some of the deals are on hotel stays or meals. Just browse their list and see if there's anything that sounds good! Those are the deals listed on the Visit San Diego website, but the San Diego Museum Council has a really good resource, as well. Don't worry if you miss October, February in San Diego is Museum Month where you can get 50% off those visits. (And seniors 65+ are free the month of February at the San Diego Zoo Safari Park – so it would be fun to plan ahead with grandparents.)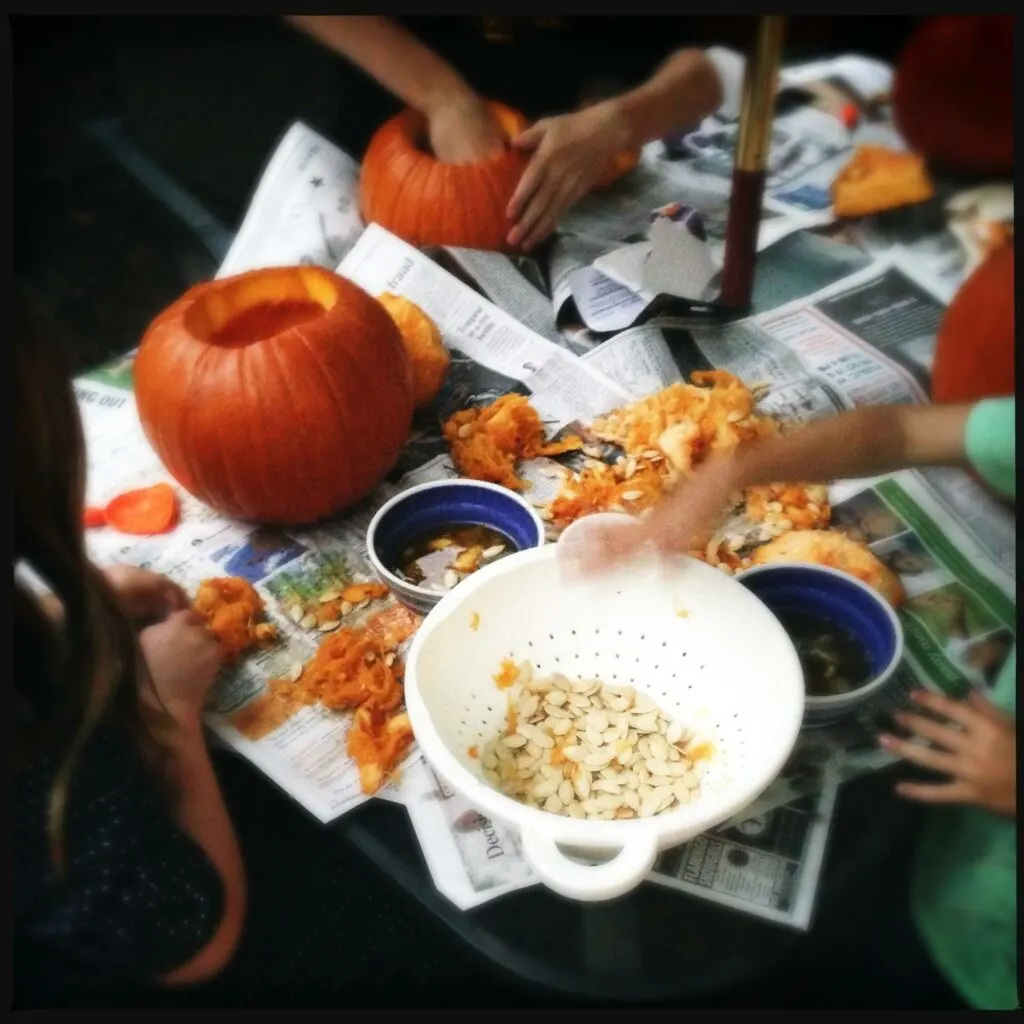 Day #18 – You don't have to wait for a Halloween party to play Halloween games. The whole family can compete in this Pumpkin Ring Toss Using Glow in the Dark Necklaces.
Day #19 – How about Healthy Halloween food? This sounds boring, but this post has done some fun things like Tangerine Pumpkins and Banana Ghosts, along with some other fresh fruit and vegetables.
Day #20 – You probably already have Glow in the Dark Necklaces from the Ring Toss. Why not try a Glow in the Dark neighborhood walk? You can use flashlights or the necklaces to see what the neighborhood looks like after dark – safely and parent-supervised, of course.
Day #21 – Decorate your front door. This isn't our front door, but we like to put up seasonal wreaths, too. Search Pinterest for Fall Wreath Crafts for Kids.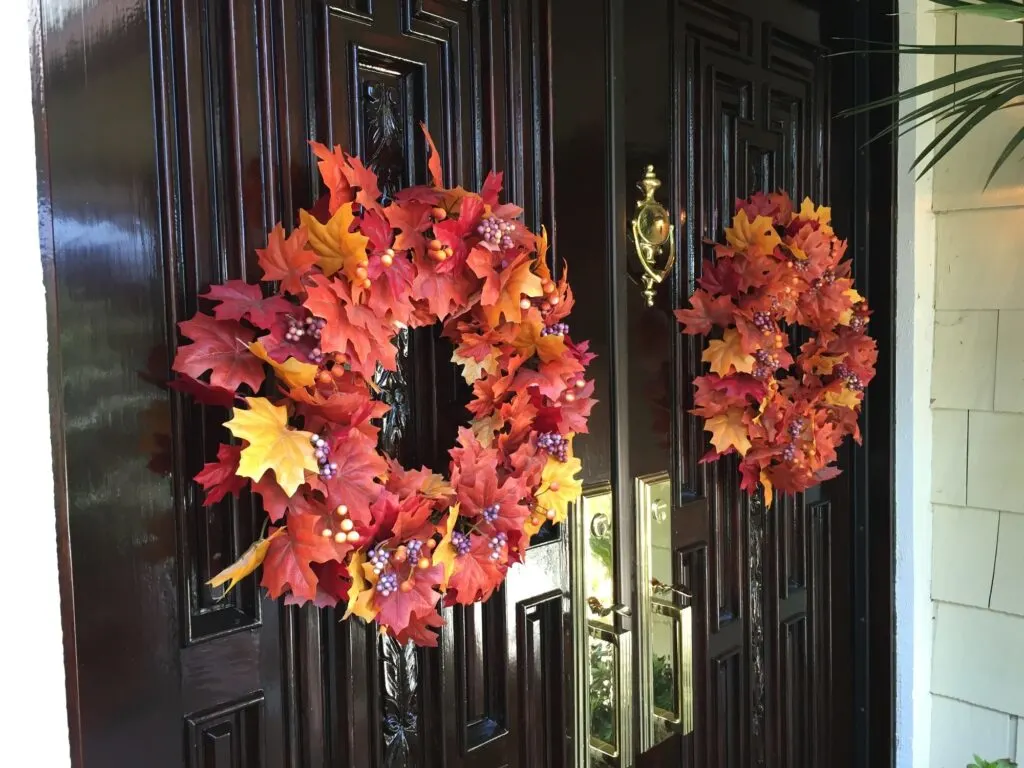 Day #22 – Let's tackle a free October Halloween I Spy Printable. How fun is this?
Day #23 – Oak Glen Day Trip – not for apple picking but for a family hike and nature morning at the Southern California Montane Botanic Garden and along the trail. But that doesn't mean we don't grab a bag of apples and a bite to eat (to go) before we head back home.
Day #24 – Try making a Toilet Paper Pumpkin for home decor – it's not what it sounds like. The roll merely provides shape and tucking space for fall fabric. (I guess it's good that I can laugh at this toilet paper craft? It would have been unthinkable to use a roll for something as frivolous as a craft in early 2020.)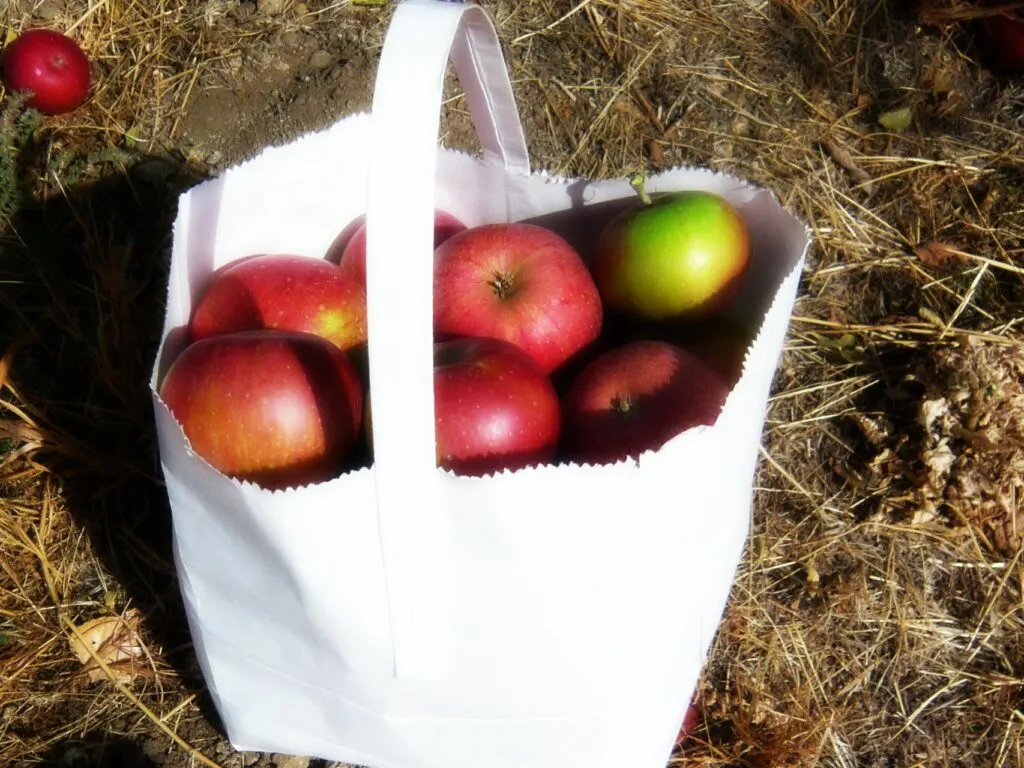 Day #25 – Pie Crust Chips and Cinnamon Dip for some cookie cutter fun with kids. I remember loving to shape things out of pie dough. The bonus is that it comes with a dip!
Day #26 – Roll a Pumpkin Dice Game with drawing and taking turns. This could work for a big family group or just a parent and child. Super easy printable!
Day #27 – It's become a family tradition for us to watch Coco in October. Do you have a favorite October movie? Or a good documentary to understand why we celebrate holidays and their cultural or commercial meanings?
Day #28 – Pick a fun fall dinner featuring pumpkin or apple. Or try a themed meal with recipes like Mummy Hot Dogs, Jack-O-Lantern Quesadillas, or Mummy English Muffin Pizzas. These are "witches fingernails" we were served at a Halloween party one year. Spooky!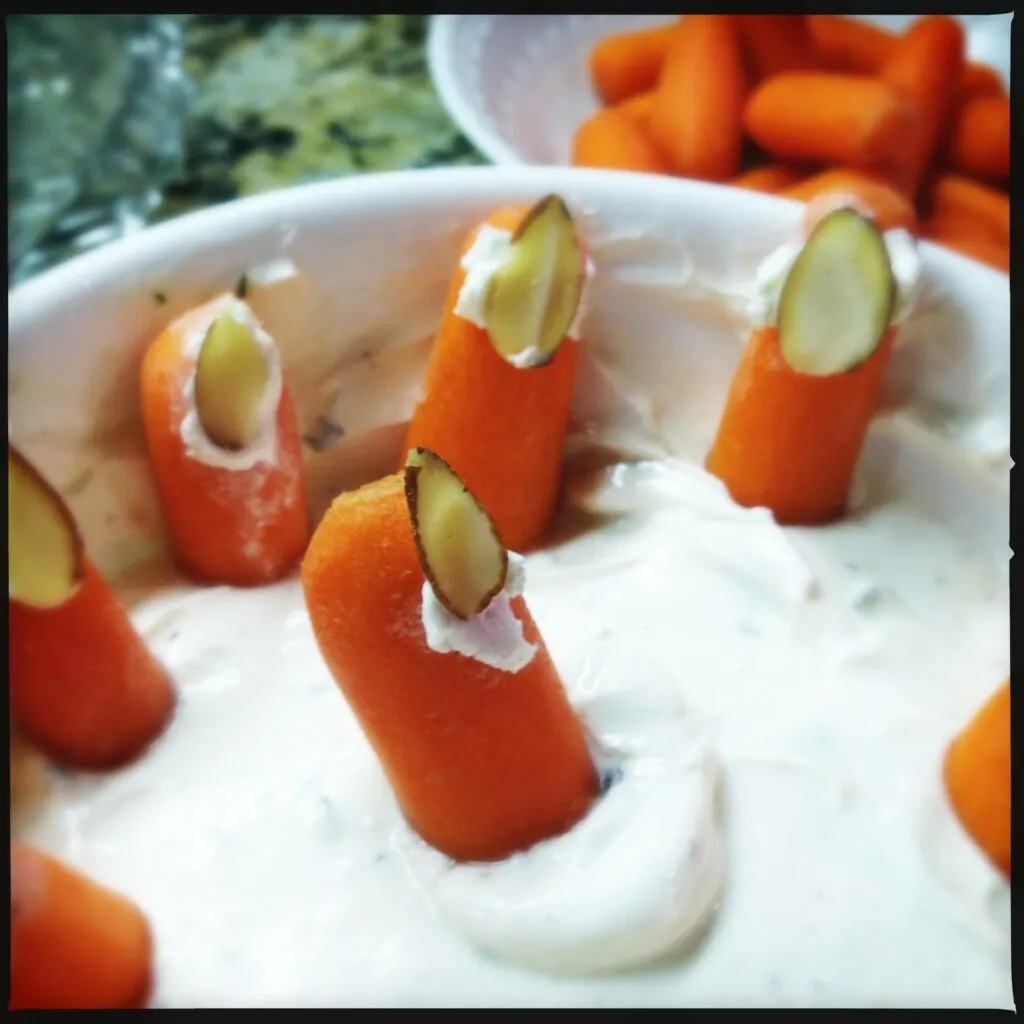 Day #29 – Do you have old Halloween photos of yourself in costumes as a kid? Your kids might like to see how you dressed up or hear your memorable Halloween stories. Or some older kids might not even remember how you dressed them up when they were younger. Share your favorite stories. Ask the grandparents about their Halloween memories.
Day #30 – Challenge your kids to an October Halloween costume parade at home using only items in their closet or the toy box. How many costumes can they come up with? Is it themed? Can they act out their parts? Keep it playful and child-led. Encourage silliness!
Day #31 – Make a Halloween Candy House (like a gingerbread house) but out of Pop Tarts. Make sure to let the kids pick the candy for decorations. Hint: Candy eyeballs are always a hit for decorating – even if they aren't popular for eating.
There are TWO printable versions available for you! Maybe you think in lists? Then this first one is for you.
And I've also created a calendar version this year! Download the October 2022 Calendar PDF below.
That's 31 days of fun you can have mostly at home with a few outings you can hopefully schedule for not busy times (think EARLY!).
What new traditions are you going to create?
How can you make this a memorable month?