Santa Fe Park in Placentia introduced a train-themed playground renovation in 2023. The park now has a small but unique and colorful playground that children can enjoy. It has some elements that I've never seen before at any other playground in Orange County!
It's designed as a neighborhood park and the easiest access is for nearby residents. Additionally, it has exercise machines and a couple of picnic tables.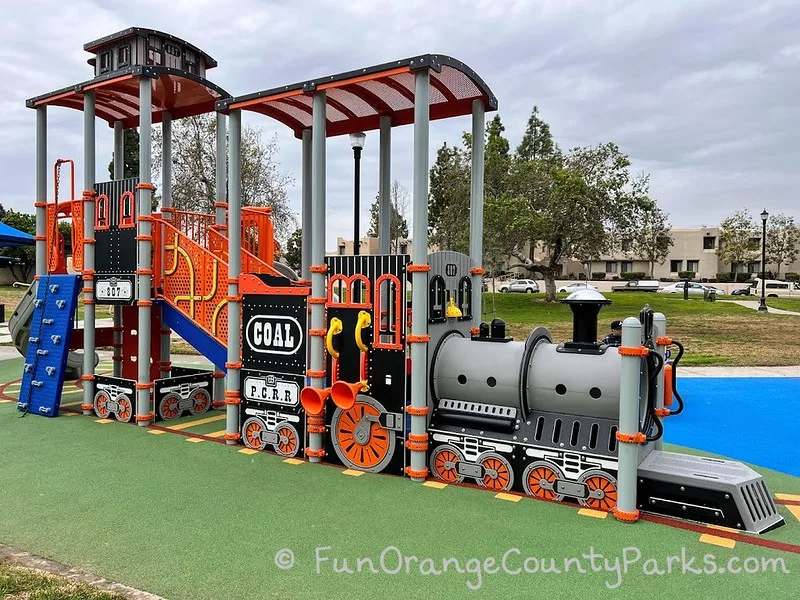 How to Get to Santa Fe Park in Placentia: The park sits just a block away from the 57 Freeway and is only a couple of minutes from the Chapman Avenue exit. The Chapman exit has an E Chapman Avenue and W Chapman Avenue, so make sure you are in the correct lane for the W Chapman exit going towards the foothills and away from CSUF. If you exit on Chapman going north on the 57 and make an immediate right turn down Placentia Ave, you will take a left on Santa Fe Ave and arrive quickly. It is in a residential area and has the feel of a small community playground. (Park Address: 550 W. Santa Fe Avenue, Placentia) MAP TO SANTA FE PARK IN PLACENTIA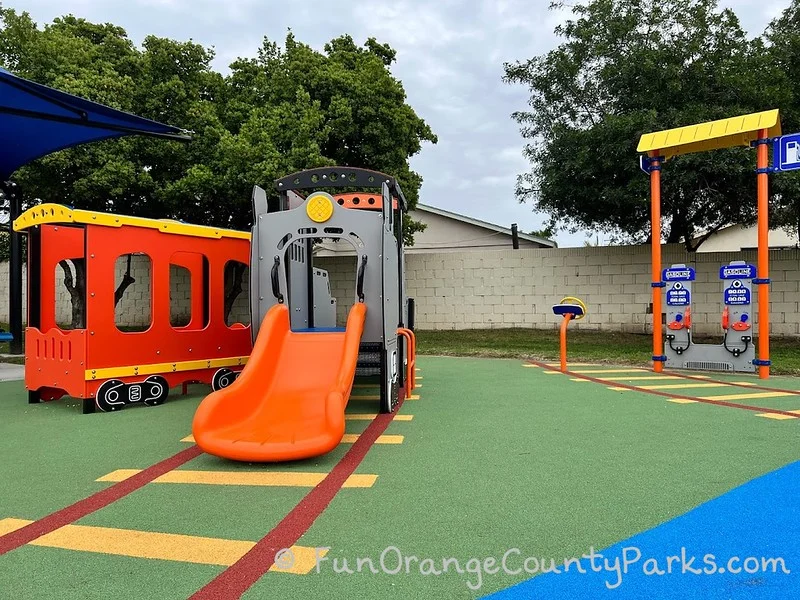 Highlights
Chooo-choooo! It's the details that make this playground stand out in comparison to other playgrounds with train-themed elements. There will be lots of pretend play using the tracks and the train engine plus train car.
The play structure, a large steam engine train, sits on painted tracks that lead to a pretend gas station and stop light (yes, mixing coal-powered trains with gasoline-powered automobiles – but who really cares?). With a free-standing steering wheel for those who like to drive!
There is also a smaller train for younger children with a very toddler sized slide next to a bouncy 4-rider teeter-totter.
The giant spinner wheel is a much-improved version of the heavy ones I've seen at other playgrounds. Usually they are exhausting to push for more than a few minutes, but this one is lightweight and spins easily – and maybe a little too fast at times?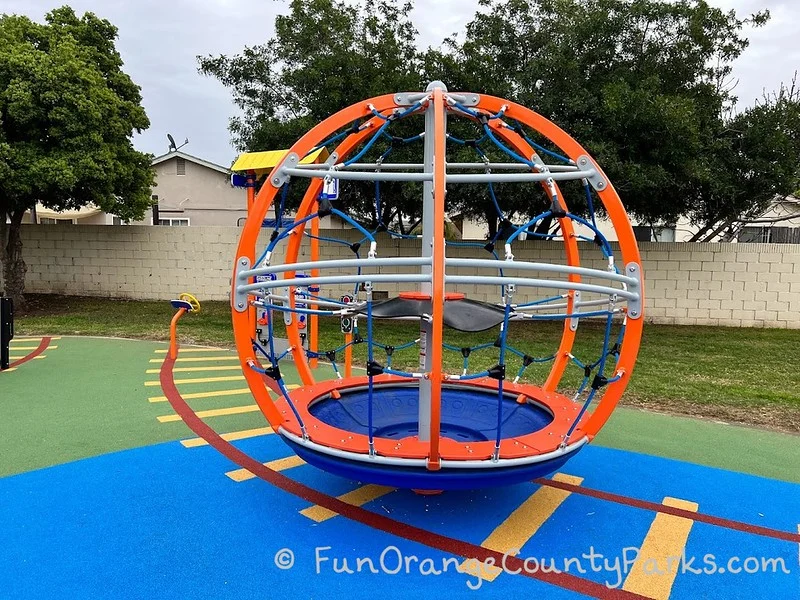 Be Aware
You will probably park next to the park on W Santa Fe Ave but beware of the street traffic close by. Cars seem to move pretty quickly in this area. Luckily, the playground is not directly next to the road, and there is a big path of grass to act as a cushion.
There are no restrooms here and no shade on the playground.
As I mentioned above, the spinner can move pretty quickly and easily.
No swings.
There is street parking along Santa Fe Avenue that wasn't too full when I visited because it was a drizzly day. I can see how it might fill up when the weather is nice. There is a cul-de-sac that dead ends into the park (Monterey Circle), but parking would be tight there in that residential neighborhood and you might get mixed up in trash day obstacles, etc.
Had a comment on Instagram about this park that I wanted to share: "We took our 2yo this past weekend and although it was a very cute playground, the hhole on the top of the "rock climbing wall" seemed so big/wide and unsafe. I felt like little kids could topple right onto the ground if they are leaning forward too much. I had to redirect my son several times and felt so anxious." Really good to know this mom's experience so we are ready for it!
The cool thing is that Pacific Play Systems responded (so they are actively listening to our concerns). They said: "Thank you for the feedback! The larger structure is suitable for 5-12 year olds." Which is true! Did you know that playgrounds are rated for either 2-5 year olds or 5-12 years olds? The larger structure is for older kids in the 5-12 year old age range.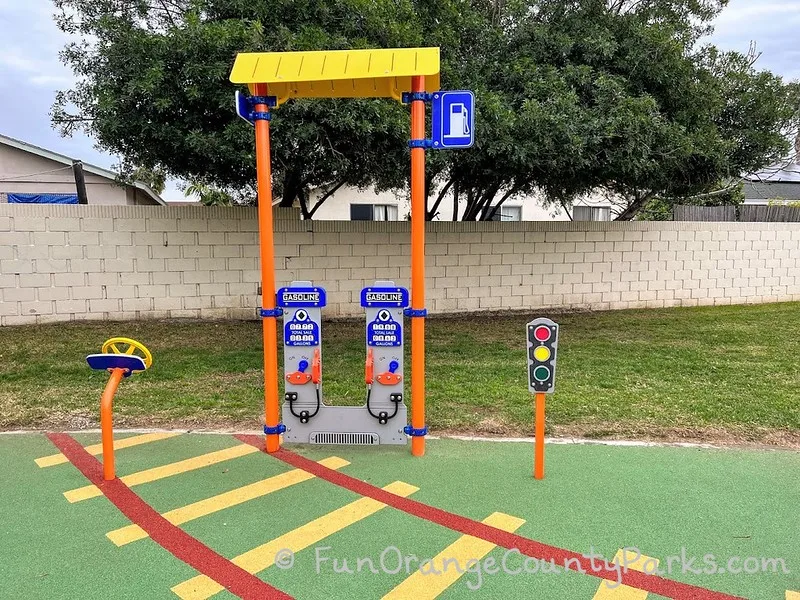 Checklist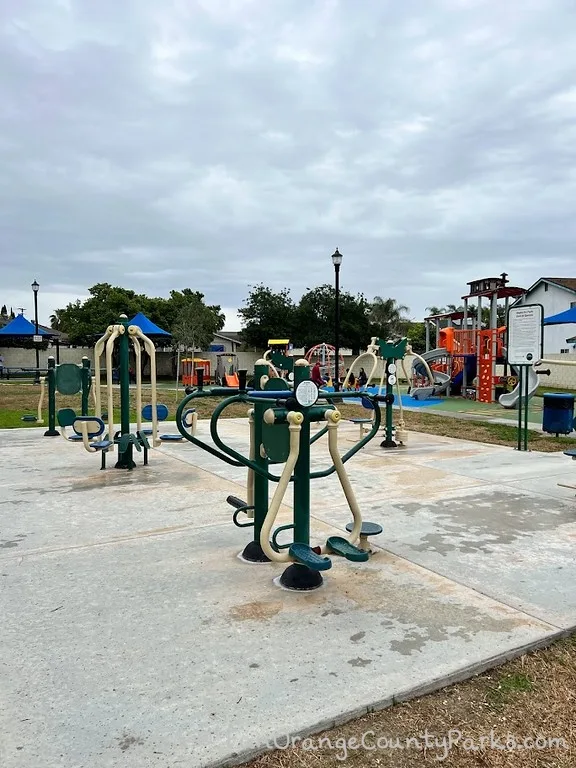 Parks and nature nearby Santa Fe Park in Placentia
Contributing Writer Bio: Heather is a mom of two (Ellie is 4 and Simon is 2). In 2021, Heather launched her @OCParentGuide account on Instagram and is mesmerized by how many amazing things you can do with your family in Orange County. She is a Kansas City native who moved here for a job in 2013. Her passion is inspiring people to lead more joyful and full lives. (Photo credit for this post also goes to Heather!)