My 7 year old came up with the holiday play idea of creating a Halloween candy house using Pop Tarts. I'm sure ideas like this can be found on the pages of Family Fun or Martha Stewart, but I thought it was cool he came up with it himself. I'm a not-so-crafty mom. So he made me a supply list: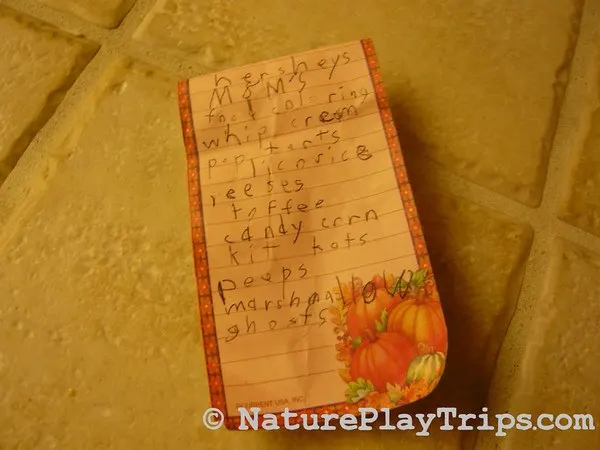 It reads:
Hershey's
M&M's*
food coloring
whip cream
pop tarts*
licorice
reeses*
toffee
candy corn*
kit kats
peeps marshmallow ghosts*
We ended up using Jet-Puffed Marshmallow Creme to paste together the houses and only bought the items with an *. I started by slathering a hunk of the creme in the middle of a paper plate. Then I smooshed a small orange juice (or milk) carton on the creme to make a frame. With the marshmallow creme, we glued the Pop Tarts to the carton in the shape of a house. The cousins were over for this event. We played spooky music and got gooey. Each kid got their own individual bowl of candy decorations. Each item in the bowl was exactly the same as their neighbor in quantity and color — to avoid argument. They also got a scoop of marshmallow creme for "glue."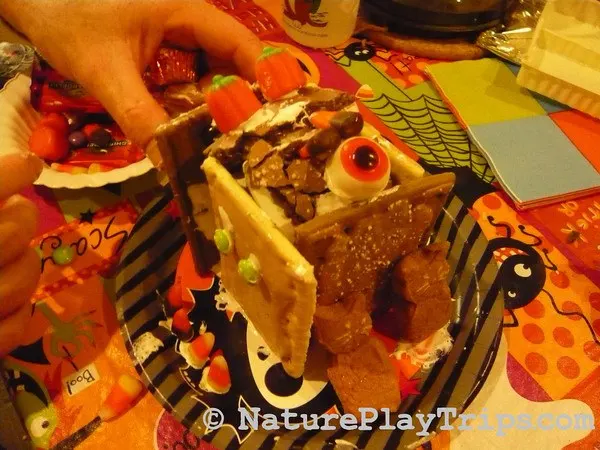 Best tip: The kids got to do what they wanted with their bowl of treats. They would not get refills. If they decided to eat their treats, they'd have less candy to decorate their house.
Hint: Candy eyeballs were not on the list, but they were the most popular decoration.