Baby Beach in Dana Point Harbor is near The Ocean Institute. Google Maps calls this area "Dana Cove Park."
It's basically a no wave beach inside Dana Point Harbor. Parking is free, so it's a popular spot. Go early and avoid weekends for the most enjoyable experience.
How to Get to Baby Beach in Dana Point Harbor
I get to Dana Point Harbor from all sorts of directions (Moulton to Golden Lantern, Crown Valley Parkway to Pacific Coast Highway (PCH), I-5 to PCH).
Look at the map to see what makes the most sense for you.
Taking the "Beach Cities" exit off Interstate 5 takes you right to the pedestrian bridge over PCH. Turn left onto Dana Point Harbor Drive and wind past Doheny Beach and the main shops at the Harbor.
Keep driving past Golden Lantern and turn into the parking area right after passing Cove Road. (If you get to The Ocean Institute, you've gone too far.) MAP TO BABY BEACH IN DANA POINT HARBOR
[Note: Your smartphone app might take you to the parking lot next to OC Sailing & Events Center. There are two more parking lots on the Dana Point Harbor map located on the left and right of the street just past the beach before you get to the Ocean Institute. So don't give up if you can't find a spot next to the first parking lot.]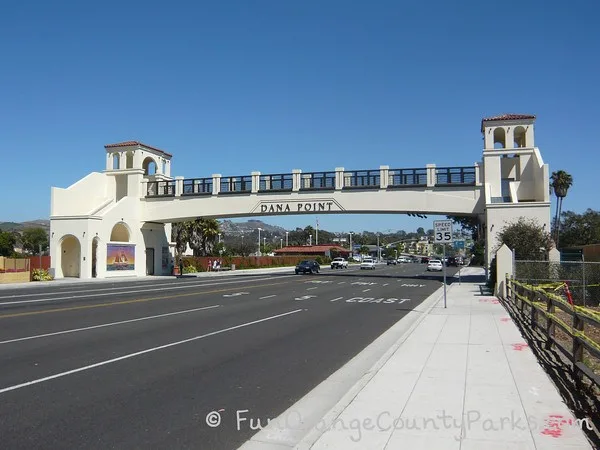 Recommended by: Cory (her comments in italics)
Highlights
CALM water (very little movement, no waves)
Lifeguard on duty during the summer
Beach and grass areas are within a few yards of the two parking lots (not a long or steep haul with the kids and all your beach "goodies")
Free parking
Right next to The Ocean Institute
The crowd was all moms, babies, families, and young kids.
I love walking around this harbor!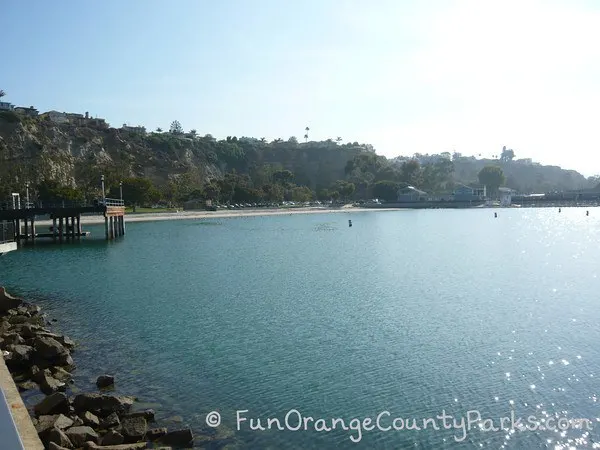 Be Aware
It's in a harbor, so don't expect a beautiful white sand beach and clear blue waters.
Also, no food/drink or sundry options nearby, so BYO-everything.
This place gets busier as the day goes on, so arrive earlier for less hassle. (Picnic areas, especially, fill up early!)
Remember, the weather at the beach can be very different than inland. Don't be surprised to find fog or a chilly ocean breeze (although it's a more protected area inside the harbor than on outside beaches).
As you stand facing the water, you'll see cones on the beach to your far left. This is where kayaks and paddle boards launch into the Harbor, so don't put your beach blanket inside the cones.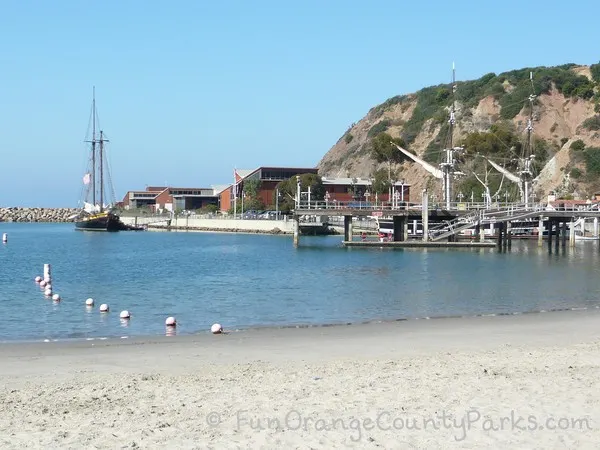 Baby Beach Dana Point Water Quality
Years ago, this beach used to have a reputation for closing due to water quality issues, but I haven't heard of any beach closures in recent memory. In fact, a quick check in August 2022 shows an A+ score.
If the water quality becomes a concern, the lifeguards will close the beach. You don't have to figure it out on your own! (Lantern Bay Park might be a good Plan B if this happens.)
To answer your "Is Baby Beach open?" question before you go, you can consult one of the following websites. Just know that the lifeguards have the final say once you get there. And, really, who wants their kid in the water when the water quality is bad anyways?
HEAL THE BAY Beach Report Card is the best website to learn about water quality over time. Look for Dana Point Harbor: Baby Beach Swim Area or Dana Point Harbor Baby Beach West End or East End.
OCBeachInfo.com (714-433-6400) for closures and warnings due to water quality issues.
Just expect the best and have a Plan B in mind.
Checklist:
Pretty good parking availability (Dana Point Harbor has a parking map brochure available in PDF for download. Baby Beach is marked on their map). Seriously, don't trust your GPS for finding parking.
Nearby grassy area
Picnic tables under a shade covering
Restrooms were right next to the beach (between the picnic areas)
Are dogs allowed at Baby Beach Dana Point? Dogs are prohibited on the sand, but are allowed on the grass area as long as they are on a leash.
Official City of Dana Point website with links to the beaches
Nearest public library branch: Dana Point Public Library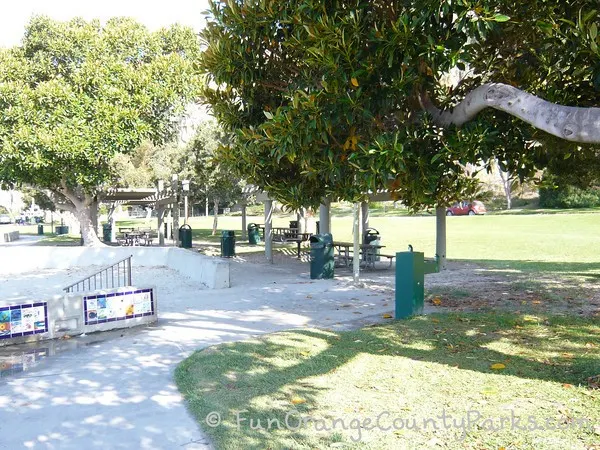 Nearby parks: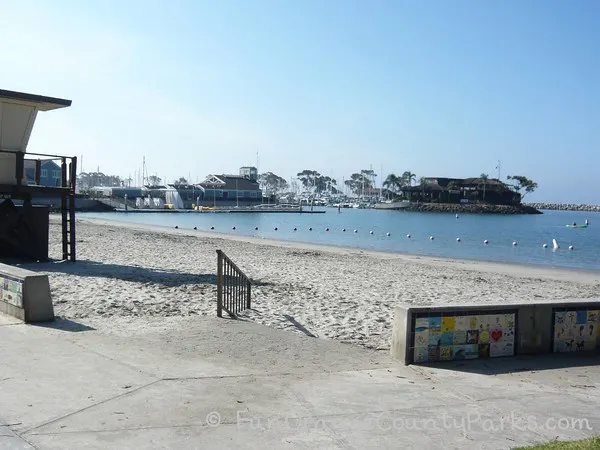 Originally posted in August 2011.