Lantern Bay Park in Dana Point sits on a bluff overlooking Doheny State Beach (pictured), Dana Point Harbor and the coast, is a favorite for its sea breezes and proximity to the beach.
Perfect for family barbecues and larger gatherings, too.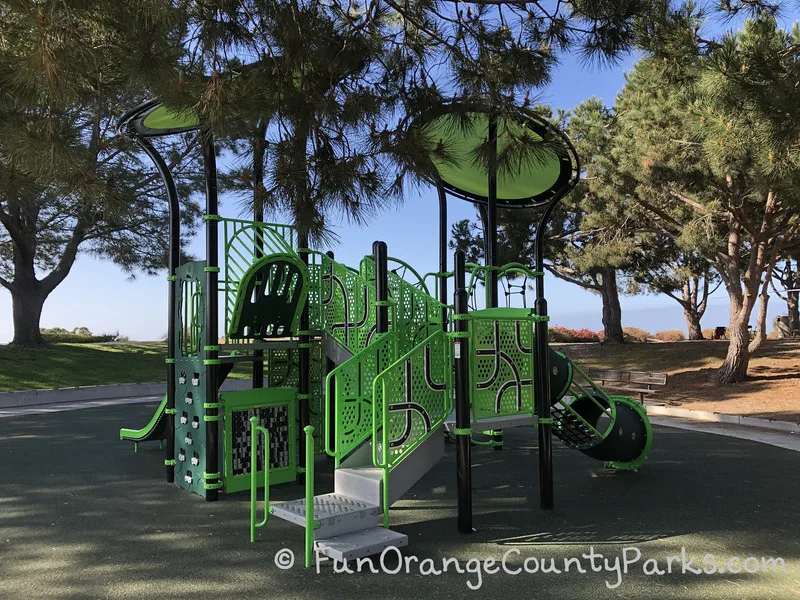 It's located across from the Laguna Cliffs Marriott with its distinctive red roof.
There's a long staircase leading from the harbor up to the park which is popular for running stairs and a yoga class that gathers on the lawn area nearby every morning.
New playground as of May 2021. I started this blog in 2008 and this is the 3rd playground I've covered in this same spot.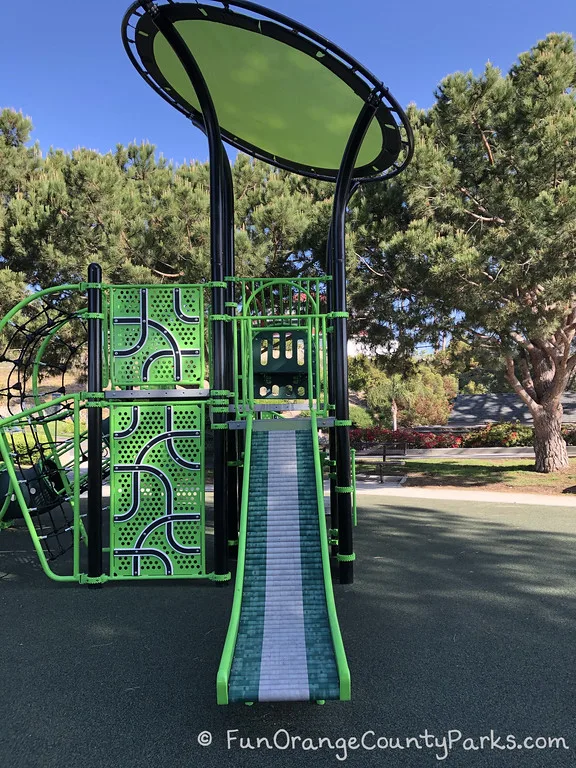 Directions to Lantern Bay Park in Dana Point: Located off Pacific Coast Highway (PCH) near Dana Point Harbor. Del Obispo turns into Dana Point Harbor Drive when it crosses PCH. Turn right onto Park Lantern Road and follow it up the hill until it dead ends near the Laguna Cliffs Marriott where you can turn around and park facing down the road on the same side as the playground. Parking on the street if you can find it or a lot halfway down the hill. (Address: 25111 Park Lantern Road, Dana Point). MAP to Lantern Bay Park in Dana Point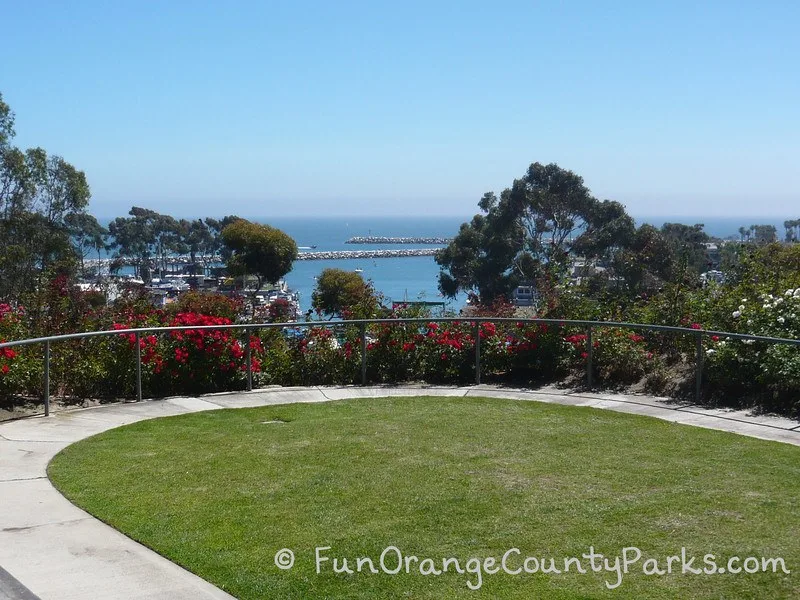 Highlights:
Very cool even on the hottest days with a nice ocean breeze
It has one of those roller slides that some kids love and some kids fear
Neon green play structure more suitable for kids who are good climbers
2 bench swings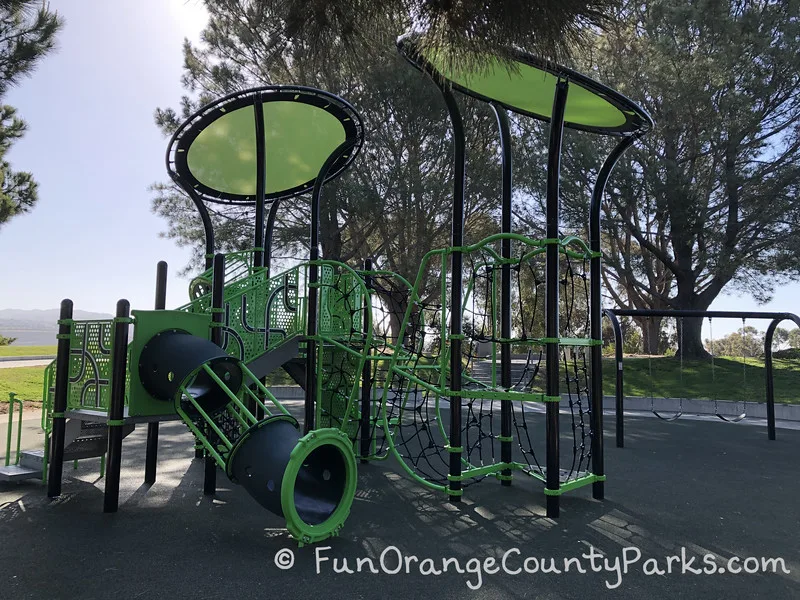 A sunken amphitheater surrounded by rose bushes – where our kids like to race or perform pretend shows
Doheny State Beach and Dana Point Harbor nearby
My family uses this park as a place for breakfast and lunch picnics or dinner barbecues
Sunset views are incredible from here!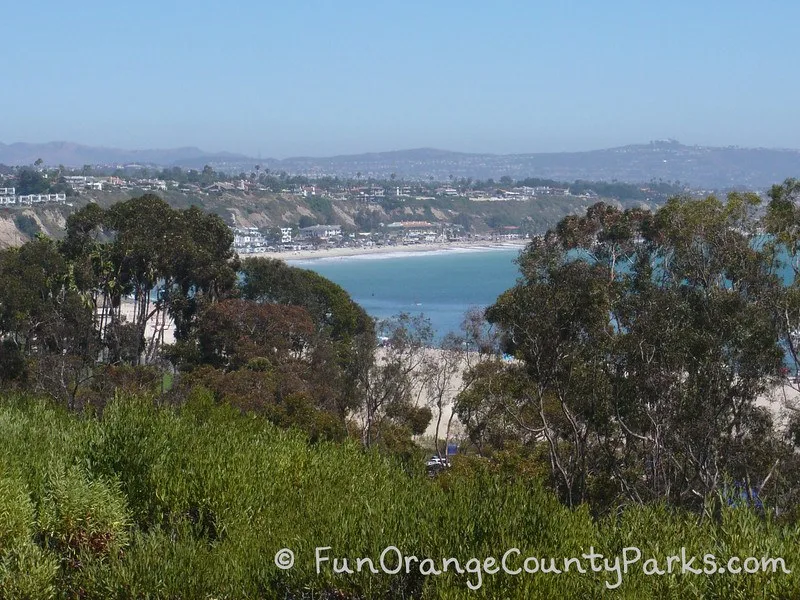 Be Aware:
Maybe an uphill walk depending on where you park
On top of a bluff – so keep track of tiny wanderers – don't want them getting too close to the edge
There's a donation-based "yoga in the park" class every day at 10am which might compete for parking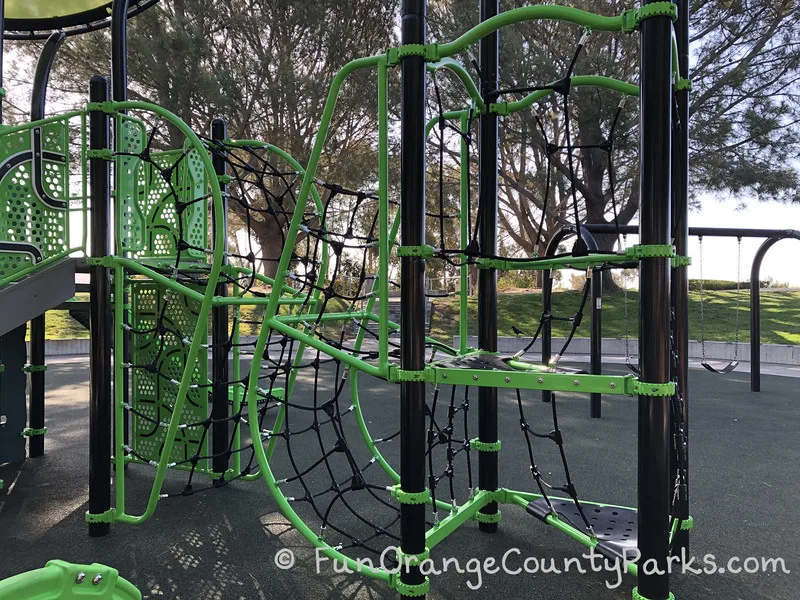 Checklist:
Parking on a hill or a dedicated lot is down the hill – so there can be a walk uphill to reach this park
Recycled rubber play surface
Typical beach restrooms and drinking fountains
Plenty of shade surrounding the park, but not much over the structure except in the mornings
Benches and lawn area nearby to sit while supervising the kids
MANY picnic tables and grills around, but not necessarily next to the play area
Parks Nearby Lantern Bay Park in Dana Point
Originally posted in August 2010.