The Southern California Montane Botanic Garden and Children's Outdoor Discovery Center is known in our family as our "Annual Oak Glen Hike."
Apple picking is optional!
The main reason we go is to get out onto the family-friendly trails in fall. Why don't you come along with us?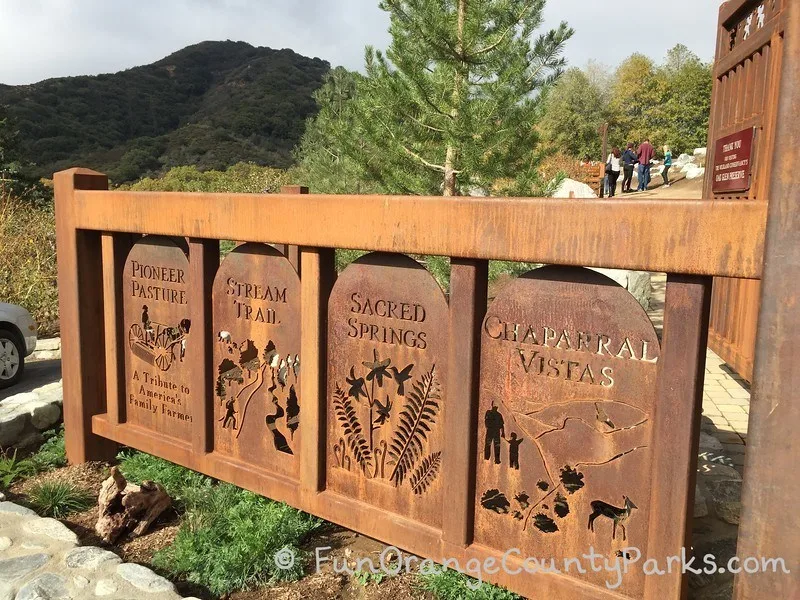 This is such a great interpretive hike for the kids and when you come back every year – and only once year – you really notice the differences in the land!
You might find interpretive panels called "Kids Quizzes" stations. For instance the one below says: "What animal lives in this nest?" With hints like: "It does not have feathers. It likes to collect shiny things. It has a cousin named Mickey." Do you know the answer?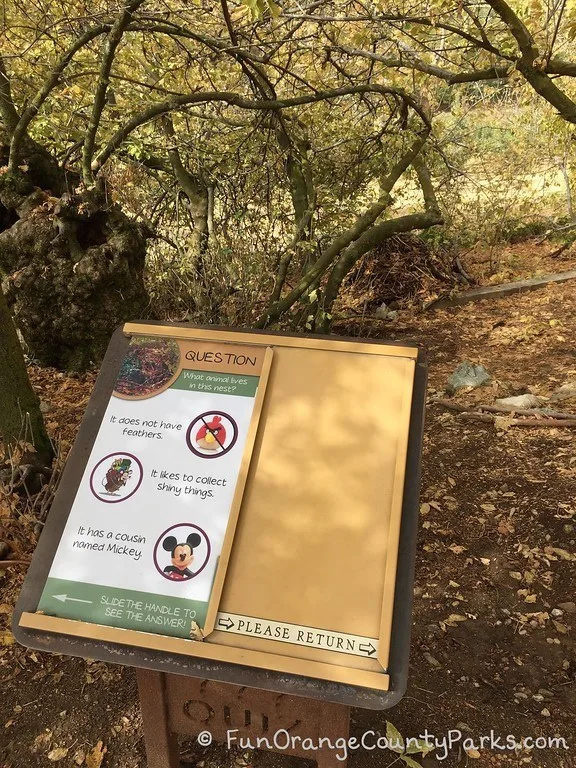 The hike starts with my favorite trees.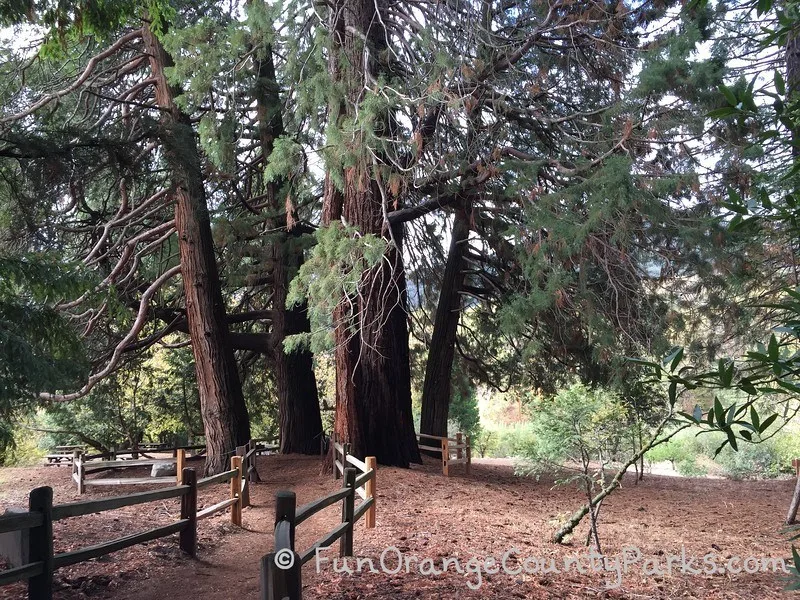 And progresses along a Wetlands Boardwalk.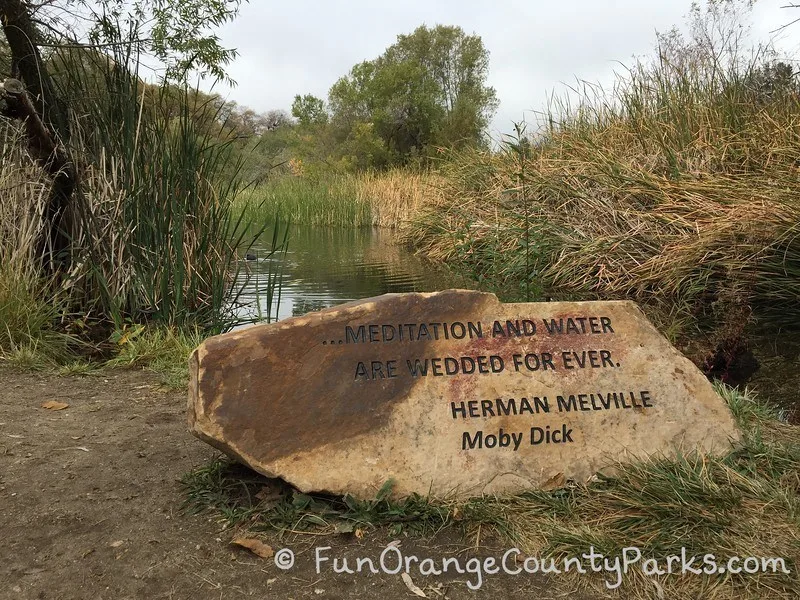 Then you'll end up in the spot with big California Black Oaks that REALLY feels like fall. Do you hear the acorn woodpecker?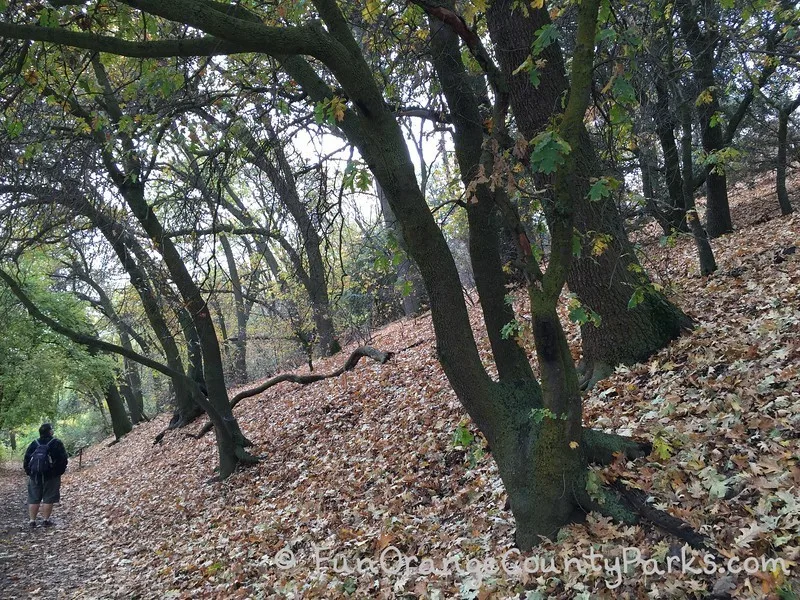 The beauty of Oak Glen is SO worth the drive. This year is the first time green leaves on the browns caught my eye.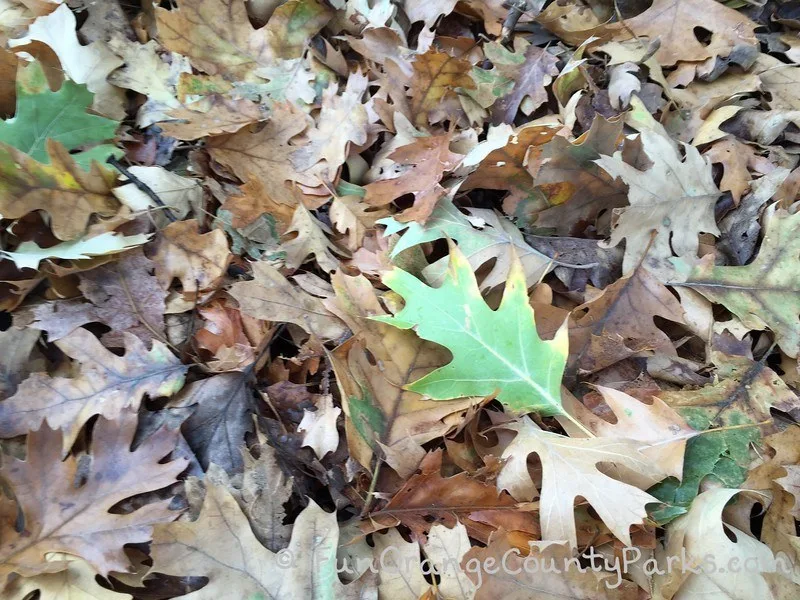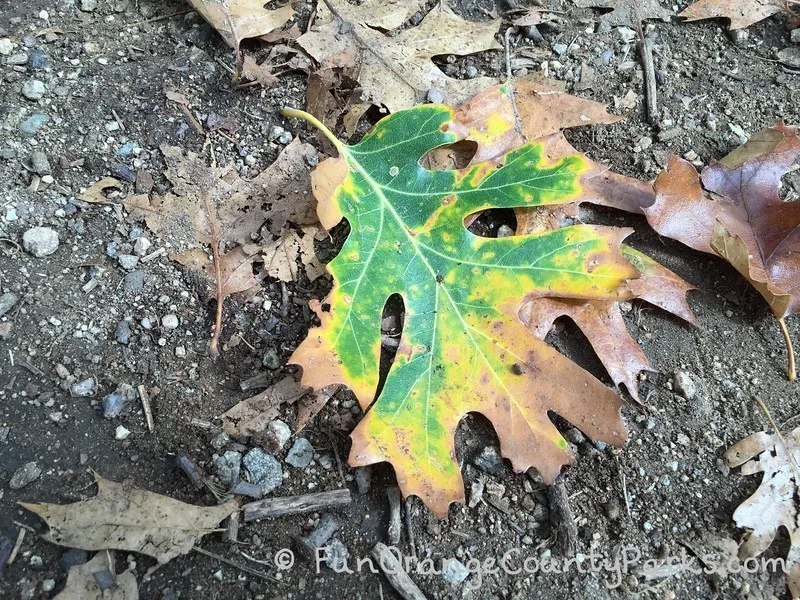 And the first time I really looked closely at the acorn missing from the oak tree.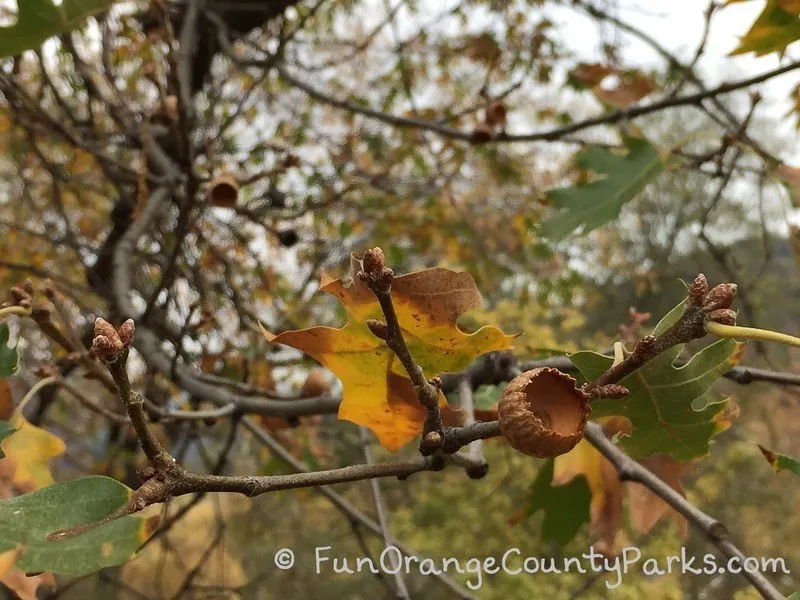 There's a stream towards the end of the hike before you make the loop up the last hill.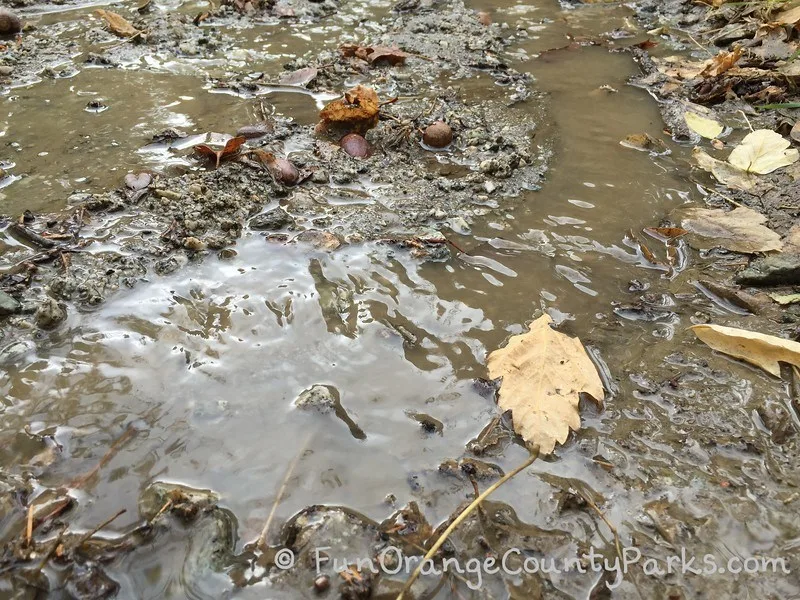 Most families visit the Preserve in October for apple picking. But I refuse to come when it's still HOT out. I want it to feel like fall when I'm up here on the trails. It was 41 degrees on November 2nd when we arrived in the parking lot at 9am.
And there were still apples available for picking! The Rome Beauty's are growing at a height that children can reach.
We opted for the Winesaps which were closer to the petting zoo and store. Since it's towards the end of the season, we even got to use a nifty tool to pick high up on the branches.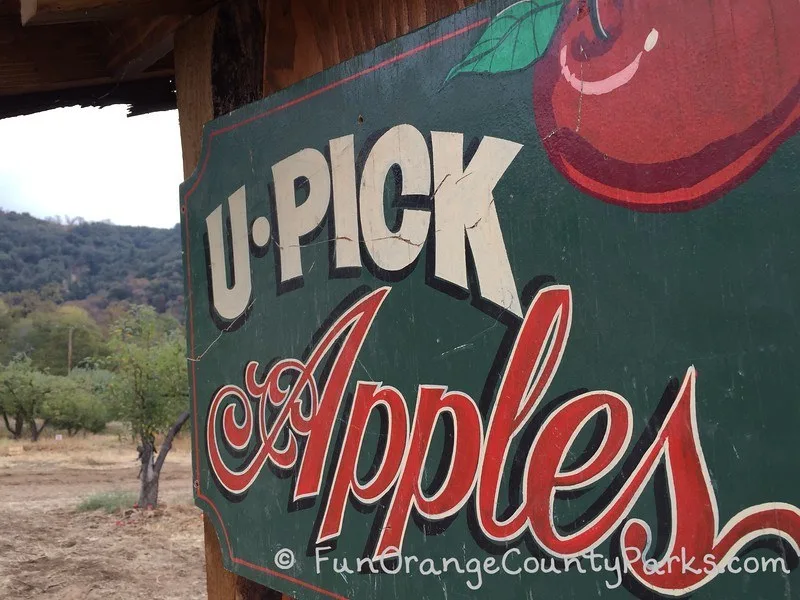 You just have to go up and experience this place — especially if you've been craving some fall fun. It only takes a little over an hour to get there.
We left our house in OC around 8am, got there a little after 9am. Hiked and picked apples. We were done about 11:30 and drove back to I-10.
Then we got off the interstate about 20 minutes away on Alabama Street for lunch at the Old Spaghetti Factory. We were home by 2pm. So worth it!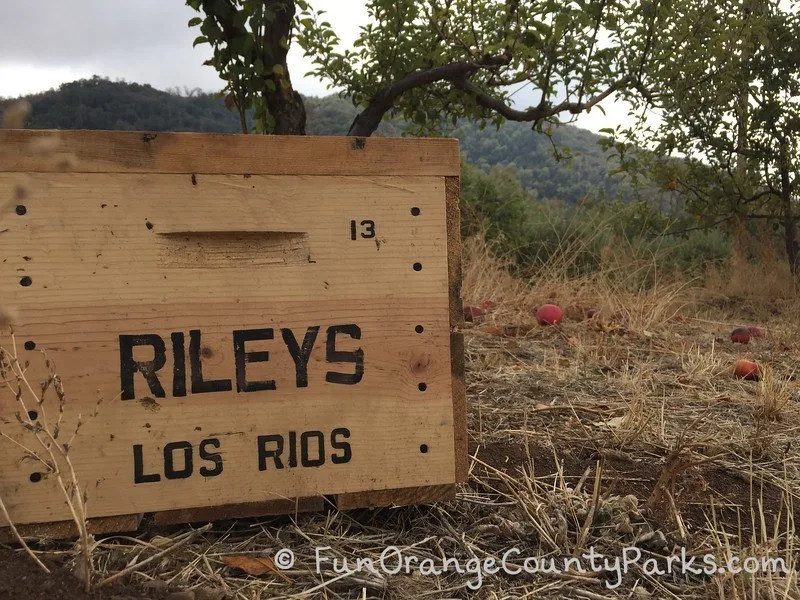 Checklist:
Directions from Interstate 10: Take the Yucaipa Blvd exit (there are lots of stores, restaurants, and parks along this route). Turn left at Oak Glen Road and drive 11 miles to Oak Glen and turn into the parking lot at the Riley's at Los Rios Rancho apple farm. There is a big red apple sign a little ways before the right turn into the parking lot. Bear to your right to park near the hike and Wildlands Conservancy.
Trail open every day from 8am to 5:30pm — so you won't want to start a hike any later than about 3pm because it takes about an hour to make the loop at a fairly slow pace. Getting there right at 8am would be your best bet to feel the chilly fall mornings (although I would note that the Los Rios Rancho site says their gate to parking doesn't open until 8:30am)!
No fee, but I highly encourage leaving a donation
No collecting anything! You'll be tempted to pick up an acorn or some leaves, but leave them for the birds and squirrels. We saw one spot in a hollowed out tree stump with a pile of acorns gathered by an animal.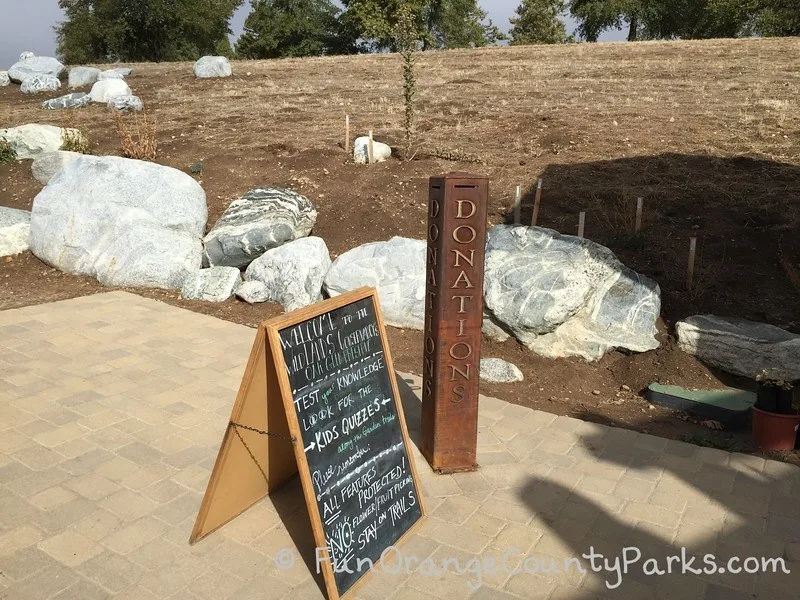 More posts on Oak Glen:
Originally posted in November 2014.