In Orange County, wildflowers tend to bloom starting in March. My husband and I accidentally stumbled upon a whole bunch when we took an impromptu wildflower hike in Aliso and Woods Canyons in March of 2016.
In general, expect to see wildflower blooms from March-May. Not all spots are kid-friendly because some require long car rides, super steep or remote trails, or desert locations.
The 2022 wildflower bloom isn't going to be as awesome as some years because of the lack of measurable rain this season. At least the hills are still green in March this year.
The media likes to blow wildflower bloom potential up into "SUPERBLOOM" status. Really? I get excited when I see ONE wildflower. It doesn't take much to get me excited about it.
Most of my photos in this post are from the impressive 2017 when I was actively out exploring the wildflowers. But I've found little patches every year no matter what the rain situation happens to be.
Where to Find Wildflowers
You can find wildflowers all around in a good bloom year. In mid-February 2017, we drove to San Diego and the poppies were already covering the hills around Camp Pendleton with swathes of their signature golden color. It looked like someone came along and painted the green hills with artful blankets of orange paint.
I was lucky enough to attend a media tour of wildflowers that same year and while I only spotted a few purple lupines on the trail — I saw whole hillsides filled with these flowers on the way to the tour just driving along Jamboree Road. In 2022, I'm just starting to see those purple lupines off Jamboree. Not in huge numbers, bu they are there.
This is what a bunch of California Poppies looks like from a distance.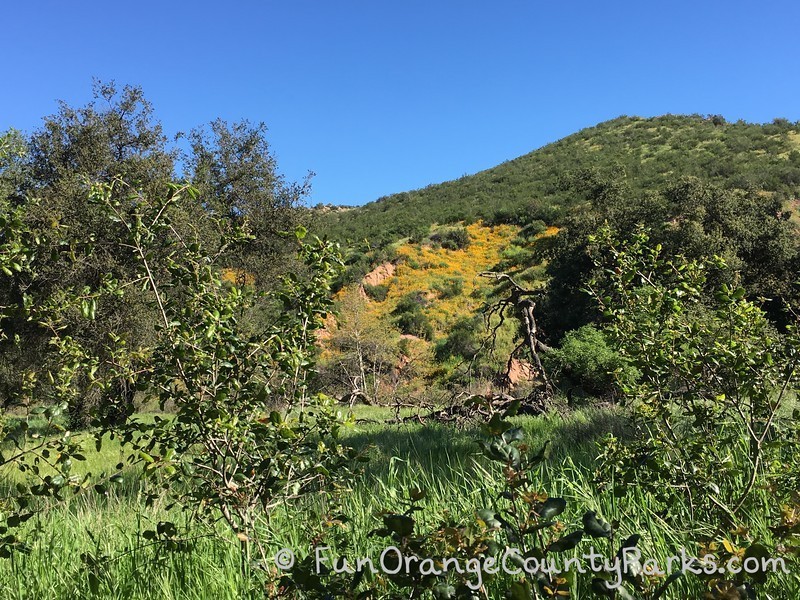 Your best bet before heading out is to consult these websites for up-to-date info. Here are the best sources for finding up-to-date information about wildflowers:
Word is that there's no super bloom in Walker Canyon in 2022. Access to Lake Elsinore / Walker Canyon wildflower bloom is usually limited due to impacts on the community (traffic and those people going off trail and not obeying rules). If you saw photos of friends in the poppies from 2017, it was probably near Lake Elsinore off the I-15 at Lake but that offramp was CLOSED in 2019 on weekends or when there was congestion. Instead, wildflower visitors used the Nichols Road offramp for shuttle parking (safely exit freeway and park your car before viewing the flowers).
Sounds like the bloom for 2022 isn't really expected, but you can get the latest info from the City of Lake Elsinore News page.
Felicia at EverydayAdventureFam.com wrote some amazingly detailed posts with beautiful photos of what a superbloom of wildflowers CAN look like from 2019. You can read up on her trips and tips for bringing the kids to see the wildflowers at Spring Blooms in Southern California (March 2019) and Carrizo Plains and Antelope Valley (April 2019).
Where are the Best Places to See Wildflowers?
There are very few spots with impressive bursts of wildflowers this year. So just keep these tips in mind whenever you get outdoors.
First of all, respect the trail rules and obey the signs when trails are closed after it rains.
Here is a great 2019 article from The Press-Enterprise on Wildflower Etiquette: Stay on the trails, don't stop traffic. It says: "No matter how tempting it is to venture into the fields for a selfie, officials plead for people to stay on marked paths to avoid causing damage. Take pictures of the wildflowers. Just don't take pictures in the wildflowers!"
Then just think of the greenest, widest open spaces in Orange County . . .
our regional & wilderness parks,
our state parks,
Irvine Ranch Natural Landmarks,
the canyons like Santiago, Silverado, Modjeska, Trabuco, etc.
and the Santa Ana Mountains.
These trails are not blanketed with wildflowers, because most California wildflowers that I know are small and delicate. So take your time and keep your eyes out for some of the wildflowers I have listed in my guide below.
Aliso and Wood Canyon Wilderness Park near Laguna Beach and Aliso Viejo (Pictured: Coast Live Oak)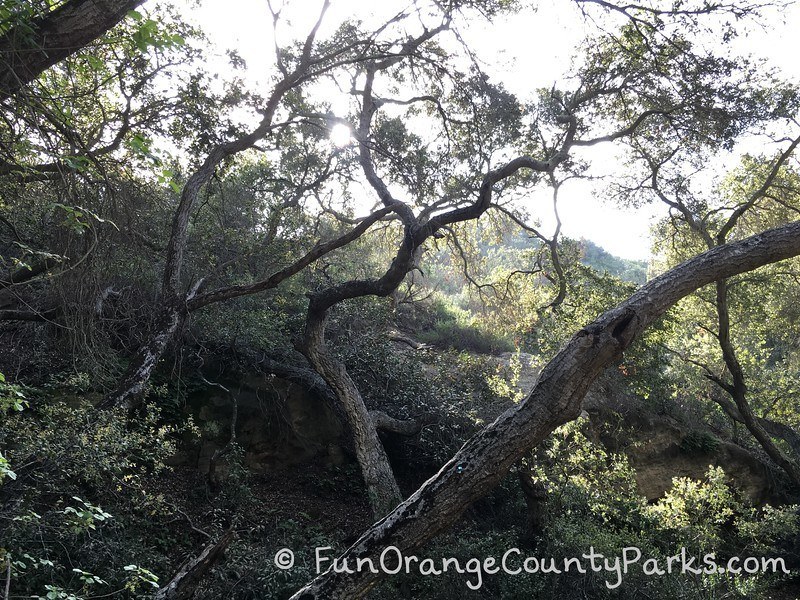 Caspers Wilderness Park near San Juan Capistrano (Pictured: Coast Sunflower/California Encelia)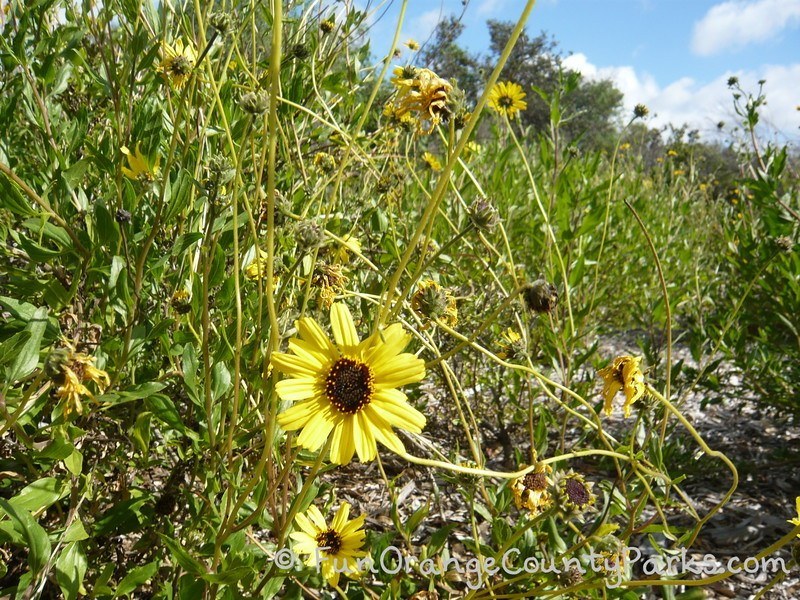 Laguna Coast Wilderness Park at Nix Nature Center (Pictured: Buckwheat close-up)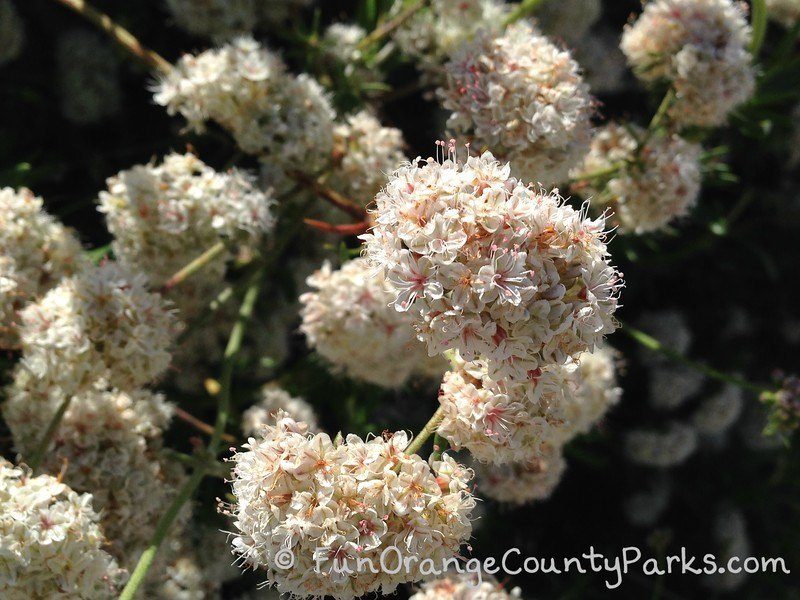 Santiago Oaks Regional Park in Orange (Pictured: Lupine)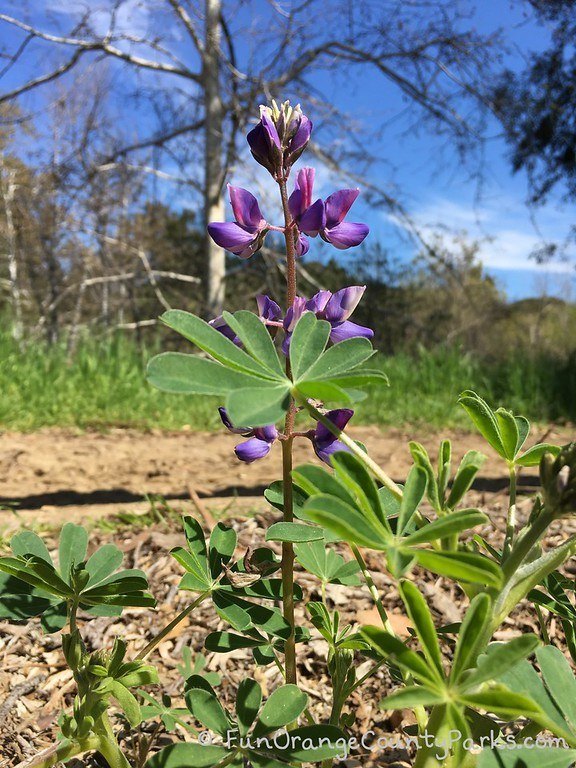 Environmental Nature Center in Newport Beach (Pictured: Flannel Bush)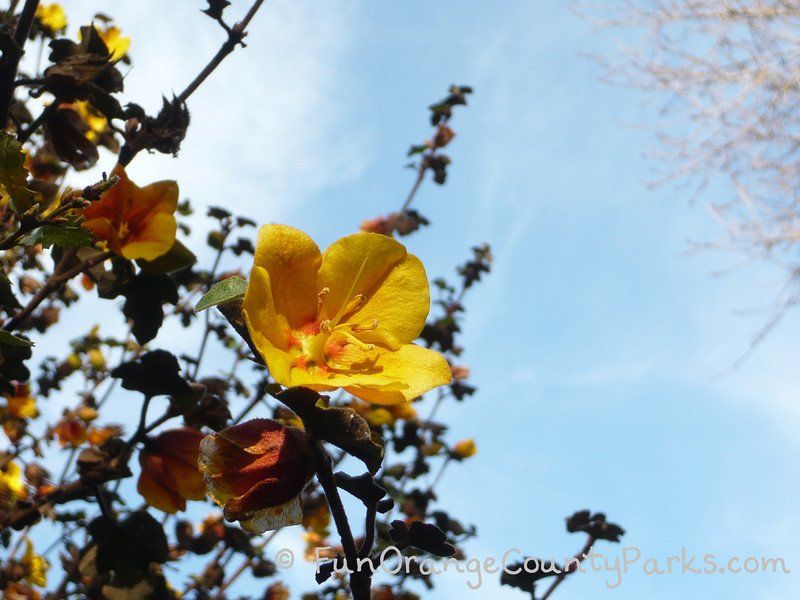 Tucker Wildlife Sanctuary in Modjeska Canyon (Pictured: Yucca)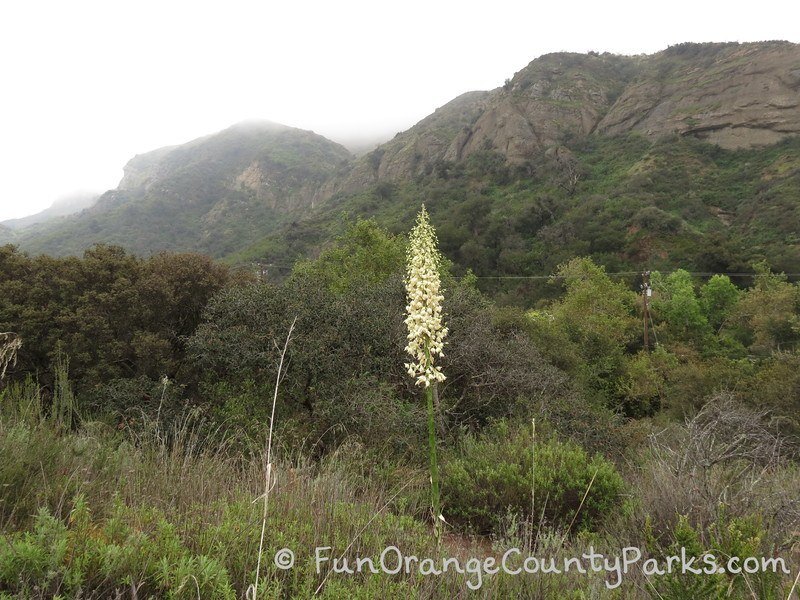 Not open yet since the Environmental Nature Center took it over, but it says it will open in Spring 2022. Visit the Nature Center, then try the Chaparral Trail to see wildflowers and check the Oakwood Trail and Sensory Trail for blossoms
A few more options:
Whiting Ranch Wilderness Park is a great spot during big bloom years! Visit the park from seven days a week from 7 a.m. to sunset for wonderful wildflower views. Minors must be accompanied by an adult – and I usually don't recommend this spot for families because of the mountain lion risk here. So just be aware that it is a risk.
Bommer Canyon is open for self-guided access on designated trails especially during Wilderness Access Days (March 19th, 2022). Sticky Monkeyflower and Popcorn Flower have been known to sprout here.
Buck Gully Reserve in Newport Beach is open daily from dawn to dusk. Keep an eye out for coast sunflower in bloom along the trails, and travel at your own pace.
Limestone Canyon Nature Preserve Wilderness Access Day usually happens early in April. The Irvine Ranch Natural Landmarks grants public access (for self-guided hikes) to this wilderness area for free, but requires pre-registration. This is a great activity for families with teens as the terrain is a little more challenging for young children.
Guided Wildflower Hikes in Orange County
You know we've had wildfires that impacted large wilderness areas — many of which I toured in 2017 (like Santiago Regional Park and Irvine Regional Park). That's why it's especially important to stay on trails this year as these areas recover from the fires.
You can search Irvine Ranch Natural Landmarks activity guide using the keyword "wildflower" – but most of the events I found were already full.
Admire the landmarks' wildflower season through Irvine Ranch Conservancy's virtual social media tour, #WhereTheWildflowersAre usually taking place sometime in March. Join the virtual wildflower fun by "liking" the Landmarks' Facebook page (Facebook.com/irlandmarks), following on Twitter (@IRLandmarks), and following on Instagram (@OCMountainstoSea).
When out on the land and participating in activities, bring a camera and share wildflower photos on social media with #WhereTheWildflowersAre.
My Personal Guide to Wildflowers
Irvine Ranch Natural Landmarks has a FREE wildflower field guide available for viewing or download. This is my personal version from trips out into the wilds of OC.
Schoolbells (also called Blue Dicks) with California Sagebrush in the background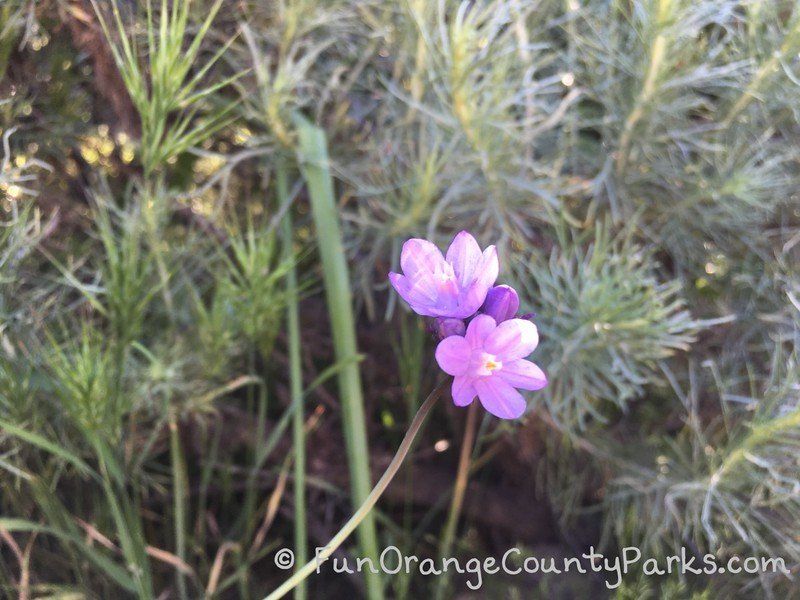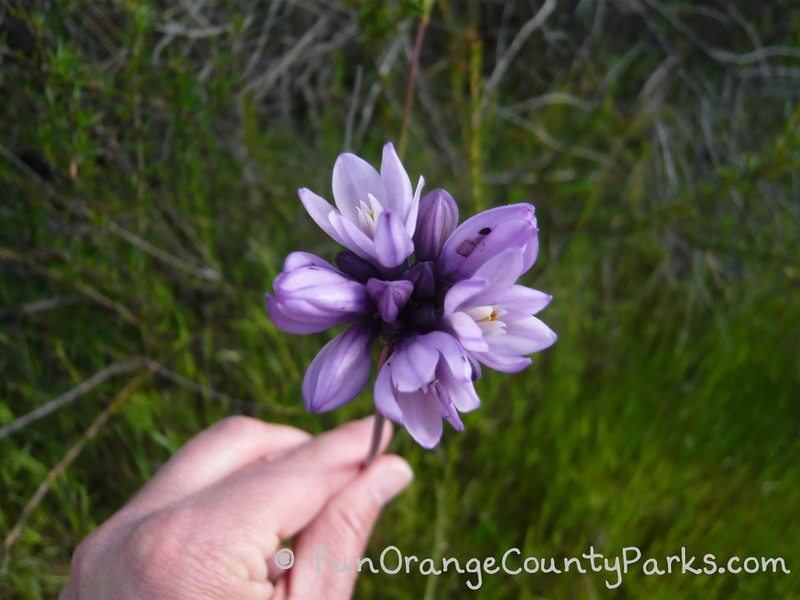 Fiddlenecks which bloom in tell-tale curliques. I saw fiddlenecks in Feb 2020 outside the San Pasqual Battlefield State Park museum near the entrance to the San Diego Safari Park in Escondido. In 2022, there were huge fields of them near Wieder Regional Park in Huntington Beach and also along trails in Laguna Canyon.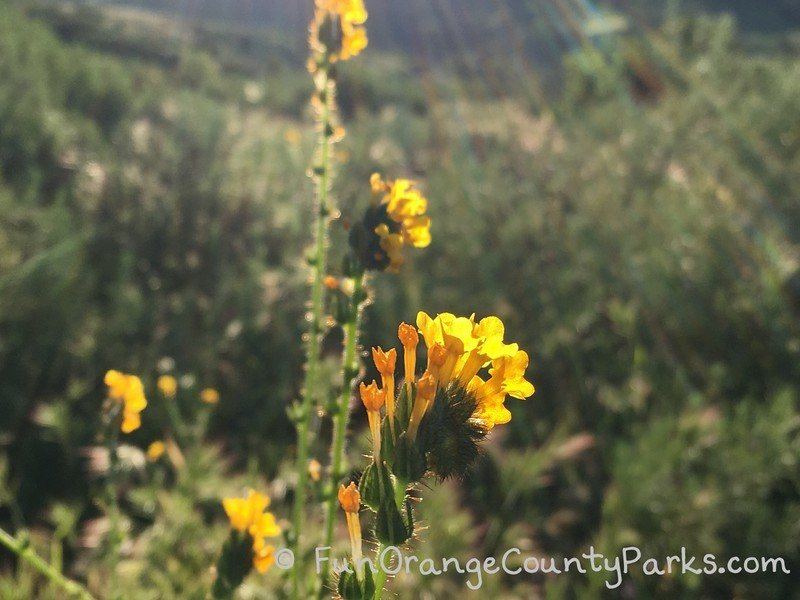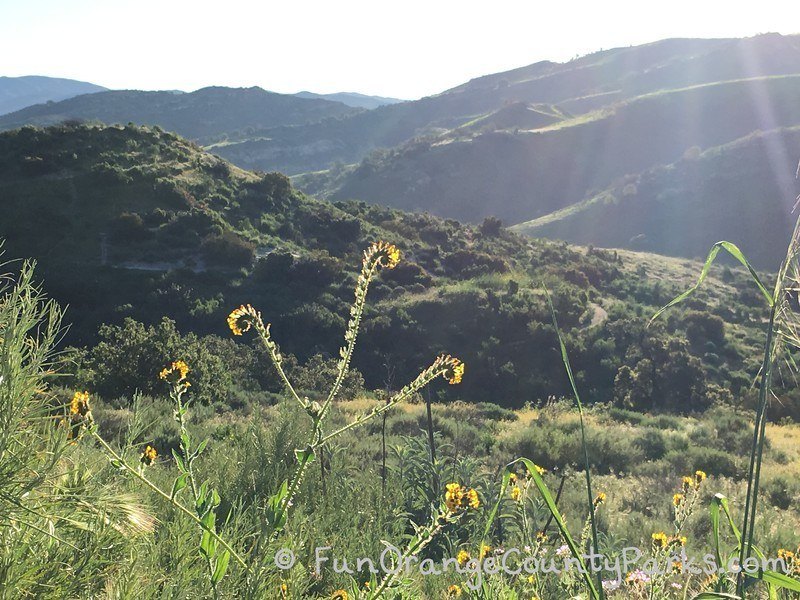 Arroyo Lupine, also grow in larger bunches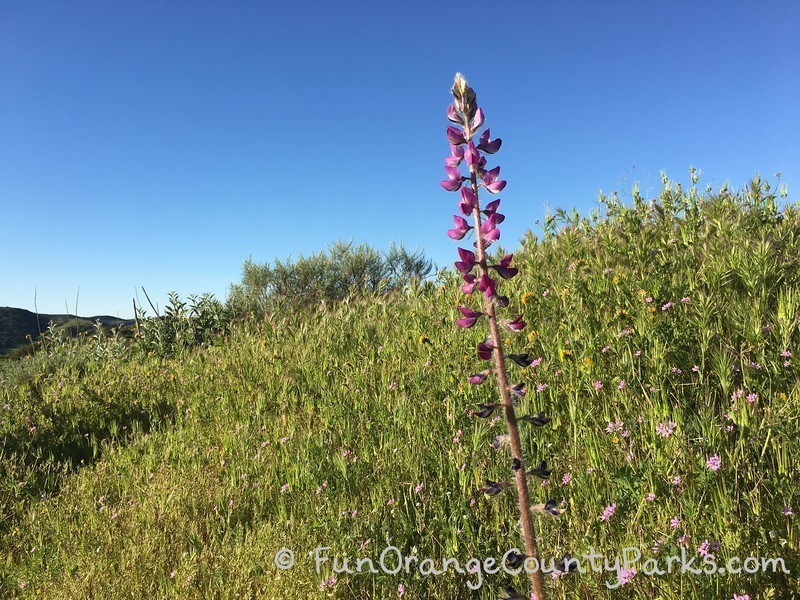 Catalina Mariposa Lily stands out white amongst yellow Fiddlenecks and purple Schoolbells (a rare sight and the first time I've seen one)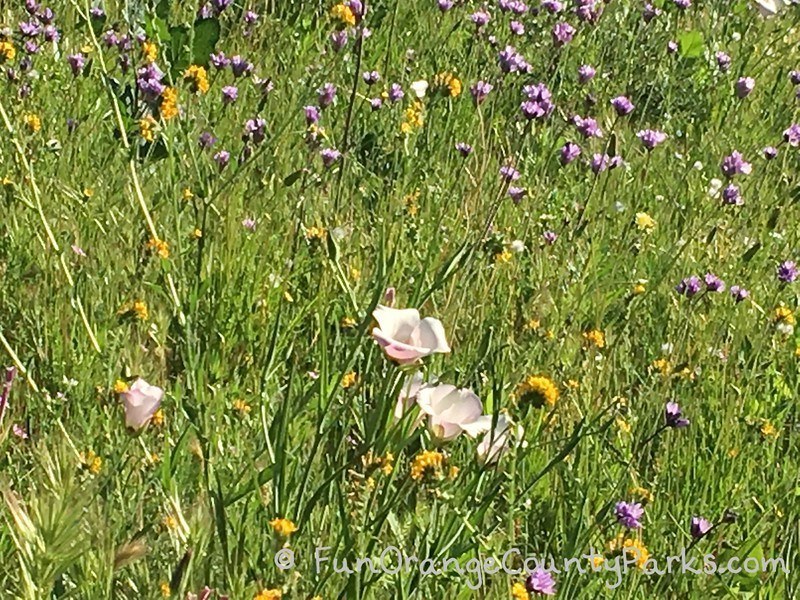 Johnny Jump-Ups are related to violets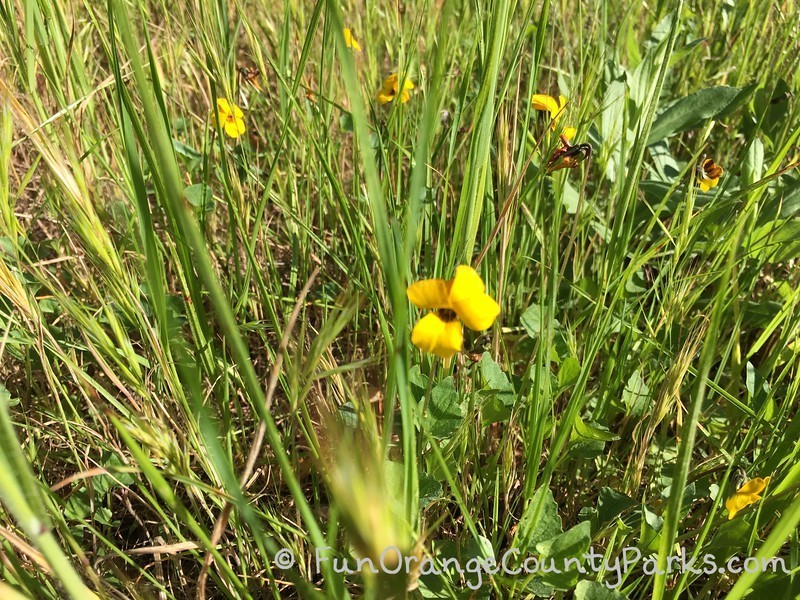 California Poppies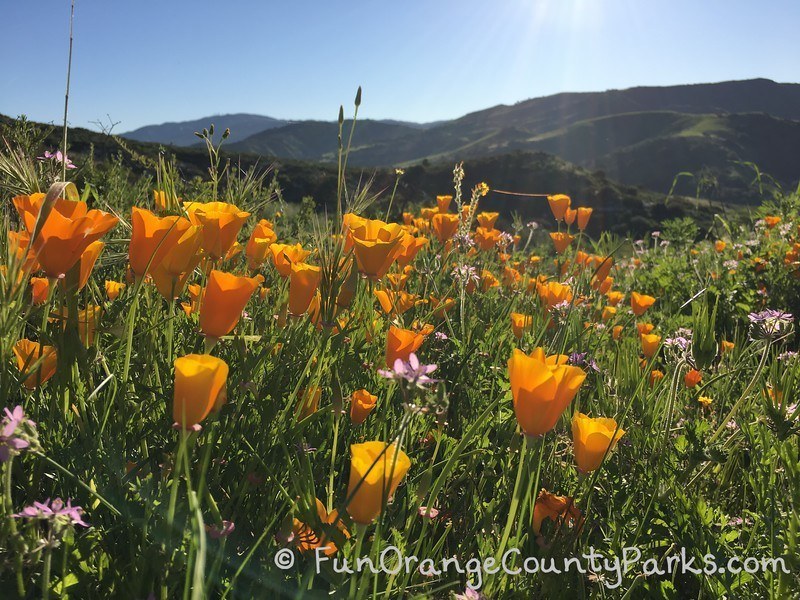 Fuschia-Flowered Gooseberry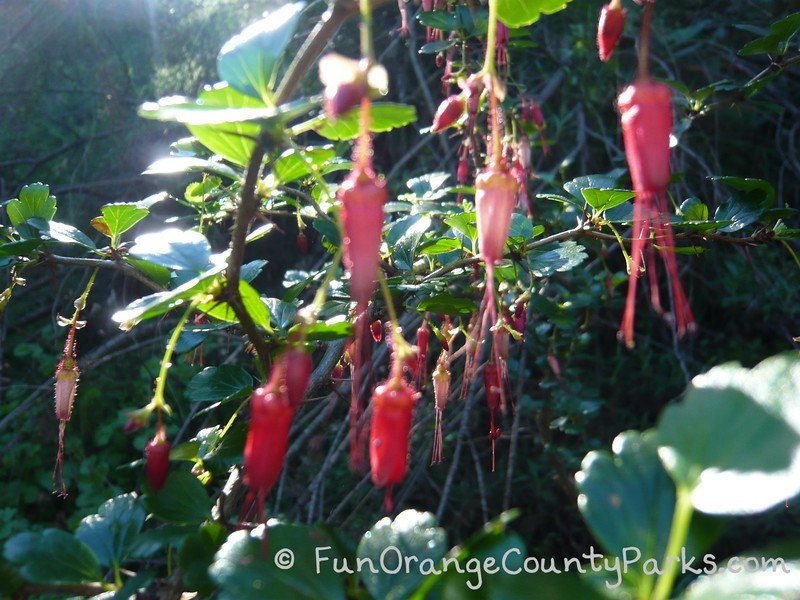 White Lupine and friend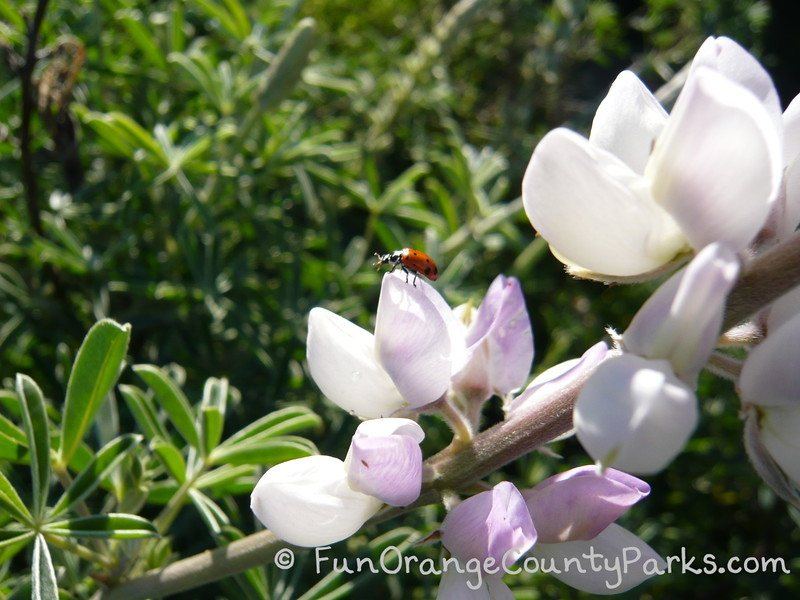 Indian Paintbrush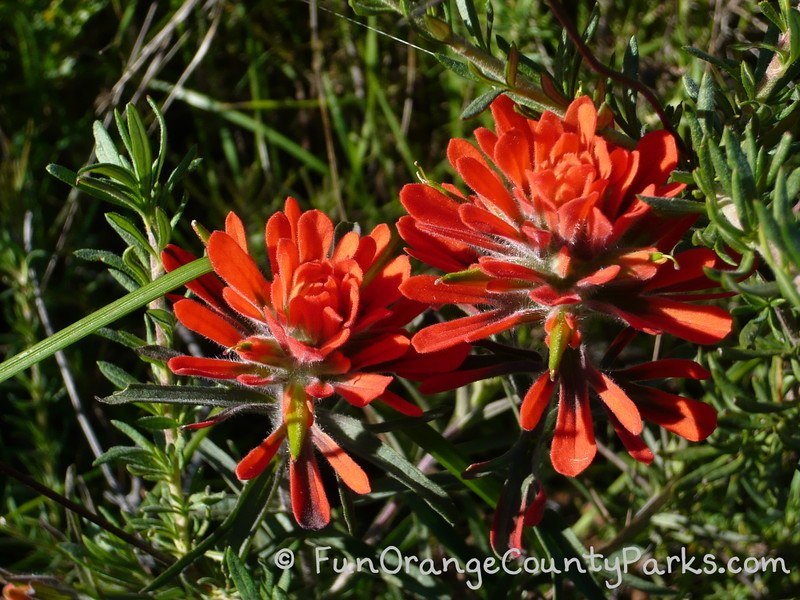 Monkeyflower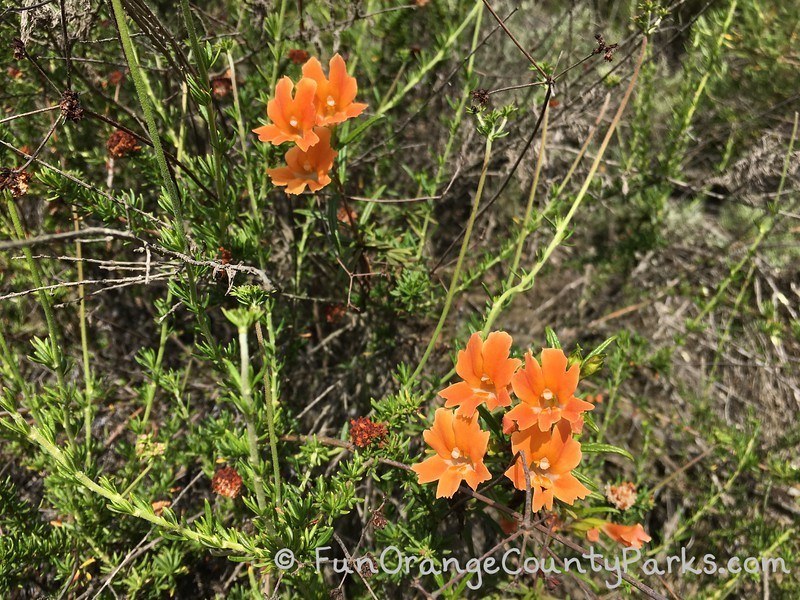 California Everlasting smells like maple syrup!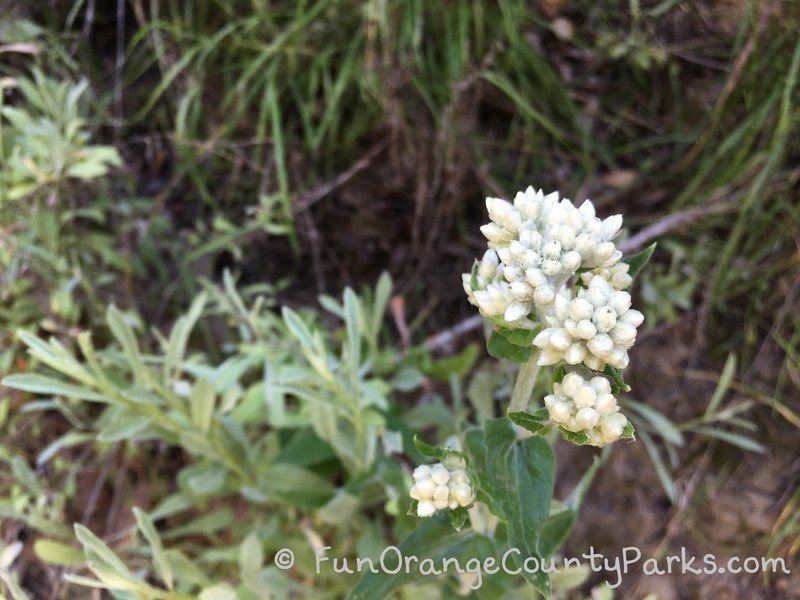 Deerweed and its delicate blossoms the color of sunset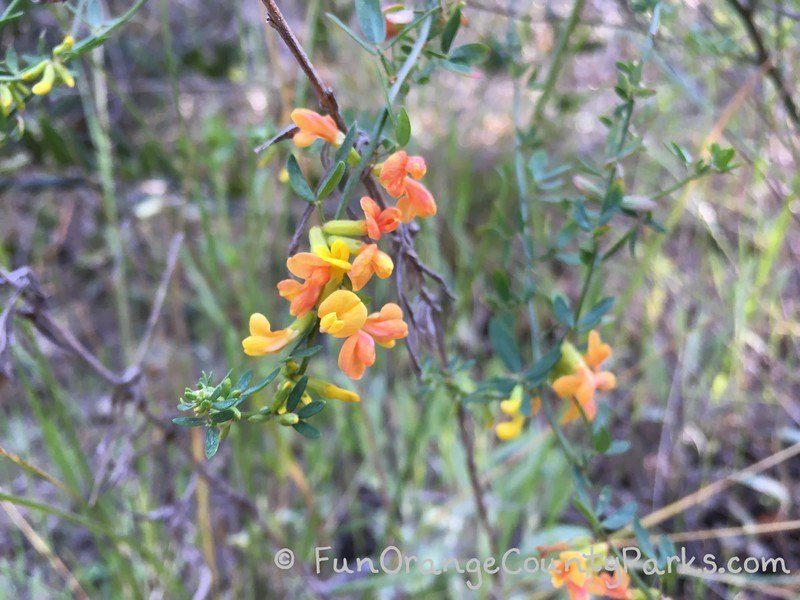 Yucca stalk from far away and close-up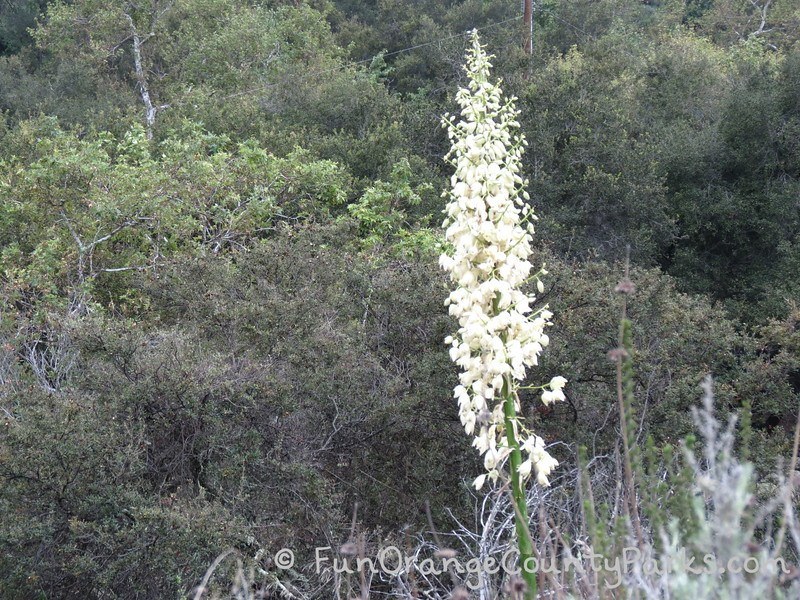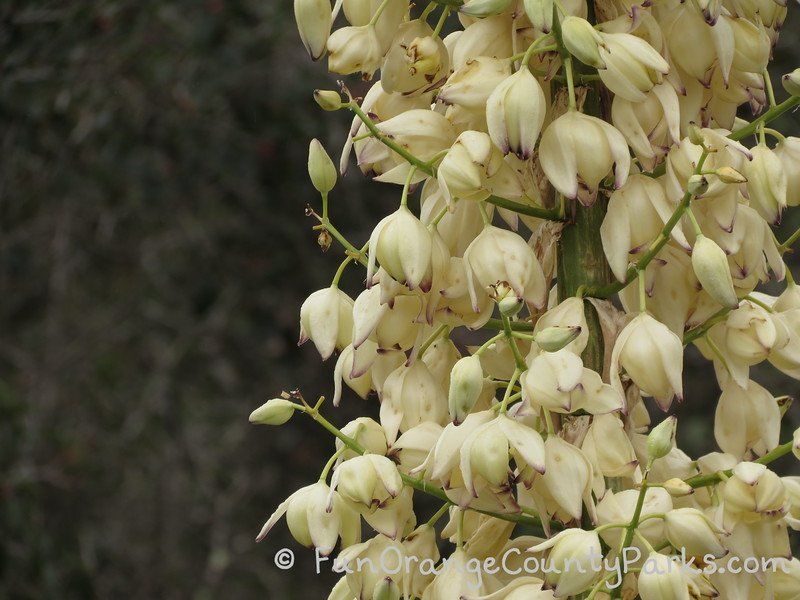 Bladder Pod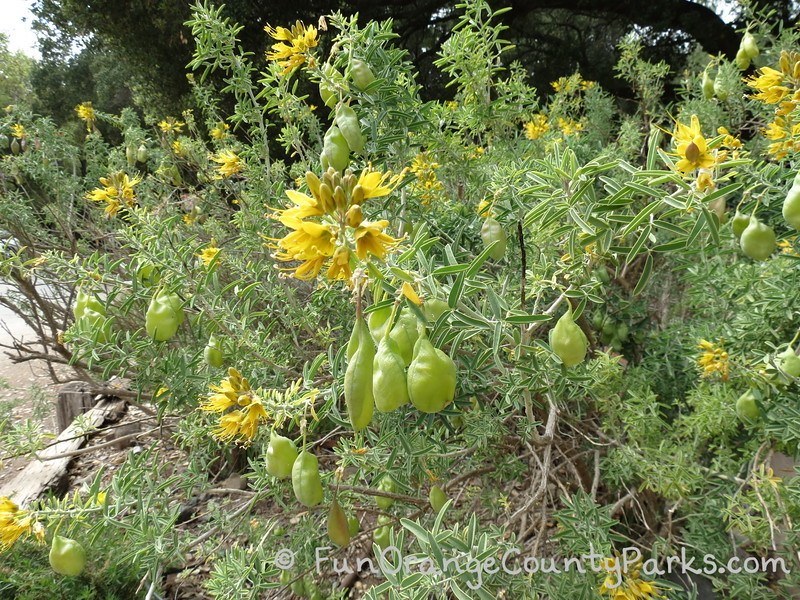 This Is NOT a Wildflower
This plant has to be filed under "Most Mistaken for a Native Wildflower." It's not! It's a non-native invasive species of Mustard which chokes out and steals habitat from the native plants in my guide above. Why does that matter? Because local wildlife needs access to native plants to survive and thrive. If you ever want to volunteer to be a steward for our lands and lend a hand pulling invasive weeds, then Irvine Ranch Conservancy has volunteer opportunities where you can participate in a "mustard pull."
Be Aware
Rattlesnakes. My first time on the trail with rattlesnakes was wildflower watching at the Antelope Valley California Poppy Reserve. We took the small interpretive loop trail by the nature center and I was dodging baby rattlesnakes the whole way. Our ranger and guide on the 2017 media tour illustrated how the rattlesnakes hang out in the vegetation along the edge of the trail. So it's VERY important to stay on a marked trail. Never put your feet down or sit somewhere you can't see the ground. Be very aware on the trail.
Don't pick the wildflowers or go off trail. First of all, it's usually illegal in protected areas and picking the flowers means the next family who comes along sees less of them. Even one person walking on the flowers can greatly impact the blooms. Take plenty of photos, if you want, just leave the real thing in place for the next visitors to enjoy.
Watch out for poison oak. I've noticed that at the same time spring flowers are blooming, the poison oak is starting to leaf. But not all of it! Some of those bare sticks are also poison oak and they still pack a punch if you rub up against them. So, again, stay on the trail and try not to touch the plants.
Traffic jams and parking in a safe spot. Every year, I hear tales of crazy traffic jams out in the middle of the desert that feel like rush hour L.A. traffic. If you decide to head out there, pack your patience and always keep your safety in mind.
Don't go out on the trails during or after it rains. Many trails close for rain. Please respect the closures to prevent damage to the trails.
Remember! There are wildflowers all around us in Orange County. No need to travel miles away unless you are up for an adventure. Just become wildflower sleuths and be alert to blooms along the trail.
Disclosure: My friends at OCParks.com invited me for a media tour in 2017 and provided me with some research information. I've independently update this post every year since.