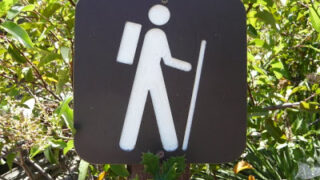 Knowing how to spot poison oak can save you from the rash and itches it causes. I know what poison oak looks like, so I've never suffered from its symptoms. It grew in patches all over the hillside where I grew up. My parents schooled me in identifying it and I just avoided it.
I finally snapped a great photo of it at Oak Canyon Nature Center and thought I would share — so and your kids can avoid it, too.
So this is a typical scene when you are out in the "wilderness" of California: large oak trees and some scrub brush. Those green close-to-the-ground stalks surrounding that tree trunk are poison oak. The first thing I look for is patches. This stuff usually grows together and I can spot it from far away before I even get close enough to identify the leaves. Stay out of the patches!
Here it is again – across the creek – growing in large patches or clumps underneath the trees and up the hillside. It can be merely a foot of the ground or I've seen huge patches growing up to my eye level.
This is what the leaves look like up close. I can often identify them by a telltale reddish color on the leaves, but in Oak Canyon its pure green. There's a saying: "Leaves of three, let them be."
My hiking friend, Cindy, of CAOpenSpace.org has more safety tips and rules on her website. #5 on her list deals with Poison Oak.