Barbara's Lake is an easy hike near Laguna Beach. It's only about 10 minutes away from the beach and nice to visit either on your way into or out of Laguna Canyon.
The Lake Trail and Barbara's Lake Trail in Laguna Canyon (Laguna Coast Wilderness Park) proved to be an awesome family hike on a blue sky March weekend.
We had views of the snowy mountains and felt surrounded by wilderness even though we could still hear the cars from the roadway.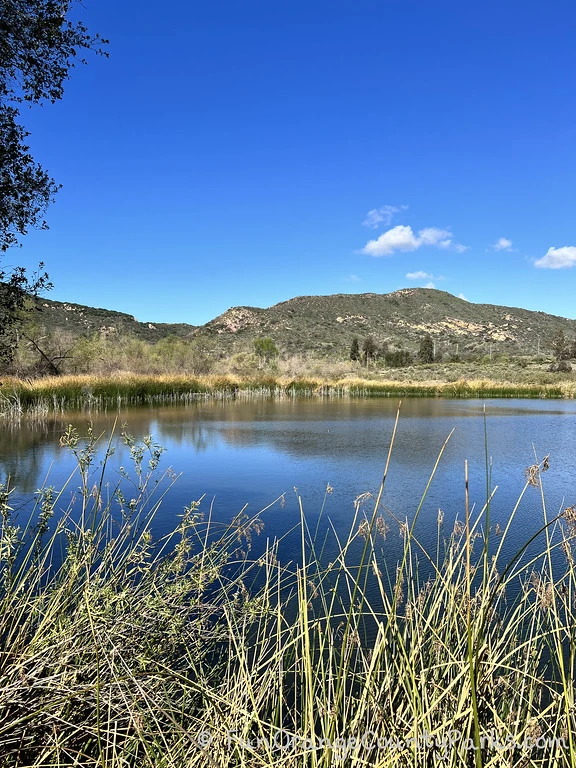 Where is Barbara's Lake?
Barbara's Lake is the only natural lake in Orange County. It is on the south side of Laguna Canyon/SR 133. You can see it from the road (off to your right) when you are traveling from the beach to Interstate 405.
There is no parking right next to the lake. You need to park and hike to the lake to get a close look.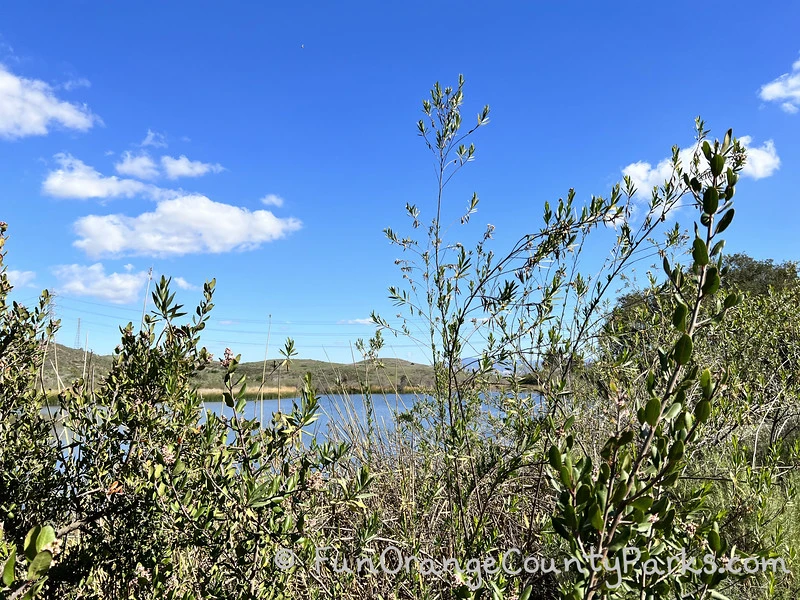 How to Get to Dilley Greenbelt Preserve Parking Area: This is a little bit tricky because you need to be coming from the beach and turn right into the parking lot. Here are 3 ways to do that:
If you take the 73 Tollroad and exit at Laguna Canyon towards the mountains, you'll be going the right direction.
If you are coming from the beach along Laguna Canyon Road, you will be going the right direction.
Another way to get at it from the correct direction is by taking Interstate 405 to exit at El Toro Road and take El Toro away from the mountains and towards the beach — all the way to where you turn right to get on the 73 Tollroad North. You will not be charged for this little jog onto the tollroad entrance because you are going to IMMEDIATELY exit onto Laguna Canyon.
Other hikers mention coming from I-405 and making a U-turn on Laguna Canyon Road. There is a green arrow and there is not any signage forbidding U-turns — but it's not encouraged and doesn't feel very safe to me. I'd only do this as a last resort.
You will hit the parking area on your right just after you pass by the bridges of the 73 Tollroad. MAP TO DILLEY GREENBELT PRESERVE PARKING LOT
Barbara's Lake Hiking Trails
This section will take you through some common questions about the hike I took and then it follows with a bunch of "need to know" so you can feel comfortable getting out there.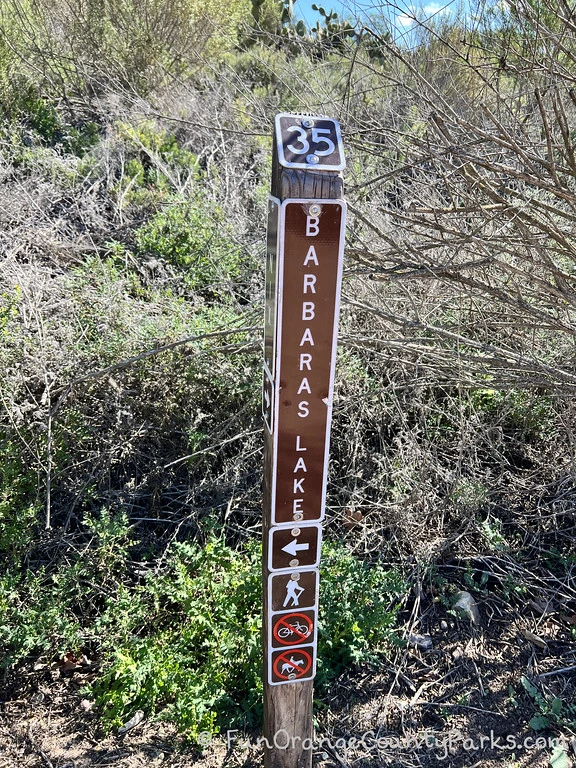 When is the best time to hike to Barbara's Lake?
Spring is the best when the hills are green and starting in March you might see wildflowers starting to bloom. Our rainy season in Southern California is December through March.
Trails may be closed for up to 3 days after a rain, so plan accordingly.
Where do you park to hike?
For the little longer hike from Dilley: You will want to park at Dilley Greenbelt Preserve parking area. Just a note — the parking ticket machine is solar-powered. You will need to press the button that says "Get Started" to power it up. It took a few minutes for it to start working for me. Then you can either enter your annual pass or a credit card. It looked like it also took dollar bills, but I wouldn't count on that. You will need to put the ticket back in your car dashboard. Don't leave your car if the machine isn't working or you might get a parking ticket.
For the shorter hike from Nix: If you want to visit the Nix Nature Center first, you can park in the lot there and get directions from the ranger on how to get to the lake — which is basically a well-marked trail under SR 133.
I never leave valuables in my car at a trailhead. Think about it. Someone could watch you take off on a hike and know you'll be gone a while.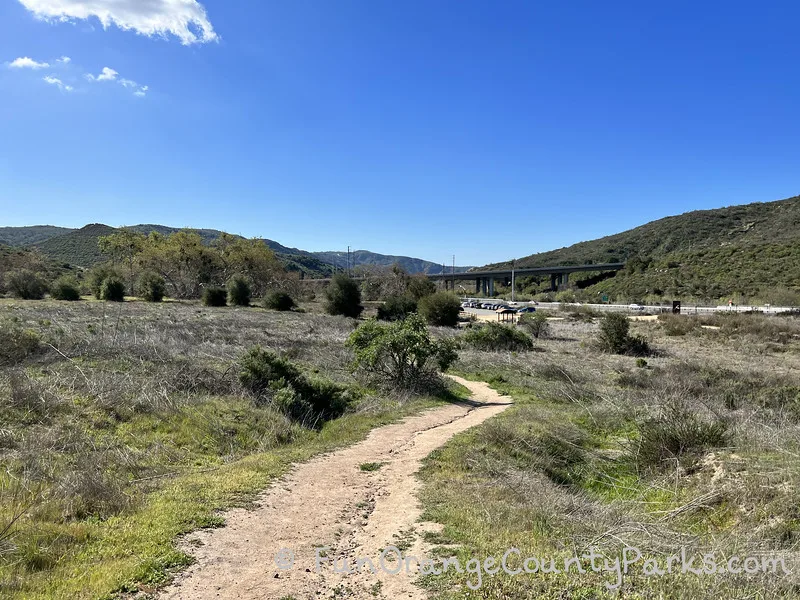 How long is the hike?
As long or short as you want to make it since you can go partway and head back if it feels too far. Or you can add on other trails and even walk to the Nature Center from here.
If you go from the James Dilley Greenbelt Preserve parking area, the hike on The Lake Trail is only 1 mile. Hike a few minutes further onto Barbara's Lake Trail to actually see the Barbara's Lake.
So if you go out and back along the same trail from the Dilley parking area it's only a 2 mile hike that's fairly flat. You can figure a 20 minute mile at a leisurely pace and maybe a 30 minute mile with kids? So it will take a family about an hour (depending on your pace!) to hike to the lake and back to the parking area.
It's shorter from Nix Nature Center. It's only about 15 minutes to get to the lake and 15 minutes to get back.
AllTrails calls this "Barbara's Lake Loop Trail" and says it's an easy 2.8 to 3 mile hike. The "Loop" part makes it include a hill where you go up Edison Trail to Mariposa Trail or Sunflower Trail on the loop back (all rated "moderate"). These all have you hiking along the ridge with a little more elevation and tighter trails. I think makes it a harder hike for families who are just looking for a nature stroll.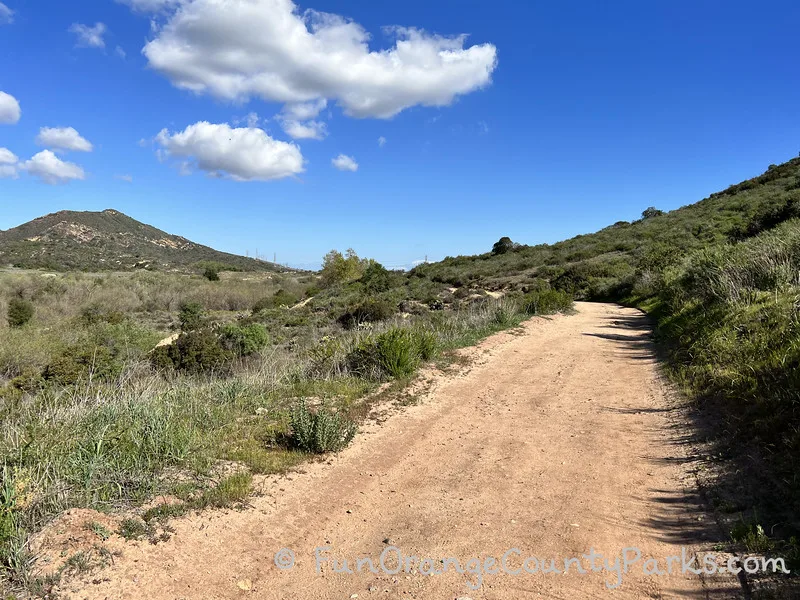 How to Hike to the Lake from Dilley Greenbelt Preserve
The Lake Trail and Barbara's Lake Trail get major points for being a HIKING ONLY trails!
It was calming to hike without having to watch out for bikes. Many of the trails in Laguna Coast Wilderness Park are rated "moderate" to "difficult" because of elevation gains — and the other trails allow equestrian and bicycles. This one is only hikers.
We started at the James Dilley Greenbelt Preserve parking lot. The Lake Trail trailhead is very obvious as you pass by a small picnic shelter.
It is a gradual uphill at the start and the wide trail gets narrow for just a short distance before rejoining a wide trail that is long and mostly flat for the remainder of the hike (there's only one more steep spot that is downhill on the way to the lake and uphill on the way back).
So many favorite spots, but this oak "tree tunnel" was fun to encounter!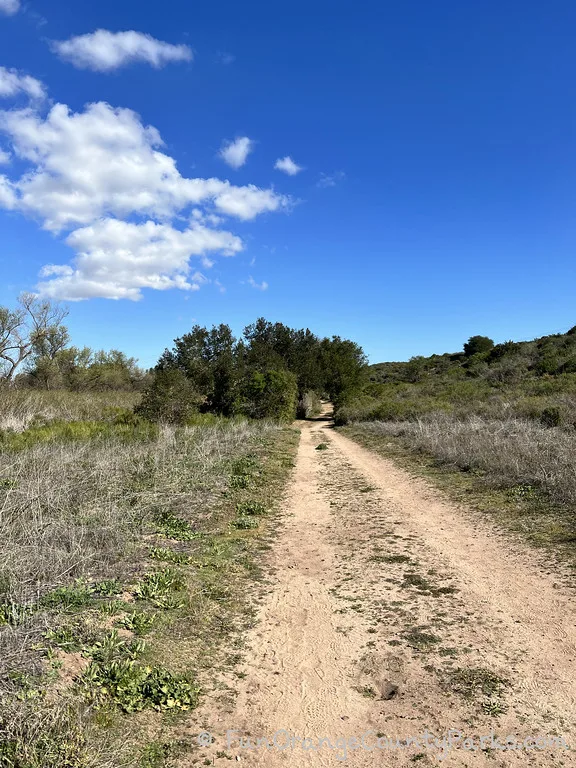 Depending upon the time of year, you might spy some wildflowers in spring but you will have to look closely! They are VERY small and delicate.
We spotted some fiddleneck.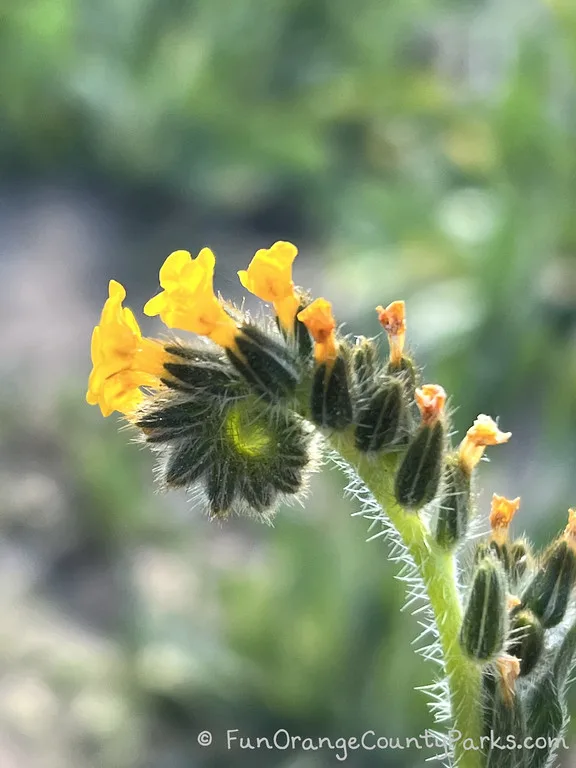 We also saw Fuschiaflower Gooseberry, Schoolbells (below), Monkeyflower, and more.
If you are really interested in wildflowers, please check out my Wildflowers and Kid Friendly Spots to See Them post.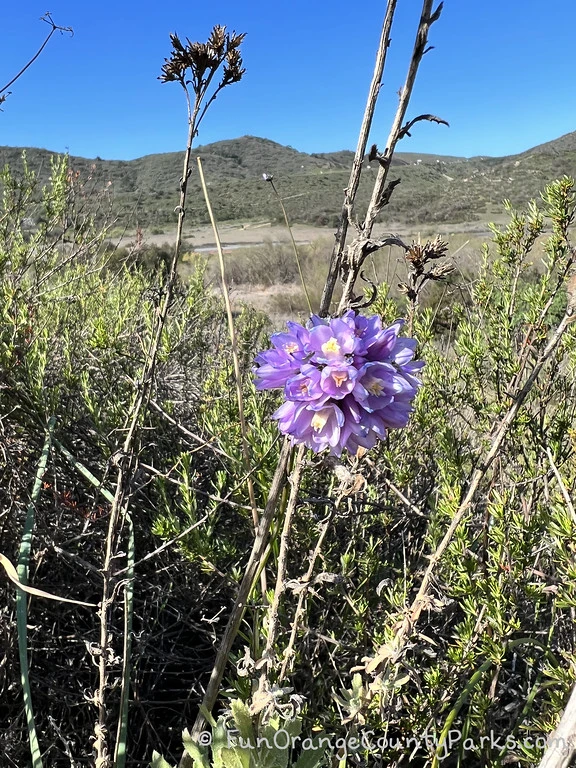 Eventually, you'll come to a fork in the trail. Going right will take you up "Gravel Road" to the ridgeline trails (but you will miss the lake).
So I'd recommend turning left and then taking the very next right onto Barbara's Lake Trail.
[Just a note, if you don't take that right and keep going straight on this trail, you will get to Nix Nature Center (and you'll miss the lake).]
The views are gorgeous and there are some shady spots to rest along the trail.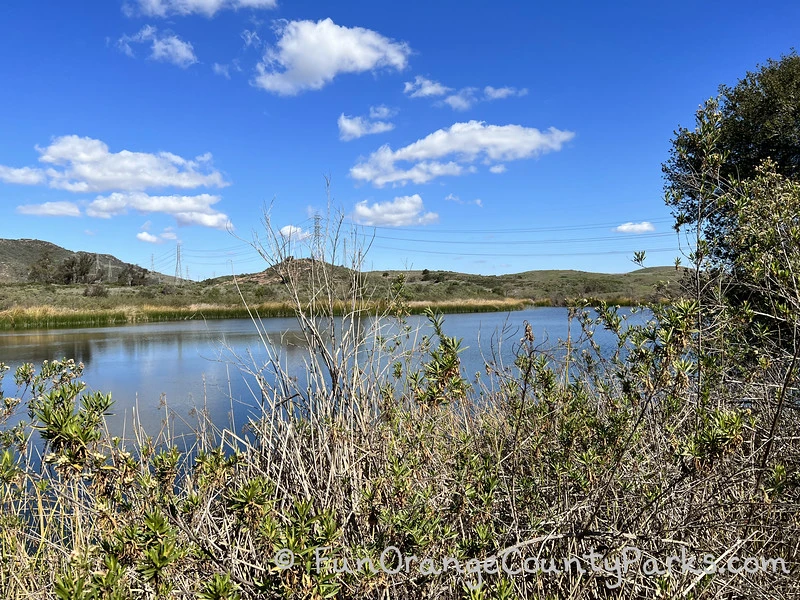 You will see and hear waterfowl and it's just a beautiful spot to take in the nature all around.
From this point, we walked up to where the trail veers away from the lake where there is a pretty little oak woodland.
Then we turned around and walked back to the parking area. It doesn't even really feel like an out and back hike because the views are completely different heading this way.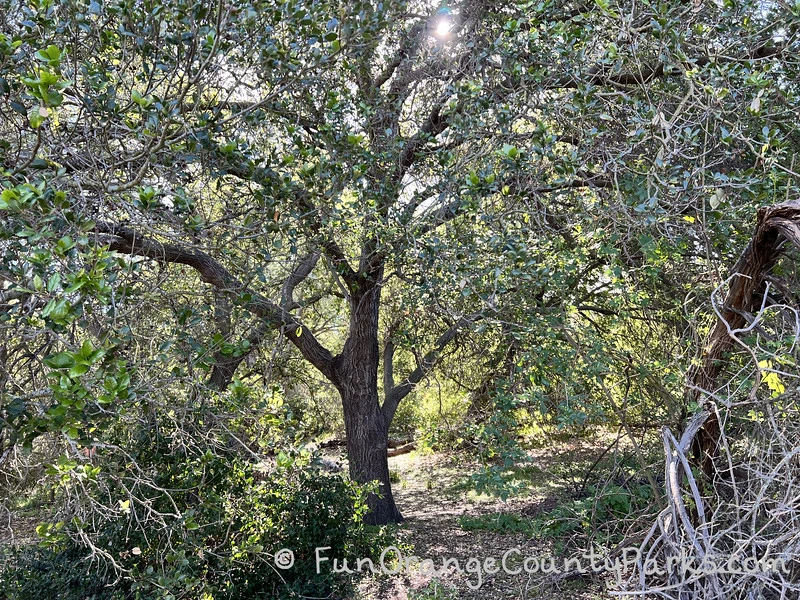 This is the "big hill" on the way back which really isn't that big.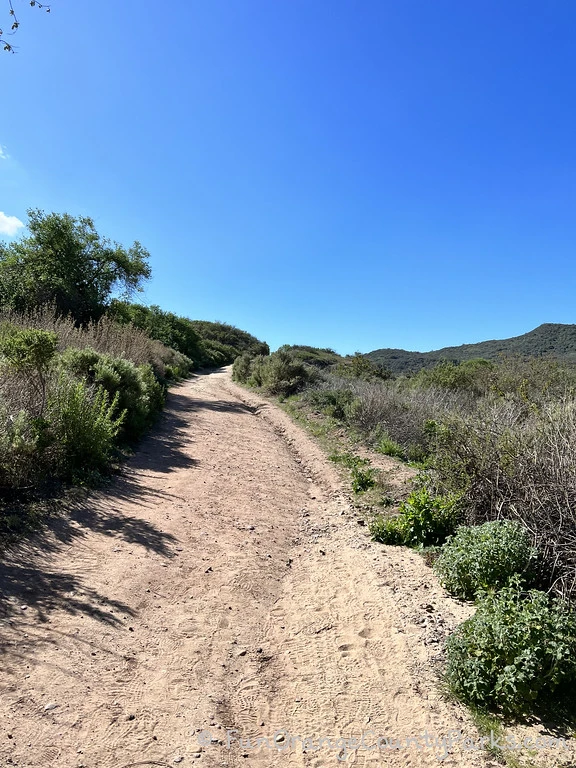 Otherwise, it's the perfect hike for a mellow weekend. You could bring a jogger stroller since it will fit on most of the trail (except the first part where the trail narrows).
Are there other easy hikes near Barbara's Lake?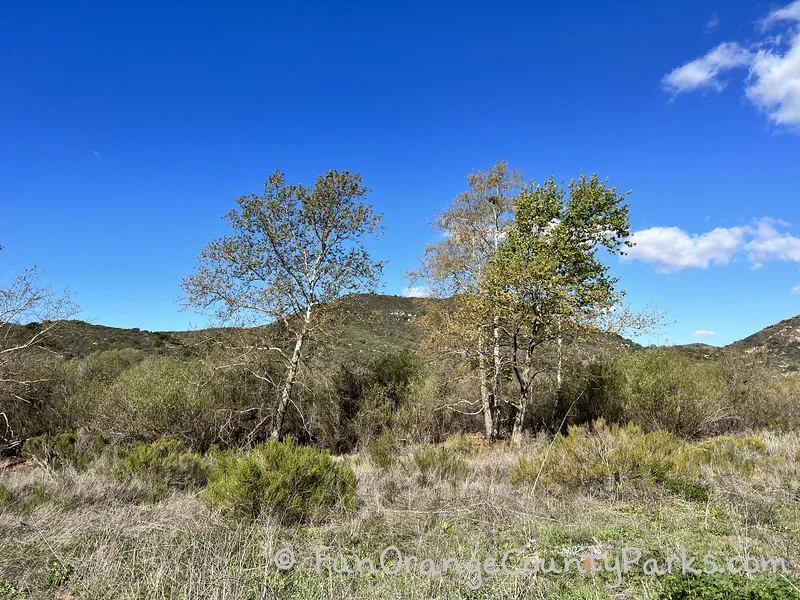 Need to Know When Visiting Barbara's Lake
These are just questions you might wonder about on your trip to the lake.
Who is Barbara's Lake named after?
Barbara Stuart Rabinowitsch was a Laguna Beach resident and huge champion for the Laguna Greenbelt. She bequeathed $500,000 to the Laguna Canyon Foundation after her death in 1998 for preservation of the Laguna Greenbelt. Read more about Barbara in this touching tribute written by a dear family friend.
Is there water in the lake?
When we hiked here in Spring 2022, there was certainly water in the lake! Some years of extreme drought can dry the lake. I've also seen periods when an algal bloom can cover the lake's surface in a blanket of green.
Are dogs allowed?
No dogs allowed. We did see one family get all geared up and paid for parking only to discover that their furry companion wasn't welcome here.
I was wracking my brain to think of a comparable dog friendly hiking alternative nearby and I think that might be Quail Hill Loop Trail. It's not even too far of a drive from here.
Can you fish at Barbara's Lake?
No fishing here and no boats. Here's a link to all the official rules and regulations.
Can you swim at Barbara's Lake?
No swimming, wading, or watercraft. It's just a pretty place to view from the trails and gives you a destination on your hike.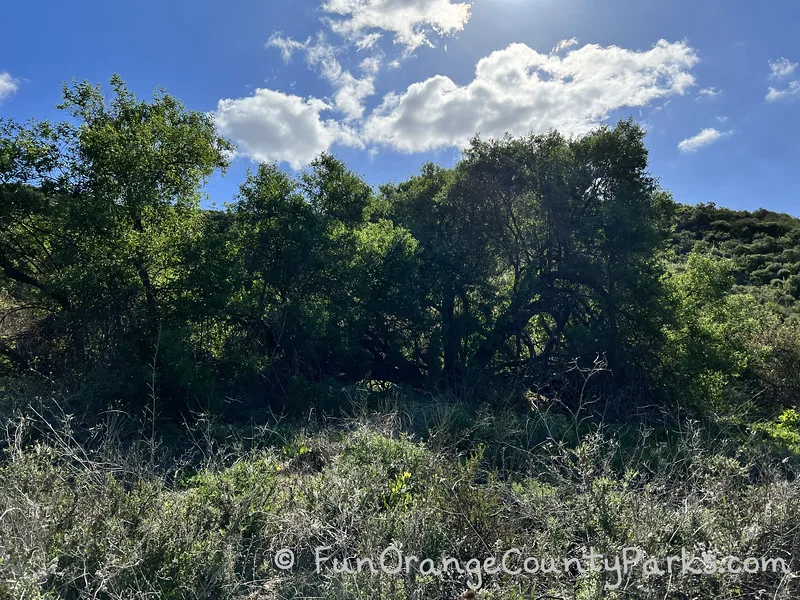 Checklist
Parking in pay lots along Laguna Canyon/SR 133
Prepare for this spot like you would any hike and make sure you bring plenty of water!
Avoid this hike on really hot days — there is very little shade
You can probably bring a jogger stroller because it is a wide trail, but there is one part that is pretty narrow and not ideal.
This is definitely a wildlife area with mountain lion warnings and a chance for rattlesnakes or coyotes.

It would be pretty rare although not impossible to see a mountain lion here during broad daylight.
I have seen rattlesnakes near the Nix Nature Center, but none on this hike yet. I love that the path is wide and you can see far ahead. It is also easy to walk near the center of the trail so you're not brushing up against the growth on the sides of the trail.
We did see a coyote off in the distance. I love spotting wildlife and I am actually not at all concerned about coyotes since my kids are older. I would use caution with very young children if they run ahead of you on the trail. Again, pretty rare to have human/coyote interactions but just something that you should be aware of. In our brief encounter, we saw the coyote way off in the distance and we observed it while it observed us. Then it went about its day when it figured we weren't a threat.

No restrooms at the Dilley Greenbelt Preserve Trailhead. There are nice restrooms at the Nix Nature Center when it is open between the hourse of 9am and 4pm.
Official website for Laguna Coast Wilderness Park with trail map and the park's rules and regulations