Santiago Oaks Regional Park in Orange feels very accessible to those who might be hesitant to explore the greater wilds of Orange County with kids. I would feel comfortable taking a toddler here, because the hikes are short and the pay-offs are big.
There was a wildfire in this area in October 2017, but trails have opened and things are looking more lush these days.
For example, here is a photo of the creek crossing pre-fire: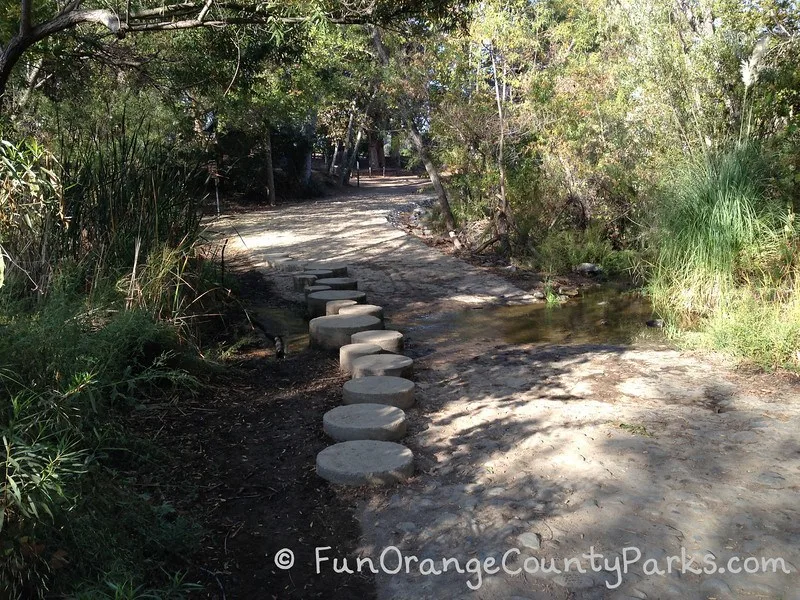 And here is mostly the same view a few years after the fire — maybe a different time of year, but still . . .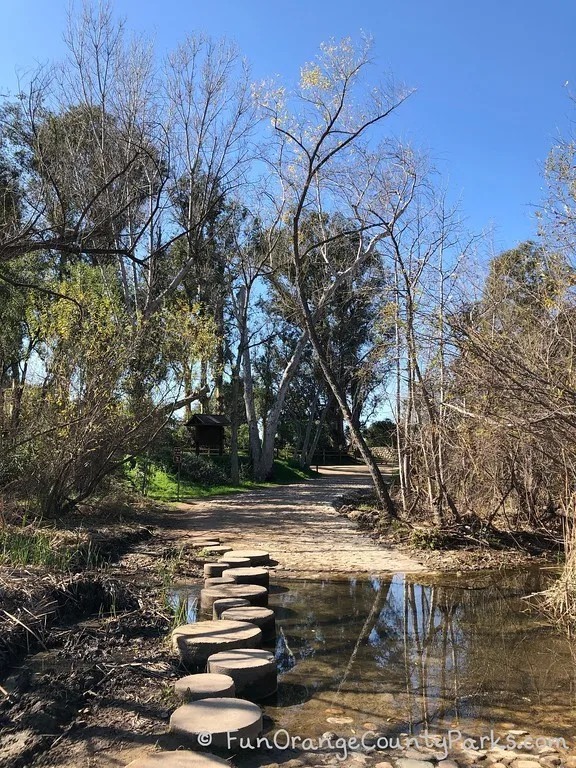 How to Get to Santiago Oaks Regional Park in Orange: Drive up Jamboree like you are heading to Irvine Regional Park, but turn LEFT onto Santiago Canyon Road (this turn is the last turn you can make before heading into Irvine Regional Park). Don't make the mistake of turning right on Santiago Canyon because that will take you away from Santiago Oaks. Follow Santiago Canyon Road and turn right on Windes which quickly turns into a T-intersection. Turn right and follow the road into the parking area. There is a fee for this park because it is a OCParks.com regional park. [Address: 2145 N. Windes, Orange] MAP TO SANTIAGO OAKS REGIONAL PARK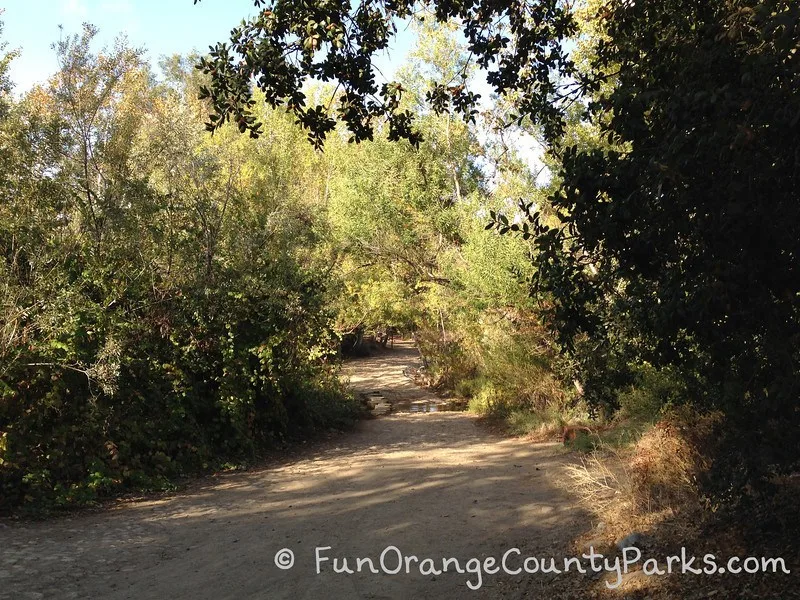 Highlights:
We went in the early morning hours and the light through the oaks was just gorgeous!!
So much history packed into this relatively small area! We saw lots of historical evidence along the trail.
We saw tons of birds on our morning trip. I'd love to bring my binoculars next time.
You can make this a quick trip for a picnic under the oaks, take a little longer stroll to see the dam, or choose a number of other trails which loop around the area to make the day as long or short as you want.
Any hike where I can be near water is fun – and this one does not disappoint. We started at the restrooms, walked the trail down the hill, and turned right onto the Historic Dam Trail which looped back on the Santiago Creek Trail. You can get a nice PDF of the map on the official OCParks.com website.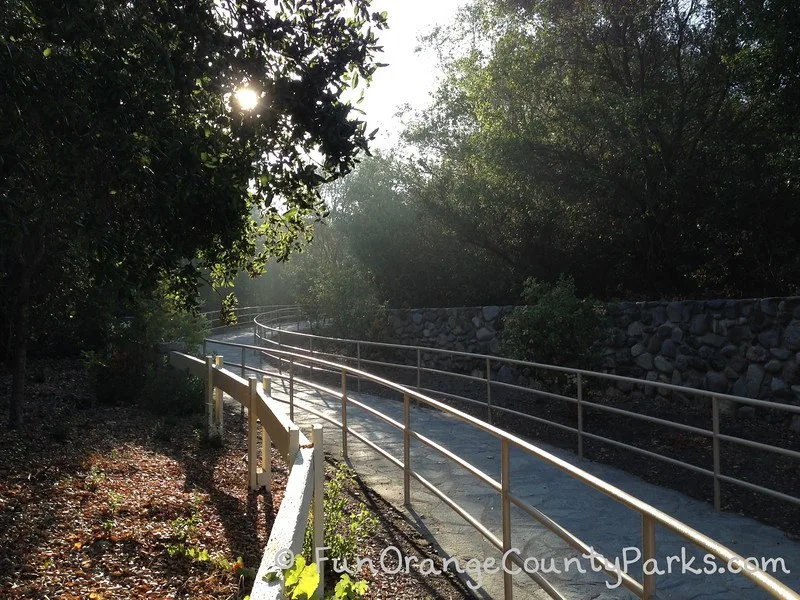 The trail map lists 11 "easy" trails, 9 "moderate" trails, and 8 "difficult" trails.
Nature Center is open when there are volunteers there to staff it. There are coloring pages for the little ones and some taxidermy of local animals. It's interesting to be inside the building and to see some of the artifacts from the damn building days. I love it! This nature center is on my list of 17+ Family-Friendly Nature Centers in Orange County.
Picnic area is shaded with oaks still.
Restrooms are right next to the picnic area.
Small playground with recycled rubber play surface.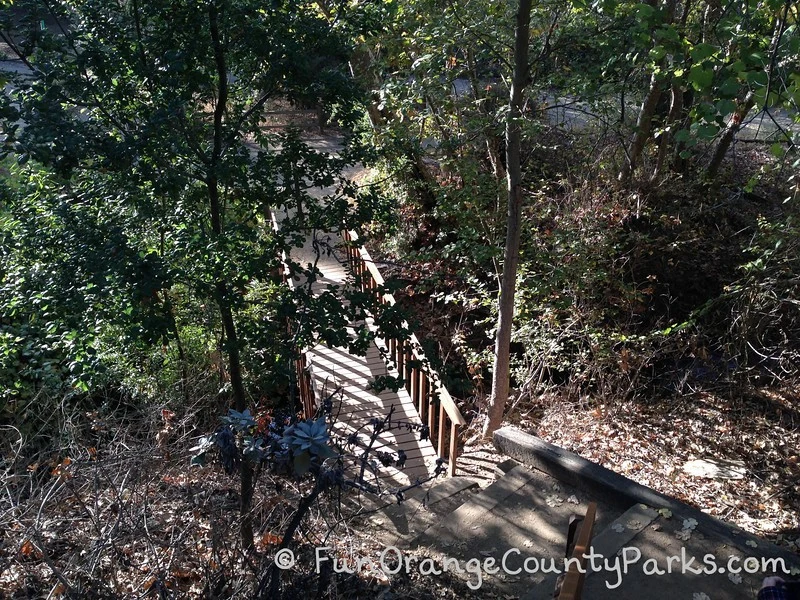 Be Aware:
This is a bit wilder than your neighborhood park – so bring water, sunscreen, snacks, and keep your eyes out for rattlesnakes, poison oak, mountain lions, etc.
Be courteous to the equestrians and drive slowly.
No swimming or wading in the water — although it doesn't look too enticing for a swim. It's beautiful to hear the water trickling off the dam, though. Water levels are 100% dependent on the seasonal precipitation. So if it hasn't rained in a while there might not be a lot of water in the creek.
Can be very hot during summer.
Closes after rains when trails are wet and muddy.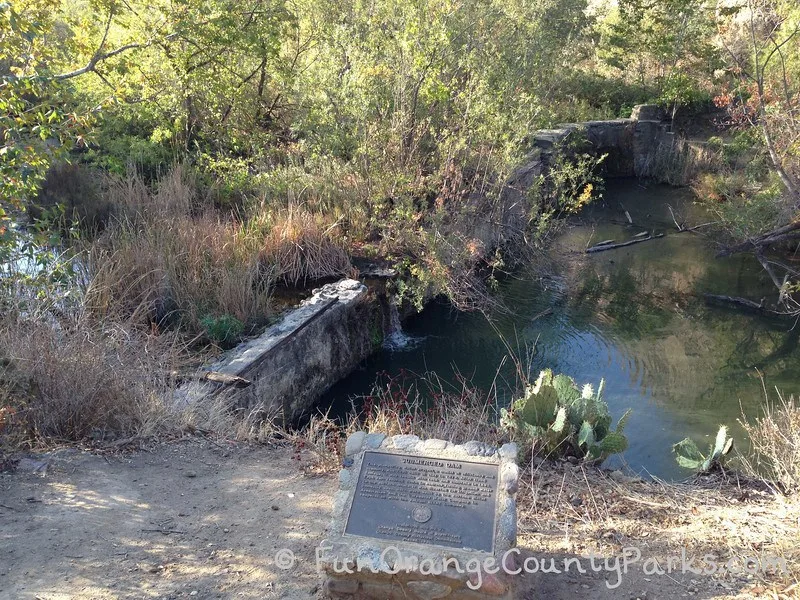 Checklist:
Fee for parking (but worth it!)
Excellent fact sheet about the park
Toddler playground with recycled rubber play surface, but the whole area is a nature playground!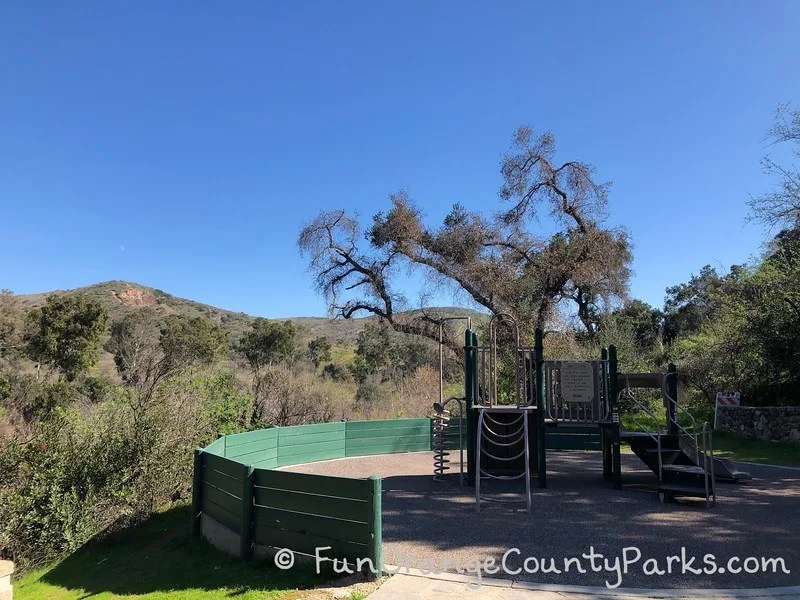 Link to map from 2022. The closed trails are now open to HIKERS ONLY.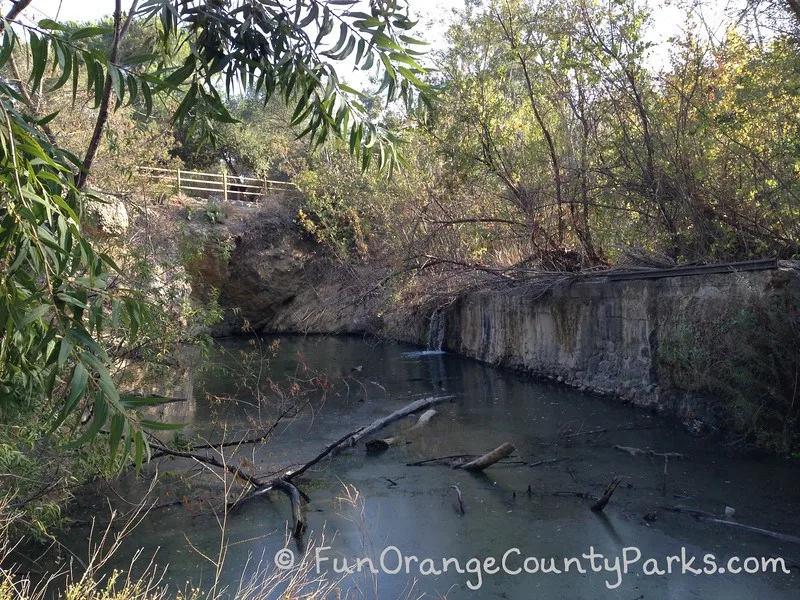 Parks Near Santiago Oaks Regional Park: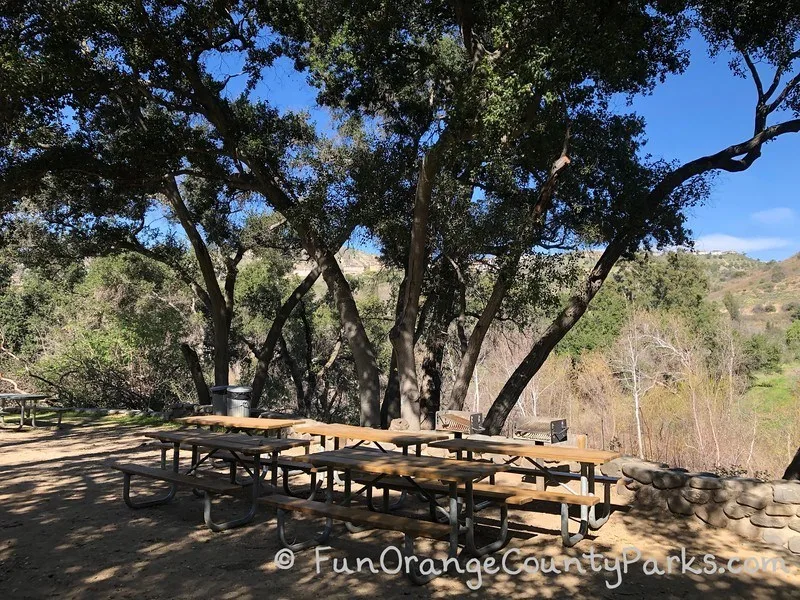 Originally published in November 2013.