Welcome to the first week of 2021 Summer Play Trips Bingo for families in Orange County, CA!
This is my 9th summer (2011-2012, 2014-2019 and now 2021!) of my annual tradition to deliver FREE Summer Play Trips to my regular email subscribers over the 8 weeks of summer.
This year, I'm branching out to Instagram (@ocplayparks) and the blog so more of you can play along. (But you should still subscribe to get the FREE printable version via email. The printable version is only in the newsletter.)
Here is what it looks like on Instagram. It's designed so that you pair the BINGO card with a blog post. So this week the game card is Choose Your Play and it goes with this 2021 Summer Play Trips Bingo blog post. Next week will be a new theme, a new BINGO card, a new blog post — and on and on for 8 weeks during summer.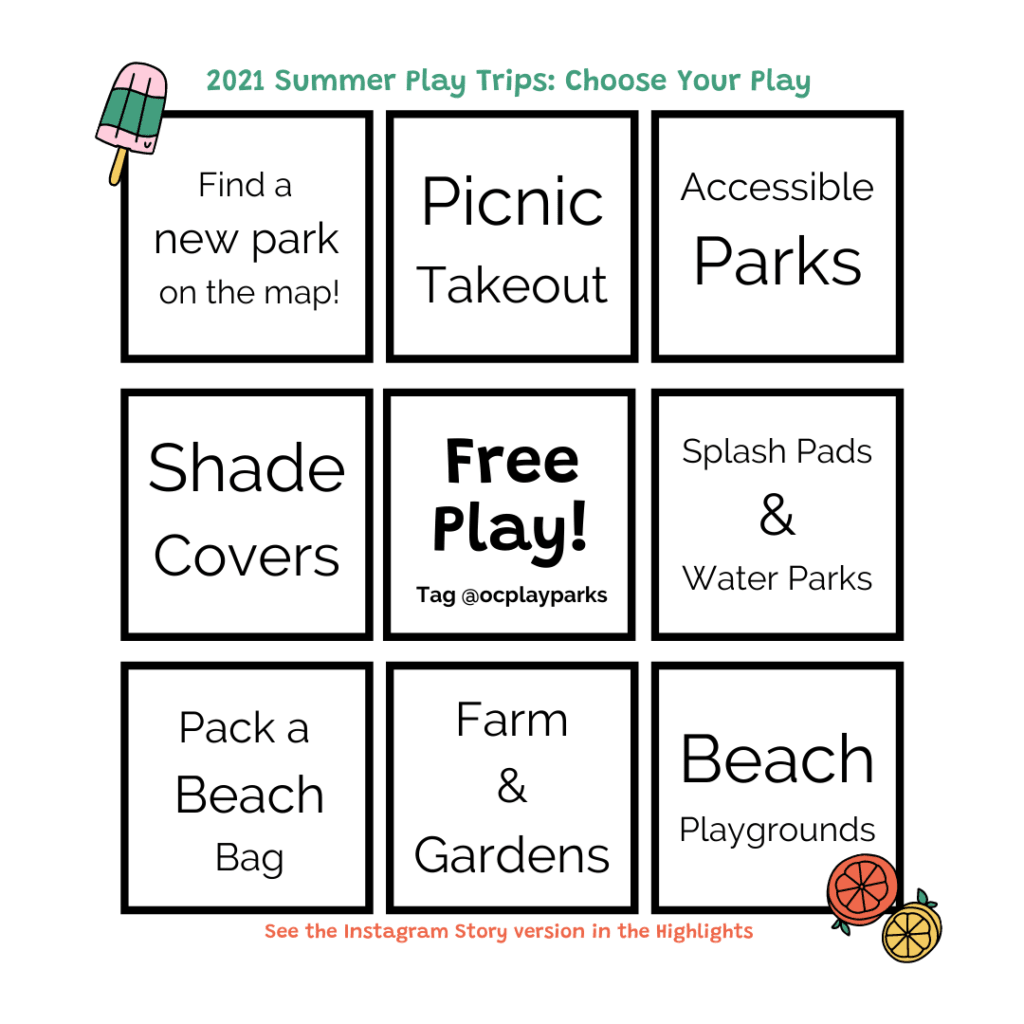 Are you sensing a theme? FREE. There's no catch. No sales. I do this for fun and I do this especially for those of you who write me notes like this:
"I'm so excited for your summer play trips! I have never signed my girls up for summer camps because your ideas, your formulas for a week of summer, help me give my girls such a fun summer! When people ask what camps they are going to I tell them "Camp Mom" because I know it's fun! I look forward to your new ideas and hope to see links to your past ones for easy access at the bottom. Thank you for all that you do!"

-Katie (mom of 2)
I will do my best to deliver! The emails and posts will come out every Thursday. I think you will be surprised and entertained with something new this year.
You deserve the love!
Choose Your Play
The theme for this week is: Play Choices. I set this up to get you oriented to all your options for play in Orange County.
This week's card has a bunch of list posts and some more open-ended choices.
We'll get more geographically specific next week!
And you can get a printable version of these BINGO cards by subscribing to my weekly email. That's an example of the email that went out this week.
Here are the posts that go along with your BINGO game card . . .
What to Do When You Are Done
I hope you have fun with this! What to do after you complete your BINGO card? You can take the pressure off and do NOTHING. Seriously, who needs more on their To Do List?
But, if you or your kids want some recognition for your efforts, send us one self-addressed, stamped envelope at the end of summer along with your card or some artwork or a note to tell us of your adventures (or multiple envelopes as you complete them) and I'll mail you back a personal note and stickers — for as long as I can keep up!
Address to send your self-addressed, stamped envelope: Michele at FunOrangeCountyParks.com, c/o Play Parks Creative LLC, PO Box 52451, Irvine, CA 92619
[This info is provided by FunOrangeCountyParks.com is presented as a community service to those wanting to enjoy the outdoors in Orange County. You may used this information with the understanding that FunOrangeCountyParks.com makes no warranties, although every attempt will be made to make sure the information is accurate. This blog is not intended to replace official sources and information should not be considered error-free or not be used as the exclusive basis for decision-making. The use of the information provided by this blog is strictly voluntary and at your sole risk. FunOrangeCountyParks.com assumes no responsibility for liability whatsoever associated with the use or misuse of this data.]