Enchanted Forest of Light at Descanso Gardens 2023 in La Cañada Flintridge — just north of Pasadena, off the 210 Freeway — is one of our all-time favorite outdoor holiday celebrations. Yes, I realize it is NOT in Orange County. It is 100% worth the drive.
This is an amazing place to bring the kids, but it also works for a date night or to go with a group of friends.
When is Enchanted: Forest of Light at Descanso Gardens?
The event runs from before Thanksgiving through after the New Year, which makes it a fun thing to do during Winter Break even if it's past Christmas. There's something about being outdoors at night in the chilly air that makes California feel a little more wintry. For 2023, the dates are November 19th – January 7th.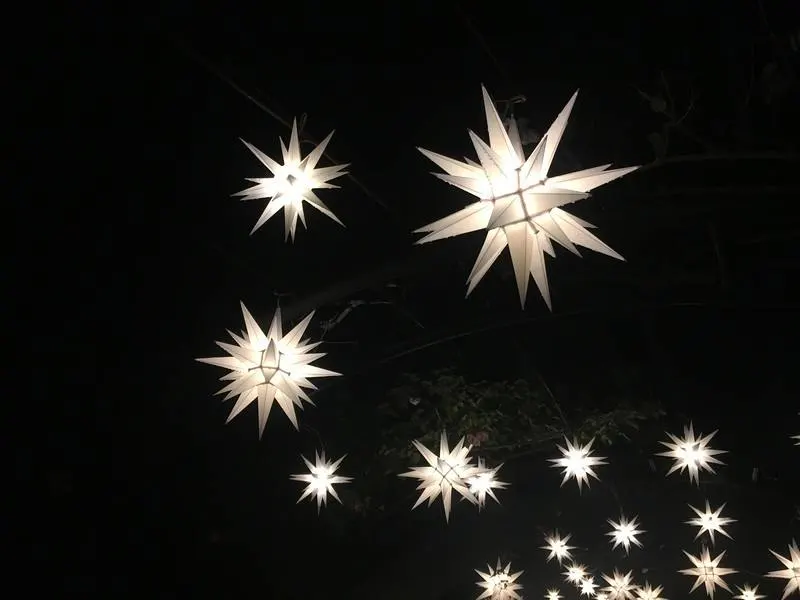 What will you see at Enchanted: Forest of Light at Descanso Gardens?
The lights are a complete sensory experience, you'll stroll through the garden along a 1 mile path and hit 10 different lighted areas which are often accompanied by sounds and tricks of the eye. They say it takes 90 minutes, but you could get through it longer or shorter – you'll just go at your own pace. Strollers are allowed.
There are new additions for 2023 and some parts are staying the same. Here's the map for 2023 which has 10 stations:
Flower Power
Starlight Garden
Pixel Grove
Mulberry Pond
Symphony of Oaks
Fantasy Forest
Luminous Lawn
Ancient Forest
Spectral Sanctuary
Garden of Good Fortune
I could spend the ENTIRE night at the tulip field, a.k.a. Flower Power.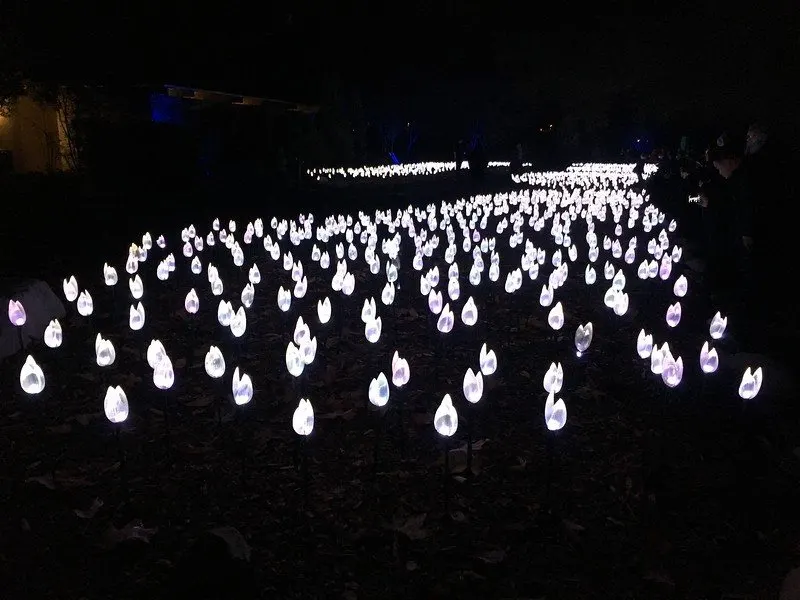 I really don't want to spoil it for you! Part of the fun is discovering all the lighted forest on your own. So I'll just cover a few of my favorites for you.
The Symphony of Oaks is so beautiful and interactive where you truly get a sense of the trees great heights.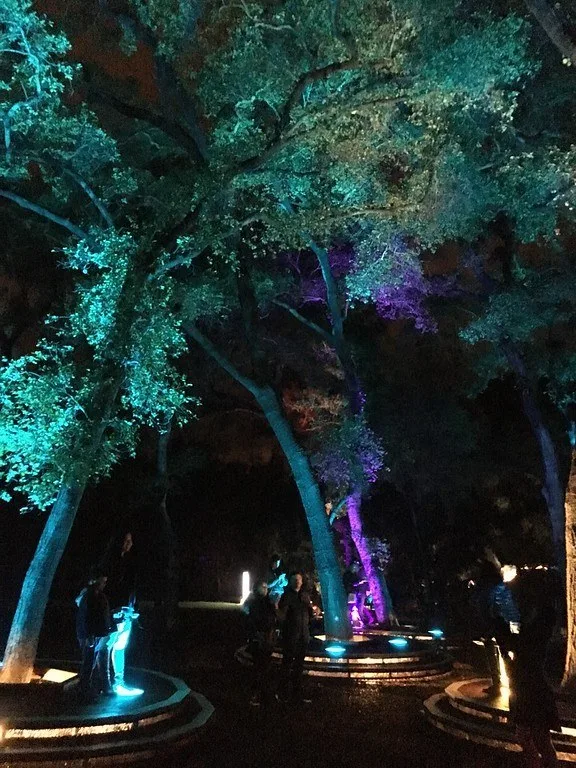 You'll be walking along and then you'll notice a chandelier suspended by nothing. Just floating in the trees!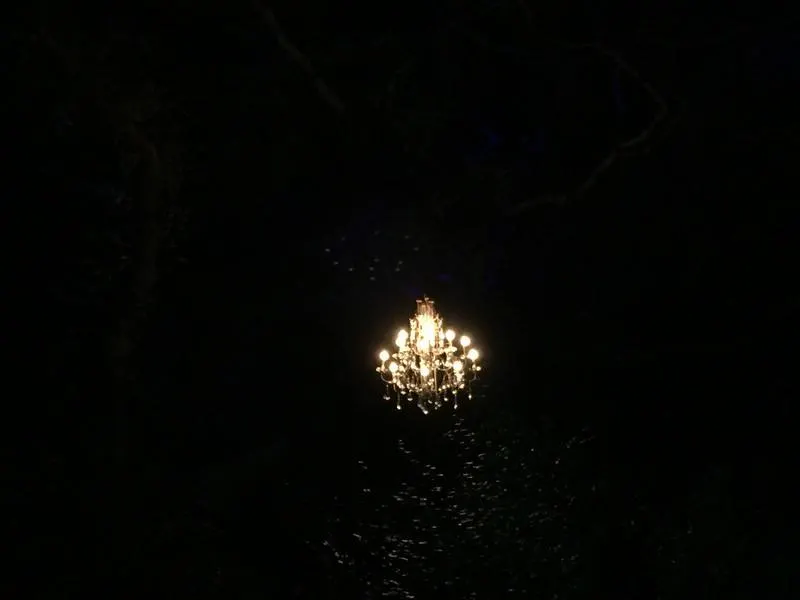 Like I said, I'm skipping a lot. You just need to go and experience it for yourself. Where else can you explore an Ancient Forest?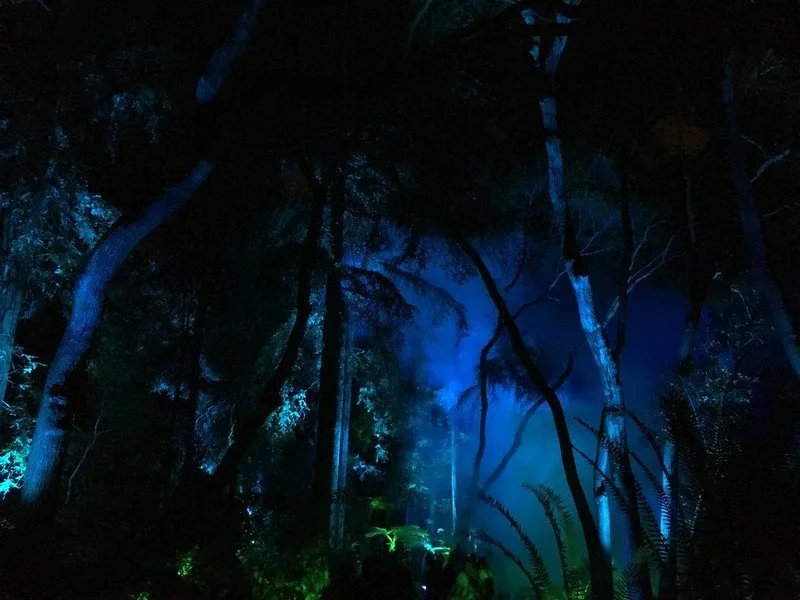 What else do you need to know about the Enchanted: Forest of Light at Descanso Gardens?
It's rain or shine – so you may go on a night that is muddy or you'll need a raincoat or umbrella.
Bring jackets because it gets chilly. So if you're a wimp with the cold – even consider gloves and a warm hat.
The only restrooms are near the entrance, so make sure you go when you get there so you don't have to rush through the garden. When we were leaving, there was a line because there aren't tons of stalls – so make sure you don't cut it too close!
You can do shopping here at a marketplace and gift shop and even get warm treats like hot chocolate and apple cider with beignets.
You MUST purchase tickets in advance and tickets are not necessarily cheap. It's $30-$45 per general admission ticket. Everyone in your party must have a ticket because entries are timed to make parking and crowds manageable.
You can get a ticket discount if you happen to be a member of the garden (which I highly recommend!). We love our daytime visits to the garden.
In the past, adults could find lots of stops with bar service.
We chose to eat before entering the venue at a nearby shopping area off Angeles Crest Highway and Foothill Blvd. at La Cañada Flintridge Town Center where there's a The Habit Burger Grill, Blaze Pizza, Chipotle, Luna Grill and more. There are a lot of other restaurants on Foothill on your way to the Gardens.
Phew! I think that's it! Please let me know if you have any other questions about our experience.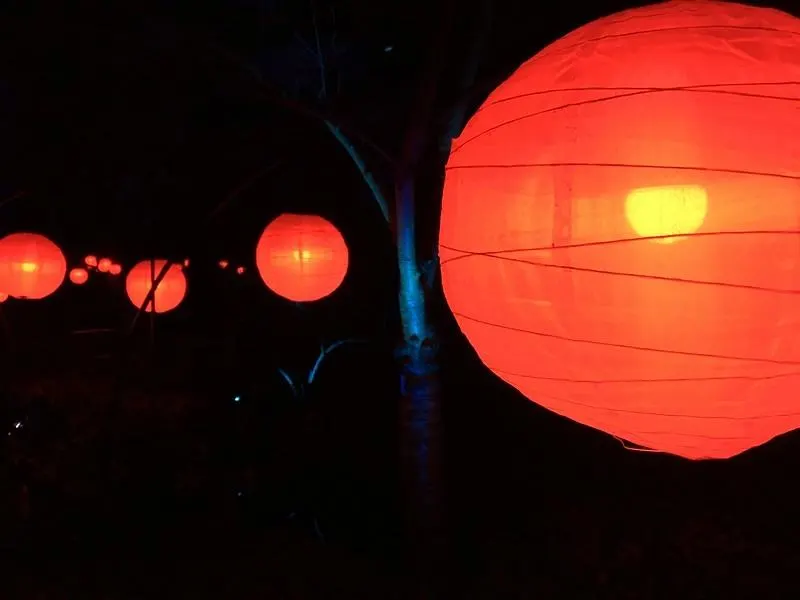 Where to stay if you want to make this an overnight trip?
We have stayed in Pasadena before and talked about doing that for our trip to the gardens. I can vouch for the Old Town Pasadena Hotel (Courtyard by Marriott Los Angeles/Pasadena/Old Town) which allows you to be within walking distance of tons of restaurants and even get you going on a light rail adventure from the nearby Metro L Gold Line station. Plus you are near Huntington Gardens and KidSpace Children's Museum!
Or if you want to go really fancy you can stay at the 5 star luxury Langham Huntington Pasadena hotel (we love this place!). Check the prices before you write it off, they may have some lower rates in winter? We can hope!
If you want to see lights closer to home in Orange County:

Disclosure: I was NOT compensated in any way for this post. We visited in December 2016, paid our own way, and loved our experience so much that I wanted to share it with you.