2023 Orange County summer camps offerings will be much more varied than in the past few years. In fact, I came up with a list of 24 summer camp possibilities! Camp providers in Orange County offer a number of OC summer camps with outdoor themes for families looking to enroll their kids in options to keep them active and learning outdoors this summer.
Scroll through the list and descriptions below to see which ones fit your family:
Inside the Outdoors Summer Day Camp at Shipley Nature Center in Huntington Beach
Environmental Nature Center Summer Nature Camp in Newport Beach AND Environmental Nature Center at Tucker Wildlife Sanctuary in Modjeska Canyon
Camp Pinniped at Pacific Marine Mammal Center in Laguna Canyon
Sea & Sage Audubon Center Summer Nature Camps at San Joaquin Wildlife Sanctuary in Irvine
Starr Ranch Junior Biologists Summer Camp near Coto de Caza
O.A.K.S. Day Camp at Oak Canyon Nature Center in Anaheim Hills
Earthroots Field School Summer Camps at Big Oak Canyon in Trabuco Canyon
Ocean Institute Summer Camps in Dana Point
Camp Discovery at the Cube in Santa Ana
Camp James at Newport Dunes in Newport Beach
Camp Coastal Wild at Crystal Cove State Park in between Newport Beach and Laguna Beach
Camp Newport in Newport Beach
YMCA Summer Day Camps and even overnight sleepaway camps (multiple locations)
Junior Gardeners Summer Camp at Sherman Library & Gardens in Newport Beach
Adventure & Discovery Camps in the City of Aliso Viejo
Summer Day Camps at Los Cerritos Rancho in Long Beach
KG Beach Camps at Dana Point Harbor in Dana Point
Rancho Mission Viejo Reserve Summer Day Camp
Bolsa Chica Conservancy Summer Wetland Explorers
Art & Wilderness Institute Adventure Weeks
The Ecology Center Grow-Eat-Make
Irvine Ranch Outdoor Education Center Adventure Camps
Tides OC Ocean Adventure Summer Camps
Goods and Goats Market Summer Farm Camp
Links to various sailing and watersports camps
Most camps are for school-age children from ages 6 to 18. I've updated my list of summer nature camps for kids with themes like science, animals, the ocean, engineering, birding, and even water sports. Please go ahead and email me if you know of camps I might have missed.
If you value OUTDOOR SUMMER CAMPS, please make sure you sign up for this special time outdoors. Your kids will make memories for a lifetime and the organizers will continue to offer the camps as long as there is a demand.
Orange County Outdoor Summer Camps
#1 – Inside the Outdoors* , part of the Orange County Department of Education, offering an in-person classic Summer Day Camp experience each week in July at Shipley Nature Center in Huntington Beach. 2023 Camp Themes: 'Element'al Summer Fun, Nature Navigators, Mysteries of Nature, and Where the Wild Campers Are.
Experience unique activities that incorporate science, fun, learning, and being outdoors​. Summer Day Camp is geared toward campers age 6 to 12 years old, with leadership and camp opportunities for campers age 13-17.
Each week of summer camp will have themed daily activities that are science/nature based that also include a daily nature journal prompt and a take-home craft.
I love these people and I'm so glad summer camp is back!
*Disclosure: I work for them managing their social media and content strategy during the school year.
#2 – Environmental Nature Center in Newport Beach – Camps are split into different age groups. Little Naturalists Camp is for preschoolers age 4. Nature Adventure Camp is for ages 5-8 and campers ages 9-13 get Science Explorer Camp. This year's themes are: Legends & Lore, Nature Detectives, California Adventures, Amazing Animals, Planet Protectors, Nature Creativity, Science Superstars, and Plant Power.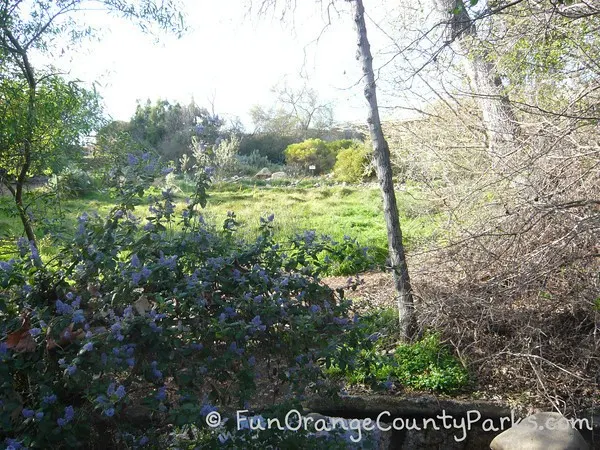 The Environmental Nature Center also has a relatively new campus in Modjeska Canyon at the Tucker Wildlife Sanctuary. They are offering Wilderness Adventure Camp from that location, as well! It's only for kids ages 6-9 years old with similar camp themes as above.
#3 – Pacific Marine Mammal Center in Laguna Canyon. Camps are in July and August. Camp Pinniped for 8 to 12 year olds is held at the Pacific Marine Mammal Center on Laguna Canyon Road for M-Th and then Fridays are at an off-site location. "Campers learn how our animal care team rehabilitates our seal and sea lion patients through a series of mock activities including weighing fish, preparing fish smoothies, cleaning pens and learning the art of marine mammal rescue."
The program for 15-17 year olds is a Marine Mammal Rehabilitation and Research Lab that runs only in the month of June on M-F from 8am-2pm.
#4- Sea and Sage Audubon Summer Nature Day Camps at San Joaquin Wildlife Sanctuary (Registration open now.) – These camps sell out quickly! These very popular camps are for the 7-9 year olds in Beginning Bird Camp and 10-12 year olds in Coastal Bird Camp. Older campers (12-15 year olds) will be able to take Advanced Bird Camp I and Advanced Bird Camp II. Check the dates to make sure they work with your schedule.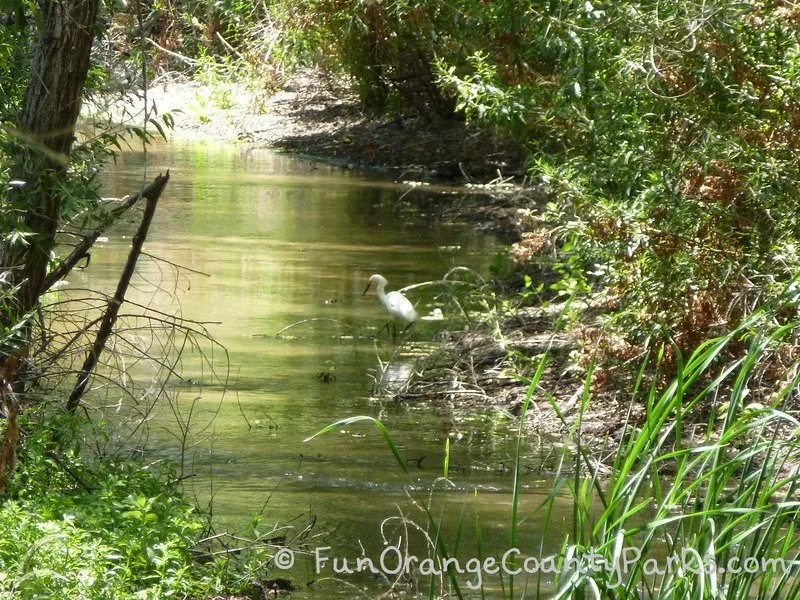 #5 – Starr Ranch Junior Biologists Summer Camp for kids ages 8 to 16 researching wild animals and their habitats. There is an email address listed to contact for more information.
#6 – O.A.K.S. Day Camp at Oak Canyon Nature Center in Anaheim– "Campers will have the opportunity to experience themed art, nature, Native American traditions, games, and more. Participants must bring their own snacks and lunch." Online registration link for "Day Camp" for 5-12 year olds is on the information page. Camps are listed as "O.A.K.S. Day Camp" Day camps have themes like: Diggin' Up Dinosaurs, Harry Potter, Mad Scientist, Pirate Adventure, Radical Reptiles, Shark Week, Star Wars, Super Sleuth and Wilderness Explorers.
The city also offers "Wilderness Survival Camp" for 12-15 year olds. "Campers learn how to build shelters, hone their archery skills, and learn basic first aid in these weeks of survival fun!" The Wilderness Survival Camps have themes with Wilderness Survival as the focus in these different environments: Desert Terrain, Jungle Terrain, and Swamp Terrain.
Registration is already open on the City recreation site. Go ahead and click the online registration links on their page and it will bring you to the right place.
#7 – Earthroots Field School offers a number of 2023 Summer Camps including:
Fairy Quest (5-10 year olds)
Land Detective Nature Camp (6-12 year olds)
Forest Kindergarten Camp (3-6 year olds with parent/caregiver)
Tidepooling with Earthroots (5-14 year olds – supervision required for 5 & 6 year olds)
Summer Forest Theatre (5-14 year olds)
Summer Family Beach Day on August 10th (all ages welcome)
All the info on the Earthroots Field School website!
#8 – Ocean Institute has incredible camps for ages 5-17 which include time on boats and lots of marine science and research. Also options for high school students to be involved in the Counselors-in-Training Program. Registration discount for Ocean Institute members. General Public Registration began March 20, 2023.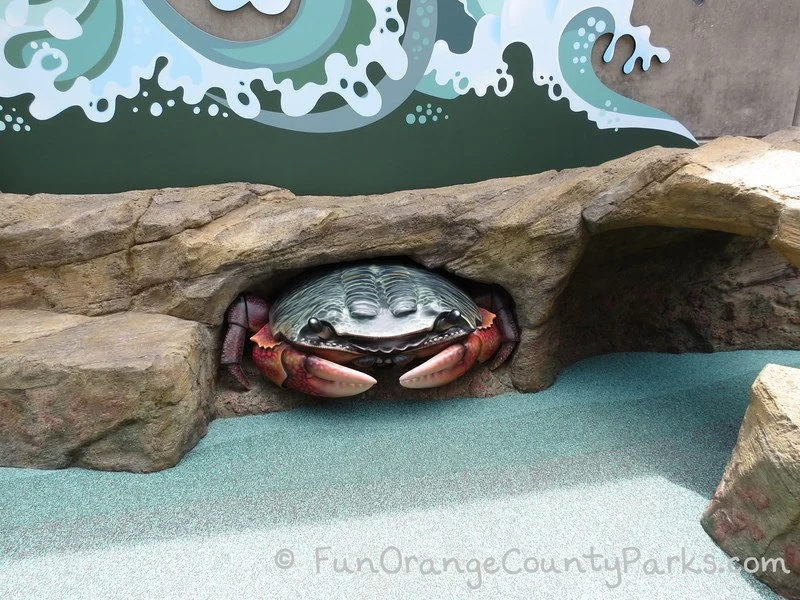 #9 – Camp Discovery at the Cube is offering science-themed summer camps for kids in two age groups:
K-2 (Oceans of Fun and Animal Friends)
Grades 3-5 (California STEAMin')
Members pay slightly less for summer camps.
#10 – Camp James at Newport Dunes for children ages 4-13 runs from 9am-4pm. The website describes it as: "a traditional style day camp offered in a natural, outdoor environment. Our goal is to expose children to a wide variety of activities as well as provide abundant opportunities for campers to increase their skill development each year they return for another summer session." Here is a list of all the activities at Camp James. They are American Camp Association (ACA) Accredited and have an Open House video on their website.
#11 – Camp Coastal Wild at Crystal Cove State Park — Camp is only one week at the start of summer (June 19th to June 23rd for 2023) where Crystal Cove State Park Naturalists and Lifeguards run a one week unique summer camp that blends the backcountry and the coastal areas of the park. Children ages 7-11 spend 2+ hours engaged in nature activities including: hikes, bird walks, and/or tidepool exploration. After lunch, campers enjoy 2 hours of coastal activities with Park Lifeguards (could include: volleyball, boogie boards, water play.) $175. For more information and to register email winter.bonnin@parks.ca.gov or call 949-497-7647.
#12 – Camp Newport offers a summer day camp at Marina Park which has all the weeks listed as FULL at this point (March 2023). However, they have some open spots at the Community Youth Center camp where campers walk to Corona Del Mar Beach. It's for campers entering grades 1-7. Website description says: "Camp fee includes a weekly guest visit, show or exciting event, and daily walking excursions to the beach. CYC Campers will take a .75 mile walk to CDM State Beach on Monday, Tuesday, and Thursday."
#13 – YMCA of Orange County has all sorts of camps. The Day Camp has its own information page. There are also sleepaway camps called Camp E.L.K. (Wrightwood) and Camp Oakes (Big Bear) with lots of outdoor activities in our local mountains. Financial assistance available for Y camps.
#14 – (SOLD OUT) Sherman Library and Gardens offers a Junior Gardeners Summer Camp for kids ages 7-11 years old for one week in summer. The website describes the camp: "During this practical camp for 7-11 year olds, kids learn to care for plants and understand how the choices they make affect the natural world. Fun practical projects include natural dye art, planting, weaving, and a composting project. Our Junior Gardeners go behind the scenes, meet our Sherman Horticulturists and find out how we create our beautiful garden. This STEAM based camp will develop skills of observation, design and scientific exploration. Each session involves activities in the garden and a fun planting or creative craft project to take home. Expect to get your hands dirty!"
#15 – Aliso Viejo is offering a Camp AV at the ranch for kids ages 5-12 years old with lots of outdoor activities along with some Adventure & Discovery Camps. They boast over 200 camp options (of course, not all of them are outdoors). Check the summer camp brochure. 10% off your camp fees when you register by May 4th.
#16 – Summer Day Camps at Rancho Los Cerritos in Long Beach (not officially in Orange County, but very near north OC cities). Last year, there were 3 camps designed for kids 6-10 years old. There was one camp for older kids ages 11-13. Will update when info for Summer 2023 is released.
#17 – KG Beach Camps at Dana Point Harbor – Half day camps for kids ages 4-6 called Mini-Minnows. All day camp Beach Safari Camp (6-9 years old) and H2O Adventure Camp (9-13 years old) all at the harbor with: tidepool walks, beach games, crafts, swimming, whale watching, and more.
#18 – Rancho Mission Viejo Reserve Summer Day Camp – Runs for 3 weeks in June 2023. The camp day is designed for 6-11 year olds and runs from 9am-2pm. Themes this year are: We Dig Fossils!, Survive the Wild, and Amazing Animals!
#19 – Bolsa Chica Conservancy Summer Wetlands Explorer – This science-based camp is only three weeks out of the summer (one for each age group). One week for K-3rd graders (Summer Wetland Explorers) and another week for those scientists going into 4th through 7th grade (Junior Summer Wetland Explorers). There are even opportunities for Senior Summer Wetland Explorers and a beach day. There are flyers on the website to explain more about the programs!
#20 – Art & Wilderness Institute Kids Adventure Summer Camps – There are almost too many programs to list here — please click over to the website to explore. They also have school year programs. If you are into the idea of stewardship + nature these camps will be a good match for you. They happen in parks all over Orange County – even San Dimas and San Diego. [As an aside, if you are a homeschooling family you will find tons of resources on their website, as well.]
#21 – The Ecology Center Grow-Eat-Make Summer Camps – these camps are for 6-13 year olds and "emphasize hands-on experiential learning opportunities and exploration of our working farm, culinary kitchen and children's garden. Campers will spend their week immersed in nature, practicing farming and environmental stewardship, and exploring together as a small, cooperative group." Available 8 separate weeks over summer at The Ecology Center in San Juan Capistrano.
#22 – Irvine Ranch Outdoor Education Center is located on a property reached through Irvine Regional Park. It's known as a Cub Scout / Boy Scout camp, but in the summer it opens up for summer camps. They offer a Junior Adventure Camp (ages 6-10) and Adventure Camp (ages 11-17). It's billed as an active camp with rock wall climbing and even swimming. Note: This camp has archery and bb guns targets activities.
#23 – Tides OC Ocean Adventure Summer Camp in Laguna Beach is for ages 6-14 in a small group. Description of the program: "Tides Ocean Adventure Summer Camp is a unique blend of ocean sports and beach play with some of our very own Tides Marine Biology curriculum mixed in. Campers will have the opportunity to surf, stand-up paddle, bodyboard, build sandcastles, do crafts, play beach games, make new friends and more! We'll take a break in the middle of the day for a marine biology lesson provided by our awesome summer camp staff, and continue our adventure with guided tide pool and/or beach exploration." Runs 4 weeks during the summer with 2 weeks in July and 2 weeks in August.
#24 – Goods and Goats Market Summer Farm Camp – half day (9am-Noon) and full day (9am-2pm) programs up off Trabuco Creek Road. Early bird specials start in April. For ages 6-12 years old. "Summer campers will immerse themselves into farm life by getting hands-on educational programming that focuses on cultivating the land and caring for our animals." As of mid-May 2023 mostly sold out with only one week of camp available.
#25 – For sailing and watersports, we have OC summer camps in Dana Point Harbor and Newport Harbor. Try Westwind Sailing or Dana West Youth Sailing in Dana Point Harbor and Newport Sea Base or Orange Coast College's School of Sailing and Seamanship in Newport Harbor. Pirate Sports Paddle also offers a kids camp in Newport Dunes (offering private group option). Children must be able to pass a swim test to participate in these programs.
BONUS IDEAS
Take the Bus! OCTA Youth Ride Free* (Distributed starting March 2022 for kids ages 6-18)
Surf Camp
Junior Lifeguards
Camp Build-a-Fort for Laguna Hills residents (Registration opened May 9th for residents and opens May 16th at 8am for non-residents)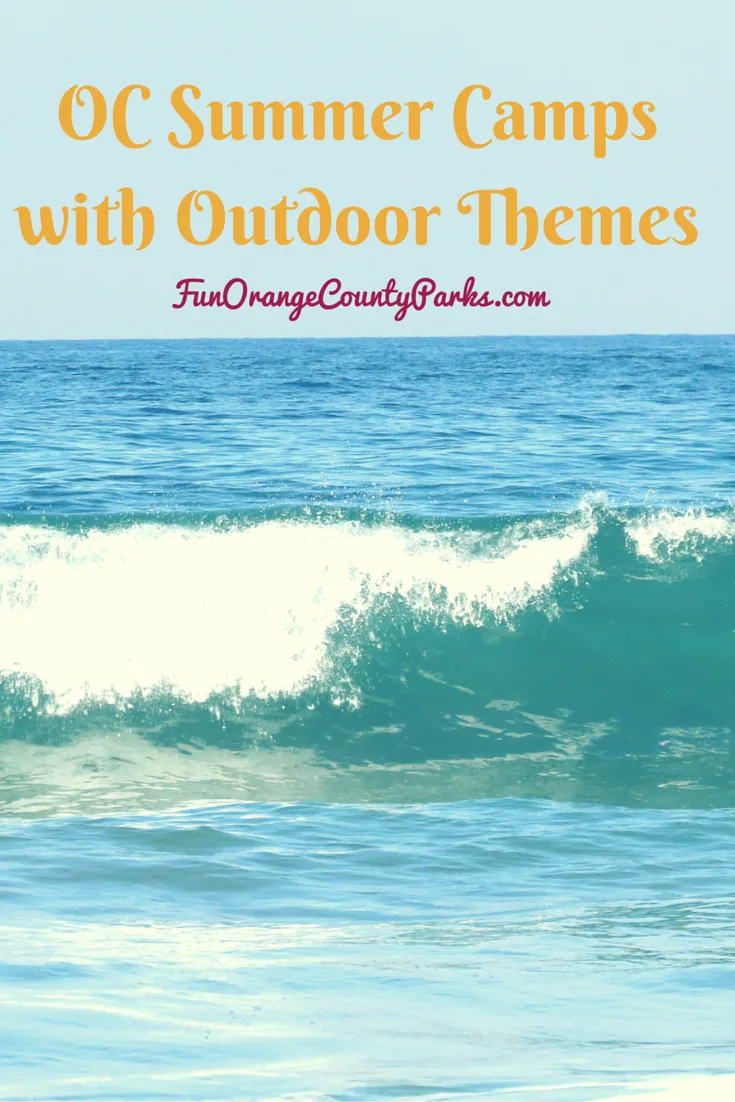 *Disclosure: I should disclose that I personally know many of the organizers of the other camps from my history of writing about outdoors in Orange County. I contract to do social media for Inside the Outdoors Foundation for the 2017-18, 2018-2019, 2019-2020, 2020-2021, 2021-2022, and 2022-2023 school years. As always, my opinions are all my own and you shouldn't take my word as an endorsement of any organization. I'm just providing info and you can make your own choices!
Originally posted in March 2012.