Las Lomas Community Park in Irvine was a complete surprise find while trying to find a shortcut to Bommer Canyon.
We visited on a lazy summer afternoon when the fields were being repaired and the playground was empty. Empty!
It's a massive playground away from the street and behind the Las Lomas Community Center.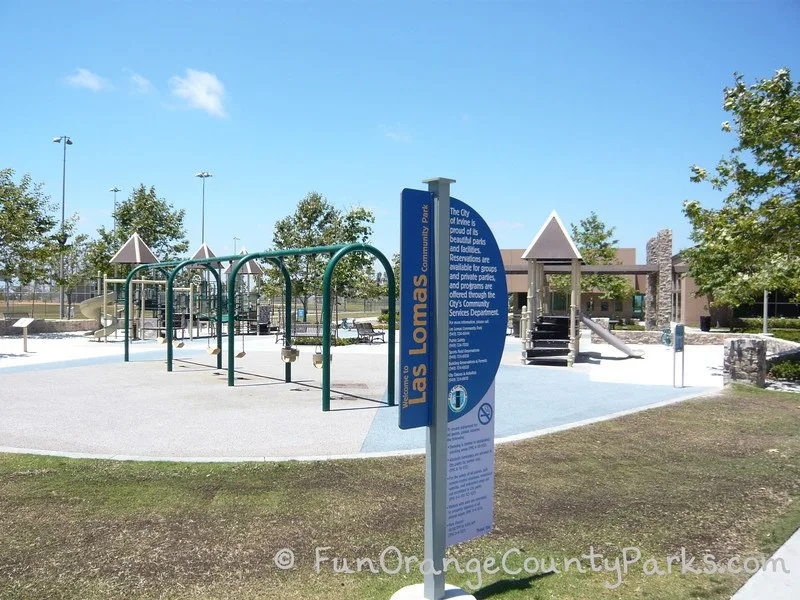 How to Get to Las Lomas Community Park in Irvine: Culver Drive turns into Bonita Canyon Drive near the UC Irvine campus. Exit Interstate 405 at Culver and drive towards the University. Turn left at Turtle Ridge past Shady Canyon. Make another left onto Federation Way and turn right into the parking lot of Vista Verde Elementary School (on your left) and Las Lomas Community Park (on your right). It's very near Mariner's Church. (Address: 10 Federation Way, Irvine, CA) MAP TO LAS LOMAS COMMUNITY PARK IN IRVINE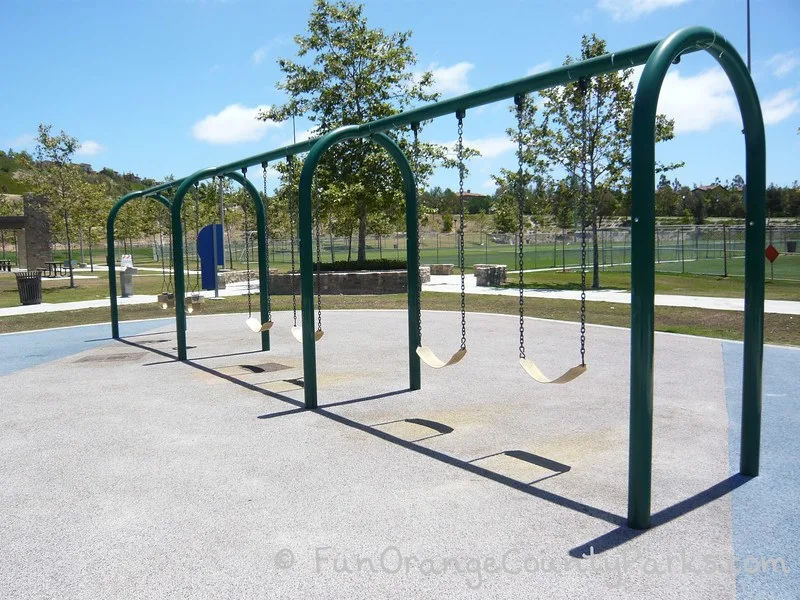 Highlights:
It's in Irvine, right? Nice, clean parks that are well-manicured.
Shaded picnic tables with two big family-size charcoal grills situated right on the playground
Big kid and little kid playground are right across from each other – just separated by a central seating area of benches
The big kid equipment isn't super high off the ground
Cool circular-shaped monkey bars for the older kids to try
There's also a sidewalk that appeared to make a loop around the big field area, in case you want to do some stroller walking
Bring Chess or Checker pieces (they have game tables built into the play equipment)
2 very nice full basketball courts, plus baseball diamonds, tennis courts and fields
Bring sand toys
2 baby swings and 4 bench swings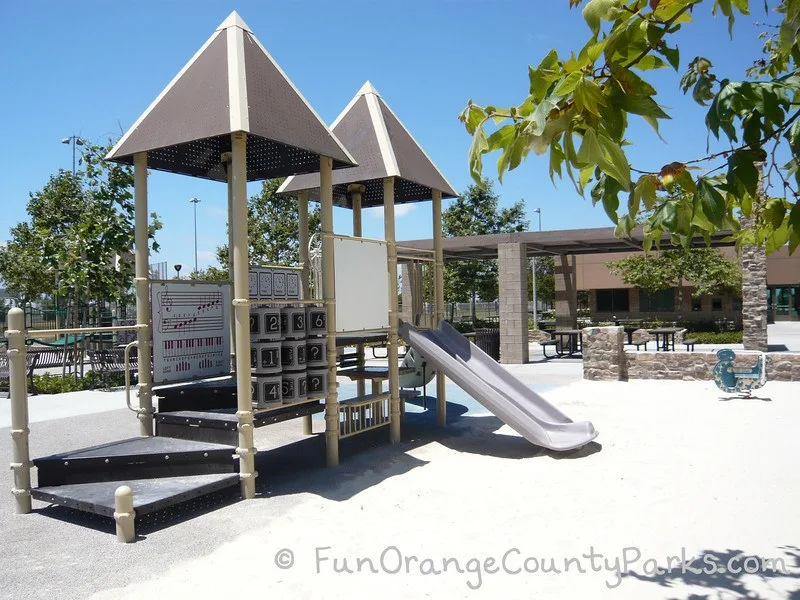 Be Aware:
Not a lot of shade on the playground, but I hung out at the edges along the nice stone wall and found shade from the sycamores
Shares a parking lot with an elementary school and the Las Lomas Community Center. It was quiet in the summer, but can imagine it being much busier when school is in session or the Center is offering a camp.
The park is only open from Noon to 6pm on Sundays. From my internet searches, it looks like there might be church services at the community center on Sundays?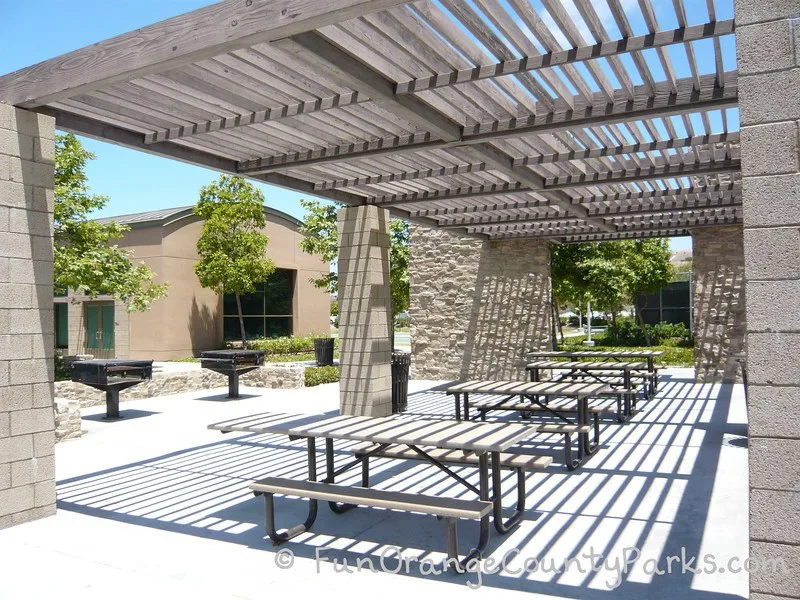 Checklist:
Dedicated parking lot on the other side of the community center
Play surface: sand and recycled rubber
Restrooms are located on the side of the building
Drinking fountains and vending machine
Large grills and plenty of picnic tables
2 very nice full basketball courts, plus baseball diamonds, tennis courts and fields
Park hours are 9am to 9pm/10pm, except for Noon to 6pm on Sundays.
No bounce houses allowed
Nearby public library branch: Irvine University Park Library or Newport Beach Public Library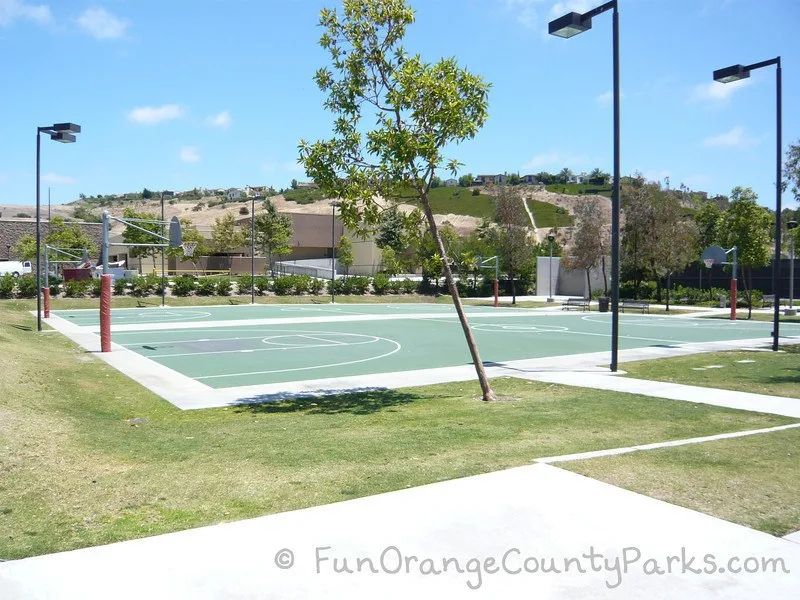 Nearby parks:
Originally published in July 2011.